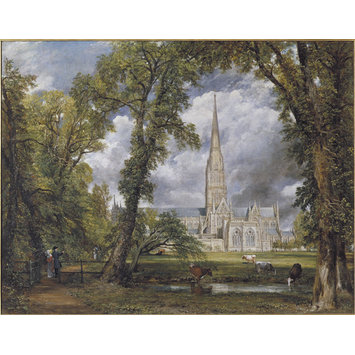 Constable, John RA, born 1776 - died 1837
Salisbury Cathedral from the Bishop's Ground
Object:
Place of origin:
Date:
Artist/Maker:

Constable, John RA, born 1776 - died 1837 (painter (artist))

Materials and Techniques:
Credit Line:

Given by John Sheepshanks, 1857

Museum number:
Gallery location:

Paintings, room 87, case WEST WALL
Object Type
Landscape painting in oils steadily became more popular during the 19th century. John Constable and his contemporary J.M.W. Turner take credit for establishing landscape as a significant subject. Until then, history paintings had been considered more important, but increasingly naturalistic paintings of picturesque views of the British landscape appealed to a wider section of the art-buying public.
People
Among Constable's closest friends were Dr John Fisher, Bishop of Salisbury, and his family, and Constable gave lessons to one of Fisher's children. Fisher had commissioned this painting of the Cathedral in 1820, and both he and his daughter appear in the left-hand corner of the finished work. Constable had made a series of sketches before starting work on the canvas, and after it had been exhibited at the Royal Academy in 1823, he was asked to make a smaller version and a full-scale replica.
Subjects Depicted
The painting embodies the full range of qualities of a quintessentially British landscape painting - the clouds, trees, a water meadow, cattle drinking at the edge of the pasture and the glorious architecture of a medieval cathedral - but all on a human scale. Paintings like this one have so conditioned our view of rural Britain that it is now difficult to imagine a time when the countryside and country life were not held in such high regard.
Physical description
Painting of Salisbury Cathedral from The Bishop's Ground, with cattle, some drinking from a pond, sheltered by tall trees, and with a man and woman walking along a path on the left hand side. Oil on canvas.
Place of Origin
Great Britain, uk (made)
Date
1823 (made)
Artist/maker
Constable, John RA, born 1776 - died 1837 (painter (artist))
Materials and Techniques
oil on canvas
Dimensions
Height: 87.6 cm estimate, Width: 111.8 cm estimate, Height: 124 cm framed, Width: 150 cm framed, Depth: 17.5 cm framed
Object history note
Given by John Sheepshanks, 1857. Painted by John Constable RA (born in East Bergholt, Suffolk, 1776, died in London, 1837)
Historical context note
In 1823 Constable's chief exhibit at the Royal Academy was 'Salisbury Cathedral from the Bishop's Grounds' (No. 254 [FA 33] in this Catalogue). He visited Fisher in August (see Nos. 256 [281-1888] and 257 [354-1888]) and stayed with Sir George Beaumont at Coleorton from the last week of October until the end of November (see Nos. 259-262 [835-1888, 815-1888, 266-1888, 356-1888]).
[G Reynolds, 1973, p. 156]
Descriptive line
Oil painting by John Constable depicting Salisbury Cathedral in Wiltshire. Great Britain, 1823.
Bibliographic References (Citation, Note/Abstract, NAL no)
Baker, Malcolm and Richardson, Brenda, eds. A Grand Design : The Art of the Victoria and Albert Museum. London: V&A Publications, 1997. 431 p., ill. ISBN 1851773088.
This great Constable painting was acquired by the Museum in 1857 as part of the large collection of British paintings given by John Sheepshanks, a collection displayed together for the first thirty years of the Museum's history, first as the "National Gallery of British Art" and then as the "British Fine Art Collection." Although Constable was only one artist represented in that context, his central place within the Museum's collection was reinforced in 1888 by the gift and bequest of 390 works from the painter's daughter. As the two collections were thereafter shown together, Salisbury Cathedral was no longer seen simply as an example of nineteenth-century British art, but as one of the most important works in a large oeuvre of a painter who had come to exemplify a notion of Englishness expressed through a view of landscape.
This painting was commissioned in 1820 by John Fisher, the bishop of Salisbury, and later purchased back from Fisher's family by the artist. The Fishers were among Constable's closest friends; the painting was begun in 1822 and finished in time for the Royal Academy's annual summer exhibition in May 1823. The bishop was dismayed by the stormy sky with dark clouds against which Constable had set the cathedral, and two further versions painted for the Fisher family (one now in the Huntington Art Collections in San Marino, California, and the other in The Frick Collection, New York) have, in the bishop's words, "a more serene sky."
Salisbury and its cathedral have a special place in the English imagination: the southern English county of Wiltshire-with historic Salisbury Plain and the ancient sites of Old Sarum and Stonehenge-is one of the most rural areas in England and among the least changed by the revolutions of industry and commerce over the past three hundred years. As a splendid example of early English architecture-and with the highest spire of all the churches in Britain-Salisbury Cathedral (1220-60), set in a gently undulating plain, dominates the landscape and has long appealed to painters.
Lit. Reynolds, 1984, vol. I, pp. 117-8, vol. II, plate 393; Parris and Fleming-Williams, 1991, pp. 258-60
RONALD PARKINSON
Parris, Leslie and Ian Fleming-Williams, Constable London : The Tate Gallery, 1991. ISBN 1854370707 / 1854370715. 544 p. : ill. (some col.).
Exhibition catalogue
Grey, Anne and John Gage Constable. Impressions of Land, Sea and Sky Canberra: National Gallery of Australia, 2006. ISBN: 0642541566.
Exhibition catalogue.
Graham Reynolds, Catalogue of the Constable Collection, London: HMSO, 1973, pp. 155-164
The following is an extract from the text of the entry:
The painting is executed on a thin linen laid on a coarser canvas; it has not been relined and is on the original stretcher.
The painting is signed and inscribed, below on left. This inscription is rubbed and no longer fully legible. In the Museum's manuscript inventory of the Sheepshanks Collection it is transcribed as John Constable A.R.A. London 1823. More recent attempts to read it have resulted in the suggestions John Constable A R A pinxt or pt 1823 or pnx 23 possibly followed by London on a separate line. A label on the stretcher is inscribed in ink by the artist Salisbury Cathedral-from the Bishop's Grounds, John Constable. 35 Upper Charlotte Street Fitzroy Square. This was doubtless the label for the exhibition at the Royal Academy in 1823 (see also those on Nos. 301 and 352). The stretcher is also inscribed in chalk -Sheepshanks Esqr. Bottom of Buckingham St. Strand. This direction doubtless followed the purchase at the Executors' sale in 1838.
The figures in the foreground are Dr. Fisher, Bishop of Salisbury, and his wife (Beckett, VI, pp. 119-20).
Constable made two other commissioned versions of No. 254 [FA 33], and there are in existence five other versions with claims to be regarded either as sketches for the picture or as replicas of it. The history of the main variants is a complicated one. Mr. J. Steegman, in the Art Quarterly, Detroit, Vol. XIV, 1951, pp. 195-205, has performed a useful service in listing the variants and tracing their recent history. But the confusion of the earlier records has betrayed him into some errors, and the fuller publication of Constable's correspondence with Fisher has made certain aspects of the transactions plainer. It is accordingly desirable to go over the history of the painting in detail. * (*Beckett reviewed the problem in the Art Quarterly, Detroit, Vol. XX, 1957, pp. 140-51, and reached much the same results.)
No. 254 [FA 33] was commissioned by Constable's old friend, John Fisher, Bishop of Salisbury, the uncle of Archdeacon John Fisher. The commission was initiated by the sketches referred to in Constable's letter to Fisher of 1 September 1820:
"My Salisbury sketches are much liked-that in the palace grounds-the bridges-& your house from the meadows-the moat-&c." (Beckett, VI, p. 56). That the approval of the sketches was on the part of the Bishop and his family, and that an oil sketch of the composition of No. 254 [FA 33] was among them, may be deduced from Miss Dolly Fisher's letter of 8 October 1820 to Constable:
"Papa desires me to say, he hopes you will finish for the Exhibition the view you
took from our Garden of the Cathedral by the water side, as well as Waterloo Bridge" (Beckett, VI, p. 58). But in settling the lines of the oil sketch, and painting the exhibited version from it, he used the drawing he had made in 1811 (No. 105 [292-1888]). In his letter to Constable of 3 January 1821, Archdeacon Fisher says "The Bishop likes your picture 'all but the clouds' he says. He likes 'a clear blue sky'" (Beckett, VI, p. 60). Since the Bishop's objection to the clouds in No. 254 [FA 33] is a recurring theme, this is probably a reference to the same sketch for the 'Salisbury Cathedral from the Bishop's Grounds'. It was some time before Constable resumed work on it. Mrs. Constable, writing to her husband on 11 May 1822 about a visit paid by the Bishop to the artist's studio the day before says "He rummaged out the Salisbury & wanted to know what you had done" (Beckett, VI, pp. 93-4). The next reference to the commission is found in the Bishop's letter of 4 November 1822 (Beckett, VI, pp. 101, 102) "…I was in hopes you would have taken another peep or two at the view of our Cathedral from my Garden near the Canal. But perhaps you retain enough of it in your memory to finish the Picture which I shall hope will be ready to grace my Drawing Room in London". On 10 November the Bishop wrote again, in reply to a missing letter from Constable: "I am glad to find that you are about your View of Sarum for me" (Beckett, VI, p. 102). In the same letter he asks Constable to employ Smith of Kensington to make the frame for the picture, thereby enabling him to work off a debt.
Leslie records that the Bishop wrote again on 12 November enclosing an advance payment for the picture, tactfully described as a retaining fee. On the same day Fisher also wrote to Constable: "But I would not press you to leave London now: as time is as you say money, & you want it just at present. I recommend you to get on with the Bishops picture. He is quite eager about it. He asked me last night whether I thought he should affront you by sending you part of your price. I replied that I was of opinion he would not offend you: as Sir T. Lawrence himself took earnest money" (Beckett, VI, p. 103). On 6 December 1822 Constable wrote to Fisher "The Cathedral is advancing-& Smith has the frame in hand" (Beckett, VI, p. 106). After Christmas Constable and his family were ill, and his work was held up.
On 1 February 1823 he wrote to Fisher: "It is not the least of my anxiety that the Good Bishop's picture is not fit to be seen. Pray my dear Fisher prepare his Lordship for this-it has been no fault of my own. Add to it that I can make nothing of the wretched Smith's, to whom I gave the order for the frame more than 2 months ago-I think-I know not if it is even in hand-as they have never noticed one of my notes" (Beckett, VI, p. 109).
On 21 February he wrote to Fisher that he hoped to have the Bishop's picture ready for the Royal Academy exhibition, and again complaining of the dilatoriness of the frame-maker Smith; he adds later on in the letter "I have not yet called on the Bishop-and I wrote to him before to say, that he could not see his picture" (Beckett, VI, p. 112). In the event, No. 254 [FA 33] was ready for exhibition at
the Academy, and formed Constable's chief exhibit there, since he did not have time to finish a larger upright landscape (believed to be 'The Lock') (ibid.). After the Exhibition had opened Constable wrote to Fisher on 9 May saying "My Cathedral looks very well. Indeed I got through that job uncommonly well considering how much I dreaded it. It is much approved by the Academy and moreover in Seymour St. [that is, by the Bishop and his family] though I was at one time fearfull it would not be a favourite there owing to a dark cloud -but we got over the difficulty, and I think you will say when you see it I have fought a better battle with the Church than old Hume, Brogham and their coadjutors have done. It was the most difficult subject in landscape I ever had upon my easil. I have not flinched at the work, of the windows, buttresses, &c, &c, but I have as usual made my escape in the evanescence of the chiaroscuro. I think you will like it but you could have done me much good" (Beckett, VI, p. 115).
The Exhibition closed on 12 July 1823. Constable was now called upon to paint a smaller version (25 x 30 ins.; the 'wedding present' version), and later on also a full-scale replica, which he signed and dated 1826. This train of events begins with a letter from the Bishop of 3 August 1823. Leslie, whose reading has hitherto been accepted in the absence of the original, dates the letter 1822, but it is evident that Constable's letter of 18 August 1823 refers directly to it, and also that the extracts from his correspondence given above show that he was in 1822 only at work on one version, and was hard pressed to finish that in time for the exhibition.
The Bishop's letter, which is therefore to be dated 3 August 1823, reads: "My daughter Elizabeth is about to change her situation, and try whether she cannot perform the duties of a wife as well as she has done those of a daughter. She wishes to have in her house in London a recollection of Salisbury; I mean, therefore, to give her a picture, and I must beg of you either to finish the first sketch of my picture, or to make a copy of the small size. I wish to have a more serene sky ... " (L. ed. S., p. 131). On 18 August Constable wrote to Fisher: "I have had some troublesome letters from the Bishop-one of which walked me off from Hampstead to Kensington-after the wretched Smiths. The Bishops frame for the Salisbury remains in the same state it was in at X'mas-wood much injured at the Exhibition. The Bishop wants another Salisbury, for Elizabeth who is going to be married-to whom? I wish they would take my frame & let my copy be the same size as that & so use the Bishop's frame" (Beckett, VI, p. 128).
The Bishop's letter shows that Constable did not, as had been suggested to him by Miss Dolly Fisher in 1820, complete his compositional sketch, but transferred the design to a new canvas before painting the work he sent to the Royal Academy in 1823. The existence of an oil sketch (listed as (a) in the table near the end of this note), following the drawing No. 105 [292-1888] more closely than any other of the known versions, and its virtual coincidence in measurements with the picture actually painted for the Bishop's daughter indicates that Constable did not adopt the suggestion now repeated that he should finish the first sketch for this purpose. Nor, it appears, did the Bishop agree to Constable's painting another the same size as the original to use up the other frame. The sketch in question is that in the collection of Mr. A. W. Bacon, and measures 24 x 29 ins. (L. ed. S., Pl. 81). On 30 September 1823 Constable wrote to Fisher: "I have just received a letter from the Bishop to forward my small picture of the Church, that it may be ready to 'greet and surprize the Bride' on her arrival in Seymour St. I had fortunately got it very forward. When must it be ready?" (Beckett, VI, p. 133). In his reply Fisher indicates that the Bishop was still concerned about the kind of sky Constable was to introduce "He hopes that you put your marriage picture of Salisbury into a little sunshine" (Beckett, VI, p. 135).
Elizabeth Fisher was married to John Mirehouse on 16 October 1823. In the letter communicating this news, Fisher adds: "The Bishop has been fishing up some old drawings of Bucklers against your arrival in Salisbury. With the intent I guess that you should copy & improve them. Retaining so much of Buckler* (*John Buckler, F.S.A. (1770-1851) is well known for his drawings and aquatints of English cathedrals) as shall exclude light & shadow (the Bishops detestation) & improving his rawness with some of your colour & facility.-' [If] Constable would but leave out his black clouds! Clouds are only black when it is going to rain. In fine weather the sky is blue' " (Beckett, VI, p. 138). It will be noted that the wedding present picture was at first also to be hung in the Bishop's house in Seymour Street. Constable wrote on 19 October: "I hung up my 'bridal picture' with my own hands yesterday in Seymour Street-to 'greet & surprise' the Bride on her arrival ... It will be better liked than the large one, because it is not 'too good' ". He adds that he had postponed going to Coleorton for a week to finish the picture (Beckett, VI, p. 139). Fisher comments on 12 December 1823 "Mrs. Mirehouse [the former Elizabeth Fisher] is warm in the praises of your picture of the Cathedral" (Beckett, VI, p. 145). Constable complains of Smith's delays in cutting the frame for Mrs. Mirehouse's picture (Beckett, VI, p. 146-7). On 6 January 1824 the Bishop authorised Elizabeth's servant to return to Constable the picture of Salisbury Cathedral which was at his house in town, presumably her small version. On 17 January 1824 Constable wrote to Fisher "I want to see the picture of the Cathedral belonging to Mr Mirehouse in a frame, in order to [? tone] it. But the Bishop has involved me with that wretch at Kensington and therefore a frame is hopeless. I will not get another on my own acct. I do not think that Mr M. admires it-but speaking to a lawyer about pictures is something like talking to a butcher about humanity" (Beckett, VI, p. 149). In the same letter he says that he has sent the Bishop's picture of the Cathedral to the British Institution. From this it appears that it had been in his studio; presumably it had been sent back to him when he was making the copy for Mrs. Mirehouse, and had not yet been returned to the Bishop. It may be noted in passing that
the framed measurements of the picture are given in the British Institution catalogue as 3 ft. 0 ins. by 4 ft. 9 ins. The width is fairly exact, but the height must be at least 6 inches out. When at the British Institution, No. 254 [FA 33] received an enthusiastic notice in the Somerset House Gazette, I, 1824, pp. 311 and 312. Meanwhile, Constable, after some reminders from the Bishop, finished his work on Mrs. Mirehouse's version and sent it to her house in Orchard Street at the beginning of April 1824 (Beckett, VI, pp. 154-55). On 8 May 1824, Constable wrote to Fisher referring to the return of the Bishop's painting from the British Institution: "I have just deposited my picture in its place in the back drawing room in Seymour St. and opposite and as a companion to a landscape of Mrs. MacTaggett.* (*Mrs. A. MacTaggart exhibited five landscapes at the British Institution in 1824. Constable described her as "a laughing ignorant vulgar fat uncouth old woman, but very good natured".) To what honors are some men born" (Beckett, VI, p. 157). The event which led to Constable's making a full-scale replica of No. 254 [FA 33] was an interview with the Bishop, recorded on 25 June 1824 in the journal which Constable kept for his wife: "After breakfast called on the bishop by his wish. He had to tell me that he thought of my improving the picture of the Cathedral and mentioned many things.- 'He hoped I would not take his observations amiss.' I said, 'Quite the contrary, as his lordship had been my kind monitor for twenty-five years.' I am to have it home to-morrow" (L. ed. S., pp. 167-8). Constable sent John Dunthorne round to fetch the picture a day or so later 'to be varnished' (Beckett, II, p. 345). From the subsequent developments it appears that the Bishop's dislike of the dark cloud behind the Cathedral had at last caused him to instruct the artist either to paint it out or to paint a new version without it. The latter course of action was the one taken by Constable. It seems, though this is not referred to in the extant correspondence, that Constable in consequence decided to offer to Archdeacon Fisher the original full-scale version (No. 254 [FA 33]). As Constable is later found at work again on the small wedding present picture belonging to Mrs. Mirehouse, he was presumably prevailed upon to introduce into that version also some of the modifications called for by the Bishop in his version.
On 18 July 1824, Constable wrote to Fisher: "I have got the picture of the Cathedral, from the Bishop's-and Johnny [Dunthorne] has made me a delightfull outline of the same size . . . We must not let the Good Bishop have the bridal in his hand again. He will ruin both our reputations-I mean yours & mine" (Beckett, VI, p. 167). Fisher replied on 24July: "I congratulate you on the repossession of the Cathedral. Have Buckler or Reinagle to make him a copy of it" (Beckett, VI, p. 170). On 24 January 1825 Constable enquired of Fisher "Tell me if you think a print of the Cathedral (the Bishops picture) would answer enough to pay £20 or £30. I should think it might, it would make a good one, especially that which I am now about. You cannot think how I regret being about this picture to the neglect of my large landscape, for every reason- besides I can make no part of art pay now so well as my own landscape. But I will not quarrel with kind friends & kick down the ladder" (Beckett, VI, p. 192). Fisher replied on 27 January: "I do think that an impression of your Cathedral would sell well at Salisbury. But it entirely depends on the brilliancy of the engraving. If it be added at the foot, 'from the original in the possession of the Bishop of Salisbury' it would be as good as giving the Palace, a commission & brokerage, to sell" (Beckett, VI, pp. 193-4).
Bishop Fisher died on 8 May 1825. At this time Constable still had in his studio the original 'Salisbury Cathedral' (No. 25 [FA 33]); the new full-size version was not yet completed, and Mrs. Mirehouse's smaller version was eventually to be altered. He refers to these matters in his journal on 1 October 1825: "I must make my mind easy as to my dead horses, namely, Salisbury Cathedral,…and Mr. Mirhouse's picture to be altered" (L. ed. S., p. 198). Again on 31 October "have secured the new picture of the Cathedral ... and the little picture of the Cathedral for Mr. Mirhouse" (L. ed. S., p. 199). On 12 November he wrote to Fisher: "I have nearly compleated a second Cathedral which I think you will (perhaps) prefer to the first--but I will send them both to Salisbury for your inspection if you like" (Beckett, VI, pp. 206-7). This may perhaps be taken to confirm the supposition that Fisher was to have the first full-scale version when the other was returned to the Bishop's family. On 25 November Constable noted in his journal: "Painted all day on Mr. Mirehouse's little picture of the Cathedrum, making in all, as pretty Minna says, three Cathedrums" (L. ed. S., p.203). The next day he wrote to Fisher: "My new picture of Salisbury is very beautiful and I have repainted entirely that of Mrs. Mirehouse-I am now delighted with it, but when I thus speak of my pictures remember it is to you and only in a comparison with myself" (Beckett, VI, p. 210). The repainting of the small wedding present picture was shortly afterwards completed, as is shown by Constable's letter to Fisher OCI February 1826: "Mr. Mirehouse sent for the 'Cathedrum' as your pretty goddaughter calls it-it is wholly a new picture and very pretty" (Beckett, VI, p. 213).
Constable had borrowed Fisher's large landscape 'The White Horse', and it had been exhibited at Lille. Fisher's letter of acknowledgement, written on 1 July 1826, shows that Constable sent it back with one of the two large versions of 'Salisbury Cathedral from the Bishop's Grounds': "The two pictures arrived safe on Friday, & within an hour were up in their places; the white horse looking very placid & not as if just returned from the continent ... The Cathedral looks splendidly over the chimney peice. The pictures require a room full of light. Its internal splendour comes out in all its power, the spire sails away with the thunder-clouds. The only criticism I pass on it, is, that it does not go out well with the day. The light is of an unpleasant shape by dusk. I am aware how severe a remark I have made" (Beckett, VI, pp. 221-2). But on 15 December 1829, Fisher had to write to Constable to ask whether he could turn his "two great pictures" into money for him; or whether he would advance £200 on
them (L. ed. S., p. 223). Constable decided to buy the two pictures for £200 (loc. cit.; Beckett, VI, p. 255). One of the two pictures in question was evidently 'The White Horse'. This was Lot 77 in the Executors' sale, 16 May 1838, bought in for £157 10s. The other was probably the version of 'Salisbury Cathedral' which Fisher described in his letter of 1 July 1826, quoted above; that is, No. 254 [FA 33]. The fact that the original picture painted for the Bishop, and exhibited at the Royal Academy in 1823, also figured in the Executors' sale is most convincingly accounted for by the supposition that it was this version which Archdeacon Fisher had in 1826, and was the second painting that he sold back to Constable in 1829. In that event the Bishop's family will have had the newer version with the outline by Dunthorne. This is entirely consistent with the pedigree of the version of 1826 (Steegman, p. 201; see (b) in the table near the end of this note), which descended directly from Dolly Fisher, daughter of Bishop Fisher and sister of Mrs. Mirehouse. On 17 December 1833, Constable wrote to his friend George Constable: "I have not an idea that I shall be able to part with the Salisbury; the price will of necessity be a very large one, for the time expended on it was enormous for its size. I am also unwilling to part with any of my standard pictures: they being all points with me in my practice, and will much regulate my future productions, should I do any more large works" (L. ed. S., p. 308). In a footnote Leslie identifies the picture as "One of his repetitions of the beautiful picture of the 'Cathedral from the Bishop's Grounds'''. Steegman thinks that the painting is more possibly the 'Salisbury Cathedral from the Meadows', which was exhibited at the Royal Academy in 1831, but Leslie's identification is probably correct. Constable's description of the work as one of his standard pictures, and reference to the labour expended upon it would fit exactly with the history of No. 254 [FA 33]. He exhibited a painting of 'Salisbury Cathedral from the Bishop's Grounds' at Worcester in 1834 (not 1835; see Beckett, Art Quarterly, Detroit, Vol. XX, 1957, p. 150). If the suppositions made above are correct, both the version which Constable refused to sell to George Constable and the one exhibited at Worcester may have been No. 254.
It remains to mention the other versions in the sale held after Constable's death and those extant today. In the Executors'sale, 16 May 1838, were the items:
Lot 12. Two- Salisbury Cathedral, study for the finished picture, and Helmingham Park. (Bt. Allnutt, £9 9s.)
Lot 30. Salisbury Cathedral, from the Bishop's Garden, nearly finished. (Bt.
Archbutt, £16 16s.)
Lot 72. Salisbury Cathedral from the Bishop's Garden. Exhibited 1823. (Bt.
Tiffin, £64 1s.)
Views of Salisbury Cathedral also appear as parts of an item in Lots 13, 23 and 34, but the descriptions give no further details, so it is not possible to say whether any of these were of the same composition. Lot 72 is No. 254 [FA 33], and it may be presumed that Tiffin was acting for Sheepshanks when he bought it.
The following versions are recorded (L. ed. M., p. 412; Steegman, pp. 204-5):
(a) A sketch. 24 x 29 ins. Now in the collection of Mr. A. W. Bacon. In the Exhibition of British Art at the Royal Academy, 1934, this was No. 385 in the Commemorative Catalogue, reproduced Pl. CX.
(b) Frick Collection, New York. Signed and dated 1826. 34 ½ x 43 1/2 ins.
Collections: Bishop Fisher's daughter Mrs. Pike-Scrivener (née Dolly Fisher); thence to her nieces the Misses Fanny and Emma Mirehouse; S. G. Holland; sold at Messrs. Christie's, 25 June 1908, Lot 12.
(c) Huntington Library and Art Gallery, San Marino. 25 x 30 ins. Signed and dated 1823. Collections: Mr. and Mrs. John Mirehouse and their descendants. Sold at Messrs. Christie's, 16 May 1952, Lot 49.
(d) Laing Art Gallery, Newcastle. 29 x 35 ins. (unfinished). Collections:
E. L. Raphael; F. J. Nettlefold.
(e) Metropolitan Museum of Art, New York. 34!X44 ins. Collections:
Davies, Manchester; Foswell, before 1907; Sir Joseph Beecham; sold at Messrs. Christie's, 3 May 1917, Lot 6; Edward Harkness.
(f) Sao Paolo Museum. 35 ¼ x 45 ins. Collections: Sir Arthur Du Cros; J. Mountain.
(g) Montreal, Museum of Fine Arts. 29 x 37 ins. Collection: Mrs. C. F.
Martin. Reproduced in R. M. Hubbard European Paintings in Canadian Collections. Earlier Schools. Toronto, 1952, Pl. LXIV.
Of the above, (a) is said to be Lot 30 in the Executors' sale, but is more probably to be identified with Lot 12 in that sale. (b) is the full-scale replica which Constable painted for the Bishop, which is presumed to have been delivered to his widow after the Bishop's death. (c) is the small wedding present picture painted for the Bishop's daughter Elizabeth Mirehouse and subsequently repainted. Unless Constable painted and sold any other unrecorded replicas of the subject in his lifetime, (d), (e), (f) and (g) have to dispute identification with Lot 30, and possibly with Lots 13, 23 and 34 in the Executors' sale.
In his description of the picture No. 254, Leslie says: "In the foreground he introduced a circumstance familiar to all who are in the habit of noticing cattle.
With cows there is generally, if not always, one which is called, not very accurately, the master cow, and there is scarcely anything the rest of the herd will venture to do until the master has taken the lead. On the left of the picture this individual is drinking, and turns with surprise and jealousy to another cow approaching the canal lower down for the same purpose; they are of the Suffolk breed, without horns; and it is a curious mark of Constable's fondness for everything connected with his native county, that scarcely an instance can be found of a cow in any of his pictures, be the scene where it may, with horns" (L. ed. S., p. 134).
somewhat misleading one if made without awareness of the full facts of the matter, as set out above. After accepting the painting for his home, where it was hung for some time, the Bishop did indeed ask Constable to make alterations, which in effect obliged the artist to paint a new and somewhat changed version, but this is not tantamount to rejection in the usual s~nse of the word.
The statement that the Bishop rejected the picture, which is made in the Museum's Catalogues from 1859 to 1893, and followed by Holmes, p. 246, is a somewhat misleading one if made without awareness of the full facts of the matter, as set out above. After accepting the painting for his home, where it was hung for some time, the Bishop did indeed ask Constable to make alterations, which in effect obliged the artist to paint a new and somewhat changed version, but this is not tantamount to rejection in the usual sense of the word.
Evans, M., with N. Costaras and C. Richardson, John Constable. Oil Sketches from the Victoria and Albert Museum, London: V&A, 2011, p. 22, fig. 17.
Timothy Wilcox, Constable and Salisbury. The Soul of Landscape London: Scala Publishers Ltd, 2011. ISBN: 978 1 85759 678 6.
Exhibition catalogue
Exhibition History
John Constable's Paintings of Salisbury and its environs (The King's House, Salisbury 20/05/2011-25/09/2011)
Constable. Impressions of Land, Sea and Sky (Museum of New Zealand, Te Papa Tongarewa, Wellington 05/07/2006-08/10/2006)
Constable. Impressions of Land, Sea and Sky (National Gallery of Australia, Canberra 03/03/2006-12/06/2006)
Constable (Tate Gallery 13/06/1991-15/09/1991)
A Grand Design - The Art of the Victoria and Albert Museum (V&A 12/10/1999-16/01/2000)
Labels and date
British Galleries:
No landscape paintings seem more British than Constable's. They are apparently presented with great directness and simplicity. In fact, they were carefully constructed images of an idealised rural life created for urban viewers and patrons. This painting was shown at the Royal Academy in London in 1823. Constable considered it 'the most difficult subject in landscape I ever had on my easel'. [27/03/2003]
Materials
Canvas; Oil paint
Techniques
Oil painting
Subjects depicted
Figures; Trees; Buildings; Landscapes (representations); Clouds; Cattle; Cathedral; Pond; Salisbury Cathedral
Categories
Paintings; British Galleries; Religion; Christianity
Collection code
PDP