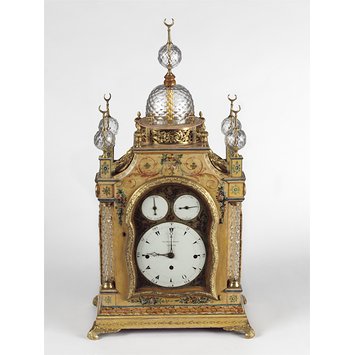 Bracket clock
Place of origin:
Date:
Artist/Maker:

Prior, George (made by)
Thwaites, John (made)

Materials and Techniques:

Wood, painted, with cut glass ornaments, stamped and gilt brass mounts, and a brass clock movement. The oil paint is applied thinly and was covered by a transparent varnish. The painting, in pastel tones over a yellow ground, is small scale but looks quickly done and of a similar nature to that on painted furniture. No evidence has come to light about who painted such clock cases.

Credit Line:

Bequeathed by Lady Loraine

Museum number:
Gallery location:

Furniture, Room 135, The Dr Susan Weber Gallery, case BY5, shelf CASE1 []
George Prior (1735-1814) was the most significant clockmaker exporting clocks and watches to Turkey in the late 18th century. In order to supply an expanding trade he also retailed clocks made by other makers, adding his name to the clock faces. He exported thousands of watches, and a smaller number of lantern clocks and musical bracket clocks. Many clocks supplied by Prior and others were made and packaged ready for export by the firm 'Thwaites', whose name appears on the movement of this clock. John Thwaites, who had premises in Rosoman Row, Clerkenwell, took over from his father Ainsworth in about 1780. Most clocks made for the Turkish market have plain mahogany cases but this musical clock is a particularly elaborate example with a delicately painted case. It incorporates design elements that appealed to Turkish buyers, such as the glass dome and crescent-moon finials.
Physical description
Summary description
A large table clock with a cream and floral painted case, cut-glass columns, glass dome and spheres, with gilt-brass fittings including crescent moon finials. The clock face has Arabic numerals.
Decorative scheme
The clock case has a complex decorative scheme evoking fantasy architecture, the top decorated to suggest minarets with fixed, facetted glass spheres which sparkle in the light. The reflective gilt-brass fittings and the pastel painted decorative scheme also give a light and airy impression.
In the centre a cut-glass sphere rises above a facetted and textured cut-glass dome, both held in place by a vertical gilded wood rod. Above this is a tall brass finial surmounted by an upturned crescent moon. There are four matching glass spheres with tall crescent finials, one at each corner of the case, supported on small painted pedestals. The dome is raised on a drum-shaped platform, painted with pink and cream bands and decorated with four pierced gilt-brass panels and surmounted by four small gilt-brass urns with flame finials. This platform rests on the flat top of the clock case surrounded by four larger gilt-brass flaming urn finials, one at each corner.
The clock case is painted with floral swags and scrolls in pastel colours on a cream background. In the centre above the clock face is a delicately painted Neoclassical swagged urn with fruit and foliage spilling out from the top. Facetted glass columns are fitted into recesses in the front corners of the case, held in place by brass fittings at top and bottom. The frame of the clock-face cover, the carrying handles at each side, the pierced panels at the sides and the scrolled feet are also gilt brass. The gilt-brass side panels, possibly later replacements, are decorated with Rococo motifs including scrollwork, flowers and leaves. They are lined with a 20th century red plush fabric, probably a silk-cotton mix. In places the pile has worn down showing the weave, suggesting that the fabric has previously been used for another purpose.
The white enamel clock face, protected by a shaped glass cover, is inscribed 'GEORGE PRIOR/LONDON'. The dial has two pierced brass hands and is marked with hours and minutes in Arabic numerals of a form seen on many British clocks made for the Middle-Eastern market, using thick, wedge-shaped uprights. These are presumably designed to be seen with clarity from a distance. There are three winding holes, for the movement, the striking and the musical mechanisms. Above the clock face are two smaller dials with one hand each, one to turn the chime on or off and one to select the tune. The dials are set against a background painted cream with floral decoration.
The clock case stands on a pedestal with convex and concave mouldings painted with two bands of running ornament composed of ribbons, flowers and berries in pink and green.
The movement
The brass movement is held in place inside the case by brackets bolted to the sides of the case. It has a verge escapement and bells are in two trains, or sets, one for striking and one one for music, the latter with ten bells. The brass front plate, which cannot be seen when the movement is fitted into the case, is signed 'I.Thwaites 9'. This probably refers to John Thwaites. The back plate, which is visible through a glass door, is engraved in script 'George Prior/London' and is scratched in the corners with at least three sets of marks, probably to record repairs. Around the edge of the backplate is an engraved border with intertwined undulating motifs. The original front lock has been removed and there is now a brass hook on the inside holding the dial cover closed.
Structure and materials
The wood of the carcase is difficult to identify because it has been painted inside with a reddish stain, probably during restoration, but is probably oak. The weight of the superstructure is supported by substantial wooden uprights inside the back corners of the case and curving front uprights which are hollowed out externally to receive the glass columns. The front, which consists of an arched frame to take the clock face, is made of four pieces of wood lap-jointed together and veneered on the front as a basis for the paintwork. The side panels are each made of one piece of wood cut with a hole over which is fixed fabric and gilt-brass panels. The back of the clock is made of four pieces but not veneered. The lower rail is rebated into the side uprights. A glazed arched door at the back is made of five pieces lap-jointed together and veneered on the outside to hide the joints. Holes are cut into the sides and curved shoulders of the case to allow the bells to be heard, and covered by the pierced brass panels. The ceiling of the case is solid beneath the drum platform.The corner pedestals are dowelled into the top of the case.
Painted decoration
The wooden case is covered in a thin layer of gesso to provide a smooth surface for the paint. The paintwork appears fresh and in all likelihood approximates to its original appearance, because most of it was cleaned and conserved by the Museum in 1989 except for a small section at the back and the area around the clock face, which were left untreated and appear darker. In 1989 the considerable overpainting and varnishing which had been carried out before it came to the V&A was removed, and the gaps filled and repainted. Finally a glaze was applied in the repainted areas and to areas where glaze was missing on the original paintwork. The paintwork on the front of the case is in substantially original condition. At the same time the red plush fabric was washed. The brass panels appear to have been regilded.
Place of Origin
London (made)
Date
ca. 1790 (made)
Artist/maker
Prior, George (made by)
Thwaites, John (made)
Materials and Techniques
Wood, painted, with cut glass ornaments, stamped and gilt brass mounts, and a brass clock movement. The oil paint is applied thinly and was covered by a transparent varnish. The painting, in pastel tones over a yellow ground, is small scale but looks quickly done and of a similar nature to that on painted furniture. No evidence has come to light about who painted such clock cases.
Marks and inscriptions
GEORGE PRIOR/LONDON
On front dial and engraved on the back-plate of the movement
I Thwaites 9
Engraved on the front plate of the movement
CHIME/NOT CHIME
On the top left dial
1 MALBROUCK, 2 SAMAHE, 3 DANCE, 4 SONG TURK
On the top right dial; the names of the tunes played.
CHIME, NOT CHIME
On upper left dial
1 MALBROUCK, 2 SAMAHE, 3 DANCE, 4 SONG TURK
On upper right dial
Dimensions
Height: 74 cm, Width: 40 cm, Depth: 23.5 cm
Object history note
The clock was beqeathed by Lady Loraine (1893-1970), wife of the diplomat Sir Percy Lyham Loraine (1880-1961). They married in 1924. Sir Percy Loraine, who spoke Turkish, had served in Turkey twice: in Constantinople (Istanbul) from 1904 to 1907 and in Ankara from 1933 to 1938. Lady Loraine left no details about the clock's history but it is likely that she or Sir Percy acquired the clock while in Turkey, particularly as she also gave the Museum a pair of Turkish silver-gilt vases in 1965. Louise Violet Beatrice, Lady Loraine, was the elder daughter of Major-General Edward James Montagu-Stuart-Wortley, of Highcliffe Castle, Hampshire. Lady Loraine's sister, Bettina Lady Abingdon, was also a donor to the V&A. She gave their father's collection of Empire furniture to the museum in 1986.
Historical significance
George Prior was one of several British clock makers who supplied clocks for the Turkish market and this clock is a typical example of the trade. The decorative elements were made specifially to appeal to Turkish customers. On this clock the glass domes and spheres suggest Byzantine architecture. The crescent moon seen on the finials was adopted as the symbol of Constantinople (now Istanbul), and the Ottoman empire more generally.
This is a musical clock and the tunes available are drawn from a mixture of sources. One is 'Samahe', which appears to be a Middle-Eastern female name and was presumably also the name of a tune familiar in Turkey. On the other hand 'Malbrouck' was a variation on a tune still known in England as 'For he's a jolly good fellow'.
Historical context note
During the late 18th and early 19th century clocks and watches were made in Britain in considerable numbers for export to Turkey. George Prior was one of the most significant clockmakers who took part in this trade. Although he was a trained clockmaker himself, the trade was so large that Prior bought clocks and watches in large numbers from wholesalers such as Ainsworth and his son John Thwaites, who supplied a range of clockmakers, and put their own name on the dials and the movements. Ainsworth Thwaites worked from 1740 to 1780. John Thwaites was apprenticed to his father in 1772 and traded under his own name from premises at 4 Rosoman's Row, Clerkenwell, London, until 1816. The movement for this clock is engraved 'I. Thwaites' indicating that it was made by John Thwaites. Later, from 1817 to 1842, he was in partnership with Reed.
The clockmaking trade was made up of small workshops each specialising in a separate skill, suggesting that the clock case might have been made in case-making workshop, painted in a specialist decorative painting workshop, and assembled in a third workshop belonging to Thwaites or to George Prior himself. Clock suppliers such as Prior bought finished clocks from wholesalers such as Thwaites, then signed and sold them under their own name. Prior's name was established as a reliable exporter of clocks to Turkey and there was evidently considerable demand for clocks signed by him.
Prior traded through British merchants established in Turkish ports. His name became so well known in Turkey that the word 'pyrol', a corruption of his name, was used in Turkey to denote an English watch, and many of his clocks can still be found in Turkey today.
Descriptive line
BRACKET CLOCK
Painted deal with glass and ormolu
Inscribed "George Prior, London" and made about 1790-1810
Bracket clock with painted floral decoration, glass dome and spheres with crescent-moon finials, supplied by George Prior for the Turkish market in about 1790.
Bibliographic References (Citation, Note/Abstract, NAL no)
Ian White, English Clocks for the Eastern Markets; English Clockmakers Trading in China and the Ottoman Empire 1580-1815 (Ticehurst: Antiquarian Horological Society, 2012).

Labels and date
MUSICAL REPEATING BRACKET CLOCK
ENGLISH; about 1800
Painted case with glass and ormolu decoration.
Made for the Turkish market by GEORGE PRIOR, London. [pre October 2000]
Musical bracket clock
About 1790
Signed by George Prior (1735–1814)
Movement by John Thwaites (active 1779–1842)
England (London)
Wood, painted, probably with some original varnish
Ornaments: cut glass
Mounts: gilded brass over textile (replaced)
Movement: brass and other metals, with enamel dials
Made for the Turkish market
Bequeathed by Lady Loraine
Museum no. W.1-1971
The paintwork is still close to its original appearance, having been protected by a transparent varnish. A thin gesso layer provided a smooth surface for the oil-painted yellow ground and thinly applied Neo-classical decoration.
George Prior probably contracted out the painting, and bought the clock movement and showy ornaments from specialist suppliers.
[01/12/2012]
Materials
Wood; Glass; Brass; Brass; Paint
Techniques
Painting; Gilding; Glass
Subjects depicted
Flowers; Urn; Swags; Fruit
Categories
Clocks & Watches; Furniture
Collection
Furniture and Woodwork Collection