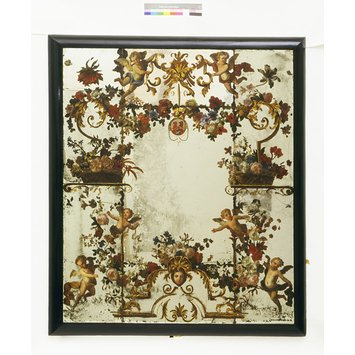 Monnoyer, Antoine, born 1672 - died 1747
Mirror
Place of origin:

London, England (probably, painted)

Date:
Artist/Maker:

Monnoyer, Antoine, born 1672 - died 1747 (probably, painter (artist))

Materials and Techniques:

Mirrored glass, painted in oils, with stained wood frame

Credit Line:

Given by the Hon. Mrs Blezard

Museum number:
Gallery location:
Object Type
Painted mirrors are rare survivals, as the mirror glass is breakable and the surface paint easily damaged. Also, they were often built into an interior and destroyed when the room was altered or redecorated. The frame of this mirror was probably supplied when it was removed from its earlier setting.
People
Antoine Monnoyer was born in 1672. He was the son of the French artist Jean Baptiste Monnoyer, who worked for Louis XIV and then came to England in 1678. The Monnoyers, father and son, painted flowers from all seasons of the year, achieving a decorative effect that could not be realised with cut fresh flowers. Jean Baptiste did a mirror closet at Kensington Palace for Mary II. Apparently she was so fascinated by his skill that she watched him while he worked.
Design and Designing
The painting is in a style associated with the Huguenot designer Daniel Marot. The light framework of gilded ornament, with garlands and baskets of flowers supported by putti, is similar to the only dated example of painted mirror glass to survive. This was painted in 1701 by Jakob Bogd ny (born around 1660, died 1724), another Protestant émigré from the Continent, and is preserved in the closet at Dalkeith Palace, Scotland.
Physical description
[Fragment] Corner piece, irregularly shaped, with one hole drilled. Longest dimension 31 cm.
[Fragment] Irregularly shaped, largest dimension 27
Place of Origin
London, England (probably, painted)
Date
1710-1720 (made)
Artist/maker
Monnoyer, Antoine, born 1672 - died 1747 (probably, painter (artist))
Materials and Techniques
Mirrored glass, painted in oils, with stained wood frame
Dimensions
Height: 186 cm including frame, Width: 158.5 cm including frame, Depth: 6 cm including frame and mirror plates
Object history note
Probably painted in London by Antoine Monnoyer (born in France, 1672)
The arms of Duncombe probably added later.
The gift of the Hon. Mrs Blezard
Notes from R.P. 34/3275
18/7/34 Minute paper of H Clifford Smith
Christopher Hussey (Country Life) phoned to report the offer of a large mirror the glass border of which is painted with flowers in the style of Baptiste. The mirror is from Mrs Blezard's house "Stocks", Albury, Tring and was said to have been given to a former owner of the house by James II.
23/7/34 Ralph Edwards Minute paper
Edwards inspected the mirror at Stocks. He describes the mirror contained within an (ovals) moulding of Charles II period. The oil painting on the glass is "considerably damaged" but "very accomplished and an important example of a rare form of decoration". Edwards suggests that the painting is French (in the style of Jean Baptiste), "but it is quite possible that one of the many French craftsmen domicled in England at that period was responsible". Edwards was reminded of mirrors of the same style as Boughton; elsewhere in England such decoration is scarce. Mrs Blezard reported that tradition holds that the mirror was given to the former owner of Stocks, a brewer to the Crown, by the Duke of York (later James II) in recognition of his services in entertaining (cr---illegible) who sought refuge there during the Plague.
24/7/34 H Clifford Smith Minute paper
Smith finds it difficult to say whether the mirror which he dates 2nd half of 17th Century is English or was perhaps decorated by a Frenchman living in England. The mirror is a great rarity of accomplished workmanship and a very important example of its kind. He suggests it might be "improved" by judicious restoration and recommends Prof. Tristram (a margin notation suggests Tristram "advise" unless fees can be found to restore).
Descriptive line
Mirror, composed of several panes of glass, painted in polychrome on the surface. English, 1710-20
Labels and date
MIRROR
ENGLISH; about 1690
Stained beechwood frame, the glass panels with floral arabesque ornament and bearing the arms of Duncombe of Stocks, Albury, near Tring.
Given by the Hon. Mrs. Belzard. [pre October 2000]
British Galleries:
This mirror may have been an overmantel in a room hung with tapestries. If so, the painted decoration of children with garlands may have echoed similar Baroque motifs in the main panels or borders of the tapestries. Queen Mary ordered such fashionable painted glass for a closet at Kensington Palace but it does not survive. [27/03/2003]
Categories
Household objects
Collection code
FWK