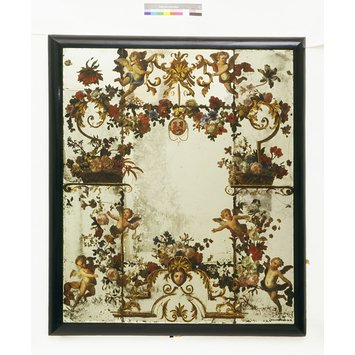 Monnoyer, Antoine, born 1672 - died 1747
Mirror
Place of origin:

London (probably, painted)

Date:
Artist/Maker:

Monnoyer, Antoine, born 1672 - died 1747 (painter (artist))

Materials and Techniques:

Mirrored glass, painted in oils, with stained wood frame

Credit Line:

Given by the Hon. Mrs Blezard

Museum number:
Gallery location:
Object Type
Painted mirrors are rare survivals, as the mirror glass is breakable and the surface paint easily damaged. Also, they were often built into an interior and destroyed when the room was altered or redecorated. The frame of this mirror was probably supplied when it was removed from its earlier setting.

People
Antoine Monnoyer was born in 1672. He was the son of the French artist Jean Baptiste Monnoyer, who worked for Louis XIV and then came to England in 1678. The Monnoyers, father and son, painted flowers from all seasons of the year, achieving a decorative effect that could not be realised with cut fresh flowers. Jean Baptiste did a mirror closet at Kensington Palace for Mary II. Apparently she was so fascinated by his skill that she watched him while he worked.

Design and Designing
The painting is in a style associated with the Huguenot designer Daniel Marot. The light framework of gilded ornament, with garlands and baskets of flowers supported by putti, is similar to the only dated example of painted mirror glass to survive. This was painted in 1701 by Jakob Bogd ny (born around 1660, died 1724), another Protestant émigré from the Continent, and is preserved in the closet at Dalkeith Palace, Scotland.
Physical description
Mirror, in a rectangular frame of black-stained wood, composed of several panes of glass, painted in polychrome oil paint. The seven panels are painted with a symmetrical design of flying putti (cherubs) holding up swags of flowers and leaves, with gilt foliage and scrolls. At the top of the centre panel is a painted coat of arms (per chevron engrailed argent and gules three talbots's heads erased counter charged) below a crest helmet 3/4 dexter surmounted by a coronet. The arms are of the Duncombe family of Barley End, Bedfordshire, but it is likely that the arms were added later to the mirror.
Place of Origin
London (probably, painted)
Date
1710-1720 (made)
Artist/maker
Monnoyer, Antoine, born 1672 - died 1747 (painter (artist))
Materials and Techniques
Mirrored glass, painted in oils, with stained wood frame
Dimensions
Height: 186 cm including frame, Width: 158.5 cm including frame, Depth: 6 cm including frame and mirror plates
Object history note
The early history of this mirror is not known.
It was given to the Museum by the Hon. Mrs Blezard, whose family had purchased it, with the house Stocks Manor, Albury, Hertfordshire, from the son of Mr and Mrs Humphry Ward, who had purchased the house in 1892. Mrs Humphry Ward had said that it was given to a former owner of Stocks by James II when he was Duke of York. The former owner was said to have been a brewer to the crown, given the mirror in recognition of his services in entertaining courtiers who sought refuge in the house during the Plague. As Stocks Manor was built in 1773, this is clearly a garbled (if not invented) story.
Notes from R.P. 34/3275
18/7/34 Minute paper of H Clifford Smith
Christopher Hussey (Country Life) phoned to report the offer of a large mirror the glass border of which is painted with flowers in the style of Baptiste. The mirror is from Mrs Blezard's house "Stocks", Albury, Tring and was said to have been given to a former owner of the house by James II.
23/7/34 Ralph Edwards Minute paper
Edwards inspected the mirror at Stocks. He describes the mirror contained within an (ovals) moulding of Charles II period. The oil painting on the glass is "considerably damaged" but "very accomplished and an important example of a rare form of decoration". Edwards suggests that the painting is French (in the style of Jean Baptiste), "but it is quite possible that one of the many French craftsmen domiciled in England at that period was responsible". Edwards was reminded of mirrors of the same style as Boughton; elsewhere in England such decoration is scarce. Mrs Blezard reported that tradition holds that the mirror was given to the former owner of Stocks, a brewer to the Crown, by the Duke of York (later James II) in recognition of his services in entertaining (cr---illegible) who sought refuge there during the Plague.
24/7/34 H Clifford Smith Minute paper
Smith finds it difficult to say whether the mirror which he dates 2nd half of 17th Century is English or was perhaps decorated by a Frenchman living in England. The mirror is a great rarity of accomplished workmanship and a very important example of its kind. He suggests it might be "improved" by judicious restoration and recommends Prof. Tristram (a margin notation suggests Tristram "advise" unless fees can be found to restore).
John Cornforth in his 1993 article in Country Life (see References) lists five other mirrors decorated with a similar techique, four of which survive. He records how Queen Mary may have instituted the fashion for such glasses when she had the architect and designer Daniel Marot (1661-1752) design her a small 'Looking Glass Closet' at Kensington Palace, decorated by the flower painter Jean Baptiste Monnoyer (1636-1699), although no detailed description or image of the closet survives. An inventory of the goods in her rooms at Kensington in March 1696/7 (after her death) mentioned a closet at the end of the Gallery which contained, amongst other flower paintings, 'one large looking glass in several peices painted with flowers & in it a guilt frame'. At Dalkeith Palace, near Edinburgh, there is a similar glass set within a marble frame as an overmantel in the Duchess's closet (this was the focus of John Cornforth's article). This is recorded as having been sent north from Moor Park by the 2nd Duchess of Montague in 1700, the painting recorded as having been done by Jacob Bogdani (1660-1724), a Hungarian-born artist working in London. The painting is clearly by a different hand from that on the V&A glass. Cornforth records a second one he had seen in a private collection that he judged might be by Antoine Monnoyer (1660-1747) and possibly for Montagu House, Whitehall. A third surviving glass is at Cotehele, the National Trust house in Cornwall but nothing is known of its history. The fourth extant glass was sold by Christie's, 8 July 1993, lot 46. This is said to have come from Chesterfield House and is now in a shaped, rococo frame. It is possible that it was bought from Canons, the house of the 1st Duke of Chandos (1673-1744) in Middlesex, built in the 1720s and demolished in 1747. The 4th Earl of Chesterfield (1694-1773) is known to have bought marble cladding for his staircase from this earlier house. Christi'e's attributed the painting on this glass to Andien de Clermont (a French artist working in London from about 1716 to 1756).
The idea of decorating mirrors in this fashion, and covering the joints between plates, was possibly first seen in Italy. Such painting survive in the Galleria of the Palazzo Colonna in Rome (see guidebook to Palazzo Colonna, 2014, reprinted 2019, p. 87). They are thought to be the work of Mario Nuzzi (1603-1673), known as 'Mario dei Fiori' on account of his paintings of lavish floral bouquets, some possibly in collaboration with Carlo Maratta (1625-1713), who is thought to have painted the figures. The building and decoration of the Gallery occupied the four decades up to 1700, but if these paintings do include work by Mario dei Fiori they must date from before 1673, the date of his death. The designer of the decoration of the gallery was the Austrian born Johann Paul Schor (1615-1674) and it is noted that his sone Johann Ferdinand Schor was a studio assistant of Carlo Maratta, but there is no note that he continued his father's tradition of flower painting.
Clearly, as John Cornforth showed, there was a long tradition of creating such decorated mirrors. Andien de Clermont decorated a similar glass in the Chinoiserie style for a closet at Syon House, Middlesex, perhaps following the on that the Duchess of Northumberland recorded in her journal as having seen in the Library at Wentworth Castle, Yorkshire in 1766, painted with 'Wreaths of Holly & in the upper part of each is an Owl'. As late as 1771 the Daily Courant apparently advertised 'Noble large Looking-Glasses, finely painted with flowers and Ornaments painted by Van Zoon'. Presumably these were the final expression of the style.
Since 1993 a further glass has been recongnized in another private collection. This glass has an arched upper edge and the painting would seem to date it to the early years of the eighteenth century, but nothing appears to be known of its history.
Conservation work was undertaken on the mirror in 1969.
A tall pier mirror, with painting of flowers in a basket, was sold at the 'Out of the Ordinary' sale (stock of Christopher Gibbs and Harris Lindsay), Christie's 10 May 2006, lot 19. This was in Capel-Cure House in 1945 but no other history is recorded.
Descriptive line
Mirror, composed of several pieces of mirror glass, within a stained wooden frame, the surface of the glass decorated with flowers and putti in polychrome oils, English, 1710-20.
Bibliographic References (Citation, Note/Abstract, NAL no)
Edwards, Ralph, 'A Mirror with Painted Decoration'. Country Life, 26 October 1935
Cornforth, John, 'Looking-Glass Mysteries'. Country Life, 21 October 1993, pp. 72-75, V&A mirror illustrated on p. 74.

Labels and date
MIRROR
ENGLISH; about 1690
Stained beechwood frame, the glass panels with floral arabesque ornament and bearing the arms of Duncombe of Stocks, Albury, near Tring.
Given by the Hon. Mrs. Belzard. [pre October 2000]
British Galleries:
This mirror may have been an overmantel in a room hung with tapestries. If so, the painted decoration of children with garlands may have echoed similar Baroque motifs in the main panels or borders of the tapestries. Queen Mary ordered such fashionable painted glass for a closet at Kensington Palace but it does not survive. [27/03/2003]
Materials
Wood; Mirror glass
Categories
Household objects; Mirrors
Collection
Furniture and Woodwork Collection