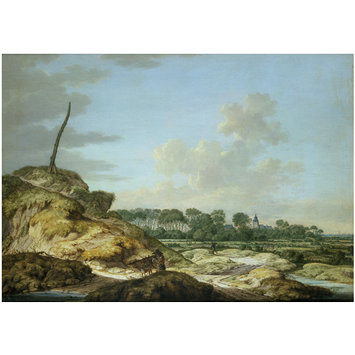 Goedaert, Johannes, born 1617 - died 1668
A View of the Island of Walcheren, with the castle of Westhoven
Object:
Place of origin:

Middelburg, Holland (probably, painted)

Date:
Artist/Maker:

Goedaert, Johannes, born 1617 - died 1668 (painter (artist))

Materials and Techniques:
Credit Line:
Museum number:
Gallery location:
Johannes Goedaert (1617-1668) was one of the earliest authors on entomology in the Netherlands and is also recorded as a painter. Although little is known about his life, he seems to have resided in Middleburg until his death. In his only work, Metamorphosis naturalis, he describes his observations of and experiments with insects made between 1635 and 1658. He had one daughter and one son, Johannes, who became a surgeon.
This painting is a good example of Johannes Goedaert's little known artistic production that mostly includes watercolours and whose subjects were mainly birds and insects. Although this picture was painted in oil, it looks like a watercolour with its very pale and bright tonality and the extremely accurate brushwork that seems to fulfil a pre-existent drawing rather than properly create the landscape. Goedaert may have depicted his surroundings from nature, a firsthand observation habit for which he was well known and that he applied to his scientific work.
Physical description
A highly detailed landscape of the Island of Wacheren with a hunter and his dog in the foreground and Westhoven Castle and Middleburg Church in the background.
Place of Origin
Middelburg, Holland (probably, painted)
Date
ca. 1660 (painted)
Artist/maker
Goedaert, Johannes, born 1617 - died 1668 (painter (artist))
Materials and Techniques
Oil on oak panel
Marks and inscriptions
'Joh. Koedaert'
Dimensions
Height: 30 cm estimate, Width: 41 cm estimate
Object history note
Bequeathed by John Jones, 1882
Ref : Parkinson, Ronald, Catalogue of British Oil Paintings 1820-1860. Victoria & Albert Museum, HMSO, London, 1990. p.xix-xx
John Jones (1800-1882) was first in business as a tailor and army clothier in London 1825, and opened a branch in Dublin 1840. Often visited Ireland, travelled to Europe and particularly France. He retired in 1850, but retained an interest in his firm. Lived quietly at 95 Piccadilly from 1865 to his death in January 1882. After the Marquess of Hertford and his son Sir Richard Wallace, Jones was the principal collector in Britain of French 18th century fine and decorative arts. Jones bequeathed an important collection of French 18th century furniture and porcelain to the V&A, and among the British watercolours and oil paintings he bequeathed to the V&A are subjects which reflect his interest in France.
See also South Kensington Museum Art Handbooks. The Jones Collection. With Portrait and Woodcuts. Published for the Committee of Council on Education by Chapman and Hall, Limited, 11, Henrietta Street. 1884.
Chapter I. Mr. John Jones. pp.1-7.
Chapter II. No.95, Piccadilly. pp.8-44. This gives a room-by-room guide to the contents of John Jones' house at No.95, Piccadilly.
Chapter VI. ..... Pictures,... and other things, p.138, "The pictures which are included in the Jones bequest are, with scarcely a single exception, valuable and good; and many of them excellent works of the artists. Mr. Jones was well pleased if he could collect enough pictures to ornament the walls of his rooms, and which would do no discredit to the extraordinary furniture and other things with which his house was filled."
Historical significance: Among 17th-century great landscapists, Johannes Goedaert appears like a dilettante painter. His technique is actually very different from the one achieved by his contemporaries who developed a freer brushwork and tent to use an almost monochromatic palette. In this picture, one can notice that it was not the pictorial effects that interested the artist but the exact depiction of a panoramic view. This view identified as the castle of Westhoven in the island of Walcheren, near Middelburg witnesses Goedaert's activity as a naturalist who was famous for his firsthand observation, and this highly detailed picture could be construed as a descriptive study of the natural environment and as such, part of his scientific activity.
Historical context note
Landscape paintings were extremely popular during the 17th century and increasingly encompassed a variety of forms and genres. Dutch painters had a new attention for nature and their familiar surroundings as well as more exotic locales that Dutch travellers encountered, among which the most praised was Italy. In the early 1600s, innovative contributions to landscape paintings were made, especially by the marine painters who concentrate on the effects of light due to atmospheric condition and the sense of depth and had a great resonance on landscape painting. Panoramic views became popular in the 17th-century Netherlands and views of the Dutch countryside developed quickly, especially under the influence of Jan van Goyen (1596-1656) who developed a broken brushwork technique and used a restrained monochromatic palette of earthy colours. The end of the 17th century is remarkable for a shift in taste that came to favour more academic and classical landscapes under the influence of Italianate landscape paintings. Landscapes were then often employed as settings for mythological or historical subjects.
Descriptive line
Oil painting, 'A View in the Island of Walcheren, with the Castle of Westhoven', Johannes Goedaert, ca. 1660
Bibliographic References (Citation, Note/Abstract, NAL no)
100 Great Paintings in The Victoria & Albert Museum. London: V&A, 1985, p. 56.
The following is the full text of the entry:
"Johannes Goedart 1617/20-1668
Dutch School
A VIEW IN THE ISLAND OF WALCHEREN, WITH THE CASTLE OF WESTHOVEN AND THE CHURCH TOWER OF MIDDELBURG
Signed Joh. Koedaert
Oil on oak panel, 30 X 41 cm
557-1882. John Jones Bequest.
Largely because of the enthusiasm among early 19th-century collectors and artists for works of the Dutch school, England remains the best place outside Holland to find new masterpieces of the great century of Dutch culture. Attention, however, is often focused on the leaders - van Goyen, the Ruisdaels, Hobbema - and the doubtful or unsigned works tend to be classified around their styles. Presumably the oeuvre in oils of Goedaert has thus been distributed away from him: only four paintings are now known, all signed.
His name is of greater eminence in the history of natural science, and he seems to have been a member of a group of intellectuals in the mid-17th century active at Middelburg in the comprehensive study of the laws of nature. Goedart's own field was the morphology of insects, and his approach was classically empirical, the close study and record of appearances through all the changes of the life cycle. His great work, the Metamorphosis Naturalis ... (Middelburg, 1662-9) was illustrated with engravings after his own coloured drawings, executed from the life during years of breeding and study of insect forms. Those habits of visual study and the skills of accurate record were fundamental to the 'scientific' revolution of the 17th century.
What is often overlooked by aesthetic critics of art is the status of landscape painting similarly as a descriptive study of the natural environment. The image of Walcheren may not be a study in the sense applicable to the Insects, but landscapes, especially in this highly detailed and almost naturalistic idiom, had a special significance in the world view of the natural philosophers. Hung only in those public parts of the house assigned by convention to them, paintings of people, places and things belonged to and helped to establish the sense of intellectual order, the types and hierarchies, that comprised the Creation. Thus A View in the Island of Walcheren, hung in a Middelburg house, would have located the town in its wider environment and placed the doings of man in nature, representing them in a house that would itself be a microcosm of the greater world outside.
John Murdoch"
C.M. Kauffmann, Catalogue of Foreign Paintings, I. Before 1800, London: Victoria and Albert Museum, 1973, pp. 135-6, cat. no. 154.
The following is the full text of the entry:
Johannes GOEDAERT (1620-68)
Dutch School
Goedaert, who appears to have lived all his life at Middelburg, was a naturalist as well as a painter. His Metamorphosis naturalis, a three volume work on insects, was published in Middelburg in 1662-69. It was illustrated with some 150 engravings of insects previously drawn by him in watercolour. Very little is known of his paintings, apart from 577-1882 (no. 154). There is as far as we know only one other landscape in oil (Liechtenstein gallery, Vaduz). Apart from these, there are two flowers pieces in Dutch private collections and landscape drawings in the Albertina, Vienna, the Rijksprentenkabinet, Amsterdam, and the De Grez Coll., Brussels.
Lit. J.Q. van Regteren Altena in Oud Holland, xliv, 1927, pp. 269-74 (with full bib.): L.J. Bol in Oud Holland, lxxiv, 1959, pp. 1-19.
154
A VIEW IN THE ISLAND OF WALCHEREN, WITH THE CASTLE OF WESTHOVEN
Signed lower centre, Joh. Koedaert
Oak panel
11 ¾ x 16 ¼ (30 x 41)
Jones Bequest
577-1882
Described by B. S. Long (Cat. Jones Coll., 1923, no. 549, p. 49 f.) as Dutch 17th century with an indecipherable signature (? Kotdaert), the identity of the painter was established by J. Q. van Regteren Altena in 1927. The castle was identified as that of Westhoven in the island of Walcheren while the tower of Middelburg, the artist's home town, appears in the right background. L. J. Bol (1959) suggested that the wooden pole on the dune on the left is the mast of a beacon light. To judge from the costume of the huntsman in the foreground, the painting may be dated ca. 1660.
Prov. John Jones, bequeathed to the Museum in 1882.
Exh. Zeeland in de beeldende kunst der Lage Landen 1550-1950, Middelburg, 1965, no. 70.
Lit. J. Q. van Regteren Altena, op. cit., p. 269 f., repr.; Connoisseur, lxxxiv, 1929, p. 208, repr. only; Bol, op, cit., 1959, p. 7 f., fig. 3.; W. Bernt, Netherlandish painters of the 17th century, i, 1969, fig. 432; C. M. Kauffmann in Apollo, xcv, 1972, p. 179, fig. 4.
Christopher Wright, Dutch painting in the Seventeenth century: Images of a Golden Age in British Collections, London, 1989, p. 196.
J.Q. van Regteren Altena in Oud Holland, xliv, 1927, p. 269f, repr.
Connoisseur, lxxxiv, 1929, p. 208.
Reproduction only.
L.J. Bol in Oud Holland, lxxiv, 1959, p. 7f, fig. 3.
W. Bernt, Netherlandish painters of the 17th century, i, 1969, fig. 432.
C. M. Kauffmann in Apollo, xcv, 1972, p. 179, fig. 4.
Materials
Oil paint; Oak
Techniques
Oil painting
Subjects depicted
Landscape; Castles; Islands
Categories
Paintings
Collection code
PDP