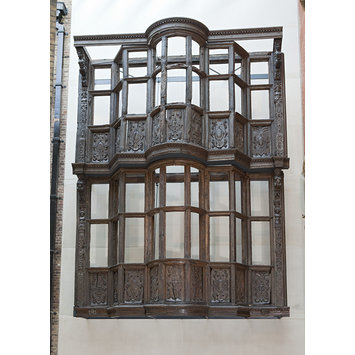 Sir Paul Pindar's House
Object:
Place of origin:
Date:
Artist/Maker:
Materials and Techniques:

Oak, joined and carved, with leaded glass quarries

Credit Line:

Given by the Chairman and Directors of the Great Eastern Railway Company

Museum number:
Gallery location:

Medieval and Renaissance, room 64b, case WW
This façade came from the London house, built in 1600 for Sir Paul Pindar (1565?–1650), a wealthy English merchant and the ambassador at Constantinople (now Istanbul) from 1611. His house was built outside the City walls in Bishopsgate, a relatively spacious and fashionable street. Pindar purchased adjacent houses so that his property was actually much wider than is suggested by this surviving portion, probably the most ornate element. Like many London houses, it was much deeper than it was wide, with stables and a garden extending behind. The ground floor frontage was altered in suceeding centuries so only the upper two storeys were brought to the Museum. On the first floor at the front was a grand reception room with decorated plaster ceiling, oak panelling and a massive decorated chimneypiece and overmantel. The house was pulled down in 1890 to make room for the enlargement of Liverpool Street railway station.
Physical description
Portion of timber-framed house front consisting of a first floor projecting over street level and a jettied second floor which projects over the first floor, both of 9 units arranged in a central, semi-circular projection.
The second floor with 9 large panels below a large windows with 18 lights arranged in two rows; the whole floor set on an entablature with dentil moulding which extends around the modern return walls, and with a similar, modern entablature above, fitted roughly with modern softwood floorboards on modern joists. On the façade 2 terminal posts with carved fronts forming pilasters, the right hand one a plaster copy of the left hand, each with a monstrous, naked, female corbel figure above a female term, vertebrate ribbon ornament with mask on a rusticated base. The rectangular casement-type windows with oak frames (some hinged), lead cames and clear glass quarries (all V&A c.1890). The central window with 3 lights on a curved wooden sill forming a semi-circular bay on a radius of 83cm (32 5/8"). The large oak panels with low relief strapwork cartouches carved in the solid, the outermost panels with central masks, the centre panel with a stylised thistle (possibly an allusion to the Stuart monarchy).
Internally, there is no early woodwork except for two mullion facings of oak (approx ? cm thick) bearing low relief strapwork ornament and marked II flanked by flower heads. The floor boards running side to side are V&A c.1890.
The first floor with 9 large panels below a large window divided into 18 lights arranged in two rows; the whole floor set on an entablature with dentil moulding which extends around the modern return walls. With 2 terminal posts with carved ornament forming pilasters, the right hand post (of softwood) replaced (V&A c.1890) and with an applied plaster copy of the left hand ornament, the ornament matching that on the second floor. The rectangular casement-type windows with oak frames (some hinged), lead cames and clear glass quarries (all V&A c.1890). The central window with 6 lights on a curved wooden sill forming a semi-circular bay on a radius of 83cm (32 5/8"). The large oak panels with low relief strapwork cartouches carved in the solid, the outermost panels with central masks (probably from workshop designs derived ultimately from such sources as Benedetto Battini, Vigilate quia nescitis diem neque horam (Antwerp, 1553) or Cornelis Floris, published in 1555), the centre panel with the arms of the City of London. Internally the walls below dado height are fitted with oak panelling, (panel sight size tbc), with stop chamfer moulding to the rails and stiles. 8 boarded panels insde the projecting central bay are replacements, as are the internal sill running above and the stiles set between this panelling. The internal faces of 6 window mullions have been faced with oak panels bearing low relief strapwork ornament (all apparently with different designs), and have been fixed with nails and some modern screws. It appears that original capitals and plinths to these pilasters have been removed.
On the right hand return at first floor level an eight-panelled oak door (Museum no. 846:1-1890) on 2 metal H form hinges. Below the first floor bay is moulded plasterwork with grapes and vine-leaves. These may be visible for the first time in a view of the house by Shepherd (1858) illustrated in Goss (1930), but do not appear earlier. On the proper right first floor entablature is the metal firemark of the Hand-in-Hand Insurance Society, and on the proper left side another circular metal mark with a lion marked 'BRITISH'. Various metal rings and fittings driven into the oak timbers.
Notes from examination of dismantled parts (recorded 2007)
After 1939 fragment of dated newspaper and horsehair stuffed up behind the 2nd floor plaster console, which must have been added when the house-front was first reconstructed in the Museum
Most of the joint pegs have been replaced, presumably during the 1890 removal, if not before. However both bay windows are essentially intact, including originally pegging and lath and plaster insulation behind the carved exterior panels.
Assembly marks
There are traces of several sequences of assembly marks, scribed and chiselled, including a very prominent, clean set that seem to relate to Mowlem's dismantling in 1890; and others that mark the position of the large, external panels. Internally the marks tended to have been concealed by panelling, and externally many are difficult to interpret because of weathering. The practice of tagging Roman numerals provided an additional means to distinguish the marks on one floor or portion, from those on another. One sequence (apparently running IX - XVI) seems to relate to the mullions on each floor, and suggests that another, contemporary timber front of similar proportion and construction was contiguous to the south (the viewer's left). Another sequence seems to match the sills to mullions on each floor.
Timber
All the original parts are oak. The exterior large panels are plain sawn, knotty English (probably SE) oak. Sapwood was found in one place (on the edge of panel...?) Storey band looks a mix of faster and slow growth (probably English). From observation all the timbers appear to be English oak, except the panels used for the internal wainscot, which appears to be Balticm (straight, close-grained). These observations support the view of general building practice in the period, which normally records constructional timber cut relatively close to site, SE England in this instance.
Left hand post (halved conversion) has been inverted (a 13c discovery that allowed for greater strength at top where the mortises need to be cut.)
Tool marks
A mix of riven, sawn and axed surfaces, with most show surfaces planed and moulded. The interior surfaces of the mortices show a spoon-drill bit, and scribing lines (which were usually made by the master for the workmen). Second floor left hand post show regularly spaced water saw-marks.
There is no evidence of a dragon beam support having been used under the windows, it seems to have been supported by joists.
Main bressumer beam is jointed at its ends where it meets the main posts, but the joists rest on the beam, without jointing (although these were perhaps nailed down? AM). Yet dowels in first floor beams (under the panels) seem to contradict this? AM
Running repairs visible on the fabric
Two exterior facings on the first floor window (one above a tenterhook) have been added, and on both sides a narrow oak facing has been added to fill the gap between the facing and the profile of the window jamb.
Plaster infill repairs where timber cracks open up (eg lhs storey post)
Multiple nails on the second floor exterior might indicate a lath and plaster repair (as the nail heights are similar), and fragments remain under the nails.
Place of Origin
London, England (made)
Date
1600 (made)
Artist/maker
Unknown (Architect)
Materials and Techniques
Oak, joined and carved, with leaded glass quarries
Marks and inscriptions
J Holland
& E Patrick
finished
this job
July 12th
1910
Dimensions
Height: 10.06 m, Width: 5.78 m, Depth: 2.62 m maximum
Object history note
Given by the Chairman and Directors of the Great Eastern Railway Company.
Removed from its original location by J.Mowlem & Co. at a cost of £144.17s.7d
A note on the acquisition register says: 'The interior appears to have been plain with the exception of the mullions which were decorated with thin pieces of applied wood carved with a geometrical design. The pilasters on either side of the bays were each carved with demi-figures, strapwork, ribbons and masks, and surmounted by a corbel composed of a grotesque monster. They are now in a bad condition and much has perished. [On the first floor room ceiling] are the arms of Sir Paul Pindar.'
Summary of Museum display history:
c.1890 conserved and repaired (exterior and interior paintwork stirpped; right hand post replaced with softwood and frontage of plaster cast from left hand post; various softwood repairs); installed in gallery 46b, with new leaded, casement windows, and an early 17th century panelled oak door on the right hand return
c.1909-10 - dismantled and rebuilt in gallery 48
2007 Removed from gallery 48 and conserved.
2010 Reconstructed in gallery 64b, supported on a steel framework
Building history
John Schofield (1994, p.164) records that in 1597, Ralph Pindar bought for his brother Paul a brewhouse (and adjacent land) known as the Half Moon in Bishopsgate Street Without from Joan Wood. He also seems to have acquired three tenements to the south. Paul Pindar returned from Italy in 1599 and rebuilt the property, with the Bishopsgate facade facing approx SE. 'The street facade was of three and a half storeys, the north bay (or property) occupied by a large gateway. The middle bay was occupied by a first- and second-floor frame of ornate woodwork, forming a double-height continuous window on each floor, which is now preserved in the Victoria and Albert Museum (illustrated).The exterior form of the south bay is not known, but at ground level included a street door to the upper chambers. On the first floor at the front of the house, a single room had an ornate plaster ceiling (illustrated) and a fireplace with a plaster panel, dated 1600, showing Hercules and Atlas supporting a globe (illustrated). A second room had a similar ceiling with a central figure of St Christopher (illustrated) and other rooms in the house also had ornate ceilings. About 340 ft to the rear of the Bishopsgate frontage stood a three and a half storey building, 20ft x 40ft, called the garden lodge or banqueting house (illustrated). Its south face was enriched with four stucco panels representing Spring and Summer (above) and Peace and Plenty (below). Within were further plaster ceilings and a sixteenth-century fireplace.' Schofield p.111 notes that a portal or doorcase of wainscot on the inside of a door is shown in a 19th century view of the first floor chamber - being evidence that Pindar's house had up-to-date and stylish internal fittings.
Schofield p.119 notes that two first floor chambers in Paul Pindar's house contained plaster ceilings. Plaster and papier-mache work was introduced into England by Italian craftsmen, and plaster ceilings of native manufacture date from after 1550. The first floor room overlooking the street was the position favoured for the hall or principal chamber in many London houses. It is likely that pattern-books were instrumental in providing the repertoire of designs for many of these English ceilings. A design (1584) by Abraham de Bruyn may be the source for one of the ceilings in Pindar's house.
Schofield p.102
Pindar's house incorporated extremely fashionable window-forms in the two-storeyed wooden facade, stretching as wide as the narrow elevation allowed. It has been suggested (Architectural Association post-graduate student, details in green catalogue) that Pindar's house front may be a notable early example of the appearance of curved windows in England - a considerable technical achievement in 1600.
Goss (1930) provides the fullest account available of the building of Pindar's house, as well as a biographical sketch, though without references. He covers the following:
rural situation of Bishopsgate without the city wall, p.1
previous owners of the land later occupied by Pindar's house, starting 13th century p.2-4
process of building Pindar's house, adapting existing tenements and pulling down another on which site he erected the Bishopsgate front, and removing ground floor rooms of one of the existing houses to make room for a pedimented doorway and marble passage (which survived until the early 19th century), giving access to the great reception room and to the principal part of the mansion (in Half Moon Alley) at the rear; division of the house after Pindar's death, p.4-5
description of the north-eastern front 'one immense bay window of extraordinary delicacy and beauty' [preserved as Museum no. 846-1890], and principal part of the house in Half Moon Alley, with archway to the stables, park and gardens, p.6-7
description of emimence in London of Pindar's house, including estimate size, a "frontage of about 90 feet, with a depth of 158 feet, including domestic offices, etc., with stables and riding covered way extending for a further 200 feet." [note that this represents the narrow ornate surviving frontage as well as the adjacent properties that he also occupied, but see Goss below p.14], p.7
sojourn 1617-1618 of Venetian ambassador Piere [sic] Contarini in Pindar's house, described in Contarini's diary [in fact in the letters of his chaplain, Horatio Busino] as "in an airy and fashionable quarter...It was a little too much in the country; but it was near the most fashionable theatres, especially those that keep the best trained dogs for bear and bull baiting. It was spacious and handsome, and had a gallery which was easily turned into a chapel, by putting up a decent altar at the farther end." p.7-8
description of luxurious interior fittings of Pindar's house, including the first floor reception room with oak panelling (removed September 1811, now lost), ribbed plaster ceiling with a panel containing Pindar's arms, chimney-piece of carved stone and plaster overmantel Hercules and Atlas (now lost); chapel with painted plaster ceiling with central panel with Abraham and Isaac; gallery facing Half Moon Alley, 86 feet long and width varying from 29" 10' to 35 feet, p.8-10
description of three-storey gothic building (20' x 40') behind the Bishopsgate frontage, known variously as 'The Lodge', possibly a lodge entrance to the gardens and park, or Pindar's banquetting house, p.10-11
decline of Bishopsgate area post 1666, the development of tenements and passageways isolating Pindar's house and park, p.11-12
description of activities of Ralph Pindar, buying adjacent properties to brother Paul Pindar's, and building small dwellings 1611-22, p.13
suggestion that original facade of Pindar's house extended southward, embracing as one fabric five houses, since two of them contained plaster ceilings similar to those in 'the mansion'; one of these ceilings preserved in part at the V&A, p.14
description of workhouse erected on part of Pindar's property sold (1649) shortly before his death when he was deemed to be insolvent; inheritance (1650) of Pindar's property by Mary, daughter of his nephew Paul (d.1643); conveyance (1659) of property to Sir William Dudley (husband of Mary Pindar); sale (1660) of property to Peter Browne, including 'the mansion which had been divided into three'; destruction by fire (1672) of part of the property; passage of part of the property (c.1715) to Peter Foster, grocer; passage (c.1746) of large part of property to Rt. Hon. William Wildman, second Viscount Barrington who leased part of former mansion then known as the 'Ffountain Tavern' to Sarah Leman, and later tenanted by Ralph Thrail, William Slade (1759-68) and Robert King (1769-83); lease (1784) of 'the great house' to Mr Henry Reeves, weaver, and other portions to Mrs Goddard, George Ensor, Thomas Mason, Robert Dagley; separation (1787) of the 'great house' fronting Half Moon Alley from that facing Bishopsgate Street and conversion into four dwelling houses, tenanted (1791-1807) by John Steward, wine and spirit merchant, Miles Holmes (1808-9) and Wiliam Kell (1809-11) when it was used as a tavern, the 'Paul Pindar's Head' with a panel in the centre of the lower oriel carrying a half length portrait of Sir Paul Pindar, later (1828) removed; during this extended period the exterior occasionally repainted and altered with a modernised attic and ground floor; tenanted by Thomas Turner (from 1812), John Wheeler and West & Co. (from 1815); sale by public auction (25th November 1817) of the premises including that portion of the 'great house' that had been converted into four tenements in 1787; tenancy of the tavern by William Clarke (from 1818), and Thomas Hawkins (from 1821), p.14-8
occupancy (1823-1890) by 20 different tenants, p.18
Note: 1866 London Street directory lists no.167 William Sorrell, coffee rooms....here is Half Moon street.... no.169 Sir Paul Pindar, Alexndr.Isaacson; no.171 Ralph Smith & Co. pianoforte makers.
development of railway (from 1865) and eventual demolition (1890) of whole of the properties held in the 17th century by Paul and Ralph Pindar to make way for the Great Eastern and North London railway termini, by which time the building was reported to be a dangerous structure, the tavern and adjoining property purchased to make room for a further extension of Liverpool Street Station, lines for suburban traffic, hotel accommodation and offices; presentation of house front and one plaster ceiling to the V&A, p.18-9
Sir Paul Pindar - A Sketch of His Life, pp.19-38, including portrait (op. p.23)
Fire Insurance signs:
On the proper right first floor entablature is a metal firemark
the Hand-in-Hand Insurance Society, no.65010
issued 31st July 1738 "Policy No. 65010. HON.able MARY GRIMSTONE of St. Geo: Hanover Square. Widow on a House valued £100 Brick and £250 Timber on ye West Side of Bishopsgate Street and on ye South Side of Half Moon Alley in ye parish of St. Botolph, Bishopsgate, being a Corner House and known by ye Sign of ye Paul Pindars Head Ale House in poss.en of HENRY HIXON. [total] £350
46/19} 874 ft.
9.6/22}209 ft.
and on the proper left side another circular metal mark with traces of gilding or yellow paint, showing a lion and Union flag shield, inscribed below 'BRITISH', apparently being the mark of the British Fire Office (1799-1843). See Roy Addis, British Fire Marks in Miniature. (From http://www.firemarks.co.uk/History.htm, consulted 5 May 2010)
Historical context note
See Oxford Dictionary of National Biography entry by Robert Ashton for Sir Paul Pindar (copy in F&W green catalogue).
City houses
In rebuilding a timber-frame house-front over existing buildings Pindar was following standard practice (Quiney 2003 chapter 6). Stone would have been the most expensive and prestigious building material, and much less quick to construct. A long tradition (from 12c) of framing techniques existed in England, with jetties common by 1300, though Schofield suggests that by 1600 new buildings of four and half storeys were being constructed without any jetties (pp.147-9), and it may be inferred that prominent jetties were somewhat old-fashioned by this date.
Schofield provides an excellent summary of timber-framed building in London at this period (pp.140-150):
'Oak was the most widespread timber used in [London] buildings and other wooden constructions…used for structural timbers, laths and boards…By the thirteenth century it was as cheap to import oak and fir (deal)from the Baltic as it was to bring it from anywhere in Britain outside the Home Counties; this was presumably a symptom of the extraordinary demand in London as well as of difficulties with overland transport…. In certain London building contracts the cross-sections of many of the principal timbers are specified… Most timber seems to have been hewn into rectangular cross-section before arrival… Standardisation of dimensions would aid prefabrication of buildings outside the city. Buildings were sometimes framed elsewhere, presumably near the source of the timber, and brought to London in a prefabricated state…* During the second half of the sixteenth century close-studding seems to have been replaced, in high-quality constructions in London, by a new fashion of square or rectangular panels with applied [sic] Renaissance mouldings (including classical blind arcading) and, at intervals along the front, grotesque corbels growing out of elaborately carved vertical strips. This exuberant carving could be found in courtyards and was clearly en suite with contemporary styling of fireplaces and internal woodwork. It is usually attributed both to the influence of Renaissance-Mannerist pattern-books and to the influx of foreign-joiners and carvers, particularly from the Netherlands. The grotesque corbels were widespread on London buildings, including some of modest proportions…'
* Framed buildings were prefabricated in carpenter's yard where timbers were cut to size and joints shaped. The major timbers were assembled flat, checked for fit, adjusted, peg-holes drilled and the timbers marked (Quiney).
Descriptive line
Sir Paul Pindar's House front; oak, joined and carved; England, ca. 1600.
Bibliographic References (Citation, Note/Abstract, NAL no)
Goss, C.W.F., F.S.A., Sir Paul Pindar and his Bishopsgate Mansion, (Cambridge, 1930)
Detailed account of the building, with a biographical sketch of Sir Paul Pindar
John Schofield, Medieval London Houses (New Haven, London 1994)
Oxford Dictionary of National Biography (2004), entry for Sir Paul Pindar by Robert Ashton
photocopy on FTF green catalogue
ESK Miller, 'Evolution in profane window design and glass use in England between the dissolution of the monasteries and the civil war and its probable influences'; Architectural Association Diploma Thesis, May 2005
Copy in FWK information section
Walter Thornbury, Old and new London; a narrative of its history, its people and its places (London, 1873-8), vol.II, pp.152-3
Robert Wilkinson, Londina Illustrata (London, 1819-25), pp.99-100
John Thomas Smith, Ancient Topography of London... (London, 1815), pp.50-1
J.Alfred Gotch, The Growth of the English House (1909) pp.157-9
A Dictionary of London (1918)
Hugo, T. (1866), An Illustrated Itinerary of the Ward of Bishopsgate in the City of London
From: H. Clifford Smith, Catalogue of English Furniture & Woodwork (London 1930), 672, and illus. frontispiece
Front of Sir Paul Pindar's House. It consists of the oak framework of the front bay windows of the first and second floors, which project over one another. Round the bottom of each bay is a row of panels carved with strapwork, leaves, and masks, the centre panel on the first floor being carved with the arms of the City of London. The pilasters that flank the bays are carved with demi-figures, strapwork, ribbons, and masks, and are surmounted by corbels composed of grotesque masters.
From the "Sir Paul Pindar," a public house in Bishopsgate Without, City of London; part of a house erected by Sir Paul Pindar (1566-1650).
About 1600.
From catalogue H. 22 ft. 8 in., W. 18 ft. 3 in.
(690.9 cm, W. 556.3 cm)
Given by the Chairman and Directors of the Great Eastern Railway Company.
The house, with other buildings, was pulled down in 1870 for the enlargement of Liverpool Street Station.
An engraving, dated 1812, given by Dr. Abraham Cohen (No. E. 106-1924); a pencil sketch by J. P. Emslie, given by F. C. Mountford, Esq. (No. 240-1896); and a photograph of the house in situ, are exhibited beside it.
Sir Paul Pindar's tomb in St. Botolph's, Bishopgate, bears the inscription: ---'Sir Paul Pindar, Knight, his Majesty's Ambassador to the Turkish Emperor. Anno. Dom. 1611, and nine years resident….He died the 22nd August 1650, aged 84 years.'
See 'Ancient Topography of London,' drawn and etched by J. T. Smith (1810), p. 50; and Wilkinson, R., 'Londina Illustrata' (1819), Vol. I,
Pl. 99.
John Schofield, The Building of London: from the Conquest to the Great Fire (London, 1984), p.165
Carola Schueller, 'Loss compensation at the first floor interior panelling: Sir Paul Pindar's house front', in V&A Conservation Journal no. 58 (Autumn/Winter 2009), pp.30-1
John Kidd and Matthew Nation, 'Sir Paul Pindar's house on the move again', in V&A Conservation Journal no. 58 (Autumn/Winter 2009), pp.26-7
Labels and date
THE FRONT OF SIR PAUL PINDAR'S HOUSE
This house was erected in about 1600 in Bishopsgate Without, City of London, by Sir Paul Pindar, a wealthy London merchant (1566 - 1650). It was later converted into a public house.
Part of the façade was given to the Museum by the Great Eastern Railway Company in 1890, when this house, along with other buildings, was demolished to make way for the enlargement of Liverpool Street Station.
Sir Paul Pindar was born in 1566 at Wellingborough, Northamptonshire. Although educated with a view to a university career, he soon decided to enter the trading profession. He was therefore apprenticed to an Italian merchant in London, Mr. John Powish, who sent him after a while to Venice. Over the next fifteen years or so, he amassed a fortune in Italy and southern Europe before returning to England. By then renowned for his expertise as a merchant, he was sent as ambassador to the Sultan of Turkey in 1611 for nine years, at the instigation of the Turkey Company. Upon his return, he took up a lucrative appointment as a farmer of the customs.
Throughout his long life, he remained a staunch Royalist, as demonstrated by the following entries in parish archives:
'1585. Paid for bread and drinke for the ringers, when Anthony Babington and the rest of the traytors were taken, xxd.
1586 Paid for bread and drinke for the ringers, when they range for the deathe of the quen of skots.'
He was knighted by James I in return for his loyalty, and sent considerable sums to Charles I at Oxford in 1643-4.
Pindar also emerges from historical accounts as a bounteous benefactor:
'Sir Paul Pindar gave to the parish of St. Botolph, plate and money to the amount of eight hundred pounds and upwards, together with plenty of venison for their feasts, yet they made him pay two pounds for eating of flesh for three years on fish days.'
He was also responsibly for 'richly adorning and exquisitely beautifying the choir of St. Paul's Church' in 1632.
At the ripe old age of 84, he died and was buried in the chancel of St. Botolph's Bishopsgate in 1650. [pre January 2001]
Production Note
with replacement elements 1871 and 1890
Subjects depicted
Thistle
Categories
Woodwork; Architecture; Interiors; Architectural fittings
Collection code
FWK