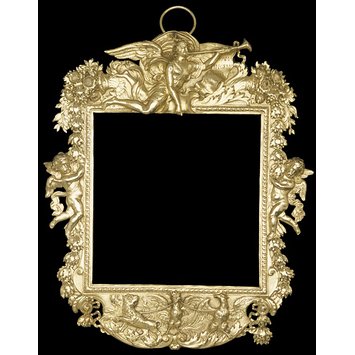 Germain, Pierre, born 1645 - died 1684
Frame
Place of origin:
Date:
Artist/Maker:

Germain, Pierre, born 1645 - died 1684 (maker)

Materials and Techniques:

Silver, gilding, embossing, matting, chasing, engraving

Credit Line:
Museum number:
Gallery location:

Europe 1600-1815, Room 5, The Friends of the V&A Gallery, case CA10
An account of life at the court of Louis XIV, published in 1677, describes this frame as a gift to the King by one of his courtiers. Made by the royal goldsmith Pierre Germain, the frame originally contained an oval portrait of Louis. It is the only example of Germain's work known to survive.
Physical description
Silver-gilt, embossed and chased. On the top side is the winged figure of Fame, pointing downwards (into the picture area) and blowing a trumpet from which hangs a banner engraved with text in Latin. On either side of Fame is a cornucopia with fruit, flowers, leaves, branches and a long tassel of oak-leaves spilling downwards. Half-way down each side of the frame are winged cherubs which clasp the oak-leaves. These extend beyond them to the bottom of the frame. The lower border is embossed with the image of a cock (in the centre), its wings outstretched. In its beak it holds a rope, to which are fastened two lions (on the left) and an eagle (on the right). The frame has a narrow inner border of guilloche ornament. Part of the oak festoon bottom left is missing.
Place of Origin
Paris (made)
Date
1677 (made)
Artist/maker
Germain, Pierre, born 1645 - died 1684 (maker)
Materials and Techniques
Silver, gilding, embossing, matting, chasing, engraving
Marks and inscriptions
Duty mark: a crowned 'A' with three fleur-de-lys. Struck on the upper right-hand side of the frame (just below the banner held by the allegorical figure of Fame). This duty mark current from 12 October 1672 - August 1677.
Standard silver mark: a profile head of a woman in an oval punch. In use at Paris between 16 August 1819 to 9 May 1838. Two marks, one struck on lower left side of the frame, beneath the lions, the other beneath the outstretched wing of the eagle.
Motto: The flag is inscribed FAMA.INGENS.INGENTIOR.ARMIS
The inscription is a quotation from Virgil's Aeneid Book 11, lines 124-5 'o fama ingens, ingentior armis, uir Troiane, quibus caelo te laudibus'
See Lightbown: 1978, cat. no. 40 (p. 59).
FAMA INGENS INGENTIOR ARMIS
Great [in] fame, [and] greater [still] in deeds
Latin; quotation from Virgil, Aeneid, 11, verses 122-138. The words are addressed to the victorious Aeneas by Drances, elderly envoy of the defeated King Latinus.
Dimensions
Height: 33.5 cm including suspension loop, Width: 26.5 cm, Weight: 415.8 g, Height: 16.6 cm height of opening, Width: 16.4 cm width of opening, Depth: 10 mm
Object history note
The maker and history of this frame were not appreciated until the mid-1980s, when Christian Baulez, curator at the Musée National du Château de Versailles linked the iconography of the object to a contemporary description in the 1677 edition of the Mercure galant, a literary gazette which reported on court life and fashion (see Mabille: 2009, p. 236 and n.1; letter from Baulez to Ronald Lightbown, dated 21 July 1986, in the Metalwork Section records). The Mercure described an identical frame made by a goldsmith called 'Germain' which held a miniature oval portrait of Louis XIV by 'Benard', and which was presented to the King by Abbot le Houx (Mabille: 2009, p.236 and Bimbenet-Privat: 2002, p. 105). Le Houx also presented Louis with a poem recounting the King's military victories (Mercure, pp. 125-6). In this account, 'Germain' is the royal goldsmith Pierre Germain (d. 1684), who made the silver furnishings in the Grand Gallerie at Versailles and numerous items of silver plate for the King's household (Bimbenet-Privat: 2002, I, pp. 348-9 and II, p. 105). The Mercure writer praises Germain's frame for its 'design, chisel-work and art' (Mercure: 1677, p. 124). The portrait-painter 'Benard' is presumably Samuel Bernard, miniature painter and engraver (Paris 1615 - 1687; see Bryan: 1903-05). According to the Mercure, the le Houx family were zealous supporters of Louis XIV; Louis apparently received the Abbot's gift with a characteristic display of generosity (Mercure: 1677, p.122). The frame passed into Louis XIV's collection of personal possessions and therefore does not appear in inventories of Crown furnishings (Mabille: 2009, p. 236).
In the nineteenth century the frame formed part of the collections of John Jones, who used it to display seven enamel portraits of French rulers and courtiers (including Louis XIV) at his residence in Piccadilly (Handbook of the Jones Collection: 1883, p. 122). (The enamel portraits were also part of his bequest to the Museum: see 731 to 737-1882.)
Numerous royal edicts throughout the seventeenth century which required silver plate and furnishings to be melted down for currency mean that French silver from this period is rare. This frame is the only surviving example of a work by the royal goldsmith Pierre Germain. It is also very unusual in that the circumstances of its commission are recorded as well.
Historical context note
The frame was especially designed to hold an oval portrait of Louis XIV. The iconography is designed to flatter Louis by presenting him as victorious over his enemies, and alludes to France's role in the Dutch Wars (1672-78). Louis successfully sought to expand French territory in the Low Countries, and to this end battled not only against the Dutch but the Spanish and, eventually, the English. On the lower part of the frame, France is represented by a fighting cock (a pun on the Latin for France, 'Gallia' and a Frenchman, 'Gallus', with 'gallus', a cockerel). The two lions restrained by the cock represent two political divisions of the Low Countries in the seventeenth century, namely the Spainsh Netherlands and the United Provinces. The eagle, also restrained by the cock, symbolises the lands of the Holy Roman Empire (see Bimbenet-Privat: I, 2002, p. 105 and Lightbown: 1972, p. 203).
Descriptive line
Silver-gilt, French (Paris), 1677 (Paris duty mark for 1672-77), Pierre Germain.
Bibliographic References (Citation, Note/Abstract, NAL no)
Handbook of the Jones Collection in the South Kensington Museum. London: Committee of Council on Education / Chapman and Hall, 1883.
Lightbown, R. W. French Silver. London: Her Majesty's Stationery Office, 1978. Victoria and Albert Museum Catalogues. ISBN 0112902502
Catalogue of the Jones Collection. Part II, Ceramics, Ormolu, Goldsmiths' Work, Enamels, Sculpture, Tapestry, Books and Prints. London: Victoria and Albert Museum / Printed under the authority of the Board of Education, 1924.
105
Milovanovic, Nicolas and Alexandre Maral, eds. Louis XIV: l'homme et le roi. Paris : Flammarion, 2009
Mabille, Gérard. Orfèvrerie et mobilier dans les collections de Louis XIV. In: Milovanovic, Nicolas and Alexandre Maral, eds. Louis XIV: l'homme et le roi. Paris: Flammarion, 2009. Catalogue of the exhibition held 19 October 2009 - 7 February 2010 at the Musée National du Château de Versailles. ISBN 9782081228092.
Bimbenet-Privat, Michèle. Les Orfèvres et l'orfèvrerie de Paris au XVIIe siècle. 2 vols. Paris: Commission des Travaux Historiques de la Ville de Paris, 2002. ISBN 2879006023 (vol. I); 2879007119 (vol. II).
Bryan, Michael. Bryan's Dictionary of Painters and Engravers, 5 vols, rev. edn under the supervision of George C. Williamson. London: G. Bell, 1903-05.
Le Nouveau Mercure Galant, Contenant les Nouvelles du Mois de Novembre 1677 & plusieurs autres, vol. 9. Paris: Theodore Girard, 1677.
Virgil. The Aeneid, English prose translation by David West. London: Penguin, 1990. ISBN 0140444572
French art 1700-1800 : Galleries 5-6-7 (Jones Collection) [London : V & A Associates, 1980 or 1981] (Printed by Penshurst Press).


Lightbown, R. W. A Victorian's Taste in Silver. Apollo (March 1972), 201-5.

Labels and date
1. FRAME (probably used to hold a portrait of Louis XIV)
FRENCH (Paris); duty mark for 1672-77 (Paris census marks for 1819-38 added)
Silver-gilt, chased and repoussé
The figure holds a banner inscribed FAMA INGENS INGENTIOR ARMIS. At the bottom the French cock holds in a leash a couple of lions (the Netherlands) and an eagle (the Empire).
Jones Collection
738-1882 [1970-1980]
Materials
Silver-gilt
Subjects depicted
Banner; Branches; Eagle; Flowers; Leaves; Lions; Guilloche; Cock; Trumpet; Oak leaves; Fruit
Categories
Metalwork
Collection
Metalwork Collection