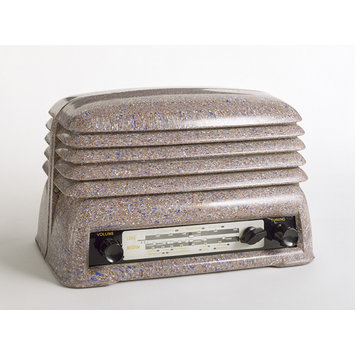 K.B. BM20
Object:
Place of origin:

Foots Cray (manufactured)

Date:
Artist/Maker:

Kolster-Brandes Ltd (manufacturers)

Materials and Techniques:

Compression-moulded phenol formaldehyde ('Bakelite')

Museum number:
Gallery location:
The K.B. model BM20, 'the little set with big ideas', was marketed in the late-1940s as a second domestic radio set. It is identical front and back, the case formed from two identical Bakelite halves bolted together, meaning it could placed in the centre of a room as the focal point for home entertainment. Early speckled (like this example) and brightly coloured versions of this model are rare. They did not sell particularly well, most were recalled from shops and spray-painted white to better satisfy British consumers' somewhat conservative taste.
Physical description
Table radio set of speckled Bakelite. Broadly rectangular when viewed in elevation, the case is formed from two identical halves, bolted together at either side. The set is encircled by five moulded horizontal ridges, acting as a speaker grille. Toward the base on the face of the set, the tuning dial, volume and waveband switch are located together on a plastic panel, recessed into the chassis. Located in the same place on the back of the set is a blank panel, from which issues the power cord. There is a sticker in the centre of the panel, showing the serial number etc.

Place of Origin
Foots Cray (manufactured)
Date
1947 (made)
Artist/maker
Kolster-Brandes Ltd (manufacturers)
Materials and Techniques
Compression-moulded phenol formaldehyde ('Bakelite')
Dimensions
Height: 24 cm, Width: 58 cm, Depth: 29 cm
Object history note
Purchased by the V&A in 1992 from Gad Sassower [92/1312]

Historical context note
The first successful radio transmission was made by David Edward Hughes (1831-1900) in 1879. Some years later, in 1896, Gugliemo Marconi (1874-1937) patented a system of electromagnetic radio wave communication which, unlike the already-established telegraph system, was 'wireless', meaning signals could be heard by anyone with a radio receiver in range of the broadcast. Marconi established the world's first radio factory in Chelmsford in 1898, where sets were hand-built to high specifications for mostly scientific, governmental and military customers. Another early customer was Queen Victoria who in 1898 had a set installed at Osborne House, Isle of Wight, so she could communicate with the Prince of Wales, the future Edward VII, as he convalesced aboard his yacht at Cowes.
Military applications meant that radio technology advanced rapidly during the First World War, and in the 1920s regular civilian broadcasting began, changing the domestic experience forever. The previously diverse parts of the radio; the valves, controls, wires and speakers, began in the mid-1920s to be enclosed inside a single cabinet. In this early period, radios were seen essentially as furniture and some companies employed cabinet-makers and well-known furniture designers. As radios were new to the domestic interior, their design had no precedent, which allowed manufacturers to design them creatively. This struck a chord in the late-1920s and 1930s with the expanding synthetic plastics industry; oil-based plastics were also a recent innovation, the first, Bakelite (phenol-formaldehyde), having been successfully synthesised in 1907. The collaboration between industrial designers and manufacturers gave rise to many very modern radio designs, particularly in America. Tastes in Britain remained, in general, more conservative, favouring wooden cabinets or Bakelite cabinets imitating wood. During the Second World War the manufacture of civilian radios essentially ceased in the United Kingdom, with the exception of the 'Utility' radio (see V&A CIRC.678-1975) produced under government directive by 42 companies.
After the war, domestic radios became smaller and lighter, incorporating wartime technologies such as miniature valves and polystyrene, and later transistors and printed circuit boards. As the components became smaller, radios became less important in their own right and were incorporated as a single function of more complex audio systems.
Kolster-Brandes Ltd was an American-owned manufacturer of radio and television sets, founded in the 1920s and based in Foots Cray, Kent. In the 1930s, K.B. won an exclusive contract to provide the communications equipment used on the RMS Queen Mary ocean liner. The company produced mid-range electronic goods until at least the 1960s.

Descriptive line
model BM 20; British 1947 des. and man. Kolster Brandes Ltd
Labels and date
[20th century gallery]
KB MODEL BM 20
Designed and made by Kolster Brandes Ltd., Foots Kray [sic], Kent, Great Britain, 1947
Valves; Bakelite case
W.32-1992
This is an unusual example of a coloured Bakelite case. Ekco had produced some coloured sets using the variant urea-formaldehyde formula but no Bakelite radio case could successfully compete with either the colourful, translucent Catalin cases from the U.S.A. or with glossy surfaces of portables made from newer plastics.
[]
Materials
Bakelite; Phenolic
Techniques
Compression moulding
Categories
Audio equipment; Product design; Electrical appliances; Entertainment & Leisure; Plastic
Production Type
Mass produced
Collection
Furniture and Woodwork Collection