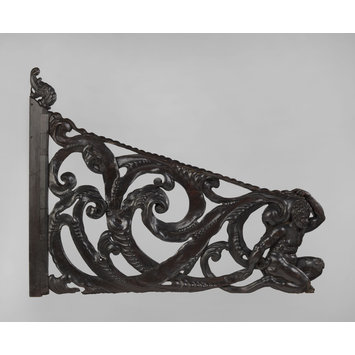 Carving
Place of origin:

Netherlands (Probably Amsterdam , made)

Date:
Artist/Maker:
Materials and Techniques:
Museum number:
Gallery location:
Physical description
Double-sided pierced carving in the auricular style, of scrolling tendrils from which emerges a kneeling young satyr. The back edge of the carved 'panel' is an integrated stile with moulded edges. This is fixed to a separate stile with a carved finial of fishy, auricular character (restored 2018) which originally formed part of the whole design. The separate stile (42mm thick) has on its back face the remains of four dowels and numerous small, empty fixing holes, where it may have been fixed to a wall. A broken dowel under the satyr's knee indiates where the carving was secured to a subrail of some kind. Along most of its length, the bottom edge of the carving is shaped, not flat. The main part of the carving was carved from a single very wide board (about 5cm thick), with two additional laminated boards to create the thickness for the carving of the satyr.
Design
A kneeling satyr, from whose right arm and right leg extend thick, scrolling tendrils of a reptilian character. Behind his head and shoulders is a cartouche with mask. From his left hand grows a long, bony, undulating strap which forms the upper, sloping edge of the carving.
Surface and modifications
A microscropic cross section and scrapings were studied/analysed and suggested three layers applied to the wood: a preparatory animal glue size giving a reddish tint, a discoloured natural resin varnish, a younger waxy layer, probably with dark pigment.
Where sapwood occurs at the top and bottom edges, damage and losses have occurred. In 2018 two small areas of loss at the upper corner near the stile were replaced with sections of carved walnut, fixed with hide glue. They were colour matched using several layers: glue size, reddish acrylic paint, bleached shellac, further glazes of watercolour and shellac, a dark pigmented wax.
Walnut was identified as the principal timber by conservators at the Rijksmuseum, Amsterdam (May 2018). Some small areas of restoration were identified as a diffused porous tropical hardwood, visually similar to mahogany. (V&A Furniture Conservation, May 2017)
Place of Origin
Netherlands (Probably Amsterdam , made)
Date
1645-1655 (made)
Artist/maker
Unknown (maker)
Materials and Techniques
Walnut
Dimensions
Height: 180 cm cm, Width: 140 cm, Thickness: 15 cm
Object history note
Bought for £12 (source not recorded); photographed by the museum in 1927.
Conserved 2017; further consolidated and missing areas replaced by conservators at the Rijksmuseum, Amsterdam in 2018 before it was exhibited in: Kwab. Dutch Design in the Age of Rembrandt, Rijksmuseum, 30 June - 16 Sept 2018
Historical context note
A comparable panel (66.5 x 175 x 17 cm) is in the Museum Boijmans van Beuningen, Rotterdam, (Div. M 3 (KN&V),
http://collectie.boijmans.nl/nl/collection/div-m-3-(kn-v)
Descriptive line
Walnut, pierced, auricular carving, Netherlands c1650
Bibliographic References (Citation, Note/Abstract, NAL no)
Joan Evans, Pattern: a Study of Ornament in Western Europe from 1180 to 1900, vol. 2 (New York, 1976), fig. 319.
Reinier Baarsen, 'Kwab. Dutch Design in the Age of Rembrandt, Rijksmuseum', published to coincide with the exhibition of hte same name, Rijksmuseum Amsterdam 30 June - 16 Sept 2018, cat. no. 114 (by Ine Castelijns Van Beek), fig. 238, p.184
Cat no. 114. Unknown woodcarver. Railing. Presumably Amsterdam, c1650. Walnut, stained, h. 108, l. 140, d. 15cm. London, Victoria and Albert Museum. Fig. 238. Provenance ...; purchased by the Victoria and Albert Museum, date unknown, inv. no. 5388-1857. Literature - Evans 1976, vol. 2, p. 53, fig.319, pp. 54-56; Ter Molen 1992, pp. 45, 69
This object appears to have once been attached to something. The vertical post to which the ornament is attached features four wooden pegs and several holes. A broken wooden peg beneath the knee of the satry suggests that there was once a wooden slat attached to the underside of the ornament. The balustrade was most likely made by the same craftsman who made the one in Museum Boijmans Van Beuningen (cat. no. 115).
P. 184 MODELS FOR A BRASS FOUNDER?
The woodcarvings that come closest to the work of the Van Vianens, and especially of Lutma, are two railings, doubtlessly by the same hand and probably even connected to the same project. The wide, flat scrolls that make up their patterns are, just as with Lutma, both bone-like in structure and skin-like in their folds and bulges. These railings are no less sophisticated than the masterpieces of the great goldsmiths, for example in the way the ornamental matter merges into the arms and legs of the faun and the young satyr, or contracts to suggest monsters and masks. Through the postures of the end figures the railings have an obvious orientation, but their fronts and backs are equally well carved.
These carvings, which were each almost certainly carved from a single plank, would appear rather fragile to have served as banisters or any kind of other dividing feature in a building. The narrow, undulating band running across their tops may point to their original purpose. It hardly adds any stability, whereas in visual terms it seems a rather mean termination of the grandiose designs. However, such upper rails, whether undulating or straight, were a standard functional part of brass balustrades (see fig. 192). Perhaps these carvings were made as models for brass founders. It would have been a great challenge to cast their unusually ambitious forms, including large figures modelled in the round and long, wide scrolls, in brass, but it is not impossible that with the aid of many separate moulds this might be achieved. [note 273: With thanks to Arie Pappot and Ada de Wit, who proposed a similar hypothesis at a symposium at the Wallace Collection in London on 5 October 2016.]
If this was indeed the function of these carvings, the sculptor may well have worked to the design of another artist (cf. pp. 146-154). The name of Lutma immediately comes to mind, but there may have been artists working in his vicinity who would be able to interpret his style in this way. Although there are no direct parallels with the choir screen in the Nieuwe Kerk in Amsterdam, these railings were conceived at the same level of daring and imagination.
It is a mystery for what kind of destination brass railings of these models may have been designed. They were clearly meant for a specific location, possibly the first wide steps of a grand staircase and some kind of opening in the wall above: but were such staircases ever built? Many questions regarding these two marvellous carvings remain unanswered.
What a carved banister with auricular motifs in an Amsterdam house looked like, is illustrated by a single surviving example, installed in 1672 in Herengracht 566; the scrolls are much thicker and heavier (fig. 241),[note 274: Vlaardingerbroek 2013a, pp. 70, 72, fig. 52] Moreover, as was to be expected at this relatively late stage of the taste for the auricular, they are composed into a regular, almost classical pattern, and framed by a square post and a straight, moulded upper rail.
Johan Ter Molen, 'Auriculaire', in Alain Gruber (ed.), L'art décoratif en Europe. Classique et Baroque, Paris 1992, pp. 45, 69

Materials
Walnut
Techniques
Carving
Categories
Woodwork
Collection
Furniture and Woodwork Collection