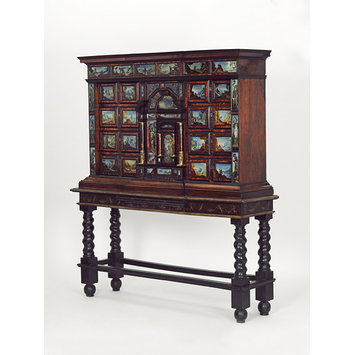 Cabinet on stand
Place of origin:

Naples (made)
Spain (Probably restored in Spain, ca. 1843 and the stand supplied at the same time and the rosewood veneers to the side and the plinth of the cabinet added at that time., restored)

Date:

ca. 1680-1710 (made)
ca. 1843 (restored)

Artist/Maker:
Materials and Techniques:

Softwood, ebonized and painted, the cabinet veneered in rosewood, ebony and turtle shell, with brass mounts and set with panels of reverse-painted glass

Museum number:
Gallery location:

Europe 1600-1815, Room 7, The Sheikha Amna Bint Mohammed Al Thani Gallery, case PL6 []
Physical description
A cabinet on stand, of slightly breakfront form, with banks of drawers flanking a central aedicule or doorcase, the recessed door opening to reveal three smaller drawers. The drawer fronts and surfaces of the doorcase are entirely covered with glass panels, painted on the reverse with scenes of gods and goddesses, and of figures in idealised country landscapes, usually showing glimpses of sea or lake. The sides and cornice are veneered in rosewood and the stand (probably later) is of black-painted softwood, with spiral-turned legs and frieze decoration painted in gold, showing cherubs and garlands.
Design
The cabinet is veneered on the sides, the plinth on the lower edge, and the inner faces of the case forward of the drawers, in rosewood on a ground of pine. The drawer fronts, panels of the doorcase, the frieze above and the pilasters at either end of the cabinet are set with panels painted on the reverse of the glass with scenes of gods and goddesses and of people in rocky landscapes, these set behind with white paper to give a luminosity. There appears to be no programme or narrative to the arrangement of these panels. The frames of the drawers, the columns of the doorcases and the front surfaces of the frame in which the drawers are set, are veneered with turtle shell, much of it set against a gilded paper ground.
The cabinet has a separate frieze section, also slightly breakfront, set with six panels of reverse-painted glass framed with turtle shell framing bands and ebony mouldings, below a cornice veneered with rosewood and set with ebony mouldings. This section simply sits on top of the cabinet.
The stand, with four spiral-turned legs, is ebonized, the frieze painted with putti (young children) holding garlands of flowers, against a dark, greenish-black ground. In general, these cabinet have stand with a very large, complex, carved and pierced panel between the front legs, and a matching carved, pierced and gilded cresting. The absence of the carved front panel, and the joinery of the stand, suggests that it was built (possibly re-using the turned legs) in the nineteenth century.
Construction
The drawers are made in stained poplar with some walnut, as dovetailed boxes, the bases (with grain set laterally) nailed up behind the applied front facing of ebony moulding, turtle shell framing and panels of reverse-painted glass. The larger drawers above and below the central doorcse are similarly constructed but the fronts are built up with glued-on sections of softwood before the veneering with ebony and setting with reverse-painted glass and with turtle shell was undertaken. The three drawers within the central cupboard are also similarly constructed, the upper and lower drawers built out at either side with plinths and, between these, set with verre eglomisé panels showing coloured scrolls of foliage and flowers against a gold ground. The upper drawer is also set with a balustrade in gilt-brass against the lower half of the front, below the verre eglomisé panel. The central, inner drawer is much deeper, with attached columns in turtle shell, with gilt-brass bases and capital set forward of each side, the front of the drawer set with an arched glass panel, framed in gilding on the back of the glass and reverse-painted with a scene of Venus combing the hair of Cupid. This drawer is marked 'III' with chisel strokes on the underside.
The separate frieze section is constructed as an open frame with sides, back and front dovetailed together. The boards are chamfered on the inside at either end to reduce the thickness into which the dovetailes are cut. A thick plank of poplar forms the top, rebated all round to receive the top of the frame and nailed down into the rebates with square, tapered, hand-made nails. The upper edges of the front and sides are applied with a square fillet of softwood, approximately 4 cm square. The triangular mouldings of softwood are pinned and glued on the top, outer edge of this. They are faced with mouldings cut in rosewood, creating a cornice for this section.
Place of Origin
Naples (made)
Spain (Probably restored in Spain, ca. 1843 and the stand supplied at the same time and the rosewood veneers to the side and the plinth of the cabinet added at that time., restored)
Date
ca. 1680-1710 (made)
ca. 1843 (restored)
Artist/maker
Unknown (maker)
Materials and Techniques
Softwood, ebonized and painted, the cabinet veneered in rosewood, ebony and turtle shell, with brass mounts and set with panels of reverse-painted glass
Dimensions
Height: 2060 mm cabinet and stand, Width: 1700 mm, Depth: 595 mm
Object history note
Purchased in 1870 for £50 from M. Riano.
Exhibited at the Holburn Museum, Bath, 27 October 2012 to 6 January 2013, in Secret Splendour. The Hidden World of Baroque Cabinets, cat. no. 7
When this was acquired in 1870 it was identified as Spanish, 17th century. Peter Thornton, in 1970 recognized it as Neapolitan. Alvar Gonzalez-Palacios confirmed the origin of the cabinet as Southern Italy, probably Naples, and suggested that the paintings, though coarse, were in the style of Luca Giordano (1632-1705).
When the cabinet was conserved in 1989, some pages from El Castellano, number 2200, secundo epoca, ano octavo, published in Madrid on 26 August 1843, was found behind the bottom, right-hand painted glass panel. This suggests that the cabinet was in Spain at that time and underwent restoration or repair.
Historical context note
Such cabinets-on-stands, with panels of reverse-painted glass, were made in large numbers for the fashionable market in Naples in the late 17th century. At that time, large cabinets on stand were made in many centres of Europe and had become the most celebrated form of furniture made to demonstrate high status. The cabinets were used to house a variety of small luxury objects, but were also valued simply for their own ostentatious design. They were often made as pairs and a few pairs survive. The glass panels sometimes followed a mythological or biblical programme, but the scenes on this cabinet appear simply to show figures in rocky landscapes (sometimes with a glimpse of the sea), with no particular narrative linking them.
Cabinets of this type would have been used to house small, precious objects, but also as decoration in their own right, their impressive, architectural form dominating even large rooms. A number of pairs of cabinets with this decoration survive, suggesting that this was how they might be supplied. Throughout Europe in the second half of the 17th century, the cabinet-on-stand was the most sought-after form of luxury furniture after the grand bed. The stands could be very elaborate, including exuberant carving or gilding, sometimes incorporating the arms of the owner. This cabinet has a rather restrained frame with the simple twisted columns often called 'salamonic' after the supposed columns used in the Temple of Solomon, as described in the Bible. Such columns were immensely popular with designers working in the baroque style.
The use of painted glass panels to embellish cabinets was known as early as 1635 in Naples when it is recorded that an artist called Vittorio Billa charged 60 ducats for supplying such panels for two cabinets (Alvar Gonzalez-Palacios, IlTempio del Gusto. Le arti decorative in Italia fra classicismi e barocco. Roma e il Regno delle due Sicilie, I, Milan, 1984, pp.223, 231). This record supports the creation of pairs of such cabinets and a number of pairs are known. In a bill dated 22 October 1679 payment was recorded to a craftsman by a Giovanni Battista Tara for a pair of ebony-veneered cabinets mounted with painted panels (Tempio del Gusto, I, pp. 222-224). Naples was at that time under the rule of Spain and several such cabinets are known, for instance, in the island of Mallorca. In 1677 the English Grand Tourist, Sir Thomas Isham (3rd baronet, 1657-1681), returned from Naples with a pair of cabinets set with glass paintings. These remain at his family home at Lamport Hall in Northamptonshire, now on low stands. According to a contemporary memorandum, they 'cost with their Cases - Ducats 25' (quoted in Arthur Oswald, 'Lamport Hall, Northamptonshire - II' in Country Life, 3 October 1952, pp. 1022-1025, on p. 1025). In some publications they have been said to have been brought from Venice, but that seems to be a mistake.
Traditionally, it was thought that the painter Luca Giordano (1632-1705) provided images for such cabinets, but no cabinet has been found that can be closely attributed to him. In 1742, Bernardo de Dominici wrote in his Vite de'Pittori, Scultori ed Architetti Napoletani, published in Naples, of the similarity in style between the glass panels of such cabinets and the work of Luca Giordano, particularly in their palette of blue and light red. There are, however, different theories as to the origin of the panels. In 1984 Alvar Gonzales-Palacios suggested that the panels might have been made in Florence (in Tempio del Gusto, I, Milan, 1984, p. 283 and pl. XXXVI). He also records that Mina Gregori and Federico Zeri have attributed panels on another cabinet to the Florentine artist Pietro Dandini (1642-1712) (Tempio del Gusto I, p. 283).
Several such cabinets or pairs of cabinets are known, aside from the Lamport Hall pair mentioned above. The following listing is not comprehensive:
Cabinet in the Palazzo Barberini, Rome. Illustrated Tempio del Gusto, II, fig. 384.
Cabinet in the Palace of Peralada, Gerona (illustrated in Sotheby's, London, 18 November 2009, lot 322).
Paif of cabinets in the collection of Marquess de Campo-Franco, Palma de Mallorca, illus. Luis Feduchi, Historia de los Estilos del Mueble Español, figs. 296 and 297.
Two cabinets (not, apparently, a pair) at Doddington Hall, said to have come from Naples in the 1820s.
Cabinet in the Dubrovnik Museum.
Two cabinets in the Son-Veri collection, Palma de Mallorca, illustrated by Feduchi, op. cit., figs 299 and 300.
Cabinet in the Palacio de Vivó, Palma de Mallorca, illustrated by Feduchi, op. cit., fig. 301.
Cabinet in Palazzo Pitti, Florence
Cabinet in the Rome antique trade, illustrated Tempio del Gusto, II, fig. 385.
Pair of cabinets sold Sotheby's, London, 18 May 1984, lot 54.
Pair of cabinets sold Sotheby's London, 30 November, 1990, lot 45
Pelham Galleries, London, offered for sale in 1994 a pair for which the stands were carved with the crowned, double-headed eagles of the Habsburgs. The brochure advertising them suggested that this indicated a commission for King Charles II (1661-1700, reigned from 1665), the last Habsburg king of Spain.
A cabinet (once at Chequers, Buckinghamshire, in the collection of the Hawtrey family, some of the drawers signed VBL, possibly for Vittorio Billa - see above), sold by Bonhams from the collections of Great Bampton House, 1 October 2008, lot 48
A cabinet sold Sotheby's, London, 18 November 2009, lot 322.
A cabinet sold Sotheby's, London, 1 October 2010, lot 25.
A cabinet illustrated in The Antiques Trade Gazette 19/10/2010 for sale by auction.
A cabinet with painted glass panels with views of Rome. Sotheby's, 2 November 2011, lot 117
A cabinet of similar form but veneered with tortoiseshell, sold Sotheby's, 2 November 2011, lot 119.
Descriptive line
A cabinet on stand of shallow, breakfront form, set with two banks of drawers flanking a doorcase (aedicule), the drawers and most flat surfaces set with panels of glass painted on the reverse with scenes of people in rocky landscapes and coastal settings, bordered with panels of turtle shell set against gold paper, with mouldings in ebony and mounts in lacquered brass. The cabinet is set on a stand of ebonized softwood with painted decoration of cherubs. The interior of the cupboard is set with three smaller drawers with similar decoration.
Bibliographic References (Citation, Note/Abstract, NAL no)
Pollen, John Hungerford, Ancient and Modern Furniture and Woodwork in the South Kensington Museum. Published for the Science and Art Department of the Committee of Council on Education by Chapman and Hall, London, 1874, vol. 2, pp. 79-80
Cabinet, with Stand. Rosewood; the front having a recessed centre of architectural design, with hinged door and interior fittings, the columns mounted with gilt metal; around it are 11 drawers which, with the rest of the front, are mounted with tortoiseshell and ornamented with glass plaques painted with landscapes and figures. The stand, which has twisted legs and ball feet, is partly gilt, and painted; round the cornice are painted representations of cupids sustaining festoons of flowers.
Spanish. 17th century.
W. 5 ft. 7 in., H. 3 ft. 8 ¼ in. Stand, W. 5 ft. 11 ¼ in.., H. 3 ft. 1 ¼ in.
Bought, 50l.
The work on this cabinet is too rude to offer much that is instructive, with the exception of the painting on the panels. These consist: of rough landscapes, with figures of classical intention, though it is not easy to offer any rational interpretation of their meaning. They, however, exemplify the method of painting on glass now attracting so much attention. Of this there are several methods, according to the thickness of the paste used. These appear to be painted and transferred, not worked on the glass with transparent vehicles.
Secret Splendour. The Hidden World of Baroque Cabinets. Booklet written to accompany the exhibition at the Holburn Museum, Bath, 9 October 2012 - 6 January 2013, in which this cabinet was shown, cat. no. 7
South Kensington Museum, John Charles Robinson, J. C Robinson, and R. Clay, Sons and Taylor. 1881. Catalogue of the Special Loan Exhibition of Spanish and Portuguese Ornamental Art: South Kensington Museum, 1881. London: Chapman & Hall, p.121

Labels and date
Cabinet
on stand
About 1680–1710,
with later stand
Italy (Naples)
Pine veneered with
rosewood, ebony and
turtle shell; gilded copper
alloy mounts; reversepainted
glass panels
Stand: softwood, ebonised
and painted
Museum no. 293-1870 [November 2015]
Materials
Softwood; Rosewood; Ebony; Turtle shell; Brass
Techniques
Cabinet-making; Veneering; Painting
Categories
Furniture
Collection
Furniture and Woodwork Collection