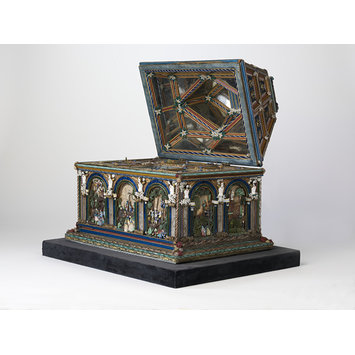 Casket
Object:
Place of origin:

Austria (probably, made)
Tyrol, Austria (possibly, made)

Date:
Artist/Maker:
Materials and Techniques:

lampworked glass, wood and silk

Credit Line:

Alfred Williams Hearns gift

Museum number:
Gallery location:

Medieval and Renaissance, room 62, case 6
The wooden structure of this casket is entirely covered with glass rods, strips of flattened glass and lamp-worked figures and ornaments. The elaborate decoration includes several scenes from the Bible, built up of lamp-worked figures and foliage, interspersed with pieces of mineral, all stuck onto the frame with a resinous material and backed with fine silk.
Such fine lamp-worked scenes were first developed by Venetian glassmakers on the island of Murano. However, the style of our casket is particularly close to some lamp-worked panels in the collection of Schloss Ambras, the castle of Archduke Ferdinand of Tyrol. These panels can already be identified in the 1596 inventory of Ambras.
Archduke Ferdinand II of Tyrol (1529-1595) built the extensive Ambras castle on a mountain top overlooking Innsbruck. A true "Renaissance prince" and an enthusiastic patron of the arts and sciences, Ferdinand amassed a large collections of artefacts for which he built a special display room.
At Ambras, Ferdinand also ran a glass workshop from 1572 until 1591 which he manned with Venetian craftsmen from Murano. They introduced lampworking, a technique that used heat from a lamp to melt and shape the glass. It is most likely that our casket was also the work of the Venetian craftsmen working at Ambras in the Tyrol. Inside, the casket has several compartments with mirror-covered lids which were probably used to store precious objects such as jewellery.
Physical description
Rectangular, with flat-topped pyramidal lid. At each side are three, and at each end two, archways with opaque white caryatids in the spandrels. Within the arches are various scenes, with figures in costumes of the period. The lid is divided into panels, inlaid with blue glass and gold and white rosettes. The interior is fitted with compartments and mirrors.
Place of Origin
Austria (probably, made)
Tyrol, Austria (possibly, made)
Date
1575-1625 (made)
Artist/maker
Unknown (production)
Materials and Techniques
lampworked glass, wood and silk
Dimensions
Height: 42.8 cm, Width: 45.8 cm, Depth: 34.6 cm
Object history note
Given by Mrs Ellen Hearn, Villa St Louis, Menton (Alpes-Maritimes)
Formed part of the Alfred Williams Hearns gift of 1923.
(Jan.2009) Tim Miller (FWK CONS): The casket was cleaned 10 or 15 years ago. One tiny fragment of striped glass found loose in the virginal matches that used on the casket and is not found anywhere on the viriginal itself - could have happened when cleaned.
(Feb.2009) Lesley Miller, Clare Browne (TEX): Silk behind the casket scenes is different to the silk behind the glass on the virginal. This is cream plain woven silk.
Silver and silver gilt thread (braid) on silk ground - could be 17th century. Plain weave fabric could be linen - it is finely woven, dip dyed, patchy (linen doesn't take dye as well as silk does).
No trace of the pink silk used on the casket can be found on the virginal.
Boxes inside the casket: blue silk with pink selvedge.
Thoughts: Linen was widely available everywhere but silk is more likely to be associated with Italy.
Historical context note
The lower part of the casket is decorated with ten arched panels of glass decoration depicting biblical scenes. These panels are separated by 14 busts, male and female, from which emanate gilded 'rays' of glass. White glass 'clouds' surround their heads. The bottom edges of the casket are decorated with straight and barleysugar twist rods of glass in various combinations of colours. The bottom corners are decorated with small 'coils' of polychrome glass. Each scene in the ten arched panels is backed with silk which has faded to a neutral beige colour and some of the glass around the panels is tinned on the reverse. The upper edge of the base of the casket is edged with gimp.
The style of lamp-worked decoration is close to that of a number of panels at Schloss Ambras, the place where Archduke Ferdinand of the Tyrol had his court glasshouse, from 1572 until 1591, which was manned by Venetian glassmakers. These panels were already listed in the 1596 inventory of Ambras. However, the style of the modelling, in particular of the figures, the clouds and the rays of light, are remarkably similar to that attributed to workshops in Nevers.
Lamp-working was a skill that a craftsman could carry from country to country in his search for employment so it is difficult to associate these pieces with a particular manufacturing centre.
The subjects depicted on the casket glass reliefs are:
Moses on Mount Sinai
Moses and the Brazen Serpent
Three kings hanging on a tree, soldiers and dead kings below
Agony in the Garden (unsure if this is what is depicted)
House with trees
Jacob's Dream
Sacrifice of Isaac
Satan and an angel below a tree, with a recumbent figure, two women below
An angel among clouds, above a wood
On a rock, three figures with spears; below are two women and a man driving out a boy
Descriptive line
Wood casket with lamp-worked glass reliefs. Probably made in Venetian glassworks in Hall-in-Tyrol, Austria, late 16th or early 17th century.
Bibliographic References (Citation, Note/Abstract, NAL no)
Simon Jervis, 'Glass Reliefs at Schloss Ambras and the Victoria & Albert Museum', Burlington Magazine CXXXII (1990), no. 1046, pp. 350-353
ill. 73-74 Shows panels with very similar lampworked details surviving at Schloss Ambras, the place where Archduke Ferdinand of the Tyrol had his court glasshouse. There Venetian glassblowers worked from 1572-1591 (Dreier Berlin catalogue). These panels were listed in the 1596 inventory of Ambras.
See the bibliography in this article.
Journal of Glass Studies, 42 (2000)
Recent Important Acquisitions, p.180
Corning Museum of Glass acquisition of a lampworked glass relief panel attributed to Austria (probably)
Gasparetto, Astone, Il vetro di Murano dalle origine ad oggi, Venice, 1958
figs. 97-99 illustrating the virginal (402-1872)
Labels and date
The lampworked figures and ornaments are probably made at the court glasshouse of Archduke Ferdinand of the Tyrol, at Schloss Ambras (Innsbruck). Venetian glassmakers were working there from 1572 until 1591. [2009]
Casket
South German or Tyrolese; 1572-1600
The wooden structure of the casket, which opens, is covered with glass canes and lampworked ornaments. Around the casket, ten archways show Biblical scenes, composed of red silk. The casket may have been designed as a reliquary.
The lampworked figures and ornaments were probably made at the court glasshouse of Archduke Ferdinand of the Tyrol at Schloss Ambras (Innsbruck). Venetian glassblowers from Murano worked there from 1572 until 1591. Lampworking is the technique of forming objects from rods and tubes of glass with the aid of an oil or paraffin lamp in conjunction with bellows. The intense heat of the flame softens the glass, which can then be manipulated into the desired shape.
The Alfred Williams Hearn Gift
C.20-1923 [ca.1960]
Materials
Silk; Wood; Glass
Techniques
Lamp-working
Subjects depicted
Moses; Serpent; Isaac; Jacob; Mount Sinai; Abraham
Collection code
CER