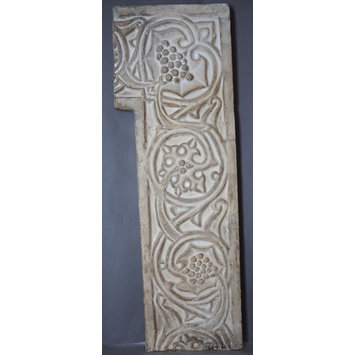 Copy of a border detail
Place of origin:

Victoria and Albert Museum (Copy, made)
Cairo (Original, made)

Date:
Artist/Maker:
Materials and Techniques:
Museum number:
Gallery location:

Cast Courts, Room 46, The Chitra Nirmal Sethia Gallery, case WALL7, shelf 15
Physical description
Plaster cast of a border detail with decorative ornament
Place of Origin
Victoria and Albert Museum (Copy, made)
Cairo (Original, made)
Date
1884 (made)
1477 (made)
Artist/maker
Bullen Sergeant (made)
Materials and Techniques
Plaster cast
Dimensions
Height: 25 in, Width: 8.5 in
Object history note
Plaster cast of a border detail of the great gate of Wikala at Cairo, and was moulded by Sergeant Bullen in the Museum's Art Workroom at the South Kensington Musuem. The original plaster cast belonged to the Cairo house of the French aristocrat, Comte Gaston de St. Maurice. Moulded from the casts Nos. 1026-1884, in the South Kensington Museum, and the original is in Cairo. Saracenic, 15th century. Recorded as on loan to the Royal Scottish Museum on Nom. file 12/12/21. 811G written off: Board of Survey. R.P. 38/2907.
Historical context note
Making plaster copies is a centuries-old tradition that reached the height of its popularity during the 19th century. The V&A's casts are of large-scale architectural and sculptural works as well as small scale, jewelled book covers and ivory plaques, these last known as fictile ivories.
The Museum commissioned casts directly from makers and acquired others in exchange. Oronzio Lelli, of Florence was a key overseas supplier while, in London, Giovanni Franchi and Domenico Brucciani upheld a strong Italian tradition as highly-skilled mould-makers, or formatori.
Some casts are highly accurate depictions of original works, whilst others are more selective, replicating the outer surface of the original work, rather than its whole structure. Like a photograph, they record the moment the cast was taken: alterations, repairs and the wear and tear of age are all reproduced in the copies. The plasters can also be re-worked, so that their appearance differs slightly from the original from which they were taken.
To make a plaster cast, a negative mould has to be taken of the original object. The initial mould could be made from one of several ways. A flexible mould could be made by mixing wax with gutta-percha, a rubbery latex product taken from tropical trees. These two substances formed a mould that had a slightly elastic quality, so that it could easily be removed from the original object. Moulds were also made from gelatine, plaster or clay, and could then be used to create a plaster mould to use for casting.
When mixed with water, plaster can be poured into a prepared mould, allowed to set, and can be removed to produce a finished solid form. The moulds are coated with a separating or paring agent to prevent the newly poured plaster sticking to them. The smooth liquid state and slight expansion while setting allowed the quick drying plaster to infill even the most intricate contours of a mould.
Flatter, smaller objects in low relief usually require only one mould to cast the object. For more complex objects, with a raised surface, the mould would have to be made from a number of sections, known as piece-moulds. These pieces are held together in the so-called mother-mould, in order to create a mould of the whole object. Once the object has been cast from this mother-mould, the piece-moulds can be easily removed one by one, to create a cast of the three-dimensional object.

Descriptive line
Plaster cast of a border detail from the great gate of the Wikala in Cairo, made in 1884 by Sergeant Bullen for the South Kensington Museum.

Labels and date
Cast of
Border detail of main entrance gate of the Wikala of Sultan Qa'itbay in Cairo, 15th century
Sargent Bullen, (South Kensington Museum), 1884
This is a cast of a cast. Sargent Bullen made it in the Museum's Art Work Room from a plaster cast that came from the Cairo house of the French aristocrat and collector, Comte Gaston de Saint-Maurice.
The Museum's advisor on Islamic art, Stanley Lane- Poole, wrote in The Times in October 1883 that casts of Islamic ornament from Cairo were acquired 'with a view to the introduction of Saracenic designs into the training of art students'.
Plaster cast
London, England
Museum no. Repro.1884C-811 [30.11.18]
Materials
Plaster
Techniques
Cast
Categories
Architecture; Islam; Plaster Cast; Copies; Cast Courts
Production Type
Copy
Collection
Sculpture Collection