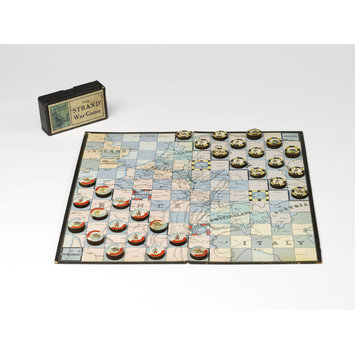 The 'Strand' War Game
Object:
Place of origin:
Date:
Artist/Maker:

George Newnes Ltd (publisher)

Museum number:
Gallery location:

On short term loan out for exhibition []
This is one of many board games made during the First World War depicting the conflict between the Allies and Germany. It is a cross between Halma and draughts, played corner to corner with the aim of placing a piece in the opposing capital. The game was published by The Strand Magazine.
Physical description
Design: chromolithograph mounted on card
Place of Origin
London (published)
Date
1916 (published)
Artist/maker
George Newnes Ltd (publisher)
Object history note
Game is played like Draughts but is also similar to Halma and Dover Patrol.
Historical context note
No. of Players: two
Equipment required: counters
Rules:
RULES
1. The game is played from corner to corner, one player representing the allied Army and the other the Germany Army.
2. The object of the game is to place a piece on the square representing the Capital of the opposing army, Berlin or Bordeaux. the player who first succeeds in this wins the game.
3. The Armies are arranged on the three lines of shaded squares in front of their respective capitals in the following order:
1st line, 7 pieces - Calvary, Infantry , Cavalry, Infantry, Cavalry, Infantry, Cavalry
2nd line, 5 pieces - Infantry Infantry, Infantry, Infantry, Infantry
3rd line, 3 pieces - Artillery, Artillery, Artillery
At no time during the game must a piece be placed by the defender in his own capital/
4. Infantry may move sideways or forward, one square at a time. Cavalry can move sideways, or forward one or two squares at a tine. Artillery may move one square at a time either sideways, backwards or forwards.
5. Pieces are taken in the same manner as in Draughts, by jumping over an opponent's piece but with the following conditions. No [piece in front of, or on, its own fort can be taken except by an artillery piece; any piece in front of a fort can however, be taken sideways. No piece, except an artillery piece, can be placed on an opposing fort.
6. In talking, Infantry and Cavalry may only jump the one square occupied by the opponent's piece as in Draughts, but Artillery may jump over a piece that is one square away, thus an opposing piece which has a vacant square behind it and the artillery piece may be taken if there is an unoccupied square behind it.
7. A piece must take if an opportunity is presented unless it be situated on a fort when it can refuse to take.
8. All moves are alternate and on the shaded squares only. A coin can be tossed to decide which shall move first.
Rules placement: printed booklet and type written copy of the original
Descriptive line
Board game with 30 boxed playing pieces, The' Strand' War Game, published in England by George Newnes Ltd in 1916
Categories
Games; War
Collection
Museum of Childhood