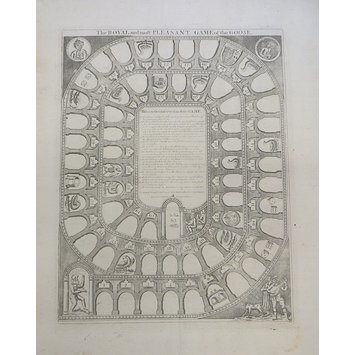 Sayer, Robert, born 1724 - died 1794
The Royal and Most pleasant Game of the Goose
Object:
Place of origin:
Date:
Artist/Maker:

Sayer, Robert, born 1724 - died 1794 (publisher)

Museum number:
Gallery location:
Physical description
Design: copper plate engraving, uncut and unmounted; elongated spiral, anti-clockwise, with corner illustrations and a central panel which contains the rules
No. of squares: 63
Squares illustrated: 21
Square numbering: all
Squares titled: some
Subject of starting square: archways
Subject of ending square: balls with writing above
Place of Origin
London (published)
Date
ca. 1750 (published)
Artist/maker
Sayer, Robert, born 1724 - died 1794 (publisher)
Object history note
a weak impression of the game but otherwise in good condition.
RC Bell, Board and Table Games, The Board Game Book
F Whitehouse, Table Games of the 18th & 19th Centuries
AR Girard, Le Jeu d'Oie
Historical context note
Rewards: forward movement, extra turns, taking of counters
Forfeits: backward movement, missed turns and payment of counters; including starting again
No. of Players: any number
Equipment required: dice, counters - 12 for each player
Rules:
1. This game is play'd with a pair of dice and any number of Persons may play it.
2. Whatever number it is that any one throws that Person must place his Counter in the white space under the same number, for Example should the Cast be 6 & 3 he must place the Counter at 9; if the Cast be 6 & 5 he must place it at 11; & when he throws again he must add the Number to that where his Counter lies and so remove accordingly.
3. He that throws 6 must pay a stake for his passage over the Bridge and go to No. 12.
4. He that throws a Goose must double his Cast forward from his last place
5. He that throws 19 where Ale House is must pay a stake and drink till his turn comes to throw again.
6. He that throws 31 where the Well is must stay there till every one has thrown twice unless somebody else throws the same, and then he must return to that person's place.
7. He that throws 42 where the Maze is must pay a stake and return back to 29.
8. He that goeth to 52 where the Prison is must pay one and stay a Prisoner till somebody relieves him by throwing the same Number.
9. He that goeth to 58 where Death is must pay one and begin again.
10. He that is overtaken by another must return to his place that overtook him and both must pay a stake.
11. He that overthroweth the Number 63 must return back and begin as at first.
12. He that throweth ust Number 63 wineth the game.
*Each player starts with 12 counters and pays his debts into a pool which becomes the winnings.
The saying above the jester reads:-
Fortune is the Changling Diety of Fools, Against ill luck all cunning foresight fails, Whether we're wise or no it nought avails.
The saying above square 63 reads:-
On not small Accidents Depend our fat...Whiule Chance not Prudence makes us fortunate.
Playing surface shows an anticlockwise elongated spiral, with numbered compartments 1 to 63 showing archways. There are corner illustrations and the central panel which contains the rules of play. The title is across the top of the game. The lower left corner is the starting square and show a drawing of a jester with 6 lines of text above. The lower right corner shows a man, a woman and a dog. The upper left corner shows a medallion with the words JONATHAN WILD THIEF TAKER GENERAL OF GREAT BRITAIN; the upper right corner shows another medallion with the words JACK SHEPHERD DRAWN FROM LIFE. Some of the compartments show illustrations - 6 Bridge; 9, 11,26 Dice; 14,18,45 Goose swimming; 19 House/Inn; 23,27,32,36,41,50,54,59 Goose on land; 31 Well; 52 House/Inn; 58 Skeleton; 63 Balls with writing above, which is so small and pale that it is unreadable. The square to the right of 63 show two men, one of which is drinking.
*The example of this game shown in the RC Bell books was published by John Bowles & Son at the Black Horse in Cornhill. It is exactly the same as this example except for the publisher's name and address. There is no obvious connection between the two or between Overton and Bowles; perhaps Sayer or Overton obtained the Bowles copy as it was out of date by the 1745-50 period. Although the Overton example is essentially the same in design, it does have major changes, whereas the Sayer does not.
Rules placement: in the centre panel
Descriptive line
Game 'The Royal and Most Pleasant Game of the Goose'; copper plate engraving on paper, Robert Sayer, English, 1725-1775
Production Note
Printed for Robt. Sayer, at the Golden Buck in Fleet Street. Invented at the Consistory at Rome
Categories
Type: race
Subject: moral
Collection
Museum of Childhood