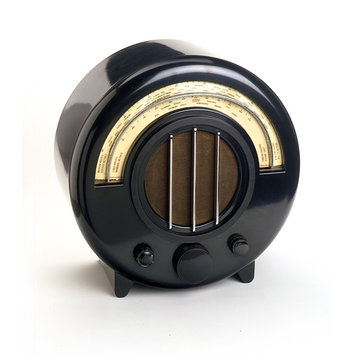 Wells Coates, born 1895 - died 1958
Ekco AD-65; Round Ekco
Object:
Place of origin:

southend on sea, England (made)

Date:

1932 (designed)
1934 (manufactured)

Artist/Maker:

Wells Coates, born 1895 - died 1958 (designer)
E. K. Cole Ltd (manufacturers)

Materials and Techniques:

Bakelite (compression-moulded phenol formaldehyde), stainless steel, woven cloth.

Credit Line:
Museum number:
Gallery location:

Twentieth Century, room 74, case CA8, box 1
Wells Coates, the architect and furniture designer, was born in Canada in 1895. He designed furniture for the British furniture manufacturer Pel and designed the Lawn Road flats in Hampstead, London. He died in 1958.
In this radio design he exploited the properties of Bakelite and did not disguise the machine with cabinet-work. This model, which uses brown plastic to simulate burr-walnut, was more popular than the more industrial black plastic version. The severe geometric shape defined the visual vocabulary of radio design for many years and Coates produced several variations on this before 1945.
Physical description
Radio, or wireless mechanism contained within a moulded dark brown Bakelite (phenol formaldehyde) case. The circular case sits on two incorporated feet running the thickness of the case. The front of the otherwise smooth case has a raised rim with grainy texture forming a circular frame for a cut-away central section. This contains the circular speaker, which is concealed behind a woven fabric screen. Over the fabric are laid three vertical stainless steel bars which are invisibly attached to the case. Below the speaker are three circular tuning knobs, two smaller ones symmetrically positioned either side of a larger knob. The rim of the knob on the left hand side is moulded with deep grooves, whilst the other two have densely ribbed rims. Another semi-circular section is cut out of the upper half of the case, revealing the tuning dials for the wireless behind it. A fourth stainless steel bar separates the long- and medium-wave dials.
The dark brown colour of the moulded Bakelite case is intended to simulate burr walnut, but otherwise does not attempt to imitate cabinet- or wood-working techniques.
Place of Origin
southend on sea, England (made)
Date
1932 (designed)
1934 (manufactured)
Artist/maker
Wells Coates, born 1895 - died 1958 (designer)
E. K. Cole Ltd (manufacturers)
Materials and Techniques
Bakelite (compression-moulded phenol formaldehyde), stainless steel, woven cloth.
Dimensions
Height: 40.5 cm, Width: 39.5 cm, Depth: 21 cm
Object history note
Bequeathed by David Rush [81/695].
Historical context note
The expense and considerable size of early radio receivers, which imitated cabinet furniture, meant they were status objects in the home. Technological advances, coupled with the introduction of plastics, allowed more compact sets. In 1931 the BBC built Modernist studios (some designed by Wells Coates) and radio style followed suit.
Coates, who designed furniture for Pel and flats in the International Style, won this commission in a competition. In this design he exploited the properties of Bakelite and did not disguise the machine with cabinet-work like the Lissen cabinets of the same date. Ironically, this model, which uses brown plastic to simulate burr-walnut, was more popular than the more industrial black plastic version. The severe geometric shape defined the visual vocabulary of radio design for many years and Coates produced several variations on this before 1945.
[Gareth Williams, 'British Design at Home', p.118]
EKCO was founded by Eric Kirkham Cole in the 1920s. The company was based in Prittlewell, Southend from 1930 until the 1970s. EKCO was a major employer in Southend with thousands of people working in the factory, design studios and offices. It was one of the first companies to use Bakelite in the construction of radio cabinets, having failed to find success with 'traditional' wooden wireless sets. The company made the bold decision in 1930 to begin selling plastic cabinets. Ekco had its own Bakelite presses on site, purchased complete in 1932 from German company AEG (Allgemeine Elektrizitats Gesellschaft). EKCO's round radios of the 1930s - particularly the AD 65 designed by Wells Coates became Art Deco design classics.
Descriptive line
Wireless, EKCO AD-65 with Bakelite case, designed by Wells Coates, 1932, manufactured by E.K.Cole Ltd., Essex, 1934
Bibliographic References (Citation, Note/Abstract, NAL no)
Baker, Malcolm and Richardson, Brenda, eds. A Grand Design : The Art of the Victoria and Albert Museum. London: V&A Publications, 1997. 431 p., ill. ISBN 1851773088.
Product design involves different collecting criteria than are applied to more traditional objects. While a consistent, identifiable, and often aristocratic provenance is regarded as one determinant of significance for the historic objects in the Museum, examples of modern product design often come from everyday, anonymous consumers or international manufacturers. By virtue of its nature as a market- or consumer-led industrial activity within a capitalist economy, product design enables the Museum to chart the relationship of design, industry, and society in the twentieth century.
The advent of public radio broadcasts in Britain in 1922 inspired the development of domestic radio receivers. As a radically new form of appliance for the home, radio receiver styling had no precedent; many early valve sets were made in imitation of traditional cabinet furniture. With the introduction of moulded plastic cases in the 1930s, however, the distinctive forms of radio sets were decisively defined. The E. K. Cole firm employed leading modernists, including Wells Coates, to design receivers suited to the technology of its Bakelite moulding plant, established in 1931. Coates's "AD-65" model was pure geometry, completely unrelated to traditional domestic furniture. The radio's streamlined curves were overtly modern, and at the same time disguised the technological mechanism of the object. In 1931 Wells Coates designed the interiors for the British Broadcasting Corporation studios, which, along with the BBC radio broadcasts, became synonymous with modernism. The "Patriot," designed in the United States by Norman Bel Geddes only a few years later, also used a moulded plastic casing, although Geddes chose a rectilinear form with a red, white, and blue design, created as part of the celebration of the Emerson company's twenty-fifth anniversary.
Wells Coates was born in Japan, the son of a Canadian missionary; he studied engineering in Vancouver and, after World War I, continued advanced studies in London. He began work as an industrial designer in 1928 and became known for his innovative use of plywood. In 1931 he cofounded the Isokon Company, which set out to manufacture functional modernist design; in this period Coates was recognised as leading the vanguard of the modernist movement in England. The versatile American designer Norman Bel Geddes (born in Adrian, Michigan) exercised his talents in advertising, industry (including the design of cars, trains, and planes), window display, interiors, theatre, and book design. His futuristic ideas only rarely found their way into production.
Miniaturisation of radio components and the near saturation of the market for a single quality receiver in each of Britain's estimated eleven million homes encouraged postwar manufacturers to produce cheaper, portable radios. Comparison of the AD-65 with Wells Coates's 1947 Princess Portable shows the transformation of the radio from authoritative parlour piece to youthful fashion accessory. The brightly coloured rectangular case and innovative clear plastic carrying handle of the "Princess" conformed to the functionalism of modernism, but the aesthetic was less austere and more playful than that of prewar sets, and shows the increased importance of styling in the marketing of radios. Roberts Radio promoted its products by encasing receivers in exotic materials such as mink, jewel-encrusted suede, and even gold leaf. These promotional models, made for trade fairs and as advertising stunts, presented the conservative Roberts radio as a glamourous fashion accessory. This leopard-skin model was shown at the Earl's Court Radio Show in 1964. Miniaturisation moved forward again in 1956 with the introduction of transistor radios, from which point the centre of innovation ceased to be Britain, Europe, or even America, but rather Japan and East Asia.
Daniel Weil's Radio in a Bag subverts our preconceptions of the appearance of audio equipment, which, by the 1970s, was dominated by hard-edged black and chrome boxes, visual indicators of high technology. The flexible and transparent bag
features the radio's scattered components as the object's decoration, while also demystifying the mechanism and allowing for easy maintenance. About ten thousand were made, most of which were sold in Japan. Weil studied architecture in his native city of Buenos Aires and then moved to London to study industrial design. His "plastic bag" clocks, radios, and lights earned him international recognition, and he has designed for several major manufacturers of quality products.
The V&A has collected approximately one hundred radios since 1963, selected for their aesthetic rather than technological advances.
Lit. Studio Yearbook of Decorative Art, 1949, p. 124; Council of Industrial Design, 1950, p. 3 and plate 10; Hogben, 1977, pp. 1, 5, 11; Arts Council, 1979, p. 148; Hiesinger, 1983, pp. 87, 95; Forty, 1986, p. 205; Hawes, 1991, pp. 46-7, 82, 108
GARETH WILLIAMS
Katz, Sylvia. Classic Plastics: From Bakelite to High Tech (Thames and Hudson, London: 1984)
Colour image of set next to copy of its design plans.
Hawes, Robert and Sassower, Gad. Bakelite Radios (Edison, New Jersey, 1996)
Chapter on the design story of the Ekco AD65, including photographs of the examples being manufactured.
Hawes, Robert, Radio Art (London, 1991)
Exhibition History
(V&A 20/10/1977-11/12/1977)
Precious: Objects and Changing Values (The Millennium Galleries, Sheffield 02/04/2001-24/06/2001)
Modernism : Designing a New World (MARTa Herford, Germany 16/09/2006-07/01/2007)
Modernism : Designing a New World (V&A 06/04/2006-23/07/2006)
A Grand Design - The Art of the Victoria and Albert Museum (V&A 12/10/1999-16/01/2000)
Access All Areas (V&A 18/05/2000-24/09/2000)
Production Note
Ekco AD65 cabinets were were formed with intense heat and pressure, using imported German Bakelite presses. The resin had to be compressed with a pressure of over 1000 tons.
Materials
Cloth; Stainless steel; Bakelite; Phenolic
Techniques
Compression moulding
Categories
Entertainment & Leisure; Furniture; Audio equipment; Product design; Household objects; Plastic
Production Type
Mass produced
Collection code
FWK