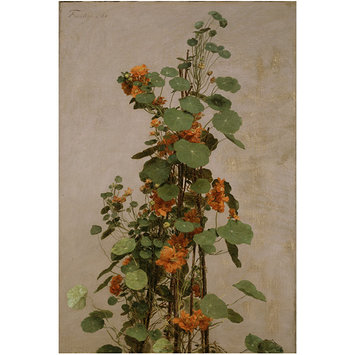 Fantin-Latour, Henri, born 1836 - died 1904
Nasturtiums; Capucines; Tropaeolum majus
Object:
Place of origin:
Date:
Artist/Maker:

Fantin-Latour, Henri, born 1836 - died 1904 (artist)

Materials and Techniques:
Museum number:
Gallery location:
Henri Fantin-Latour (1836-1904) was born in Grenoble and first trained with his father, Jean-Théodore Fantin-Latour (1805–75), and then with Horace Lecocq de Boisbaudran at the Petite Ecole de Dessin in Paris from 1850 to 1856. In 1861 he worked in Gustave Courbet's studio for several months as a pupil. After a period of portraiture, Fantin-Latour concentrated on flowers paintings and still-lifes for which he is now best known. His flower pieces were especially popular with British collectors, and he exhibited at the Royal Academy in London from 1862 onwards, especially thanks to the patronage of James McNeill Whistler (1834-1903), whom he met in 1858.
This painting is a fine example of Fantin-Latour's paintings of flower, a category in which he progressively specialised executing up to 500 floral compositions. This painting shows double nasturtiums whose bright orange and green contrast against the plain grey background. This effect of light and colour are characteristic of the new naturalism developed in French art in the second half of the 19th century, which anticipate the Impressionists' new experimentations.
Physical description
Several stems of nasturtiums are grouped together vertically at the centre of the image against a plain grey background.
Place of Origin
France (painted)
Date
1880 (painted)
Artist/maker
Fantin-Latour, Henri, born 1836 - died 1904 (artist)
Materials and Techniques
oil on canvas
Marks and inscriptions
'Fantin - 80'
Dimensions
Height: 62.8 cm estimate, Width: 42.5 cm estimate, Height: 74 cm gilt frame, Width: 54 cm gilt frame, Depth: 6.8 cm gilt frame
Object history note
Purchased from Mrs Edwin Edwards, 1884. One of Fantin's rare flower pieces featuring a single flower silhouetted against a plain background, this work was acquired as an 'example' of still-life painting, to be circulated to schools for use in art classes.
Purchased, 1884
Historical significance: This painting was probably painted in Paris or in Buré (Normandy) where Fantin-Latour spent the summer in 1880. It shows double nasturtiums, a plant that according C.A.P Willsdon, was often used as a subject for training flower painters because of its complex structure. It is one of the three paintings the South Kensington School of Design, now Victoria and Albert Museum, acquired as a model for its students (see also S.Ex.4-1889 and S.Ex.61-1882). They all share the characteristic of presenting a single plant rather than a bouquet, depicted without a vase or table, on a plain background.
The Barbizon School and the Impressionists engendered a new interest for naturalism and the objective rendering of light and colours. However, Fantin-Latour did not share their enthusiasm for open air painting and most of his compositions were executed in his studio.
This painting was purchased from Mrs Elizabeth Ruth Edwards, who was acquainted with Fantin-Latour as she and her husband hosted the artist for a few months in their house at Sunbury-on-Thames in 1861. On this occasion, Fantin-Latour executed her portrait, now in the Musée du Petit-Palais, Paris. Mr and Mrs Edwards became his dealers in England and their friendship with the painter is witnessed by his portrait of them dated 1875, now in the Tate Gallery, London (F.738).
Historical context note
19th-century French art is marked by a succession of movements based on a more or less close relationship with nature. At the beginning of the century, Romantic artists were fascinated by nature they interpreted as a mirror of the mind. They investigated human nature and personality, the folk culture, the national and ethnic origins, the medieval era, the exotic, the remote, the mysterious and the occult. This movement was heralded in France by such painter as Eugène Delacroix (1798-1863). In its opposition to academic art and its demand for a modern style Realism continued the aims of the Romantics. They assumed that reality could be perceived without distortion or idealization, and sought after a mean to combine the perception of the individual with objectivity. This reaction in French painting against the Grand Manner is well represented by Gustave Courbet (1819-1877) who wrote a 'Manifesto of Realism', entitled Le Réalisme published in Paris in 1855. These ideas were challenged by the group of the Barbizon painters, who formed a recognizable school from the early 1830s to the 1870s and developed a free, broad and rough technique. They were mainly concerned by landscape painting and the rendering of light. The works of Narcisse Virgile Diaz de la Peña (1807-1876), Jules Dupré (1811-1889), Théodore Rousseau (1812-1867), Constant Troyon (1810-1865) and Jean-François Millet (1814-1875) anticipate somehow the plein-air landscapes of the Impressionists.
Descriptive line
Oil painting, 'Nasturtiums', Henri Fantin-Latour, 1880
Bibliographic References (Citation, Note/Abstract, NAL no)
Kauffmann, C.M., Catalogue of Foreign Paintings, II. 1800-1900, London: Victoria and Albert Museum, 1973, p. 38, cat. no. 83.
The following is the full text of the entry:
Ignace-Henri-Jean-Théodore FANTIN-LATOUR (1836-1904)
French School
Born at Grenoble, he was a pupil of his father, Théodore, who settled in Paris in 1841, and then studied under Lecocq de Boisbaudran (1851-c. 1854), at the École des Beaux-Arts (1854) and in Courbet's Studio (1862). From 1861 he exhibited regularly in the Salon. He visited England in 1859, 1861, 1864, and 1881 and exhibited at the R. A. 1862-1900. He painted portraits and allegorical and mythological subjects as well as the flower pieces upon which his reputation in England largely rested.
Lit. Mme Fantin-Latour, Catalogue de l'oeuvre complet de Fantin-Latour, 1911.
83
NASTURTIUMS
Signed and dated upper left Fantin - 80
Canvas
24 ¾ x 16 ¾ (62.8 x 42.5)
S.Ex.24-1884
See no. 82
Condition. Detached from cardboard secondary support, relined and cleaned in 1960.
Prov. Bought from Mrs Edwin Edwards in 1884 as one of a series of 'schools examples', which were circulated to schools for use in art classes.
Lit. Mme Fantin-Latour, Oeuvre cat., 1911, p. 104, no. 1004.
Fantin Latour. De la Réalité au Rêve, Lausanne: Fondation de l'Hermitage, 2007, p. 105.
Exhibition catalogue
100 Great Paintings in The Victoria & Albert Museum, London: V&A, 1985, p.182.
The following is the full text of the entry:
"Ignace Henri Jean Théodore Fantin-Latour 1836-1904
French School
NASTURTIUMS
Oil on canvas, 62.8 X 42.5 cm
Signed and dated 1880
S.EX.24-1884
Simplicity of presentation and accuracy of observation combine in this painting to produce something more akin to a brilliantly coloured botanical illustration than the more obviously composed flower paintings by which Fantin-Latour is usually remembered. The artist has chosen not to show the container the plants are growing in, and the plain background makes the picture appear shallow in depth. The nasturtiums fill almost the entire length and breadth of the canvas.
Fantin-Latour is perhaps best known for his flower paintings but few resemble this one. Many of them show a vase of assorted cut flowers set on a table, alongside other objects such as fruit or tableware. These paintings of flowers found a ready market in England and examples of these more conventional bouquets are also in the collection of the Victoria and Albert Museum.
Fantin-Latour lived in Paris but was able to sell most of his flower paintings in England through an English couple, Mr and Mrs Edwards, whom he had met in 1861. What began as a friendship later became primarily a business arrangement. Edwin Edwards would travel to Paris in the autumn and purchase, from the artist's studio, works he thought he could resell in Britain. After Edwards' death in 1879 his widow assumed the role of Fantin-Latour's agent and propagandist in Britain, and kept his work in the public eye by ensuring the inclusion of his paintings in exhibitions all over the country. The museum purchased Nasturtiums in 1882, two years after it had been painted. It was acquired as a 'schools example' to be sent round art schools in Britain for art students to study and perhaps copy. A substantial part of Fantin-Latour's own training had consisted of copying, mainly figure paintings, in the Louvre in Paris.
Although a contemporary and associate of the leading Impressionist painters Renoir and Monet, he did not share with them their enthusiasm for the innovation of painting in the open air. In all probability Fantin-Latour painted Nasturtiums in his studio in Paris or at his cottage in Normandy, where he and his wife spent their summer.
Elizabeth Clunas"
Henri Fantin-Latour (1836-1904) Lisbon: Fundação Calouste Gulbenkian, 2009, cat. 67, p. 179.
Exhibition catalogue
Willsdon, Clare A. P. Impressionist Gardens, Edinburgh : National Galleries of Scotland, 2010, cat. 25, p.54
Exhibition catalogue
D. Druick and M. Hoog eds., Fantin-Latour, Ottawa: National Gallery of Canada, 1983, cat. 101, p. 268.
Exhibition catalogue
V. Dubourg Fantin-Latour, Catalogue de l'oeuvre complet (1849-1904) de Fantin-Latour, Paris, 1911, p. 104, no. 1004.
Reprint 1969
Clare A P Willsdon Impressionist Gardens Edinburgh: National Galleries of Scotland, 2010. ISBN: 978 1 906270 28 5.
Exhibition catalogue
Emma House and David Ingram, Painting Flowers. Fantin-Latour & the Impressionists The Bowes Museum, 2011. ISBN: 978-0-9548182-5-8.
Exhibition catalogue
Clare A P Willsdon, Country Gardens. John Singer Sargent, Alfred Parsons, RA, and their Contemporaries Broadway Arts Festival, 2012. ISBN: 9 780957 272507.
Exhibition History
Country Gardens, John Singer Sargent, RA, Alfred Parsons, RA, and their contemporaries (Haynes Fine Art, Broadway 08/06/12-17/06/12)
Henri Fantin-Latour and the Impressionists: Still Life Painting in the nineteenth century (The Bowes Museum, Barnard Castle 01/01/2004-09/10/2011)
Fantin-Latour (California Palace of the Legion of Honor, San Francisco 18/06/1983-06/09/1983)
Fantin-Latour (National Gallery of Canada, Ottawa 17/03/1983-22/05/1983)
Fantin-Latour (Galeries Nationales du Grand Palais 09/11/1982-07/02/1983)
Impressionist Gardens (Thyssen-Bornemisza Museum, Madrid 14/02/2010-16/11/2010)
Impressionist Gardens (National Gallery of Scotland, Edinburgh 31/07/2010-17/10/2010)
Henri Fantin-Latour 1836-1904 (Thyssen-Bornemisza Museum, Madrid 28/09/2009-10/01/2010)
Henri Fantin-Latour 1836-1904 (Calouste Gulbenkian Museum, Lisbon 18/06/2009-06/09/2009)
Fantin Latour. De la Réalité au Rêve (Fondation de l'Hermitage, Lausanne 29/06/2007-28/10/2007)
Labels and date
'American and European Art and Design 1800-1900'
One of Fantin's rare flower pieces featuring a single flower silhouetted against a plain background, this work was acquired as an 'example' of still-life painting, to be circulated to schools for use in art classes. [1987-2006]
Materials
Oil paint; Canvas
Techniques
Oil painting
Subjects depicted
Nasturtium (flower)
Categories
Paintings; Gardens & Gardening
Collection code
PDP