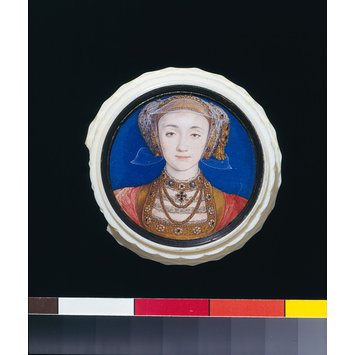 Holbein, Hans, born 1497 - died 1543
Portrait miniature of Anne of Cleves (1515-1557), set in a turned ivory box
Object:
Date:
Artist/Maker:

Holbein, Hans, born 1497 - died 1543 (painter)

Materials and Techniques:

Portrait miniature: watercolour on vellum stuck to a playing card with part of a court card on the back. Box: ivory base and lid - it is still possible to screw the rose lid to its base; this perfect fit seems to be the result of both having been carved from one piece of elephant tusk (noted in Katherine Coombs, The Portrait Miniature in England, V&A, 1998).

Credit Line:

Bequeathed by George Salting

Museum number:
Gallery location:

Prints & Drawings, Room 90, The Julie and Robert Breckman Gallery []
Object Type
The art of painting miniatures in watercolour was introduced to England in the 1520s by the Flemish artist Gerard Horenbout. When Hans Holbein came to England from Switzerland in 1532 to work for Henry VIII, he was an established painter in oil on panel. But miniatures had become an established court art and Holbein clearly found it advisable to learn this new watercolour art.

Historical Associations
In 1539 it became politically necessary for Henry to form an alliance with Protestant Germany and it was suggested that Henry marry one of the daughters of the Duke of Cleves. Henry needed to judge whether to proceed with the marriage treaty and Holbein was despatched to paint Anne and her sister Amelia. When Anne arrived in England, Henry thought her 'nothing so fair as had been reported', but the marriage still took place, in 1540. A few months later Henry decided the alliance was no longer necessary and the marriage was declared null. He designated Anne 'King's sister' and she settled down to life in England.

Container
The ivory box is difficult to date, but is likely to post-date the miniature. It was turned on a lathe. Paint losses at the edge of the miniature, and the lack of a gold edge line on it, imply that it was trimmed to fit into the box. Such skilled turning of ivory was unknown in England at this date but was common in Germany. It could have been made by a German ivory turner, either in Britain or on the Continent. Collections of virtuoso turned ivories were being formed in Dresden and Munich at the time. However the box probably dates from the late sixteenth century, and as such is one of the earliest and most important post-medieval ivories in the collection.
Physical description
Portrait miniature of a woman, full face, head and shoulders, to front, in a circular box with a lid, into which is carved in the form of petals, a Tudor rose.
Date
1539
Artist/maker
Holbein, Hans, born 1497 - died 1543 (painter)
Materials and Techniques
Portrait miniature: watercolour on vellum stuck to a playing card with part of a court card on the back. Box: ivory base and lid - it is still possible to screw the rose lid to its base; this perfect fit seems to be the result of both having been carved from one piece of elephant tusk (noted in Katherine Coombs, The Portrait Miniature in England, V&A, 1998).
Dimensions
Diameter: 60 mm horizontal, Diameter: 60 mm vertical
Object history note
Provenance: First recorded in 1720 by George Vertue as follows: "a head of Anne of Cleves, painted Curiously a limning in a round Ivory box turn'd finely like a Rose with loose leaves, this done by Holbein, probably the picture that was done to show King Henry before she came over Mr. Alexander" (Notebooks, I, p. 65); it is not clear from this whether the Mr. Alexander was or was not its owner; next recorded by Vertue, 1732, when in the collection of Colonel James Seymour (1658(?)-1739): "The picture of Anne a Cleve I had another View of it in the Possession of Col. Seamor. it is a round Curious turnd Ivory box the head only in full fron. the ground blew. painted by Holbein. & supposed to be the Very picture showd to the King Hen. 8.-" (Notebook, IV, p. 45); Colonel James Seymour was father of the painter. Vertue records the "he drew and limned very ingeniously. he allwayes was conversant with the nobles & virtuosi of his Time all Lovers & practitioners of the Arts of Painting Scripture graving &c – as well as mechanical works of Arts. had an infinite number of curious, pictures drawing & print of all kinds past thro' his hands was in great esteem" (Notebooks, III, p. 86); probably in the sale that followed his death it was purchased by the collector Thomas Barrett of Lee Priory, Kent (1698-1757) in whose possession Vertue records it c.1 739: "Anne a Cleve. a curious limning in an Ivory box finely turnd. done by Hans Holben" (Notebooks, IV, 1935-36, p. 156); engraved 1739 by Houbracken with slight variants and inscribed: Holben pinxit. In the Collection of Thomas Barret Esqr; descended to his son Thomas Barrett Brydges of Denton Court; during this period it is recorded at Lee, first in 1794 by Horace Walpole (letter to the Misses Berry, 28th September 1794) and by Sir Thomas Croft in 1825 (letter of August 10th 1825 to his aunt, Elizabeth Croft, in the possession of the late Edward Croft Murray); sold in 1826 to a dealer named Tuck (Chamberlain Holbein, II, p. 182); resold to Francis Douce, the antiquary (1757-1834); there it formed part of the Doucean Museum: "no. 26 a beautiful miniature by Holbein, like the last, in an ivory box, but the cover elaborately carved so as to imitate the English rose, 1539" (Gentleman's Magazine, March, 1836, pp. 245ff.); passed to his second cousin, Lt-Col. Augustus Meyrick whose son bequeathed it to Miss Eleanor Davies (d.1933) who sold it to George Salting, who bequeathed with the Salting Collection to the V&A 1910.
Descriptive line
Portrait miniature of Anne of Cleves by Hans Holbein the younger (1497-1543). Set in a circular turned ivory box by an unknown maker, Britain or perhaps Germany.
Bibliographic References (Citation, Note/Abstract, NAL no)
Foister, Susan. Holbein in England. London: Tate Publishing, 2006, p. 102
100 Great Paintings in The Victoria & Albert Museum.London: V&A, 1985, pp. 38-39. 220 p. : col. ill. 094810769X (hbk.); 0905209370 (pbk.).
Susan Doran, ed. Henry VIII. Man & Monarch. London: British Library, 2009, p. 222 / ISBN: 978 0 7123 5026 6
Marks, Richard and Paul Williamson, eds. Gothic: Art for England, 1400-1547. London: V&A Publications, 2003. 496 p.: ill. 1851774017 (hbk); 1851774025 (pbk).
Strong, R. and Murrell V., Artists of the Tudor Court. The Portrait Miniature Rediscovered 1520-1620 (exh. cat.), Victoria and Albert Museum, London, 1983, pp. 48-9
Marks, R. and Williamson, Paul, assisted by E. Townsend (eds.), Gothic, Art for England 1400-1547 (exh. cat.), Victoria & Albert Museum, London, 2003, p. 159
Trusted, Marjorie, Baroque & Later Ivories, Victoria & Albert Museum, London, 2013, cat. no. 121
Les Tudors sous la direction scientifique de Charlotte Bolland et Cécile Maisonneuve. Paris : Réunion des musées nationaux-Grand palais : Musée du Luxembourg-Sénat, c2015. ISBN: 9782711862368.
p. 140, fig.128

Labels and date
British Galleries:
Holbein visited Germany to paint a full-size portrait of Anne (1515-1557) as a prospective bride for Henry VIII. This miniature probably dates from the same time. Miniatures were items for personal use, set as jewels or, as in this case, kept in a special box as a keepsake. Anne was the king's fourth wife and the marriage lasted only six months. She was divorced and lived in comfortable retirement in England. [27/03/2003]
Categories
ELISE; Paintings; British Galleries; Portraits; Sculpture
Collection
Prints, Drawings & Paintings Collection