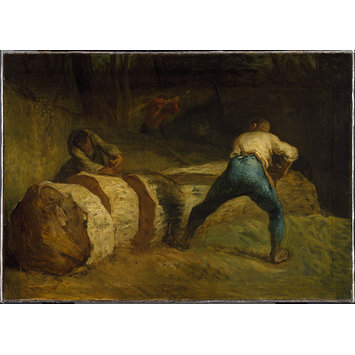 Jean-François Millet, born 1814 - died 1875
The Wood Sawyers; Les scieurs de long
Object:
Place of origin:
Date:
Artist/Maker:

Jean-François Millet, born 1814 - died 1875 (artist)

Materials and Techniques:
Credit Line:

Bequeathed by Constantine Alexander Ionides

Museum number:
Gallery location:

Paintings, room 81, case WEST WALL
Jean-François Millet (1814-1875) was born in Normandy and first trained with a local portrait painter, Bon Du Mouchel (1807-1846), and later in Cherbourg with Lucien-Théophile Langlois (1803-1845), a pupil of Antoine-Jean Gros (1771-1835). In Paris, he then entered the atelier of the history painter Paul Delaroche (1797-1856). He first specialised in portraiture and then moved towards the naturalistic style with peasant scenes for which he became best known.
This painting is a fine example of Millet's peasants scenes for which he is best known. It depicts two men sawing a large trunk while another is chopping trees in the background. Although considered as a member of the Barbizon school for its technical approach of the rendering of light and colours, Millet favoured figures paintings to landscapes. His rural scenes are taken for the contemporary reality and are often interpreted as a reaction against a society that was becoming more and more bourgeois thanks to the industrial revolution.
Physical description
Two figures holding either end of a wood saw are sawing a large tree trunk; a third figure chopping trees in the background.
Place of Origin
France (painted)
Date
1850- 1852 (painted)
Artist/maker
Jean-François Millet, born 1814 - died 1875 (artist)
Materials and Techniques
oil on canvas
Dimensions
Height: 57 cm estimate, Width: 81 cm estimate, Weight: 31 kg with frame
Object history note
Most likely the same as the painting titled Wood cutters in a French forest shown at the in London June 1871 at the 'Second…Exhibition of … The Society of French Artists' organised by the dealer Durand-Ruel; probably bought from Durand-Ruel by the Scottish art critic W.E. Henley around that time; probably sold directly to Constantine Alexander Ionides with whom Henley was acquainted (cf. letter from Henley to Ionides, 13.06.1883, NAL :86.ZZ.182, MSL/2006/132). Ionides had purchased CAI.47 by November 1881, when it is listed in the inventory of his collection (private collection), with a valuation of £1200; bequeathed by Constantine Alexander Ionides, 1900.
In 1881, W. E. Henley wrote Jean-François Millet: twenty etchings and woodcuts reproduced in fac-simile and a biographical notice in which this painting surprisingly does not figure. Henley was also the author of the catalogue of the French and Dutch Loan Collection exhibition at the Edinburgh International Exhibition of 1886.
Historical significance: This painting is a fine example of Millet's peasant scenes executed in a free, broad technique characteristic of the Barbizon school. The present painting depicts two wood sawyers seen from the back while a strong contrast of light and shade emphasizes the strain of the figures to cut the wood while a third figure chops trees in the background.
There are two preparatory drawings in black chalk for this composition: one is in the Musée Bonnat, Bayonne, dated 1850-1 (Herbert, 1962) and another in Plymouth City Art Gallery. Two further studies possibly related were exhibited at the Leicester Galleries in November 1921 (nos. 94 & 98). According to Kauffmann (p.74), there are possibly two other versions: one is in a private collection, Paris whereas the other's whereabouts remain unknown (authenticity disputed – see Der Kunstwanderer, 1928, p. 75 illus.).
Millet seems to have painted this vigorous scene soon after he moved to Barbizon, a village near the forest of Fontainebleau, which attracted a number of artists painting in a broad naturalistic style. The intense colours put this painting close to Honoré Daumier's oeuvre, for which it has been mistaken once (M. Gobin, oral opinion, 1936).
Three colours dominate the earthen palette: the intense blue of the near sawyer's trousers, his brilliant white shirt and the red of the third figure in the background. This colour scheme combined with the emphasis put on the strain of the figures may convey a political meaning. For instance, the Winnover, The National Gallery, London, exhibited at the Salon in 1848, has been interpreted as an allusion to the Revolution of February that year through the colours worn by the figure, blue, white and red, and the subject matter, separating the grain from the chaff.
X-ray photography shows that the scene was painted over an earlier composition, most likely the lost oil sketch for The Republic, unsuccessfully submitted by Millet at a French state competition in 1848. Around this time, Millet made two other sketches entitled L'Egalité and La Fraternité stylistically compatible with the underlying composition.
Whether this picture was a rural interpretation of a former political composition or not remains uncertain but the peasant scenes in se were not exempt of a certain socio-political connotation. The Barbizon members as well as the Realist painters and their critics did not hide their preference for anti-bourgeois subject matters and reaction against the tradition. Millet's art was highly influential on both technique and subject matters of the next generation of artists including the Impressionists and Post-Impressionists.
Historical context note
19th-century French art is marked by a succession of movements based on a more or less close relationship with nature. At the beginning of the century, Romantic artists were fascinated by nature they interpreted as a mirror of the mind. They investigated human nature and personality, the folk culture, the national and ethnic origins, the medieval era, the exotic, the remote, the mysterious and the occult. This movement was heralded in France by such painter as Eugène Delacroix (1798-1863). In its opposition to academic art and its demand for a modern style Realism continued the aims of the Romantics. They assumed that reality could be perceived without distortion or idealization, and sought after a mean to combine the perception of the individual with objectivity. This reaction in French painting against the Grand Manner is well represented by Gustave Courbet (1819-1877) who wrote a 'Manifesto of Realism', entitled Le Réalisme published in Paris in 1855. These ideas were challenged by the group of the Barbizon painters, who formed a recognizable school from the early 1830s to the 1870s and developed a free, broad and rough technique. They were mainly concerned by landscape painting and the rendering of light. The works of Narcisse Virgile Diaz de la Peña (1807-1876), Jules Dupré (1811-1889), Théodore Rousseau (1812-1867), Constant Troyon (1810-1865) and Jean-François Millet (1814-1875) anticipate somehow the plein-air landscapes of the Impressionists.
Descriptive line
Oil on canvas, 'Woodsawyers', Jean-François Millet, 1850-1852
Bibliographic References (Citation, Note/Abstract, NAL no)
Kauffmann, C.M. Catalogue of Foreign Paintings, II. 1800-1900 , London: Victoria and Albert Museum, 1973, pp. 73-74, cat. no. 162.
The following is the full text of the entry:
Jean-François MILLET (1814-75)
French School
Born in Normandy of peasant stock Millet's first professional training was acquired in Cherbourg under the painters Mouchal and Langlois in 1833-36. He went to Paris in 1837, where he was a pupil of Paul Delaroche, and for the next ten years painted mainly portraits and scenes galantes in the manner of Diaz. At about the time of the Revolution of 1848, he turned increasingly to painting rural scenes; in 1849 he moved to Barbizon, where he became a close friend of Theodore Rousseau, and where he remained for the rest of his life. Although attacked for his concentration on peasant subjects, he won increasing public recognition in the 1860s, and was awarded the Legion of Honour in 1868.
Lit. E. Moreau-Nélaton, Millet raconté par lui-meme, Paris, 1921; R. L. Herbert, Barbizon revisited, New York, 1963; ibid., Millet (in preparation).
162
THE WOOD SAWYERS
Canvas
22 ½ X 32 (57 X 81)
Ionides Bequest
CAI.47
The similarities with Daumier have frequently been stressed (Athenaeum, 1904; Sir C. Phillips, 1923) but the suggestion, never very convincing, that the painting is in fact by Daumier and not by Millet has been dismissed by the most recent authority (Herbert, 1962).
Millet came under the strong influence of Daumier when he began seriously painting rural genre scenes in the years 1846-52 and The Wood Sawyers is one of his early masterpieces in this field. It may be placed not long after the various versions of The Sower, painted in 1850 (Herbert, Barbizon revisited, p. 150, no. 62).
The preparatory study in black chalk for this composition in the Musée Bonnat, Bayonne, has been dated c. 1850-51 (Herbert, 1962). Two further studies probably related to this composition were exhibited at the Leicester Galleries in November 1921 (nos. 94 & 98). There are two other versions in oils: (I) private collection, Paris, showing two figures instead of three, and the log sawn at one point only; (2) whereabouts unknown (authenticity in dispute), repr. Der Kunstwanderer, 1928, p. 75, exh. Beaux Arts Gallery, 1949, closer to (I) in that it shows only two figures, but the log is sawn, at three points as in the V. & A. picture. In view of the fact that the V. & A. picture is only one with the third figure in the background, it seems likely that it is the final version. It may be dated c. 1850-52.
Condition. The canvas was enlarged by the artist by I! in. at the bottom and sides; 2! in. at top. Pentimenti visible, in particular at the left shoulder of the first figure.
Prov. W. E. Henley; Constantine Alexander Ionides, before 1884; bequeathed to the Museum in 1900.
Exh. French and Dutch Loan Collection, Edinburgh International Exhibition, 1886, no. 1131 (no. 83 of Mem. cat.); French and Dutch Romanticists, Dowdeswell Galleries, 1889, no. 85; Winter Exhibition, R. A., 1896, no. 64.
Lit. Monkhouse, 1884, p. 43, repr, p. 37; Memorial of the French and Dutch Loan Collection, Edinburgh International Exhibition 1886, 1888 (repr. of a sketch of it by William Hole, R.S.A.); Anon. in Athenaeum, 15 Feb. 1896, p. 223; Studio, winter number on Corot and Millet, 1902-03, repr.; P. M. Turner, Millet, n. d., pl. vii; A. Tomson, Jean Francois Millet and the Barbizon School, 1903, repr. facing p. 66; Anon. in Art journal, 1904, p. 285, repr.; Anon. in Athenaeum, 23 July 1904, p. 119; F. Rutter in L' Art et Les Artistes, v, 1907, p. 7; Long, Cat. Ionides Coll., 1925, p. 41, pl. 22; J. Rothenstein, Nineteenth century painting, 1932, p. 136, repr.; R. L. Herbert in Burl. Mag., civ, 1962, p. 301; V. & A. Museum, The Barbizon School, 1965, p. 19, pl. 12.
Henley, W. E., Memorial Catalogue of the French and Dutch Loan Collection, Edinburgh International Exhibition 1886, 1888, no. 83 (repr. of a sketch of it by William Hole, R.S.A).
Monkhouse, C., 'The Constantine Ionides Collection', in Magazine of Art, vii, 1884, p. 43 repr. p. 37.
Tomson, A., Jean-François Millet and the Barbizon School, 1903, repr. facing p.66.
Herbert, R. L., 'Millet revisited' in Burlington Magazine, civ, 1962, p. 301.
Kauffmann, C. M., The Barbizon School, V&A Museum, 1965, p. 18, pl. 11.
Laughton, Bruce and Scalisi, Julia, 'Millet's "Woodsawyers" and "La République" rediscovered', in Burlington Magazine, January 1992, pp. 12-19.
Lepoitevin, L, Jean-François Millet, II, Paris, 1973, fig. 70.
Pollock, G., Millet, 1977, fig. 10 & 11.
Laughton, B., Daumier and Millet Drawings, 1991, pp. 83-84.
Anon. in Athenaeum, 23 July 1904, p. 119.
Watson, Andrew, 'Constantine Alexander Ionides and his collection of 19th-Century French Art', Journal of the Scottish Society for Art history vol. 3, 1998, p. 28.
'He [Ionides] came to own this work through his contact with the influential critic, William Ernest Henley, who made reference to its "heroic bum" in a letter to Robert Louis Stevenson in 1884'.
Booth, B. A., and Mehew, E., The Letters of Robert Louis Stevenson vol. 4, London, 1994, p. 207.
100 Great Paintings in The Victoria & Albert Museum. London: V&A, 1985, p.146
The following is the full text of the entry:
"Jean-François Millet
French School
THE WOOD SAWYERS
Oil on canvas, 57 X 81 cm
CAI.47. Ionides Bequest.
Millet was born into a Norman peasant family. His emigration to Paris was as typical of his kind as his subsequent feelings of isolation. His experiments with different styles illustrate his search to convey experience which was at once personal and universal. The Wood Sawyers cannot date from much earlier or much later than his move to Barbizon in 1849, the village on the edge of the forest of Fontainebleau which was to become the focal point of a landscape group. Even before then he had been inspired by the activities of the Paris banlieu, the semi-rural, semi-urban life of peasant migrants with whom he could so closely identify. At the same time he began to base his drawings on the direct observation of unposed models. A study for this picture illustrates Millet's efforts to make his image of the man's violent action really convincing, to find a creative parallel to the real world.
The Wood Sawyers is an energetic presentation of physical labour, using strong contrasts of light and shade to dramatize the exertion. Detail is sacrificed to the overall silhouette. The Athenaeum in 1896 remarked that 'the exaggerated disproportions of the figures are such as actually to assist in intensifying the expressiveness of their attitudes'. Millet himself declared 'They say that one does see handsome peasants ... but their beauty resides not in their faces… it emanates from the total effect of a figure and its actions… Beauty is expression'. His use of colour is daring, as we see in the intense blue of the breeches of the nearer sawyer.
That feature, and the picture's sustained force of rhythm, links Millet with his contemporary Daumier, to whom it was once ascribed. Both artists manage to combine immediacy with mythic power. Whilst the left-hand sawyer is compressed to convey the effect of drawing the saw through the log, the weight of the right-hand figures is balanced on a pyramid of his solidly braced legs; and his form, which echoes Michelangelo, links The Wood Sawyers with the emergence of an 'epic naturalism' in Millet's work of the 1850s, exemplified by the explosive, heroic, almost sacred figure of The Sower. Millet made his mission to depict the rhythms of the peasant's life in relation to the cycles and seasons of the earth: his achievement lies in the expression of the peasant's toilsome experience, of the interdependence and mutual expressiveness of Man and Nature.
Martin Kauffmann"
C. Georgel, La foret de Fontainebleau : un atelier grandeur nature Paris: 2007, cat. 65.
Exhibition catalogue.
Exhibition History
La foret de Fontainebleau : un atelier grandeur nature (Musée d'Orsay 06/03/2007-13/05/2007)
Exposé: Jean-François Millet's painting 'The Woodsayers' (Victoria and Albert Museum 01/01/1991-31/12/1991)
Winter Exhibition (Royal Academy of Arts 01/01/1896-31/12/1896)
French and Dutch Romanticists (Dosdewell Galleries 01/01/1889-31/12/1889)
French and Dutch Loan Collection (Edinburgh International Exhibition 01/01/1886-31/12/1886)
Materials
Oil paint; Canvas
Techniques
Oil painting
Subjects depicted
Men; Figures; Saws; Loggers; Wood-workers
Categories
Paintings
Collection code
PDP