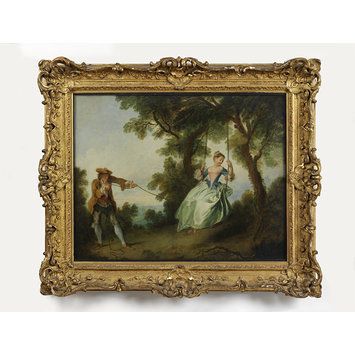 Lancret, Nicolas, born 1690 - died 1743
The Swing; L'Escarpolette
Object:
Place of origin:
Date:
Artist/Maker:

Lancret, Nicolas, born 1690 - died 1743 (maker)

Materials and Techniques:
Credit Line:
Museum number:
Gallery location:

Europe 1600-1815, lift lobby, case CA2
Nicolas Lancret (1690-1743) was born in Paris where he first trained as an engraver before becoming the apprentice of the history painter Pierre Dulin (1669–1748), and enrolled as a student at the Académie Royale de Peinture et de Sculpture. He later entered the workshop of the genre and decorative painter Claude Gillot (1673-1722), who had been Watteau's master (1684-1721). He specialised in the genre of the fêtes galantes inaugurated by Watteau and decorative works for which enjoyed a considerable success.
This painting is a fine example of Lancret's production of genre paintings showing elegant figures in an outdoor setting. The present picture shows a young lady pulled on a swing by a young man on the edge of a wood and evokes an amorous encounter. These lascivious scenes were often depicted to ornate rooms' panelling or piece of furniture. Lancret's genre paintings, influenced artists as diverse as François Boucher (1703-1770), William Hogarth (1697-1764) and Thomas Gainsborough (1727-1788).
Physical description
An elegant lady on a swing helped by a young man on the left hand-side in a romantic wood dominating a valley.
Place of Origin
France (painted)
Date
1730s (painted)
Artist/maker
Lancret, Nicolas, born 1690 - died 1743 (maker)
Materials and Techniques
oil on canvas
Dimensions
Height: 70 cm estimate, Width: 89 cm estimate
Object history note
Bequeathed by John Jones, 1882
John Jones (1800-1882) was first in business as a tailor and army clothier in London 1825, and opened a branch in Dublin 1840. Often visited Ireland, travelled to Europe and particularly France. He retired in 1850, but retained an interest in his firm. Lived quietly at 95 Piccadilly from 1865 to his death in January 1882. After the Marquess of Hertford and his son Sir Richard Wallace, Jones was the principal collector in Britain of French 18th century fine and decorative arts. Jones bequeathed an important collection of French 18th-century furniture and porcelain to the V&A, and among the British watercolours and oil paintings he bequeathed to the V&A are subjects which reflect his interest in France.
Historical context note
This painting, entitled L'escarpolette (i.e. 'the swing'), shows a young lady pulled on a swing by a young man on the edge of a wood. The swing is a recurrent thematic in Lancret's oeuvre and a similar scene formed once the best known decorative ensemble of a series of nine paintings commissioned for the Hôtel de Boullongne in Paris, currently in the Indianapolis Museum of Art.
X-ray examinations revealed traces of decorative framework on all four sides suggesting that the present painting was also originally part of a decorative scheme.
This painting is a fine example of 18th-century pastoral scenes, which present elegant figures in garden or wooded settings.
These scenes, called 'fetes galantes' in French, constitute a genre inaugurated by Antoine Watteau at the beginning of the 18th century. They often include figures dressed in commedia dell'arte costumes and evoke a lascivious aristocratic world. Because of their intimate and often ambiguous subject matter, these pictures were also used as decorative compositions inserted in architectural structures or pieces of furniture.
The theme of the swing was common in 18th-century French painting and appears as an implicit allusion to carnal love. Another example of the same subject by Lancret with more figures is in the Hermitage, St Petersburg while The Swing by Jean-Honoré Fragonard (London, Wallace collection)may be the most famous 18th-century illustration of the theme.
Descriptive line
Oil painting, 'The Swing (L'Escarpolette)', Nicolas Lancret, Paris, 1730s
Bibliographic References (Citation, Note/Abstract, NAL no)
C.M. Kauffmann, Catalogue of Foreign Paintings, I. Before 1800, London: 1973, pp. 166-7, cat. no. 205.
The following is the full text of the entry:
Nicolas LANCRET (1690-1745)
French School
Lancret was born in Paris, where he spent his whole life. A pupil of Pierre Dulin and, from ca. 1711 of Gillot, he was most strongly influenced by Watteau. He became a member of the Académie Royale in 1719 and a Conseiller in 1735. Unsuccessful as a history painter, he painted mainly genre scenes and fêtes galantes.
Lit. Georges Wildenstein, Lancret, 1924.
205
THE SWING (L'ESCARPOLETTE)
Canvas
27 ½ x 35 (70 x 89)
Jones Bequest
515-1882
In 1908 Sir Claude Phillips made an abortive attempt to attribute this painting to Watteau, but the traditional ascription to Lancret was firmly supported by E. H. Zimmermann (1912) and Georges Wildenstein (1924).
Recently, X-ray photographs and partial cleaning have revealed a decorative framework on all four sides which was painted over when the picture was transformed from a decorative panel into an easel painting. Its original appearance may be gauged by comparison with the two other versions of this composition that formed part of decorative schemes: one painted for the Salon of Monsieur de Boullonge (Wildenstein, no. 734, fig. 188; subsequently repr. in Connoisseur, October 1955 (cover) and sold at Parke-Bernet, 22-3 May 1959,lot 635) and the other in the Cleveland Museum of Art. As opposed to these, the versions of this composition that are easel paintings contain more than two figures (Wildenstein, nos. 232, 235; Christie's 17-8 May 1928, lot 130) and it would appear that the scene was reduced to its essentials when used in decorative schemes. The fact that it was a decorative panel, combined with its quality, which compares unfavourably with Lancret's best paintings, suggests that it may be the work of an assistant.
Condition. Cleaned in 1964, when a decorative framework was revealed. In view of the impossibility of restoring the painting to its original shape and state, it was decided to cover up the uncovered areas of the framework and to leave the composition in its repainted state.
Prov. John Jones; bequeathed to the Museum in 1882.
Lit. 1893 Catalogue, p. 181; Sir C. Phillips, 'A Watteau in the jones Collection' in Burl. Mag., xiii, 1908, p. 345 ff., repr.; E. H. Zimmermann, Watteau, K. d. K., 1912, p. 148 (as by Lancret); Long, Cat. Jones Coll., 1923, p. 24 f., pl. 25; Wildenstein, Lancret, 1924, no. 234, pl. 63.
100 Great Paintings in The Victoria & Albert Museum.London: 1985, p.60
The following is the full text of the entry:
"Nicolas Lancret 1690-1743
French School
THE SWING (L'ESCARPOLETTE)
Oil on canvas, 70 X 89 cm
515-1882. Jones Collection
An attempt was made in 1908 by Sir Claude Phillips, to attribute this picture to Watteau. It is now generally ascribed to Lancret, but it may be in part the work of a studio assistant. This was common practice with painters who received many commissions. Probably only the faces and figures, together with the finer details of the modelling, are from Lancret's own hand. Nevertheless, this is iconographically a more interesting picture than Le Berger Indecis(No.547-1882, Jones Collection) which is indisputably by Lancret himself.
Lancret was an imitator of Watteau, painting fetes galantesand Commedia dell'Artescenes that were, in their time, as successful as the master's: a contemporary report, 1723, described him as 'the pupil of the late M. Gillot and the rival of the late M. Watteau'. His elegant and lively compositions lack those qualities of melancholy and psychological insight so characteristic of Watteau, but substitute humour and naturalism.
Here he has chosen a subject that would have been familiar to the pleasure-loving court of Louis XV, a scene of amorous dalliance (the fete galanteitself was a new subject in painting, an art of the manners and morals of love). The swing, in such a context, was a recurrent motif in 18th-century painting - Lancret himself repeated the subject at least eight times.
As well as suggesting leisure, idleness and passivity - for the swinger's action is controlled by her companion - it carried a weight of erotic connotation and innuendo. The constant back and forth motion could suggest inconstancy or fickleness, but was also a specific erotic metaphor for the physical act of love.
The picture was cleaned in 1964, revealing a decorative framework on all four sides. This indicated that it had originally been a decorative panel transformed into an easel picture by over-painting at a later date. The nature of the picture's original purpose is one reason to suppose the composition partly or wholly the work of an assistant.
Though the colour and the handling are not equal to Lancret's best work, it is nevertheless a charming and competent picture. The landscape setting is depicted with a convincing naturalism, and is not simply a painted backdrop to the action. The delicate colouring is typical of Lancret, as is the evident skill in rendering rich fabrics. The boy's costume is in the style of the period, but the girl's attire is essentially fancy dress. The simple 'shepherdess' gown is again derived from the theatrical fantasies of Watteau. The picture is a Rococo confection, most evocative of the frivolity and hedonism which constitute the public image of court life.
Gillian Saunders"
1893 Catalogue, p. 181.
Sir C. Phillips, 'A Watteau in the Jones Collection' in The Burlington Magazine, xiii, 1908, p. 345 ff., repr.
E. H. Zimmermann, Watteau, K. d. K., 1912, p. 148.
As by Lancret.
B. Long, Catalogue of the Jones Collection, London: 1923, p. 24 f., pl. 25.
G. Wildenstein, Lancret, Paris: 1924, no. 234, pl. 63.
Princely treasures. European masterpieces 1600-1800 from the Victoria and Albert Museum, S. Medlam and L. Miller ed., London, 2011, p.120, illus.
Exhibition History
Princely Treasures: European Masterpieces 1600-1800 from the V&A (Art Gallery of Western Australia 24/09/2011-09/01/2012)
Princely Treasures: European Masterpieces 1600-1800 from the V&A (National Museum of Korea (Seoul) 02/05/2011-28/08/2011)
Labels and date
The following is the label text from 1971 for Galleries 1-7 of the V&A:
"The Swing (L'Escarpolette)
By Nicholas Lancret (1690-1745); Paris, about 1730
A similar painting attributed to Lancret was inset as an overdoor around 1730 in a house in the Place Vendôme.
Oil on canvas
Jones Collection
Museum No. 515-1882"
Materials
Canvas; Oil paint
Techniques
Oil painting
Subjects depicted
Figures; Lovers; Woods; Valley; Genre; Swings; Flirtation; Painted Lady
Categories
Paintings
Collection code
PDP