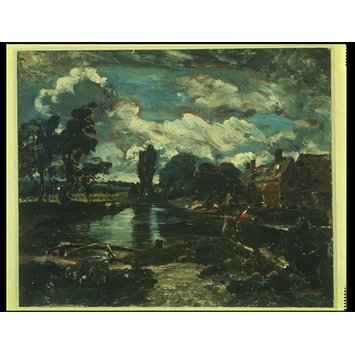 Constable, John RA, born 1776 - died 1837
Flatford Mill from a Lock on the Stour
Object:
Place of origin:

England, Great Britain (painted)

Date:
Artist/Maker:

Constable, John RA, born 1776 - died 1837 (artist)

Materials and Techniques:
Credit Line:

Given by Isabel Constable

Museum number:
Gallery location:

Paintings, room 88, case WEST WALL
This shows the mill that belonged to John Constable's father. It is a study for a painting exhibited at the Royal Academy in 1812. Constable deleted the figure at the left - a man opening the lock gates - in the final composition. Constable recalled: 'I associate my "careless boyhood" to all that lies on the banks of the Stour'.
Physical description
Painting of Flatford Mill with water and trees.
Place of Origin
England, Great Britain (painted)
Date
ca. 1811 (painted)
Artist/maker
Constable, John RA, born 1776 - died 1837 (artist)
Materials and Techniques
oil on canvas
Marks and inscriptions
'Minna Decr 27th 47'
Dimensions
Height: 24.8 cm estimate, Width: 29.8 cm estimate, Height: 452 mm frame, Width: 505 mm frame, Depth: 40 mm frame
Object history note
Given by Isabel Constable, 1888
Historical context note
'In the year 1811 Constable's exhibits at the Royal Academy comprised 'Twilight', and 'Dedham Vale: morning' (now in the collection of Sir Richard Proby). He visited Suffolk in the spring and paid his first visit to Salisbury in the autumn: this was probably the occasion of his first meeting with John Fisher, who was to become his closest friend. His attachment to Maria Bicknell became known during this year, and he received her father's permission to write to her in October.'
[G Reynolds, 1973, p. 69]
Descriptive line
Oil painting, 'Flatford Mill from a lock on the Stour', by John Constable, Britain, ca. 1811
Bibliographic References (Citation, Note/Abstract, NAL no)
Parris, Leslie and Ian Fleming-Williams, Constable London : The Tate Gallery, 1991. ISBN 1854370707 / 1854370715. 544 p. : ill. (some col.).
Exhibition catalogue
Lyles, Anne, ed. Constable : The Great Landscapes London: Tate Publishing, 2006. ISBN: 1854375830.
Exhibition catalogue.
Robert Hoozee, ed. British Vision. Observation and Imagination in British Art 1750-1950 / with contributions from Mark Evans, Mark Haworth-Booth and Stephen Calloway. Ghent: Museum voor Schone Kunsten; Mercatorfonds, 2007. ISBN: 978 90 6153 749 6
Exhibition catalogue. The full text of the entry is as follows:
159. John Constable
East Bergholt, Suffolk, 1776 - London, 1837
Study for Flatford Mill from the Lock, c. 1811
Oil on canvas, 24.8 x 29.8 cm
Victoria and Albert Museum, London
Given by Isabel Constable, daughter of the artist
Flatford Mill, which was owned by Constable's father, is visible here at the left behind one of the many locks that made the river Stour navigable. Here we are in the heart of the area that Constable explored intensely from around 1810 to 1816. This striking view across the triangular surface of the water in the direction of the two poplars in the centre was the subject of six known oil studies by Constable (Reynolds 1996, nos. 12.5-12.10). The one shown here mostly closely resembles a finished painting exhibited by the artist in 1812 (ibid., no. 12.1). It has been suggested that the present work - unlike the other studies - is actually a compositional sketch made in the studio (London 1991, pp. 525-26), but there is no reason to suppose that this is the case. Like the other studies of this landscape, the work illustrates the manner in which Constable sought out interesting compositions in his early studies from nature. In each of the six studies a lock-keeper adopts a different pose, and these and other compositional elements may have come from the artist's imagination. However, this does not change the fact that the essence of these studies is the recording of momentary atmospheric impressions and the creation of a powerful - in this case even dramatic - composition on the basis of observation and first-hand experience. (RH)'
100 Great Paintings in The Victoria & Albert Museum.London: V&A, 1985, p.104
The following is the full text of the entry:
"John Constable 1776-1837
British School
FLATFORD MILL FROM A LOCK ON THE STOUR
Oil on canvas, 24.8 X 29.8 cm
135-1888. Gift of lsabel Constable.
The Victoria and Albert Museum owns the largest collection of Constable's work in the world; most of it derives directly from his studio and was given by his daughter Isabel in 1888. Many of the pictures in this gift are small oil-sketches and studies of nature, painted out-of-doors, a technique which Constable seems to have used more than any other artist of his time. By sketching directly from nature in oils Constable was able to capture the spontaneity of natural effects that would have been lost if he had composed his pictures solely from drawings.
Flatford Mill from a Lock on the Stour dates from about 1811. By then Constable had decided on the course he had to follow if he were to fulfil his desire to be a 'natural painter'.
The picture portrays the scene at one of his father's mills on the river Stour, this one at Flatford, the others being at Dedham, and Stratford all in the heart of 'Constable country' in Suffolk. Constable generally restricted himself to landscapes of places he knew well, perhaps because he found them less distracting to the real subject-matter of his paintings, the effects of climate and weather on the interaction of sky, trees, foliage, water and man. No preliminary studies survive for this scene, and it is likely that Constable simply set up his easel on the lock and painted what he saw before him. He has used a canvas prepared with a warm reddish ground to act as a tonal background to his colours, which are applied in great thick brush-strokes whose energy is barely contained by the rigid diagonals of the composition. The swirling brush-strokes in the sky suggest the movement of clouds, and gives them an almost physical tangibility which matches that of the clump of trees in the background. This sympathetic use of paint to suggest texture is mirrored in his portrayal of the river, where small horizontal brush-strokes glide into one another and suggest the flow of the river and the play of light on moving water. No single thing or object is precisely defined; the picture is not so much a portrayal of a particular place as a study of the weather at a particular time. No wonder the painter Fuseli said; 'I like the landscapes of Constable...but they make me call for my greatcoat and umbrella.'
This small study was the basis for a large painting of the scene, probably exhibited at the Royal Academy in 1812 and recently rediscovered in America. Constable's sense of composition was sufficiently developed by this time for an unplanned sketch to become the basis of an exhibited painting, and shows how his study of Claude and the Dutch School of landscape-painters had not atrophied his vision but given him the artistic confidence to work where and how he pleased. These small oil-sketches may also owe something to the example of Rubens, who also produced large paintings direct from sketches and whose landscapes have a similar rough overall texture.
Howard Coutts"
Christine Dixon, Ron Radford and Lucina Ward, Turner to Monet. The Triumph of Landscape Painting Canberra: National Gallery of Australia, 2008. ISBN: 9780642541635.
Exhibition catalogue
Catalogue of the Constable Collection, Graham Reynolds, Victoria and Albert Museum, London: HMSO, 1973, pp. 69-72
The following is an extract from the text of the entry:
"The canvas has been relined at an unknown date. The stretcher is inscribed in in Minna [Maria Louisa Constable] Decr 27th 47 and has been incised in it the trade label "BROWN 163 HIGH HOLBORN".
The scene is the mill at Flatford which was owned by Constable's father and is shown in the sketch-book No. 121 [317-1888], p. 10 and in the painting 'Flatford Mill' now in the Tate Gallery, No. 1273 (see also Nos. 104 [325-1888] and 300 [242-1888, and sketch-book No. 132, p. 63). The same scene from a very similar viewpoint, but with the foregound less finished, is No. 65 in the Diploma Gallery, Burlington House, the gift of Miss Isabel Constable in 1888 (L. ed. S., Pl. 9).
No. 103 is the sketch for the painting measuring 26 x 36 1/2 ins., which was lent to the International Exhibition, 1862 (No. 126) by R. Newsham, and was in the sale of the collection of Senator W. A. Clark by the American Art Association, Inc., New York, 12 january 1926, Lot 99 (reproduced in the sale catalogue). In his letter to Maria Bicknell of 12 November 1811 Constable says "You ask me what I have been doing this summer. I fear I can give but a poor account of myself I have tried flatford Mill again, from the lock (whence you once made a drawing) and some smaller things. One of them (a view of Mrs. Roberts's Lawn-by the summer's evening) has been quite a pet with me" (L. ed. S., p. 47); the continuation of the letter is quoted in the note to No. 108. Other references in the Constable family's correspondence, while no more necessarily connected with No. 103 than is that quoted above, show that the subject was one on which he had been concentrating at this period. Constable's mother writes to him on 8 January 18II: "Your Uncle D. P. W. [David Pike Watts] ... was so much taken with one of your sketches of Flatford Mills, House &c. that he has requested you to finish it for him" (Beckett, I, p. 55). And again, the same correspondent, writing on 26 October 1811, says: "Your Father ... rode down to Flatford on Friday. Your pretty view from there is so forward, that you can sit by the fireside and finish it, as highly as you please" (ibid., p. 67). In 1812 he exhibited a painting of Flatford Mill at the Royal Academy, the composition of which has not yet been identified; it may be the work mentioned above, from the Clark Sale.
Holmes, p. 242, dates No. 103 [135-1888] c.1811. The style indicates a date c.1810-1815 and Holmes's dating would be fully justified if the painting in the Clark Sale could be shown to be that exhibited at the Royal Academy in 1812.
Notes on Nos. 100-104 [326-1888, 128-1888, 583-1888, 135-1888, 325-1888]
Nos. 100 [326-1888] and 101 [128-1888] are the earliest dated oil sketches in the Museum's collections to show the full originality of Constable's mature style, its vivid naturalism of colouring and boldness of handling. The earliest dated sketch in which these characteristics are applied to Suffolk scenery is probably the 'Country road near East Berghold' inscribed October 13th, 1809 E[ast] B[erghold]. This was Lot 116 recto (on the verso is a sketch of a country house) in the Gregory sale at Messrs. Sotheby's, 20 July 1949. This sketch was reproduced in monochrome in the sale catalogue and in colour as the frontispiece to the Arts Council's catalogue An Exhibition of Sketches & Drawings by John Constable from the collection of Dr. H. A. C. Gregory, M.C., 1949. In 'Fresh Light on John Constable' (Apollo, Vol. LXXXVII, 1968, pp. 227-30) Charles Rhyne draws attention to oil sketches dated 27 September 1810 and 30 September 1810 in the John G. Johnson collection, Philadelphia, and a landscape with houses dated 8 October 1810 in the collection of Mrs. Woodman. The style may be seen in embryo in some of the oil sketches Constable made of Lake District scenery in 1806: for instance in 'Keswick Lake' formerly in the possession of Sir Michael Sadler (L. ed. S., Pl. 32). The reasons for grouping Nos. 102 [583-1888], 103 [135-1888], and 104 [325-1888] with these two dated oil sketches have not been explained; they do not amount to a conclusive dating. Sketching in oils from nature was in fact prominent in Constable's practice in 1811, for he called on nature, and on 17 December Farington called on Constable to see the painted studies of landscapes from nature which he had made during the autumn (Greig, Vol. VI, p. 279; VII, p. 70). Another set of studies conveniently, though more loosely, grouped here with the appearance of Constable's completely matured naturalism is to be found in Nos. 109-113 [134-1888, 166-1888, 161-1888, 130-1888, 145-1888]."
Exhibition History
Turner to Monet. The Triumph of Landscape Painting (National Gallery of Australia, Canberra 14/03/2008-09/06/2008)
British Vision. Observation and Imagination in British Art 1750-1950 (Museum voor Schone Kunsten, Ghent 06/10/2007-13/01/2008)
Constable : The Great Landscapes (Tate Gallery 01/06/2006-28/08/2006)
Constable (Tate Gallery 13/06/1991-15/09/1991)
Labels and date
Label - author unknown
This picture portrays a scene at one of Constable's father's mills on the river Stour. He has used a canvas prepared with a warm reddish ground to act as a tonal background to his colours which are applied in thick brushstrokes. No single thing or object is precisely defined and the picture is not so much a portrayal of a particular place as a study of the weather at a particular time.
Materials
Canvas; Oil paint
Techniques
Oil painting
Subjects depicted
Watermills; Locks (hydraulic structures)
Categories
Paintings
Collection code
PDP