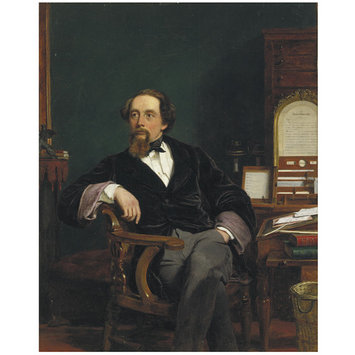 Charles Dickens
Object:
Place of origin:
Date:
Artist/Maker:

Frith, William Powell (RA), born 1819 - died 1909 (painter (artist))

Materials and Techniques:
Credit Line:

Bequeathed by John Forster

Museum number:
Gallery location:

British Galleries, room 122c, case 3
Object Type
In Victorian times portraits of the rich and famous included many personalities who were artists, politicians, literary figures and scientists. This reflected a much wider interest in such individuals than was evident in the18th century. Before 1800, a typical portrait would be of a wealthy landowner, merchant or a nobleman and their families. Increasingly, after that date, portraits of all kinds of people were commissioned. The invention of photography finally ensured that even people of modest means could have their portraits made.
People
Frith painted this portrait at the height of the novelist's fame in 1859. Dickens is seated in his study in his house in Bloomsbury, and some of the first chapter of ' A Tale of Two Cities' (published 1859) is shown on the desk in front of him. The picture delighted John Forster, Dickens's friend and biographer, who had commissioned the work, but Dickens himself was less enthusiastic about the way his expression had been rendered. Forster had arranged for a photograph of Dickens to be taken before the painting was started, but it was not a success, and the artist Frith did not use it to help him paint the portrait.
Physical description
Dickens, wearing a black overcoat, sits writing 'A Tale of Two Cities'. 'David Copperfield' and another bound volume lie nearby. Behind him a calendar and an address from the City of Birmingham are displayed.
Place of Origin
London, England (made)
Date
1859 (painted)
Artist/maker
Frith, William Powell (RA), born 1819 - died 1909 (painter (artist))
Materials and Techniques
oil on canvas
Marks and inscriptions
'W P Frith fecit 1859'
Dimensions
Height: 98 cm framed, Width: 84 cm, Depth: 10.5 cm
Object history note
Bequeathed by John Forster, 1876.
Commissioned by John Forster Painted in London by William Powell Frith RA (born in Aldfield, North Yorkshire, 1819, died in London, 1909)
Descriptive line
Oil painting, 'Charles Dickens', William Powell Frith, 1859
Bibliographic References (Citation, Note/Abstract, NAL no)
Bills, Mark and Vivien Knight, eds. William Powell Frith. Painting the Victorian Age. Yale University Press; Guildhall Art Gallery, 2006. ISBN 0300121903.
Exhibition catalogue.
Parkinson, R., Victoria and Albert Museum, Catalogue of British Oil Paintings 1820-1860, London: HMSO, 1990, pp. 94-96
The following is the full text of the entry:
"FRITH, William Powell, RA (1819-1909)
Born Aldfield, near Ripon, Yorkshire, 9 January 1819, son of a butler (an amateur artist) and a cook. Studied at Sass's Academy from 1835; entered RA Schools. In a long, prolific, and highly successful career, exhibited 107 works at the RA between 1840 and 1906, 13 at the BI 1838-1857, and 12 at the Society of British Artists 1838-1883. Subjects predominantly literary, historical, and - most notably - scenes of contemporary life, with which he achieved his greatest popular fame, amplified by many engraved reproductions, beginning with Ramsgate Sands (exh RA 1854 and bought by Queen Victoria). In 1875 his Dinner at Boswell's ... of 1869 sold at Christie's for £4567, the highest price ever achieved by a living artist. Member of 'The Clique' in the 1840s; elected ARA 1845, RA 1852. Died Sr John's Wood, London, 2 November 1909; there had been a studio sale at Christie's 14 June 1884. The Art Journal obituarist wrote: 'the artist will be missed: he was an institution'.
LIT: Art Journal 1856, pp237-40 (for other references to Frith in the Art Union and Art Journal, see the entry in C Wood Dictionary of Victorian Painters 1971); W P Frith My Autobiography and Reminiscences 3 vols 1887-8; Times 4 November 1909 (obit); Art Journal191O, p14 (obit); Mrs J Panton Leaves from a Life 1909, More Leaves from a Life 1911; W P Frith Whitechapel Art Gallery exhibition catalogue 1951; N Wallis A Victorian Canvas 1957; J Mass Gambart: Prince of the Victorian art world 1975; A Noakes William Frith: Extraordinary Victorian Painter 1978.
Charles Dickens in his Study
F7 Neg GX2496
Canvas, 69.9 x 55.9 cm (27½ x 22 ins)
Signed and dated 'W P Frith fecit 1859' bl
Forster Bequest 1876
Painted for John Forster, friend and biographer of Dickens, and exhibited at the RA in 1859. Frith had first met Dickens in 1842, when he commissioned paintings of Dolly Varden and Kate Nickleby; he met Forster - he thought in 1854 - when he was called on and asked to paint Dickens's portrait.
Dickens had grown a moustache soon after the commission was offered, to Forster's dismay: 'This is a whim - the fancy will pass' (Frith recalls Forster's words), 'we will wait till the hideous disfigurement is removed'. But a beard followed the moustache, and after a wait of four years, 'as I had heard that portrait-painters had often desired advantage from photography, I asked Dickens to give me a meeting at Mr Watkin's [probably Herbert Watkins, who had taken over Beard's studio in Parliament Street shortly after 1852], who was thought one of the best photographers of that day'. Dickens made this appointment in January 1859: 'Table also shall be there, and chairvelvet coat likewise, if the tailor should have sent it home' (letter from Dickens 12 January 1859, quoted by Frith). However, Frith found the photograph unsuccessful, 'nor did I derive the slightest assistance from it in the prosecution of the portrait'. A print of the photograph is in the Dickens House Museum (repr R Ormond Early Victorian Portraits 1973, II, fig 264); the pose is different and indeed rather uninspiring. Frith describes the progress of the portrait in some detail, recording sittings on 21 and 28 January ('a good and long sitting. Feel quite assured of success ... '). It was finished by the end of March.
Dickens is shown in his study at Tavistock House in Bloomsbury, where he lived 1851-9, 'writing under the window, his desk and papers with a framed address to him - from Birmingham, I think'. Some of the first chapter of A Tale of Two Cities (first published in All the Year Round in 1859) is on the desk. By this time, aged nearly 47, Dickens was at the height of his fame and popularity. The pose is very similar to that of Sebastiano del Piombo's celebrated portrait of Pope Clement VII (1526/7, Gallerie Nazionali, Capodimonte, Naples) which was engraved; it lends to Dickens an imperious severity noticed by the Art Journal critic (see below).
Frith noted the changes in Dickens's appearance since the famous portrait of 1839 by Maclise (NPG): 'The change ... was very striking. The sallow skin had become florid, the long hair of 1835 [sic] had become shorter and darker, and the expression settled into that of one who had reached the topmost rung of a very high ladder, and was perfectly aware of his position'. Forster seems to have been delighted with the portrait; Frith quotes his letters of appreciation of 29 March and 8 April: 'The picture is, indeed, all I wished - more than I dared hope'; and 'Assuming I am warranted in saying ... that Dickens so consented to sit as a special favour to me, I hope that, without any particular selfishness, I may venture, in so far as this portrait is concerned, to put forward some claim to share in that origination or invention of the subject .... ' In the latter letter, Forster offered Frith double the fee of 150 guineas in exchange for the copyright. This was because he did not wish the portrait to be engraved, although he relented under pressure from his friends the following month.
Dickens himself seems to have been less enthusiastic: 'It has received every conceivable pains at Frith's hands, and ought on this account to be good. It is a little too much (to my thinking) as if my next door neighbour were my deadly foe, uninsured, and I had just received tidings of his house being afire; otherwise very good' (letter to the Hon Mrs Richard Watson 31 May 1859, ed W. Dexter The letters of Charles Dickens 1938, III, p104). The critics also had mixed feelings. The Athenaeum thought it:
The best likeness by far that has yet appeared. It was difficult to associate the author of 'Pickwick' with the juvenile head that Mr Maclise painted ... Mr Frith now steps in and presents the wistful public a culminating portrait, perfect in colour and likeness. We have the author at his moment of ease ... just as the curious public want to see him. The artist has caught the author's blunt, pleasant, rather defiant look, and the healthy red and yellow of his face, where sun and rain have replaced all the bright, fresh tints that thought and the throes of invention too often bleach from the thinker's 'dark, pale face', as Ben Jonson called it.
The Art Journal on the other hand did not like the pose:
Mr Dickens, when sitting for this portrait, has mistaken the sentiment wherewith he should have invested the author of 'Pickwick' and the 'Old Curiosity Shop'; who must in his nature overflow with the milk of human kindness. He wears a velveteen wrapper, and appears to have put his left hand hastily, and significantly, into his pocket, as turning round with an expression of countenance somewhat severe, he seems to negative some application we are quite sure he would have answered in the affirmative. The action is certainly ungraceful, if not unbecoming; it is, to say the least, 'a mistake' so to picture such a man, - an error on the part of the author as well as on that of the artist. The portrait, therefore, although admirably painted, is one we do not desire to see multiplied, the more especially as the accessories are by no means in good taste'.
This last remark may well refer to the desk furniture and the frame above, and the fringed drapery on the mantelpiece, which would suggest a bourgeois taste to a mid-19th century aesthete. The candlestick on the mantelpiece has been identified as an example of the Wedgwood 'Sphinx'. There seem to be two if not three further versions of the work, (see Versions: below), and Noakes reproduces an oil sketch on panel (35.6 x 28.6 cm/14 x 11¼ ins) in which the pose is somewhat different, notably the position of the hands. The latter was sold at Sotheby's Belgravia, on 20 November 1973 (as painted in 1859). Dickens's children, Mrs Perugini and Sir Henry Dickens, believed version 1 to be a better likeness than Frith's original. There are many portraits of Dickens in various media; for a full iconography, see R Ormond Early Victorian Portraits (1973, I, pp138-45) and F G Kitton Dickens by Pen and Pencil (1890-1).
EXH: RA 1859 (210); Charles Dickens V&A 1970 (010)
ENGR: T O Barlow, published by McLean 1862, exh RA 1862 (935); R Graves, exh RA 1873 (1252).
Versions: 1 Painted for Cosens 1859, exh Royal Jubilee Exhibition Manchester 1887 (940), lent by F W Cosens; sold Christie's (Cosens's sale) 17 May 1890 (105, 53.3 x 40.6 cm (21 x 16 ins), as painted in 1886), bought Spielmann £38 17s and retouched for him by Frith about 1904 (Spielmann later recorded, in a letter to The Times 20 October 1928, that it was an early copy painted for Cosens): possibly exh Victorian Exhibition New Gallery 1892 (261)j Dickens House Museum (dated 1886)
2 Collection of the artist, bought Maggs Bros 1910, 47 x 34.3 cm (18½ x 13½ ins), signed (repr Connoisseur XXIX, 1911, p205)
3 Dated 1898, Van Sweringen collection, Ohio, USA (possibly identical with version 2)
LIT: Athenaeum 30 April 1859, p587; Art Journal l859, p165; Autobiography I, pp307-17, II, pp184-92; J Forster Life of Dickens 1911, II, p252; Charles Dickens V&A exhibition catalogue 1970, pl09 (repr): G Reynolds 'Charles Dickens and the World of Art' Apollo June 1970, pp422-9, (rept); Noakes pp142-5
REPR: FP Brown London Paintings 1933, p102"
100 Great Paintings in The Victoria & Albert Museum. London: V&A, 1985, p.158
The following is the full text of the entry:
"William Powell Frith RA 1819-1909
British School
CHARLES DICKENS (1812-1870)
Signed W P Frith fecit 1859
Oil on canvas, 67.9 X 55 cm
F7. Forster Bequest.
John Forster, journalist, author and intimate friend of Dickens, first met Frith to discuss this commission in 1854. Frith's early paintings had depicted historical and literary subjects, but he found himself 'drawn to the illustration of modern life', and achieved his reputation with Ramsgate Sands (1844), purchased by Queen Victoria herself. A Royal Academician (1852), he exhibited internationally, but is best known for his panoramic genre scenes, Derby Day (1858) and The Railway Station (1862). Frith's canvases epitomize the spirit of the age as meaningfully as the characters of Dickens' novels.
'Dickens,' wrote Frith, 'had reached the topmost rung of a very high ladder,' as an author and campaigner for social reform. Forster was unimpressed when Dickens began to grow a moustache, and instructed Frith to 'wait until the hideous disfigurement is removed,' before beginning the portrait. Four years later, appalled to discover that Dickens had grown a beard, Forster ordered Frith to begin work immediately, lest whiskers follow, obscuring even more of Dickens' face.
To assist the artist, Mr Watkins photographed Dickens, but Frith found the images unhelpful. Dickens 'sat delightfully,' and was 'most pleasant. No wonder people like him.' Frith discarded the conventional column and curtain setting, and depicted the author at work in his study at Tavistock House. Dickens is writing A Tale of Two Cities, and David Copperfield and another bound volume lie nearby. Behind him a calendar and an address from the City of Birmingham are displayed.
Frith records that Dickens arrived at the studio 'wearing a large, sky-blue overcoat. I protested that I could not manage the overcoat.' Dickens sits, elegant in black. 'What a face to meet in a drawing room!' wrote Leigh Hunt, 'It has the life and soul…of fifty human beings.' The bright, enquiring eyes and powerful forehead are enhanced by the shadowy background.
Forster paid Frith 300 guineas for his pains and was delighted with the portrait. He bequeathed this picture and many other paintings and manuscripts to the Museum.

Anne Buddle"
Exhibition History
Dickens and the Artists (Watts Gallery, Guildford 12 June 2012-28 Oct 2012)
William Powell Frith. Painting the Victorian Age (Corporation of London Art Gallery, Guildhall 06/11/2006-04/03/2007)
Labels and date
British Galleries:
The writer is shown with a copy of 'David Copperfield' and the manuscript of 'A Tale of Two Cities'. Portraits of Dickens were widely circulated as photographs and engravings. He willingly participated in efforts to promote his own 'personality cult' through reading tours and advertisements on hoardings. [27/03/2003]
Production Note
Dated 1859
Materials
Oil paint; Canvas
Techniques
Oil painting
Subjects depicted
Interiors; Studies; Desks; Dickens, Charles
Categories
British Galleries; Portraits; Paintings; Dickens
Collection code
PDP