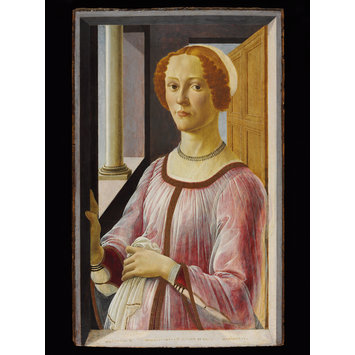 Botticelli, Sandro, born 1444 - died 1510
Portrait of a Lady known as Smeralda Bandinelli
Object:
Place of origin:

Florence (city) (painted)

Date:
Artist/Maker:

Botticelli, Sandro, born 1444 - died 1510 (painter (artist))

Materials and Techniques:
Credit Line:

Bequeathed by Constantine Alexander Ionides

Museum number:
Gallery location:

Medieval & Renaissance, Room 64, The Wolfson Gallery, case Screen1, shelf WE
Sandro Botticelli (1444/5-1510) was trained in Florence in the studio of Fra Filippo Lippi and joined the Compagnia di S Luca in 1472. Botticelli made the most of his career in Florence under the patronage of the Medici although he was summoned to Rome by Pope Sixtus IV in 1481, together with Ghirlandaio and Cosimo Rosselli, to join Perugino in decorating the walls of the Sistine Chapel. From ca. 1490, his style changed quite significantly due to a deeper crisis of style and expression. As a result his style soon waned and he died in poverty in Florence in 1510. Among his assistants and pupils were Filippino Lippi (ca.1457-1504), Bartolomeo di Giovanni (active 1488-ca.1500) and Jacopo del Sellaio (ca. 1441-1493).
This painting is a typical example of Botticelli's early portraits. The identity of the sitter, Smeralda Bandinelli, wife of Viviano Bandinelli and grandmother of the 16th century sculptor Baccio Bandinelli, derives from the inscription on the window frame. She wears a summer at-home costume comprising a white silk or linen camisa generously cut as the many folds at the neck and sleeves show; a 'cotta' of red silk, slit and laced fashionably at the forearms to reveal the 'camisa'; and, overall, a 'gonella' or summer overgown of sheer gold edged fabric with loose cuffs and open from the waist to show the silk beneath.
Physical description
A three-quarter portrait of a woman before a window, putting one hand on its frame and holding an handkerchief in the other, in a reddish simple dress with a white headgear; behind her a column before a window is on the left while a half-closed door is on the right.
Place of Origin
Florence (city) (painted)
Date
1470-1480 (painted)
Artist/maker
Botticelli, Sandro, born 1444 - died 1510 (painter (artist))
Materials and Techniques
tempera on panel
Marks and inscriptions
'Smeralda di . . . Bandinelli moglie di Vi. . . Bandinelli'
'Smeralda di . . . Bandinelli wife of Vi . . Bandinelli'
Painted on the windowsill at the bottom of the picture. Of the male Christian names, only the first two letters of the name of Smeralda's husband, Viviano, are legible.
'(from the Pourtalès collection). Portrait of Smeralda Bandinelli painted by Sandro Botticelli. The property of D. G. Rossetti, 16 Cheyne Walk, Chelsea.'
Written on a label on the back of the picture in the handwriting of Dante Gabriel Rossetti.
'the inscription at the bottom of the picture reads: "Smeralda di . . . Bandinelli moglie di . . . Bandinelli". The two male Christian names are illegible. The portrait evidently represents the same head which appears in the central personage of Botticelli's "Spring" at Florence.'
Written on a label on the back of the picture in the handwriting of Dante Gabriel Rossetti.
Dimensions
Height: 65.7 cm estimate, Width: 41 cm estimate, Height: 87 cm frame, Width: 62 cm frame, Weight: 18 kg with frame, Depth: 94 mm frame
Object history note
Pourtalès Collection, sold Paris, March 1865 (3,400 francs); Colnaghi, sold Christie's, 23 Mar. 1867, lot 1970, Howell, £20 for D. G. Rossetti; 1880 sold by Rossetti to Constantine Alexander Ionides - for £315 (300 guineas); bequeathed by Constantine Alexander Ionides in 1900.
Historical context note
The attribution of this painting, certainly a good example of early portraits by Botticelli probably executed during the early to mid-1470s, was much discussed in the past few decades. It was accepted as an autograph work by Ulmann (1893), Kroeber (1911), Bode (1921), Schmarsow (1923), Van Marle (1931), Gamba (1936) Salvini (1958), Kauffmann (1973) and Lightbown (1978) but dismissed by Plunkett (1900), Horne (1908) and A. Venturi (1925). Formerly rejected by Berenson in 1899, he finally admitted it in 1932.
It shows the portrait of a woman, bust-length in three-quarter profile, in a domestic interior. The sitter is traditionally identified as Smeralda Bandinelli, wife of Viviano Bandinelli and supposed grandmother of the famous 16th-century sculptor, Baccio Bandinelli (1488-1560). Baccio bandinelli the Younger is probably responsible for the additional inscription on the window frame, (Rubin in London, 1999-2000, citing Waldman; Hegener 2008), confirming that the work was, at that time, owned by the Bandinelli family.
The sitter's marital status can be confirmed by the column in the window, which was a common symbol of fortitude and constancy, the most important virtues requested in a wife. The half-closed door in the background may allude to the cloistered existence of the women in the Florentine society. An analogous configuration appears in Botticelli's portrait of Giuliano de' Medici in Washington, probably painted shortly after his murder in April 1478.
The sitter wears a loose-fitting cotton dress, known as a 'guarnello', over an expensive red gown called 'gamurra', and a customary 'camisa' or chemise. Her only jewellery is a simple necklace, and her hair is demurely dressed under a linen headgear. In many ways this portrait corresponds to the canonical representation of women during the 15th century, partly influenced by the Petrarchian ideal of beauty: blond hair, red lips and pale complexion.
These portraits differ in many ways from the notion of portraiture commonly held today as they especially aimed to represent an idealised image of the sitter and reflect therefore a different conception of identity. The sitter's likeness was more or less recognisable but his particular status and familiar role were represented in his garments and attributes referring to his character. The 16th century especially developed the ideal of metaphorical and visual attributes through the elaboration of highly complex portrait paintings in many formats including at the end of the century full-length portraiture. Along with other devices specific to the Italian Renaissance such as birth trays (deschi da parto) and wedding chests' decorated panels (cassoni or forzieri), portrait paintings participated to the emphasis on the individual.
However unlike traditional 15th-century Florentine portraits which favoured stiff and static profile portraits, Botticelli's sitter looks out at the beholder while her gesture, a hand resting on a window frame, mimes an attempt to interact with her surroundings. In doing so, Botticelli may have responded to examples of Flemish portraiture, which typically revealed more of the face and used fictive windows as frame. This representation does not reflect either the social convention of female portraiture, which required depicting their eyes lowered as a sign of modesty and obedience. The austere Franciscan moralist San Bernardino (1380-1444) even exhorted women to 'bury [their] eyes'.
It has been suggested by Stefan Weppelmann (2011), citing Zollner (2005), that the sense of movement and directness in the portrait is evidence of Botticelli's intention to produce a life-like image, which could in turn suggest that the painting has a possible memorialising function. The separation of the sitter from the viewer by the window frame is thought to indicate the separation from the viewer after the death of the sitter. Weppelmann also suggests that the panel's uncommonly large size could suggest an official purpose related to memoria.
The subject-matter of CAI.100 brings to mind especially section XXXV of Dante's Vita Nuova called 'La donna nella finestra' (The lady at the window):
'...I paused thinking deeply, and with sad thoughts, so much so that it made me seem to have an aspect of terrible distress...Then I saw a gentle and very lovely young lady, who was looking at me so pitifully from a window, showing so much in her face that all pity seemed concentrated in her...And so I decided to write a "sonetto", in which I would speak of her...(Vita Nuova, The New Life of Dante Alighieri, A.S. Kline tr., London, 2001).
It is possible that Botticelli had Dante's model in mind as he was among the most erudite artists of his time. In the 1490s Botticelli worked on a major cycle of illustrations to Dante's Divine Commedy, and it is likely that he would also have been familiar with Dante's Vita Nuova.This coincidence appears to have been clearly apparent to a 19th century owner of the painting, Dante Gabriele Rossetti, as in 1879 he painted a picture of a beautiful half-length young woman at a window (now Harvard University Art Museums) with the title 'La Donna nella Finestra', clearly derived from Botticelli (See Gail S. Weinberg, in Burlington Magazine CXLVI (Jan 2004) pp. 20-26).

Descriptive line
Oil portrait of Smeralda Bandinelli, Sandro Botticelli, 1470s
Bibliographic References (Citation, Note/Abstract, NAL no)
pp.172-74
Brown, David Alan, Virtue and Beauty: Leonardo's Ginevra de' Benci and Renaissance Portraits of Women, National Gallery of Art, Washington, 2001.
no.83
Rubin, Particia Lee and Wright, Alison, Renaissance Florence: The Art of the 1470s, London : National Gallery Publications Ltd, 1999
Gail S. Weinberg, 'D. G. Rossetti's ownership of Botticelli's "Smeralda Brandini" [sic]', Burlington Magazine CXLVI, no. 1210, January 2004, pp. 20-26.
Dante Gabriel Rossetti: His Family-Letters, with a memoir by William Michael Rossetti, London, 1895, vol. 1, p. 264.
p.21
Early Italian Art, from 1300 to 1550, The New Gallery, 1893-4
William Michael Rossetti, Rossetti Papers, 1862 to 1870, London, 1903, p. 228.
John Bryson and Janet Camp Troxell, eds., Dante Gabriel Rossetti and Jane Morris: Their Correspondence, Oxford, 1976, pp. 110 and 152.
Ronald Lightbown, Sandro Botticelli, London, 1978, vol. 2, no. B15, pp. 28-29.
Cosmo Monkhouse, 'The Constantine Ionides Collection', Magazine of Art, p. 210.
100 Great Paintings in The Victoria & Albert Museum, London: V&A, 1985, p.28.
Kauffmann, C.M., Catalogue of Foreign Paintings, I. Before 1800, London, Victoria and Albert Museum, 1973, p. 37-39, cat. no. 37.
Gasparotto, Davide and Gigli, Antonella, Il tondo di Botticelli a Piacenza, Milan, Federico Motta, 2006, pp.23 and 26.
Mary Rogers, 'Sonnets on female portraits from Renaissance North Italy', Word & Image, Vol. 2, no. 2, Oct-Dec 1986, pp.291-305.
M. Ajmar-Wollheim and Flora Dennis ed., At Home in Renaissance Italy, exh. cat., The Victoria and Albert Museum, London, 2004, p. 13, fig. 1.3
Gesichter der Renaissance. Meisterwerke Italienischer Portrait-Kunst Munich, Hirmer, 2011, p. 112-113, [cat. no. 14], illus.
Keith Christiansen and Stefan Weppelmann, eds. The Renaissance Portrait, From Donatello to Bellini New York, The Metropolitan Museum of Art, 2011, pp. 112-114, illus.
Alison Luchs, 'Verrocchio amd the Bust of Albiera degli Albizzi: Portraits, Poetry and Commemoration', Artibus and Historiae, no. 66, XXIII (2012), pp. 75-97, fig. 7, p.82
Alessandro Cecchi, Botticelli, Milan, 2005, p. 118 and 122 illus.
Caterina Caneva, Botticelli, catalogo completo, Florence, 1990, cat.20, p. 43 illus.
Nicoletta Pons, Botticelli, catalogo completo, Florence, 1989, cat.25, p. 58, illus.
Alison Luchs, 'Alternate Identities for Verrochio's Lady with a Bunch of Flowers: Evidence from Botticelli and Bandinelli', Notes in the History of Art 37, no. 2 (Winter 2018), pp. 86-96
Bernard Berenson, 'Amico di Sandro', in The Study and Criticism (1901), 60.

Materials
Tempera; Panel
Techniques
Painted
Subjects depicted
Door; Portrait; Window
Categories
Paintings; Portraits
Collection
Prints, Drawings & Paintings Collection