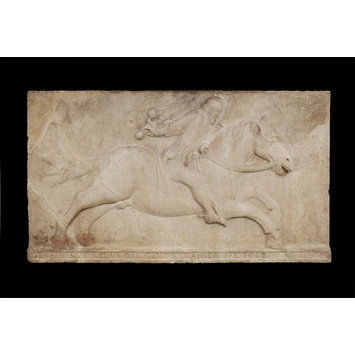 Knight on horseback
Object:
Place of origin:

Padua (possibly, carved)
Verona, Italy (possibly, carved)

Date:
Artist/Maker:
Materials and Techniques:
Credit Line:

Given by J. H. Fitzhenry, Esq.

Museum number:
Gallery location:

Medieval and Renaissance, room 9, case WN
This sculpture shows an idealised warrior knight, charging at full gallop. Wearing a mixture of mail and plate armour typical of the time, he is armed for light combat with sword and a bascinet [helmet]. His identity is unknown , as the damaged arms [2 lions] visible above the horse's tail are unidentified. The panel probably comes from a funeral monument.
Physical description
Panel of Istrian stone carved in low relief with a knight on horseback, shown galloping to the right, in full armour. Above the horse's tail is a partially obliterated coat-of-arms, showing two lions counter-rampant.
Place of Origin
Padua (possibly, carved)
Verona, Italy (possibly, carved)
Date
ca. 1350-1400 (carved)
Artist/maker
Unknown (production)
Materials and Techniques
Carved Istrian stone
Dimensions
Height: 134 cm, Width: 237 cm, Depth: 15.5 cm, Weight: 1085 kg
Object history note
This relief is probably part of a 14th century North Italian funerary monument, as a very similar relief forms part of a tomb built on the west front of the Eremitani at Padua, as well as an earlier monument of Guglielmo Beraldi, dating 1289, in the cloister of the Santissima Annunziata at Florence. Also the fact that here is sculpted a very clear streotyped image of 'a knight', a warlike and chilvarous nobleman, suggests a commemorative, funerary purpose of rememberance, for this is the usual way in which male members of the knightly class were celebrated: not for who they were, but what they were - their status, their membership to the international culture of chivalry. The coat of arms, damaged, is two lions counter-rampant, but this is a common device in North Italy.
The style of the piece relates to work produced in both Padua and Verona. On the right-hand side is a damged inscription reading 'TRANSFERITO QVI DAL CAVro BONAMICO DEL 1612'. This refers to the transfer of the slab to the Musuem Bonamicianum at Prato, founded by Giovanni Francesco Buonamico (d. 1587). In the first half of the 18th century the museum was housed, from where it was later bought be J. H. Fitzhenry, Esq., who in tunr gave it to the V&A in 1902. Its original home, however, or who it commemorates, is unknown.
Historical context note
How can we date this object? Armour is not always an accurate way of dating sculpture, since medieval artists were more concerned with creating a clear and unmistakable image of status, power and chivalry, than a precise diagram of modern day military hardware. Nonetheless, it does give us some idea. The armour on the figure suggests a feudal cavalryman of some where between 1350 and 1375. This dating is made possible by a number of details. His helmet is of the very popular open-faced 'bascinet' (various spellings avaliable) variety, that most fashionable and well-heeled men-at-arms during the latter 14th and early 15th century appear to have worn. This close-fitting, dome like helmet was worn with a hood or 'coif' if mail. A great helm was often worn on the top of this light skull-shaped helmet for extra protection. The advantage then of the bascinet was that it could be worn alone as a lighter helmet which did not impair sight or breathing, or as an extra layer of protection for massive, bucket-shaped great helm, which would only be worn for heavy cavalry duties, or for situations requiring a maximum of protection (such as a foot or horseback charge against archers), such was its weight and size. This knight is equipped more as if for skirmishing, with sword not lance, no great helm, or armour for his heavy 'destrier' warhorse (though usually soldiers only rode stallions in cavalry charges and the heaviest of combat, since a mare was always the better horse for mobility and quick response). He is a chivalrous stereotype: free, courageous, charging headlong at a enemy we cannot see but only imagine - the cause is irrelevant, it is the courage, prowess and guts of the man that we are to admire. And also his status. From his elaborate spurs and low-slung military belt we can see that this man is a knight. The choice of arming this man with a sword - the instrument of dubbing by which knighthood takes place - again implies knightly status in a way that no other weapons, lance, mace, axe, and so on, could. Given that the sculptor may be carving old armour with which, perhaps he was more familiar, we have to add another quarter of a century to the time span during which this slab was carved, putting its date of execution as 1350-1400.
The basinet of the sort we see here was laced or threaded onto the mail through a run of small loops. This track of loops has been carefully depiected by the sculptor, and is visible around the neck of the knight in an 'L' shape turned on its side. The mail of the knight's coif and shirt ('hawberk') has been rendered in the usual medieval way as a series of horizontal bands, marked with little vertical lines, to suggest the swirling, interlocking shape of a mass of iron rings.
Medieval sculptors were obviously interested by the patterns mail created, since they had a number of inventive ways of depicting it, some of which were very stylised, to the point that modern historians have sometimes been confused by it and imagined it to be different kind of armour or a new variety of mail - but no other varieties of mail have survived and it is clearly just the artists of the time enjoying playing about with the interesting shapes created by this ancient form of armour.
A date of 1350-75 is also implied by the fact that the figure here wears a mix of plate and mail - the full 'white harness' has not yet come into being, and in fact it did not appear until the first years of the 1400s. The knight's sword is of the usual cruciform type with a wheel-shaped pommel, and is attached to the knight's chest by a length of chain, as also is the knight's dagger. This was to prevent the loss of weapons - helmets were also sometimes attached in the same way - in battle, and so we can be sure that this knight is armed for war, not tournament. Over his armour the knight wears a fashionable, tight-fitting 'jupon' surcoat onto which his arms (hence the expression 'coat of arms') would be represented.
Descriptive line
Panel of Istrian stone carved in low relief depicting a knight on horseback, Italy (perhaps Padua or Verona), ca. 1350-1400
Bibliographic References (Citation, Note/Abstract, NAL no)
List of Works of Art acquired by the Victoria and Albert Museum during the Year 1902 arranged according to the Dates of Acquisition. London: Her Majesty's Stationary Office. Wyman and Sons. 1906. pp.214
MacLagan, E, and Longhurst, Margaret, H. Catalogue of Italian Sculpture. London: V&A, 1932. pp.11
Pope-Hennessy, John. Catalogue of Italian Sculpture in the Victoria and Albert Museum. Vol. I. London: Her Majesty's Stationary Office, 1964. pp.50
Materials
Stone
Techniques
Carving
Subjects depicted
Horses; Armour; Coats of arms; Soldiers; Sword; Knights; Chivalry; Bridles
Categories
Sculpture
Collection code
SCP