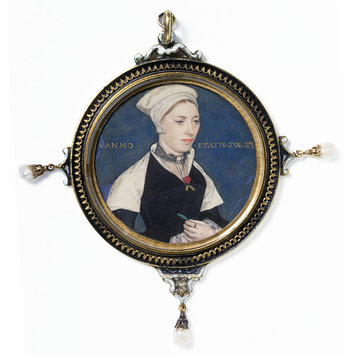 Hans Holbein, born 1497 - died 1543
Mrs Jane Small, formerly Mrs Pemberton
Object:
Place of origin:

England, Great Britain (made)

Date:

ca.1536 (made)
ca. 1536 (painted)
16th century (made)

Artist/Maker:

Hans Holbein, born 1497 - died 1543 (artist)

Materials and Techniques:

[Miniature] Watercolour on vellum, stuck to a playing card with five of diamonds

Credit Line:

Purchased with the assistance of The Art Fund, the Murray Bequest, and an anonymous donor

Museum number:
Gallery location:

Portrait Miniatures, room 90a, case 2
When Holbein painted this image in 1536, it was virtually unknown in England for anyone other than courtiers to be recorded in a portrait. Until then portraiture had been a part of the funeral traditions of the powerful rather than a celebration of more modest lives. This beautiful miniature, however, shows that almost from the moment of its invention the portrait miniature was not exclusively a court art. A coat of arms, painted on a piece of vellum long associated with this portrait and set in the lid, identifies the sitter as 'Mrs Pemberton'. This identification had always been something of a puzzle, since Mrs Pemberton appeared to be the wife of an obscure country gentleman living in a Northamptonshire village, far from both the court and Holbein's practice in London. Recently, however, the evidence has been reinterpreted, and the more likely explanation is that the sitter was Mrs Jane Small, whose maiden name was Pemberton. Jane was the wife of a prosperous London merchant, Nicholas Small, and they were close neighbours of Holbein. It is not known if she was painted for a particular occasion, or why she is shown wearing a red flower and two ears of corn and holding a leaf.
Physical description
[Miniature] Portrait, half-length, turned to and looking to right, hands folded and wearing a black dress, white cap and a necklace with a flower attached.
[Lid] Lid and case containing a miniature portrait; the lid is painted with the heraldic device of a dragon, along with a coat of arms below, on a dark blue base.
Place of Origin
England, Great Britain (made)
Date
ca.1536 (made)
ca. 1536 (painted)
16th century (made)
Artist/maker
Hans Holbein, born 1497 - died 1543 (artist)
Materials and Techniques
[Miniature] Watercolour on vellum, stuck to a playing card with five of diamonds
Marks and inscriptions
[Miniature] 'Anno - Etatist - Svae - 23' 'In the year of her age 23'
Dimensions
Diameter: 52 mm
Descriptive line
Portrait miniature of Mrs Jane Small, formerly Mrs Pemberton, watercolour on vellum in a decorated case, by Hans Holbein, ca. 1536.
Bibliographic References (Citation, Note/Abstract, NAL no)
Foister, Susan, with contributions by Tim Batchelor Holbein in England Tate Publishing, 2006. ISBN: 1 85437 645 4.
Exhibition catalogue.
100 Great Paintings in The Victoria & Albert Museum. London: The Victoria and Albert Museum, 1985, pp. 38-39
The following is the full text of the entry:
"Hans Holbein the younger
MRS PEMBERTON
Inscribed in gold ANNO ETATIS SUAE 23
Water-colour, on parchment mounted on part of a playingcard. At the back, on vellum, is painted the coat of arms of Pemberton-More, dated 1556. Diameter 5.3 cm
P.40-1935. Formerly in the Collection of J. Pierpont Morgan.
Purchased from the Funds of Captain H B Murray's Bequest, together with donations from Viscount Bearsted and the National Art-Collections Fund.
Holbein was born in Augsburg, the son and, eventually, the pupil of a painter of the same name. About 1514 he went to Basle where he was initially principally employed as a designer for printers. He remained in that city, apart from short visits to France and - possibly - Italy, until 1526, when he paid his first visit to England. He remained there until 1528 and painted a number of portraits of courtiers, including the famous group portrait of the More family. On his return to Basle he found that the fanaticism of Protestant extremism severely reduced the amount of work available to him. He returned to England in 1532, remaining there until his death and enjoying royal and court patronage from 1536.
Queen Jane Seymour died in 1537 and in 1539 Thomas Cromwell, then Lord Treasurer and later Earl of Essex, opened negotiations for the King's marriage to Anne, daughter of the Protestant Duke of Cleves, such an alliance appearing politically advantageous. The English ambassador cautiously reported that 'I hear no great praise of her personage, nor of her beauty' and in the Spring of 1539 the King asked for a portrait, but none was forthcoming. In the Summer the King sent Holbein to Duren, near Cologne, to paint Anne's portrait. An oil-painting, now in the Louvre, and the present miniature resulted.
The marriage treaty was signed in September and Anne reached England in December, to be greeted with dismay by her wooer who thought her no better than 'a Flander's mare'. However, the marriage took place in January 1540, to be followed in July by an annulment on the grounds of non consummation. The political miscalculation cost Cromwell his life at the end of that July, but the ex-queen was well-treated and lived contentedly in England until her death.
Whatever the relationship of the portrait to reality Horace Walpole's high praise of the miniature as 'the most exquisitely perfect of all Holbein's works, as well as in the highest preservation' remains apposite. The ivory box in which the miniature is housed probably dates from the 17th century.
The history of the portrait of 'Mrs Pemberton' is veiled in obscurity. The sitter is traditionally believed to be Elizabeth Throckmorton, wife of Robert Pemberton, although the identification cannot be proved. The arms, dated 1556, which appear on the reverse of the case are Pemberton above Longworth impaling More and appear to relate to a Pemberton-More marriage some fifteen or sixteen years later than the miniature itself, which must be dated to c.1540.
The nature of the connection between the portrait and the arms is as yet unexplained. Whatever the identity of the sitter this cool, dispassionate portrait exemplifies (along with the Anne of Cleves portrait) a recent critical comment that 'For Holbein himself scale seems to have been almost a matter of indifference; it was simply a question of what size of image was wanted' and that it 'is as dense and monumental in characterization as any bigger portrait'.
Harold Barkley"
Strong, Roy. Artists of the Tudor Court: the Portrait Miniature Rediscovered 1520-1620.. London: The Victoria and Albert Museum, 1983.
Cat. 29, pp. 47-48. Full Citation:
"HANS HOLBEIN
29 ?Margaret Throckmorton, Mrs Robert Pemberton, c. 1536
Victoria & Albert Museum (P.40-1935)
Vellum stuck to a playing card with five hearts verso, circular, 52 mm, 2 1/16 in diam.
Margaret Throckmorton (d.1576) was the daughter of Richard Throckmorton of Higham Ferrers. She married, at an unknown date Robert Pemberton.
The identity depends of the coat of arms, mounted onto vellum stuck to a playing card which is inserted separately at the back of the miniature, bearing the year 1566, but the painting is 17th century in date. The arms are those of Robert Pemberton of Pemberton, Lans and of Rushden (d.1594) impaling those of his wife Margaret Throckmorton. There is nothing to disprove this identity and, indeed, the absence of jewellery and simplicity of dress argue for modest rank. She was one of the younger daughters of a country gentleman but not without connections. Her aunt by marriage, or firt cousin's wife, was Catherine, Lady Throckmorton, sister to Thomas 2nd Lord Vaus who sat for Holbein (information from the Hon Clare Stuart Wortley, 1935; Parker, Holbein, 1945, nos. 24, 30) and her Throckmorton cousins had posts at court. In spite of this a sitter of her rank is quite exception among early Tudor miniatures, but Holbein's sitters were never confined to the narrow range of Hornebolte's. The costume and pose are virtually duplicated in the portrait of a woman with a white coif at Detroit (Ganz, Holbein, pl. 123) which Gantz dates c. 1534. It is usual to date Mrs. Pemberton c. 1540-43 but it is most closely related in introspection of mood to Holbein's Margaret Rorer of 1536. Both look back to the portraits of ladies of the More family and circle during Holbein's first period, for after he entered royal service in 1537 the treatment became progressively more iconic and the sitters wholly of the court.
The background is discoloured and a number of paint losses have been crudely restored.
INSCRIBED: On either side of the head: ANNO / ETATOS SVAE 23
COLLECTIONS: First recorded in 1865 when lent to the South Kensington Exhibition by Mr. J. Heywood Hawkins; sold in the C. H. T. Hawkins sale, Christie's 13th May 1904 (lot 907); J. Pierpont Morgan collection; sold Christie's 24th June 1935 (lot 125); purchased with funds from the Capt. H. B. Murray bequest and donations from the N.A.C.F. and Viscount Bearsted.
LITERATURE: R. Holmes, "A Miniature by Holbein", Burlington Magazine, V, 1904, p.337.
Williamson, Catalogue, 1906, I, p. 8 (pl. 4).
Chamberlain, Holbein, II, pp. 228-29.
Winter, Elizabethan Miniatures, pl. I.
Ganz, Holbein, p. 259 (140)."
Marks, Richard and Paul Williamson, eds. Gothic: Art for England, 1400-1547. London: V&A Publications, 2003. 496 p. : ill. 1851774017 (hbk.) 1851774025 (pbk.).
Exhibition History
Artists of the Tudor Court: the portrait miniature rediscovered, 1520-1620 (Victoria and Albert Museum 09/07/1983-06/11/19833)
Holbein in England (Tate 28/09/2006-07/01/2007)
Gothic: Art for England 1400-1547 (Victoria and Albert Museum 09/10/2003-18/01/2004)
Labels and date
Gothic
Portrait of Jane Small
About 1540
Hans Holbein the Younger
1497/8-1543
Jane Small was the wife of a London cloth Merchant. Her social status is reflected in her relatively simple costume. The red carnation at her bosom is perhaps a reference to her betrothal. This probably took place around 1540 and may have been marked by this portrait.
Body colour on vellum
Painted in London
Inscribed in Latin 'In the year of her age 23'
V&A: P.40-1935. Purchased with the assistance of the National Art Collections Fund
Cat.
Materials
Watercolour; Vellum
Techniques
Painting
Subjects depicted
Woman; Jewellery; Small, Jane, formerly Mrs. Robert Pemberton
Categories
Portraits; Paintings
Collection code
PDP