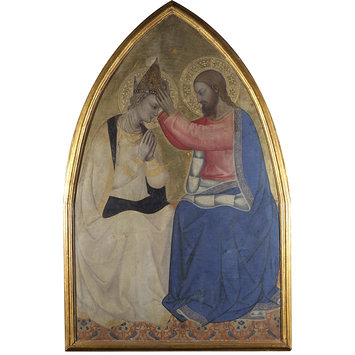 The Coronation of the Virgin
Object:
Place of origin:
Date:
Artist/Maker:

Nardo di Cione (painter (artist))

Materials and Techniques:
Credit Line:

Bequeathed by Constantine Alexander Ionides

Museum number:
Gallery location:

Paintings, Room 81, The Edwin and Susan Davies Galleries, case EAST WALL
Nardo di Cione (ca.1320-1365/66) was the brother of Andrea di Cione called Orcagna and Jacopo di Cione with whom he often collaborated. They ran together one of the leading Florentine workshops in the mid-14th century. He executed a number of frescoes, a very few of which have survived in poor conditions and several polyptych panels.
This panel showing Christ in a red and blue dress in the act of crowning the Virgin, in black and white garments, is believed to have constituted the central panel of a triptych. The coronation of the Virgin was a popular subject in Gothic and late Gothic Italy up to the 18th century although its imagery considerably evolved over the centuries.
Physical description
In a pointed arched gilded frame, Christ dressed in red and blue crowns the Virgin, who wears a black and white garments; side by side, their bodies are represented three-quarter full-length whereas their faces are shown in profile on a plain golden background. They stand on a blue, red and gold cloth floor-covering and wear punch marked halos.
Place of Origin
Florence (painted)
Date
1340s-1360s (painted)
Artist/maker
Nardo di Cione (painter (artist))
Materials and Techniques
tempera on poplar panel
Dimensions
Height: 118 cm estimate, Width: 77.5 cm estimate, Height: 143 cm frame, Width: 100 cm frame
Object history note
Bought by C. A. Ionides on 26/02/1883, as a work by Giotto, formerly in the T. Maring collection (his inventory, private collection). Bequeathed by Constantine Alexander Ionides, 1900
Historical significance: Tuscan late-Gothic Coronations were usually triptychs, like that of 1420 by Rossello di Jacopo Franchi (Accademia, Florence). Typically the central panel showed the throne raised on steps or surrounded by angels in unarticulated space, with saints in the side panels. A profound change happened in Florentine painting between 1420 and 1440 with the creation of altarpieces built for unified picture fields with the introduction of a landscape or architectural background (see Fra Filippo Lippi's Coronation of the Virgin known as the Maringhi Coronation, Uffizi, Florence and the Marsuppini Coronation of the Virgin, Pinacoteca vaticana, Vatican – which was recut as a triptych much later).
The present work is believed to have constituted the central part of a triptych, a reconstruction of which has been proposed by Richard Offner in his Corpus of Florentine Painting, New York, 1960, vol. ii, with the helps of two side panels from the Alte Pinakothek, Munich, representing full length standing saints.
Two pinnacles, stylistically compatible with the Munich panels and the V&A altarpiece, recently appeared on the London art market (Jan. 2011). Technical examinations have revealed the presence of a canvas under the paint layer, most likely transferred on to a wood panel at a later date. The Munich panels also revealed the presence of a canvas whereas CAI.104 does not show any sign of it. It seems therefore really unlikely that the two pinnacles, the Munich panels and the V&A Coronation are connected.
However the V&A panel must been reduced and cut off on the edges. The bottom of the panel most likely showed a group of angels attending the ceremony and playing musical instruments such as in these two Coronation of the Virgin respectively by Agnolo Gaddi, The National Gallery, London, and Giotto, Santa Croce, Florence. These large compositions tent to be chopped off and sold separately to increase profits during the 19th century. An interesting example of this practice stands in the three panels by the workshop of Giovanni del Biondo, housed in the Walter Art Gallery, Liverpool, which originally formed a unique panel and show a Coronation of the Virgin and Angels playing musical instruments (Inv. 2782, 6110 and 6120).
The attribution of the V&A painting was much questioned over the past years although scholars accordingly consider it now as a work by Nardo di Cione and assistants.
The space is formless, inspired by the example of Byzantine icons, such as in the works of Bernardo Gaddi, Lorenzo Monaco and Jacopo di Cione but still have Christ as the main character along with the Virgin while from the 1440s, God the Father begins to replace the Son. This change may illustrate the resolution of the Filioque controversy at the Council of Florence (1439), which emphasized the close identity of the Father and Son, as a gesture of reconciliation with the Greek Church. Representation of Christ persisted, for example in the Marsuppini Coronation for the Olivaetans of Arezzo, and eventually prevailed as the nominal union of Easter and Western Churches was neglected.
The Coronation of the Virgin was the most elaborate subject to be commonly treated in the 14th and 15th-century altarpieces, epitomised in Florence by the works of Fra Filippo Lippi and Fra Angelico who appears to break with the late Gothic tradition and create a new spatial dynamic for this kind of imagery. The scene is the final episode in the Life of the Virgin, and follows her Assumption - not yet dogma in the Middle Ages - or Dormition. The scriptural base is found in the Song of Songs (4.8), Psalms (44.11-12) and Revelation (12.1-7). The title "Queen of Heaven", or Regina Coeli, for Mary goes back to at least the 12th century.
Other coronations such as Jacopo di Cione's, Nardo's brother, Coronation of the Virgin of 1372-3 for the Florentine Mint (currently in the Accademia, Florence) show at the same period another typology and are depicted on a single vertical panel with two principal saints standing alongside the throne, while rows of other saints kneel across the front of the picture.
Historical context note
In Italy, the altar became a primary setting for painting on panel - hence the appellation 'altarpiece' - a format developed in Western art from the example of Byzantine icons. An early format consisted in gabled vertical panels representing a full-length saint flanked by scenes of his or her life and soon developed to include several individual compartments to form a polyptych which frames could become increasingly elaborate. They eventually transformed the altarpiece into an architectonic structure resembling in detail and spatial principles the façades of contemporary full-scale Gothic architecture. In Italy such altarpieces were usually made of wood and painted, while in northern Europe they were commonly executed in stone. A new type of altarpiece soon appeared in 15th-century Italy, known as pala,, and was closer to a framed picture. In the interest of clarity and unity, numerous medieval screens separating the choir and high altar from the nave were removed.
The religious reforms of the 16th century brought new attention and some important changes to the form and function of the altarpiece. Under Protestant auspices, the altarpiece iconography was restricted to subjects well-suited to the sacrament celebrated at the altar, such as the Last Supper while the dynamic qualities that characterize Baroque art brought important changes to altarpiece design. Important altarpieces consisting of a single painting or relief continued to be made, but increasingly architecture was used as the theatrical setting for the three-dimensional display of the altarpiece's subject in sculpture.
Altarpieces adorned both high altars and side altars. High altars often carried large altarpieces with elaborate programmes while side altars served a more private piety and their altarpieces were often endowed by private individuals.
Descriptive line
Tempera painting, 'The Coronation of the Virgin', Nardo di Cione, 1340s-1360s
Bibliographic References (Citation, Note/Abstract, NAL no)
Cosmo Monkhouse, 'The Constantin Ionides Collection', Magazine of Art, pp. 209-210.
Kauffmann, C.M., Catalogue of Foreign Paintings, I. Before 1800, London: Victoria and Albert Museum, 1973, pp. 197-8, cat. no. 241.
100 Great Paintings in The Victoria & Albert Museum. London: V&A, 1985, p. 18.
Phillips, C. in Magazine of Art, xvii, 1893-94, p. 145.
P. Schubring in Jahrbuch der kgl.preuss, Kunstsammlungen, xxi, 1900, p. 164.
Georg, Graf Vitzthum, Bernardo Daddi, 1903, pp. 21, 62 f.
W. Suida in Repertorium fur Kunstunssenschaft, xxvii, 1904, p. 386.
Anon. in Athenaeum, 23 July 1904, p. 119.
A. Venturi, Storia dell'arte italiana, v, 1907, p. 520, n. 2.
W. Suida in Repertorium fur Kunstunssenschaft, xxxi, 1908, p. 206.
O. Siren, Kult och konst, Stockholm, 1907, pp. 129, 131, 134, 141.
O. Siren, Giottino, 1908, pp. 72 f., 89.
B. Kvoshinsky and M. Salmi, I pittori toscani, ii, 1914, pp. 23 (Bernardo Daddi), 30 (Nardo).
O. Siren, Giotto and some of his followers, i, 1917, p. 251, ii, pl. 208.
R. van Marle, Italian Schools, iii, 1924, p. 487 f., fig. 274.
B.S. Long, Catalogue of the Constantine Alexander Ionides collection. Vol. 1, Paintings in oil, tempera and water-colour, together with certain of the drawings, London, 1925, p. 45 f., pl. 25.
R. Offner in Art in America, xii, 1924, p. 101.
R. Offner Studies in Florentine painting, 1927, p. 100.
B. Berenson, Italian pictures, 1932, p. 383.
H. D. Gronau, Andrea Orcagna und Nardo di Cione, 1937, p. 56, pl. 45.
P. Toesca, Trecento, 1954, p. 639 n.
R. Offner, A corpus of Florentine paintings, section iii, vol. v, 1957, pp. 148, 150, 180, 248 (Nardo, mid-1350s), ibid., section iv, vol. ii, 1960, pp. iv, 13-7, pls, ii-iib (Nardo and assistants).
B. Klesse, Seidenstoffe in der Italienischen Malerei des I4 Jahrhunderts, 1967, p. 330, no. 264 A.
K. Hugh, 'The Coronation of the Virgin - a technical study' in V&A Conservation Journal, July 1997, No. 24, pp. 18-21, fig. 1.
G. Bent, Monastic Art in Lorenzo Monaco's Florence: painting and patronage in Santa Maria degli Angeli, 1300-1415, Lewiston-Lampeter: 2006, pp. 160 sq, colour plate 4, fig. 16 and 17.
L. Kanter 'Der selige Gerhard von Villamagna im Florenz des 14. Jarhunderts: öffentlicher Kult oder private Frömmigkeit' in S. Weppelmann ed.,Zeremoniell und Raum in der frühen italienischen Malerei, Berlin: 2007, pp. 184-193, fig. 4.

Materials
Tempera; Poplar
Techniques
Painting
Subjects depicted
Altarpieces; Coronation; Christianity
Categories
Christianity; Paintings
Collection
Prints, Drawings & Paintings Collection