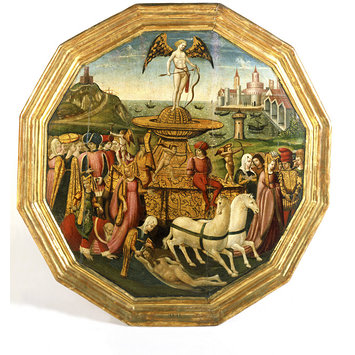 Apollonio di Giovanni, born 1411 - died 1465
The Triumph of Love
Object:
Place of origin:

[Firenze], Italy (painted)

Date:
Artist/Maker:

Apollonio di Giovanni, born 1411 - died 1465 (workshop of, painter)

Materials and Techniques:
Museum number:
Gallery location:

Medieval and Renaissance, room 64, case 2
Apollonio di Giovanni (ca.1416-1465) was born in Florence where he trained as an illuminator in the circle of Bartolomeo di Fruosino (ca.1366-1441) and Battista di Biagio Sanguini (1393-1451). He became a member of the Arte dei Medici e degli Speziali in 1442 and of the Compania di S. Luca in 1443. He spent almost all his working life in the workshop he ran in partnership with Marco del Buono di Marco (ca. 1403-after 1480), with whom he produced decorated furniture panels ('cassoni', wedding chests, 'deschi da parto', birth trays , 'spalliere', wainscotting) as well as illuminated manuscripts.
This desco da parto was a ceremonial birth tray offered on the occasion of a marriage or a birth during the 15th century and its imagery, a Triumph of Love, derives from the Italian humanist Petrarch's series of poems called I Trionfi, composed during the second half of the 14th century. The coat of arms on its reverse has been identified as those of the Samminiato and the Gianfigliazzi families of Florence. As the marriage of Francesco da San Miniato and Constanza Gianfigliazzi is recorded in 1537 or 1547, and the form of the shield bearing their arms is unknown prior to the 1520s, this tray would appear to have been partially re-painted in or after 1537.
Physical description
In the centre is a chariot driven by two white horses and surmounted by a sphere circled by a disk upon which stands a winged Cupid holding a bow and a an arrow, a group of figures surrounds the chariot and in the centre background is a sea dotted with ships between a fortress on a headland at the left and a fortified harbour on the right, with a row of open-fronted sheds for ship-building.
Place of Origin
[Firenze], Italy (painted)
Date
ca. 1460-1470 (painted)
Artist/maker
Apollonio di Giovanni, born 1411 - died 1465 (workshop of, painter)
Materials and Techniques
tempera on poplar panel
Dimensions
Height: 72 cm, Width: 72 cm, Depth: 5.5 cm
Object history note
Purchased, 1869
Historical significance: Formerly ascribed to the 'Master of the Cassone', this desco da parto (birth tray) as well as many other items were successively attributed to the Florentine workshop of Apollonio di Giovanni because of generic common features albeit they sometimes differ in quality.
E. Callmann, who accepted the attribution to Apollonio, noticed however that this desco does not conform to the shop's style and justified it by the actual discoloration of the original pigments and the later repainting. Compare with the V&A cassone panel 5804-1859, this desco appears less refined and of inferior quality, especially in the drawing of the horses and of some figures such as the tied-hand red dressed man seated on the front edge of the chariot.
The present desco shows a 'Triumph of Love', a subject matter that became popular from the mid 15th century in Italy and especially in Florence, drawing upon the long poem I trionfi composed by the Florentine humanist Francesco Petrarch in the second half of the 14th century, which described a series of allegorical triumphal processions. The present scene illustrates the Triumph of Love, which is described thus:
'Four steeds I saw, whiter than snow,
And on a fiery car a cruel youth,
With bow in hand and arrows at his side
No fear had he, nor armour wore, nor shield
But on his shoulders he had two great wings
Of a thousand hues; his body was all bare
And round about were mortals beyond count…'
The composition takes over the iconographic miniatures of illuminated manuscripts that reproduced the original text, including one of Triumph of Love attributed to Apollonio (Florence, Biblioteca Riccardiana, MS 1129, fol.1v). In the middle is the triumphal chariot of Love composed of a socle and a sphere circled by a disk which most likely represents the universe dominated by Cupid perched on the top of it. The power of Love is then embodied in the immediate foreground by two classical scenes: Dalilah shearing Samson (Judges, 16:4-20) as described by Petrarch and Phyllis (or Campaspe) astride on Aristotles' back as narrated in a late medieval legend called Lai d'Aristote. These two instances of, respectively, a physical and an intellectual giant also appear in the miniature of this subject attributed to Apollonio, mentioned above. By the 1460s, the imagery of I Trionfi was being widely disseminated by engravings (see for instance the Triumph of Love attributed to Francesco Rosselli, ca. 1480-1490, The British Museum, London, Registration number:1845,0825.646)
The hand-tied men on the edge of the chariot echo the state of infirmity in which one is reduced by Love. On each side of the chariot are two groups of figures: on the right, the figures seem peaceful and quietly stand side by side whereas on the left, the figures look to discuss and perhaps argue with each other. These two groups could thus embodied two states of amorous concordia and discordia.
In the background of the scene is a harbour scene with merchant sailing ships and smaller craft between a fortress on a headland at the left and a fortified harbour on the right, with a row of open-fronted sheds for ship-building. This background could symbolically represent the world essentially composed, in the Renaissance mind, of towns, sea and landscapes.
The reverse was apparently repainted over eighty years after it was made, for Francesco da San Miniato and Constanza Gianfigliazzi. The extensive trade and use of second-hand goods in Renaissance Florence included such deluxe objects as the sumptuous book of hours made in 1488 for the marriage of Lucretia de' Medici, which was re-used after her death in 1550 as a diplomatic gift to the Duke of Bavaria. Despite its valuation at 10 florins in 1492, Lorenzo de' Medici's own desco da parto only realised 3 florins in 1494/5 when it was auctioned off, with other possessions of the deposed ruling family. 144-1869 may have been a Samminiato or Gianfigliazzi heirloom, proudly re-used by members of a later generation, or simply an inexpensive gift acquired second-hand.
The Triumph of Love appears on five Florentine deschi da parto dating from between 1450 and 1475, most of which are attributed to Apollonio, and a further four are decorated with the related Petrarchian themes of The Triumph of Chastity and Fame. It is likely that such images of Petrarch's Trionfi conditioned the appearance of the large decorated processional carts which replaced the lighter man-carried floats in Florentine public festivals during the fifteenth century. A carnival procession held in Florence in 1473 included an actual Triumph of Love. (Wackernagel 1981, pp.193-7; Truffi 1911, pp.67-9).
Historical context note
Deschi da parto were painted circular trays, usually produced in the same workshop that also supplied decorated furniture panels such as cassoni (wedding chests) and spalliere (wainscoting). They were used to carry food to the bedchamber on the occasion of the birth of a baby. They were usually decorated on the front with a variety of subjects sometimes based on a scene of male or female dominance depending on the sex of the baby while the back bears the coat of arms or impresa (personal emblem) of the family concerned.
The earliest documentary reference to a desco da parto is in a Florentine inventory of 1383 (see for instance an early Trecento example in the Metropolitan Museum, New York) and the oldest surviving examples date from the 1370s. A number are depicted in paintings, and it has been estimated from their incidence in inventories that over 40% of the households in fifteenth century Florence had at least one such tray. Deschi were painted not only for wealthy patrons, but also those of more modest means such as butchers, bakers, and notaries. They could be commissioned or purchased ready-made.
Descriptive line
Birth tray (salver) depicting the Triumph of Love, workshop of Apollonio di Giovanni, ca. 1460-1470
Bibliographic References (Citation, Note/Abstract, NAL no)
Gombrich, E.H., 'Apollonio di Giovanni: A Florentine cassone workshop seen through the eyes of a humanist poet', in Journal of the Warburg and Courtauld Institute 18 (1955), pp. 16-34 and reprint in idem, Norm and Form, London 1966, pp.11-28.
Wackernagel, Martin [trans. Alison Luchs], The World of the Florentine Renaissance Artist, Princeton, 1981, pp.193-7.
Truffi, Riccardo, Giostre e cantori di giostre, Rocca S. Casciano, 1911, pp.67-9.
Alexander, Jonathan J.G. [ed.], The Painted Page, London, New York & Munich, 1994, pp.94-5.
Musacchio,Jacqueline Marie, 'The Medici-Tornabuoni Desco da Parto in Context', Metropolitan Museum Journal, 33, pp.137-51.
Gordon, Dillian, The Fifteenth Century Italian Paintings, vol. 1, National Gallery, London, 2003, pp.37-43.
Callmann, Ellen, Apollonio di Giovanni, Oxford, 1974, p. 59, pls. 105 and 109.
Däubler-Hauschke,Claudia, Geburt und Memoria: zum italienischen Bildtyp der deschi da parto, Munich and Berlin, 2003, pp. 50, 242, 248-51, 254, 257, pl. 104-105.
de Carli,Cecilia, I Deschi da parto e la pittura del primo Rinascimento toscano, Turin, 1997, pp.146-9.
Mark Evans, The Painted World: from Illumination to Abstraction, London, 2005, p. 34.
Musacchio, Jacqueline Marie, The Art and Ritual of Childbirth in Renaissance Italy, New Haven and London, 1999, pp.69-70, 72, pls. 51, 56.
100 Great Paintings of The Victoria & Albert Museum, London, V&A, 1985, p. 26.
The following is the full text of the entry:
"Workshop of Apollonio di Giovanni
Florentine School
BIRTH TRAY: THE TRIUMPH OF LOVE
REVERSE: SHIELD WITH TWO ARMS FRAMED BY A GARLAND
Tempera on poplar panel, 12-sided. Diam 59.7 cm; diam.,
including frame 73 cm; thickness of panel 3.2 cm
144-1869
Renaissance workshops produced not only cassoni (see above), but also painted banners, wainscot panels, bed-heads and birth-trays (deschi da parto). Deschiwere commissioned to celebrate a birth, when ceremonial gifts were presented to the mother, and were subsequently preserved as commemorative objects - at Lorenzo de Medici's death (1493), his descowas found in the chamber.
This example was painted in Apollonio di Giovanni's workshop. A 17th-century copy of Apollonio's bottega (account book) affords a fascinating insight into contemporary social history: a record 23 pairs of cassoni produced in 1452, and, beside the clients' names, orders for deschiclosely follow those for cassoni. To achieve and maintain this output, techniques and designs were standardized. Stock figures include the elegant youth in 3/4-frontal pose, and the same regal female representing Juno, the Queen of Sheba or Lucretia.
The delightful seascape, like the city on Panel B above, is a compilation of workshop models, and hats and head-dresses conform to standard types.
Cupid on his triumphal car is a scene inspired by Petrarch's Trionfi. Before c.1450, illustrations to The Triumph of Love had included the chariot, based on classical models, but not, as here, the humorous scenes of Phyllis riding Aristotle, and Delilah shearing Samson. These scenes of female domination had themselves been represented earlier - they were popular in France, and occur in a 14th-century German embroidery - but their association with The Triumph of Love possibly originated in two manuscript illustrations by Apollonio. Extolled by a contemporary poet as 'The Tuscan Apelles', Apollonio's significance is disseminating representations of subjects inspired by classical antiquity was considerable.
A preoccupation with heraldry in Early Renaissance architecture and decoration reflects the significance attached to marriage and childbirth in competitive society. Within a garland comparable to those on the Museum's terra-cotta heraldic plaques by Luca della Robbia, the descobears on the reverse the arms of the Samminiato and Gianfigliazzi families. No liaison between these families is recorded before 1537, and yet the Triumph scene, on stylistic grounds, must date from c.1460. Although the descomay have been associated with an earlier, unrecorded marriage, the back was probably repainted after the 1537 marriage. However, this destroyed the original coat of arms, and the first owner's identity is now lost.
Anne Buddle"
Kauffmann, C.M., Catalogue of Foreign Paintings, I. Before 1800, London, Victoria and Albert Museum, 1973, p. 13-14, cat. no. 10.
The following is the full text of the entry:
APOLLONIO di Giovanni (1415-65)
Florentine School
In 1902 Aby Warburg published the records of a Florentine cassone workshop which contained a complete list of objects produced between 1446 and 1463 by the owners of the shop, Marco del Buono Giamberti and Apollonio di Giovanni. Schubring also published this list, but did not succeed in identifying any of its items with a known cassone.
In 1944 W. Stechow published a convincing identification of a cassone in the Oberlin collection with one of the items in this list, thus for the first time attaching a distinct style to the workshop. More recently, E. H. Gombrich drew attention to a poem by the humanist Ugolino Verino which describes the work of the 'Tuscan Apelles Apollonius' and which enabled him to identify Apollonio, rather than his partner Marco del Buono, as the artist of the principal works in this group: the Aeneid cassone in the Jarves Collection, Yale University, as well as the Vergil manuscript in the Riccardiana, Florence (MS. 492). E. H. Gombrich supports the view originally propounded by Offner that several of Schubring's categories - The 'Dido Master', the 'Master of the Tournament of Piazza S. Croce' and the 'Cassone Master' - all originated in the same workshop, which Berenson designated as headed by the 'Master of the Jarves Cassoni'. The evidence now at our disposal leaves little doubt that this was the workshop of Apollonio di Giovanni, which was one of the busiest in mid-15th century Florence.
Lit. A. Warburg in Jahrbuch der kgl. preuss. Kunstsammlungen, 1902, p. 248 (reprinted in Gessammelte Schriften, 1932, p. 188); P. Schubring, Cassoni, 1915, pp. 88 f., 430-37; W. Stechow in Bulletin of the Allen Memorial Art Museum, Oberlin College, i, 1944, pp. 5-21; E. H. Gombrich in J. W. C. I., xviii, 1955, pp. 16-34; B. Maracchi Biagiarelli, ed., Virgilius Opera ... Manoscritto 492 della Biblioteca Riccardiana, 1969; E. Callmann, Apollonio di Giovanni (forthcoming).
Workshop of APOLLONIO di Giovanni
10
BIRTH TRAY: THE TRIUMPH OF LOVE
Reverse: SHIELD WITH TWO ARMS FRAMED BY A GARLAND
Tempera on poplar panel,
twelve sided
Diam. 23½ (59.7); diam., including frame 28¾ (73); thickness of panel, 1¼ (3.2)
144-1869
The triumphal chariot of Cupid occupies the centre of the composition. In the foreground there are two scenes of feminine domination: Phyllis (or Campaspe) riding on Aristotle's back and Delilah shearing Samson. For a note on the purpose of the birth tray, or desco da parto, and on the relationship of the composition with Petrarch's Triumph of Love, see 398-1890 (no. 124).
D'Essling and Müntz (1902), followed by Schubring (1915), grouped this desco with the others painted with the Triumph of Love (Turin; N. G.; V. & A. Museum 398-1890; Leroy collection, now Louvre) and attributed them all to the same workshop, which Schubring called the 'Master of the Cassone'. However, although the Turin and N. G. deschi originated in the same workshop, they differ considerably from the two in the V. & A. Museum and are probably somewhat earlier (c. 1440-50). The Museum's two deschi are similar to each other in general appearance but different in detail; for example, in the treatment of the faces, the landscape and, very strikingly, the horses. 144-1869 appears to be slightly later in style.
A twelve-sided desco with the Triumph of Chastity in the North Carolina Museum of Art at Raleigh (23 X 23¼ ins.; see F. R. Shapley, Catalogue of the Samuel H. Kress Collection: Italian paintings xiii-xv century, 1966, p. 98, figs. 263, 265), which is very close in style to 144-1869, has been attributed to Apollonio di Giovanni. This attribution has the support of Ellen Callmann (oral opinion 1971) and may be accepted for 144-1869, even though it does not exhibit the characteristics of Apollonio's style as clearly as does the Scipio panel (see no. 9).
The shield on the back displays two coats of arms divided per pale. (I) Quarterly, i and iv Azure, a semis of fleurs-de-lys or charged with a label of three points gules; ii and iii Or, an eagle displayed sable (Samminiato). (2) Or, a lion rampant azure armed and langued gules Gianfigliazzi).
The identification of the two families as the Samminiato and Gianfigliazzi of Florence seems reasonably certain, even though there is a slight difference in colour in the second and third quarters of the Samminiato arms (which are given in J. B. Rietstap, Armorial Général, v, 1921, pl, ccxxxvi, as: argent, an eagle displayed azure).
The two coats of arms occurring together on one shield indicate a marriage alliance between the two families. There is no record of such a marriage in the 15th century, but we know that in 1537 Francesco di Simone di Bartolommeo da San Miniato (b. 1508) married Constanza di Bongianni di Gherardo Gianfigliazzi (MS. Passerini 188, insertion 23, Biblioteca Nazionale, Florence). As the painting on the front of the tray may be dated on stylistic grounds c. 1460, in any case not later than 1470, one might be tempted to think that there was an earlier marriage between these two families which has not been recorded, were it not for the fact that the almost 'baroque' form of the shield does not occur in Florentine heraldry until the 1520S (A. Marquand, Robbia heraldry, 1919, p. xvi). Clearly, therefore, the arms on the back may be connected with the marriage of 1537, when the original arms were probably overpainted and the tray presented to Francesco and Constanza Samminiatio.
Condition. Cleaned and restored by Sebastian Isepp in 1950. Old repaint remains in upper left background.
Prov. Bought from the painter W. Spence in Florence, 1869, for £30.
Lit. J. H. Pollen, Ancient and modern furniture, 1874, p. 302; Prince d'Essling (=Duc de Rivoli) and E. Müntz, Pétrarque, 1902, p. 146; P. Schubring, Cassoni, 1915, p. 269, no. 201, pl. xliii."
Prince d'Essling, V.M. and Müntz, E., Pétrarque, Paris, 1902, p. 146.
Colasanti, A. 'Due novelle nuziali del Boccaccio nella pittura del Quattrocento', Emporium, xix, 1904, p. 207.
As Florentine, first half of the 15th century.
Schiaparelli, A., La casa fiorentina e is suoi arredi, Florence, 1908, p. 285.
As Pesellinesque.
Schubring, P., Cassoni, Truhen und truhenbilder der Italienischen Frürenaissance, 2 vols, Leipzig, 1915, no. 201.
As Master of the Cassone.
Marle, R. van, The Development of the Italian Schools of Painting, vol. x, The Hague, 1928, p. 564.
As Master of the Cassone.
Associated names
Sanminiato; Gianfigliazzi
Production Note
Formerly ascribed to the 'Master of the Cassone' (D'Essling and Müntz (1902), Schubring (1915))
Materials
Tempera; Poplar
Subjects depicted
Cupid; Love; Samson; Allegorical figures; Trays; Birthdays; Aristotle; Delilah; Phyllis; Campaspe
Categories
Birth; Children & Childhood; Paintings
Collection code
PDP