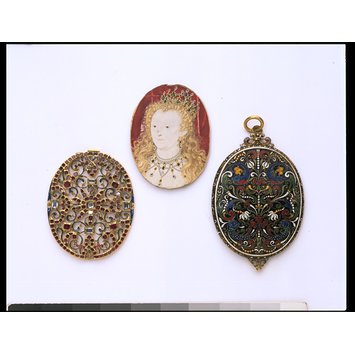 Hilliard, Nicholas, born 1542 - died 1619
Portrait miniature
Place of origin:

England, Great Britain (painted)

Date:

ca. 1600 (painted)
ca. 1600 (made)
ca. 1600 (made)

Artist/Maker:

Hilliard, Nicholas, born 1542 - died 1619 (artist)
Unknown (artist)

Materials and Techniques:

[Miniature] Watercolour on vellum mounted onto a playing card
[Box] Enamelled box

Museum number:
Gallery location:

British Galleries, room 57a, case 3
Object Type
From the late 1580s there was a proliferation of portraits of Elizabeth I. In this period, the political and religious temperature of Europe rose and there were many threats to the Queen's safety, especially from Spain. It therefore became fashionable to express loyalty and devotion to the Queen by wearing her image. The original jewelled and enamelled case in which this miniature is set demonstrates the expense to which some would go to house her image.
People
Elizabeth I rarely sat for portraits, so one sitting provided a 'pattern' that was then repeated in various forms. This face pattern is by Nicholas Hilliard and is often called the 'Mask of Youth'. The Queen was then 60, but the artist reduced her features to a few simple lines, so rejuvenating her appearance. In this version Elizabeth wears her hair long and unbound, as unmarried girls did, to signify her virginity. This gives pictorial expression to her claim to be a Virgin Queen wedded to her kingdom.
Time
The locket is an example of how the former Roman Catholic practice of wearing holy images became transferred to images of Elizabeth. It reflects the near-cult that grew up around her, with the devotion once given to the Virgin Mary in Catholic countries, but no longer possible in Protestant England, finding an outlet in the homage done to the Queen.
Physical description
Portrait of Elizabeth I contained in a gold enamelled case set with diamond and ruby.
[Miniature] Portrait, head and shoulders, oval, of Elizabeth I painted on vellum. A spade is visible on the reverse of the support.
[Box] Oval box with enamelled decoration of scrolling foliage. At the top is a gold loop.
[Lid] Oval lid of a case for a miniature; open-work, gold set with diamond & rubies.
Place of Origin
England, Great Britain (painted)
Date
ca. 1600 (painted)
ca. 1600 (made)
ca. 1600 (made)
Artist/maker
Hilliard, Nicholas, born 1542 - died 1619 (artist)
Unknown (artist)
Materials and Techniques
[Miniature] Watercolour on vellum mounted onto a playing card
[Box] Enamelled box
Dimensions
Height: 62 mm, Width: 48 mm
Descriptive line
Portrait miniature of Elizabeth I by Nicholas Hilliard in a case of enamelled gold set with a diamond and ruby, England, ca.1600.
[Miniature] Portrait miniature of Elizabeth I, watercolour on vellum, by Nicholas Hilliard, ca. 1600.
[Box] Oval enamelled box with scrolling foliage.
[Lid] Gold open-work lid, oval, with diamonds and rubies.
Bibliographic References (Citation, Note/Abstract, NAL no)
100 Great Paintings in The Victoria & Albert Museum. London: V&A, 1985. 220 p. : col. ill., p. 42.
The full text of the entry is as follows
"Nicholas Hilliard 1547?-1619
British School
QUEEN ELIZABETH (1533-1603)
Body colour on vellum on a playing card, 60.3 x 40.8 cm
4404-1857
Queen Elizabeth's reluctance to sit for her portrait is recorded in a draft proclamation of 1563 preserved among the state papers, and the only actual account of a sitting, about the year 1672, is given by Hilliard in his treatise on the Arte of Limning.The proclamation was an attempt to control the production of royal portraits by the approval of the work of 'some special person that shall be by her allowed', which was to be a pattern for subsequent portraits by licensed painters. This was however ineffectual in stopping the flood of unauthorized and unworthy images, and culminated in the action of the Privy Council in 1596, who ordered all public officers to assist the Queen's Serjeant Painter in finding and destroying 'unseemly' portraits. From about 1570, the year in which she was excommunicated, the number of official portraits increased to meet the demands of her subjects anxious to prove their abiding loyalty to her and to the Protestant cause. She sat for another portrait circa 1588 when the post Armada series, typified by the Tyrwhitt-Drake painting at Bereleigh, with its background of the naval victory, began to appear.
This miniature portrays the Queen in the last years of her reign, long tresses of her hair falling over her shoulders, an idealized image, and according to Roy Strong (Portraits of Queen Elizabeth I, Oxford, 1963): 'Very close in concept to "Rainbow" portrait at Hatfield House' and 'making use of the Hilliard "Mask of Youth"'. The Queen may have been wearing a wig at this period, but the story that she was 'as bald as an egg' is almost certainly an invention of a late historian, for curls of her greying hair are preserved at Hatfield House. An interesting contrast can be made between this portrait and an unfinished miniature by Isaac Oliver, (the head a reversed version of the Van de Passe engraving of 1592 ), a sketch devoid of flattery showing the sunken features of the aged Queen.
The Hilliard miniature is on display in the Primary Galleries, with its original case, the lid of which is of pierced gold, enamelled and set with diamonds and rubies, the back decorated with champleve enamel after a design by Daniel Mignot.
It was purchased by the Museum in 1857, but there is no record of its provenance.
Jean Hamilton"
Strong, Roy. Artists of the Tudor Court: the Portrait Miniature Rediscovered 1520-1620. London: The Victoria and Albert Museum, 1983.
Cat. 205, p. 128. Full Citation:
"NICHOLAS HILLIARD
205 Elizabeth I, c. 1600
Victoria & Albert Museum (4404-1857)
Vellum mounted onto a playing card with one spade showing at the reverse, oval, 62 x 48 mm, 2 7/16 x 1 27/32 in.
As in the large-scale "Rainbow Portrait" (Strong, Portraits of Queen Elizabeth I, I, pl. XV) this miniature is unique in showing the Queen with her hair flowing freely on to her shoulders in token of virginity. The concept of such a miniature would have been individual to the courtier who commissioned it and in this case the star-burst, which is such a striking feature of the lid, tells us that it is a celebration of Elizabeth as Stella Britannis. This astral apotheosis, which is constant, is perhaps best paralleled amongst the Imprese presented to the Queen at the tilts held annually on her Accession Day, November 17th, which were such rich founts of the mythology of the Elizabeth legend. William Camden records a knight who presented a shield on which was painted a: "The Star called Spica Virginis, one of the fifteen which are accounted to be the first magnitude among the Astronomers, with a scroll inwritten "Mihi vita Spica Virginis", declared there by haply that he had that Star in the Ascendent at his Nativity, or rather that he lived by the gracious favour of a Virgin Prince". (William Camden, Remains concerning Britain, 1870, p. 378). Although there is no costume visible in this miniature it is an accurate record of a crown and a necklace set with gold, rubies and diamonds that was once part of her enormous collection of jewellery. The face, as usual, is a repetition.
The only two other surviving jewelled lockets containing miniatures of Elizabeth are the celebrated Drake and Armada Jewels. This one is unique in having an open-work front, although the same thing does occur on other miniature cases (see Princely Magnificence, 1980, (118), in particular the Lyte Jewel in the British Museum). The case is gold with the front both cast and chiselled with scrolling tendrils around the central star set with diamonds and rubies. The reverse of the case is enamelled black all over with a scrolling design in multi -coloured enamels, incorporating two dolphins, conceivably allusions to Elizabeth as Venus, "Queen of Beauty", as Venus was born from the sea. As Anna Somers-Cocks points out the reverse, which is often referred to as being "after Daniel Mignot", who produced a series of engraved designs in Augsburg between 1593 and 1596, in fact only bears a general resemblance to his work.
COLLECTIONS: Purchased in 1857 from an unrecorded source.
LITERATURE: O'Donoghue, Catalogue, 1894, p. 13 (32).
Winter, Elizabethan Miniatures, p. 24, pl. IV (a).
V*a, 1947 (79).
Joan Evans, English Jewellery, London, 1921. p. 101, pl. XX.
Auerbach, Hilliard, p. 146, pl. 129, 310 (no. 132).
Strong, Portraits of Queen Elizabeth I, p. 97 (21).
Strong, Hilliard, p. 31; pl. 13.
Strong, The Cult of Elizabeth, p. 49. Princely Magnificence, 1980 (36)."
Exhibition History
Nicholas Hilliard and Isaac Oliver (V&A 01/01/1947-31/12/1947)
Artists of the Tudor Court: the portrait miniature rediscovered, 1520-1620 (V&A 09/07/1983-06/11/1983)
Labels and date
British Galleries:
Nicholas Hilliard and Miniature Painting

Nicholas Hilliard trained as a goldsmith and developed painting techniques that exploited this training. He used metallic pigments to mimic the jewellery on the opulent clothes that were fashionable. Hilliard created the image of Elizabeth and her courtiers that we know today, but he never won a salaried position at court. He had to set up shop in the City of London. From there he painted anyone who could afford his services.


ELIZABETH I

Elizabeth I was aged about 60 when these miniatures were painted. Hilliard deliberately painted her face using a few simple lines to create a 'mask of youth'. He then focused on her sumptuous costume and jewels to create a portrait that is an image of a magnificent Queen rather than an ageing woman. [27/03/2003]
Materials
Watercolour; Gold; Cardboard; Vellum; Ruby; Diamonds
Techniques
Painting; Enamelling
Subjects depicted
Foliage; Jewellery; Geometric patterns; Queen; Crowns (headdresses); Necklace; Elizabeth I (Queen of England and Wales)
Categories
Paintings; Royalty; British Galleries; Portraits
Collection code
PDP