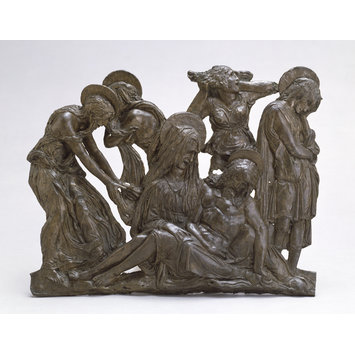 Donatello, born 1385 - died 1466
Lamentation over the Dead Christ
Object:
Place of origin:
Date:
Artist/Maker:

Donatello, born 1385 - died 1466 (sculptor)

Materials and Techniques:
Museum number:
Gallery location:

Medieval & Renaissance, Room 64a, The Robert H. Smith Gallery, case 3
This unusual bronze shows the dead Christ, supported by his mother Mary and encircled by other mourners including St John the Evangelist and Mary Magdalene. It was probably made by Donatello, but we do not know when or for whom. It has been variously dated to Donatello's Florentine period just before he left for Padua in 1453 and to after his return. It has also been suggested that it may be a trial piece for a commission to decorate the doors of Siena cathedral, on which Donatello was working in 1457-9, and has been associated with the bronze relief of approximately this size mentioned in the cathedral records in 1639. The gaps between the figures appear to have been a deliberate feature of the design and may have been intended to allow a background of coloured stone to show through. The surface has been taken to various levels of treatment, enhancing the raw emotion evident in the scene. This perhaps suggests that it was intended as a finished work for private devotion.
Physical description
In this Lamentation, the Virgin supports the body of Christ on her knees. The three other mourning figures may be Mary Magdalene (on the left), and St John the Evangelist (on the right). Behind the central group are two mourning women facing outwards, one on the right tearing her hair, and the other on the left with her head buried in her hands. The surface of the bronze is unevenly worked; the background between the figures has been cut away (or left open), and there are some casting flaws.
Place of Origin
Italy (made)
Date
ca. 1455-1460 (made)
Artist/maker
Donatello, born 1385 - died 1466 (sculptor)
Materials and Techniques
Bronze cast in relief
Dimensions
Height: 32.1 cm, Width: 41.7 cm, Depth: 6.3 cm, Weight: 5.64 kg
Object history note
The original purpose of this relief is not known, and various theories have been advanced about its place and date of manufacture. It is widely accepted to be by Donatello.
It has been suggested that it was perhaps a test piece for the doors of Siena cathedral, an unfinished project on which Donatello was working in 1457-9. The cathedral inventory of 1639 lists a bronze demonstration panel of approximately this size. Pope-Hennessy rejected this theory on stylistic grounds, suggesting that the relief is more likely to have been made immediately before Donatello's departure from Florence to Padua, where he was based from 1443-53. He proposed that the drapery, figure types and relief style are similar to those of the bronze doors of the Old Sacristy of San Lorenzo, Florence, completed before 1443. In contrast, Anthony Radcliffe remarked on the similarity of the drapery forms to those shown on the Chellini roundel (A.1-1976), which he suggested might support a later date for the present relief, to the period after Donatello's return from Padua. However, as Donatello was an exceptionally innovative and inventive sculptor, whose work does not necessarily follow any neat stylistic progression, it can be difficult to date securely his undocumented works.
Pope-Hennessy asserted that "the removal of the background was presumably occasioned by casting flaws", but flaws remain in other areas, and the missing sections relate closely to the outline of the figures, suggesting that they were part of the design. This is further supported by the fact that the edge follows the contours of the figures along the top of the relief. This treatment clarifies the relationship between the figures. Nicholas Penny has suggested that the gaps may have been intended to allow a background of coloured cloth or stone to show through. Sarah McHam suggested that this material would be red, symbolic of the Blood of the Redemmer, intended to spur an emotional response to the image of the dead Christ. She interpreted the piece as a finished work, in Donatello's 'non-finito' (literally 'unfinished') manner, possibly designed for personal devotion.
Some areas of the bronze are worked up to a smoother finish, notably the flesh, while others have apparently been roughly tooled, and some areas seem to capture the textures created in the wax as cast, with little or no afterwork. The dramatic and vibrant treatment of the surface reflects the raw emotion expressed by the figures.
Descriptive line
Relief, bronze, Lamentation Over The Dead Christ, by Donatello, possibly Siena, Italy, ca.1455-60.
Bibliographic References (Citation, Note/Abstract, NAL no)
Pope-Hennessy, John, assisted by Lightbown, Ronald. Catalogue of Italian Sculpture in the Victoria and Albert Museum. London: HMSO, 1964. Cat. 63, pp. 75-6
no.32
Italian Renaissance Sculpture in the Time of Donatello, Detroit, Michigan : Founders Society, Detroit Institute of Arts, 1985
Bennett, Bonnie A, and Wilkins, David G. Donatello. Oxford 1984, pp. 98-100, notes 6-8, fig. 99.
Penny, Nicholas. 'Non-finito in Italian Fifteenth-Century Bronze Sculpture'. In: La Scultura: Studi in Onore di Andrew S. Ciechanowiecki, Antologia di Belle Arti, 1994, pp. 11-15.
Inventory of Art Objects Acquired in the Year 1863 In: Inventory of the Objects in the Art Division of the Museum at South Kensington, Arranged According to the Dates of their Acquisition. Vol I. London: Printed by George E. Eyre and William Spottiswoode for H.M.S.O., 1868, p. 35
Raggio, Olga. Catalogue of Italian Sculpture in the Victoria and Albert Museum. Review in Art Bulletin. Vol. L, 1968, p. 100
Avery, Charles. Donatello. Catalogo Completo delle Opere. Florence, 1991, p. 136, cat.no.78
Draper, David James. Bertoldo di Giovanni - Sculptor of the Medici Household. Columbia, 1992, p. 31, note 31
Pope-Hennessy, John. Donatello: Sculptor. New York, 1993, pp.192, 296-98, 302, 303, 304, 311-313, 338n, 350n
Avery, Charles. Donatello, an Introduction. New York 1994, pp. 98, 100
Pope-Hennessy, John. Donatello. Berlin 1986, pp. 228-229
Rosenauer. Artur. Donatello. Milan 1993, pp. 258, 260, 289, 297
Poeschke, Joachim Die Skulptur der Renaissance in Italien, Band I. Donatello und seine Zeit, Munich, 1990, pp. 119, 177, pl. 138
Bellosi, Luciano, Francesco di Giorgio e il Rinascimento a Siena 1450-1500, Milan: Electa, 1993.
Seymour Jr., Charles Sculpture in Italy 1400-1500> Pelican History of Art, Harmondsworth 1966. p. 144
Bober, P. P. and Rubinstein, R. O. Renaissance Artists and Antique Sculpture, a Handbook of Sources. Oxford, 1986, p. 146
Stefanac, Sarno, 'Niccolo di Giovanni Florentino: il quarto garzone di Donatello', Mitteilungen des Kunsthistorischen Institutes in Florenz. 1993, XXXVII. 2/3. p191, 194, fig.5, n.22.
Curtis, Penelope, Depth of Field: the place of relief in the time of Donatello, Leeds: Henry Moore Institute, 2004
Motture, Peta, The Culture of Bronze. Making and Meaning in Italian Renaissance Sculpture, London (V&A), 2019, pp. 232-233
McHam, Sarah, 'Voids Matter: Donatello's Lamentation' in McHam, Sarah Blake (ed.), Studies in Renaissance art and cultures in honor of Debra Pincus, Artibus and historiae (2017), no. 76 (38), pp.77-93
MacGregor, Neil and Langmuir, Erika, Seeing Salvation: images of Christ in art, London, BBC, 2000
Syson, Luke, Renaissance Siena: art for a city, London, National Gallery, 2007

Labels and date
the lamentation over the dead christ
About 1455–60
Donatello (about 1386–1466)
This dramatic relief shows the dead Christ supported by his mother Mary
and encircled by other mourners, including St John the Evangelist and Mary Magdalene. It was not fully worked after casting, perhaps because it was a trial piece for a commission, but its
rough appearance seems appropriate to the raw emotion evident in the figures.
Italy, possibly Siena
Bronze
Museum no. 8552-1863 [2009]
Materials
Bronze
Techniques
Cast
Subjects depicted
Lamentation
Categories
Access to Images; Images Online; Christianity; Metalwork; Religion; Sculpture
Collection
Sculpture Collection