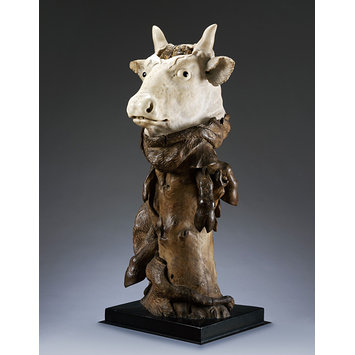 Head of an ox
Object:
Place of origin:
Date:

2nd half 17th century (made)

Artist/Maker:
Materials and Techniques:

Marble and wood.
In a report dated 6 February 2015, analysis of the wood identified it as an alpine pine, probably <i>Pinus cembra</i>.

Museum number:
Gallery location:
This head of an ox, carved in marble and resting on a wooden tree trunk, contains an unusual curiosity. In the centre of the ox's head is a cavity in which rests a 'stone' identified as an osteoma, a new piece of bone growing on another (typically a skull) which was originally thought to be the fossilised or petrified brain of an ox. This may have been based on an event in Padua in 1670, when a hardened mass of bone was discovered inside a slaughtered ox.
The discovery created a sensation, as it was believed that the brain of the animal had become petrified during its lifetime. In 1933, the Natural History Museum confirmed that the huge osteoma displayed here was organic and likely to be a piece of diseased bone from a large mammal, such as an elephant or whale.
The sculpture may once have belonged to the Querini family at the Villa Altichiero in Padua, although there is no firm documentary evidence. Its theatricality was typical of the seventeenth-century fascination with naturally occurring oddities, particularly within the context of the noble and scholarly collections, where artistic objects sat alongside the naturalia they sought to emulate. This unusual sculpture, with its varied textures and bizarre subject-matter, would have provided a dramatic talking point.
Physical description
The head of an ox in white marble resting on a tree trunk body around which is wrapped the hide, with hooves attached, carved in wood. Its eyes are inlaid with black glass. There is an oval cavity in the top front section of the head where flaps of skin are peeled back to reveal a 'stone' with markings. There is a small hole in the back of the head.
Place of Origin
Padua (made)
Date
2nd half 17th century (made)
Artist/maker
Unknown (production)
Materials and Techniques
Marble and wood.
In a report dated 6 February 2015, analysis of the wood identified it as an alpine pine, probably Pinus cembra.
Dimensions
Height: 124 cm, Width: 56 cm, Depth: 53 cm, Height: 131 cm including integral pedestal, Height: 7 cm Integral pedestal, Width: 52 cm Intergral pedestal, Depth: 46 cm Integral pedestal
Object history note
The object was acquired in Venice and was at the time believed to have come from a collection of curiosities assembled in the Villa Altichiero in Padua. Its purported provenance is recorded in a letter to The Times of 24 October 1883 in which the then Curator of the Museum, John Charles Robinson, described the acquisition of the object in 1881.
The sculpture combines artistic skill with a fascination for nature and scientific curiosity. By marrying the marble head with the body of wood, the sculptor demonstrates his carving abilities, careating a variety of textures. The beast is presented upright, in a more human stance, with its skin wrapped around the tree-trunk like a cloak.
The life-size head contains what appears to be some kind of osteoma (or growth on the skull), originally thought to have been a fossilised or petrified ox brain. This proposal may have been based on event which caused a sensation in Padua in 1670 , as recorded by Sebastiano Scarabicci, a lecturer in medicine at the University of Padua. He wrote about two oxen, bought by Padre Michael Micheli of the Santa Guistina monastery. The animals were sent to the country to be fattened but one of the oxen became noticeably thinner and weaker. When the pair were slaughtered, their heads were sent to the monastery cook. The skull of the thin ox, which proved difficult to break open, was found to contain a hardened mass. This mass was believed to be the animal's petrified brain, and declared a medical marvel by Scarabicci who both published and delivered lectures about it. The Abbot of Santa Giustina is said to have presented the petrified brain to a Venetian official in Padua. It was still in an unknown Venetian collection in 1710, when the theory of the petrified brain was disproved and it was identified instead as a growth or osteoma.
This elaborately carved sculpture was believed to house the Paduan osteoma, and to have belonged to the Querini family in Villa Altichiero. However, there is no reference to this remarkable work in eighteenth-century descriptions and inventories of the Villa. More recently, the growth has been confirmed as organic, and perhaps from a large mammal, such as an elephant or whale.
Descriptive line
Marble statue of the head of an ox on a tree trunk, (North Italy) probably Padua, about 1650-1700
Bibliographic References (Citation, Note/Abstract, NAL no)
List of Objects in the Art Division, South Kensington Museum acquired during the Year 1882. London: 1883. pp. 6
Pope-Hennessy, John, assisted by Lightbown, Ronald, Catalogue of Italian Sculpture in the Victoria and Albert Museum. London: Her Majesty's Stationery Office, 1964, vol. II, cat. 679, pp.638-9, vol. 3, fig. 676.
Robinson, J.C, [Letter], The Times. 24/10/1883
Scarabicci, Sebastiano. Historica Descriptio Mirandi Naturae Effectus. 1678
Vallisneri. Considerazioni ed esperienze intorno al creduto cervello di bue impietrito, vivente ancor l'Animale. Padua, 1710, pp. 30-3
Labels and date
HEAD OF AN OX
North Italian (Paduan); second half of the 17th century
Marble and wood
A cavity in the head contains an osteoma or morbid growth at one time wrongly regarded as the fossilized brain of an ox
[1993 - 2011]
Materials
Material
Subjects depicted
Ox
Categories
Access_to_Images 2003; Sculpture; SCRAN
Collection code
SCP