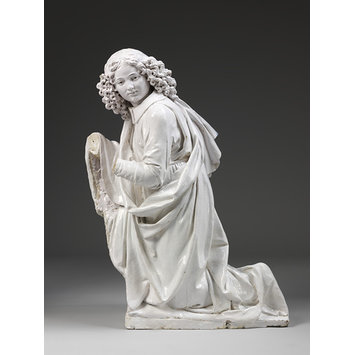 Andrea della Robbia, born 1435 - died 1525
Kneeling Angel
Object:
Place of origin:
Date:
Artist/Maker:

Andrea della Robbia, born 1435 - died 1525 (workshop, artist)

Materials and Techniques:

Tin-glaze / white enamelled terracotta

Museum number:
Gallery location:

Medieval and Renaissance, room 50b, case WN, shelf EXP
This angel forms a pair with the angel 7615-1861. They are tin-glaze terracotta made by a member of the della Robbia family, possibly Andrea or his son Giovanni. They may have formed part of a larger relief, as their hands and knees are missing.
Physical description
A kneeling Angel in white tin-glazed terracotta. The angel, which forms a pair with 7615-1861, is turned to the left and kneeling on the left knee, in a tunic (or alb) covered by a heavy cloak. The hair is parted in the centre and falls in curls decorated on each side with a single flower. The pupils are painted brown with violet eyelashes and eyebrows.
The Della Robbia family was an Italian family of sculptors and potters. They were active in Florence from the early 15th century and elsewhere in Italy and France well into the 16th. Family members were traditionally employed in the textile industry, and their name derives from rubia tinctorum, a red dye.
Luca della Robbia founded the family sculpture workshop in Florence and was regarded by contemporaries as a leading artistic innovator, comparable to Donatello and Masaccio. The influence of antique art and his characteristic liveliness and charm are evident in such works as the marble singing-gallery for Florence Cathedral. He is credited with the invention of the tin-glazed terracotta sculpture for which the family became well known.
The statue has been considerably damaged and repaired. The back has been left hollow and unfinished as the figure was intended to stand against a wall. The missing hands would probably have been part of a larger relief.
Place of Origin
Florence, Italy (made)
Date
1450-1525 (made)
Artist/maker
Andrea della Robbia, born 1435 - died 1525 (workshop, artist)
Materials and Techniques
Tin-glaze / white enamelled terracotta
Dimensions
Height: 82 cm, Weight: 61 kg, Depth: 35 cm
Object history note
Purchased as a pair (with 7615-1861) as the work of Andrea della Robbia from the so-called Gigli- Campana collection in 1861. At the time hands had been attached to both figures to replace the missing sections, but were later removed. The figure 7614-1861 suffered extensive damage in 1863 when it was dropped to the floor and smashed, but it was fully restored. The figures are similar in pose to many of the candleholders in the form of angels created by the della Robbia family, however the backs of both figures are hollow and unfinished, indicating they were meant to be placed against a wall and probably formed part of a larger relief. They may have functioned as candleholders at the sides of the relief as do the angels in a della Robbia altarpiece from the church of San Medardo in Arcevia in the Marche.
Historical significance: When part of the so-called Gigli-Campana collection the angels were attributed to Luca della Robbia and published by Migliarini showing the added hands (Migliarini, p.45). When they entered the museum they were attributed to Andrea della Robbia. Marquand revised the attribution to a member of Andrea's workshop instead of the master and suggested they were the lost angels from a commission for the Duomo in Florence. (Marquand, fig.144). Pope-Hennessy changed the attribution to a young Giovanni della Robbia based on comparison with the angels on a lavabo (or wall fountain) in Santa Maria Novella and felt that because the angels must have been part of a relief they could not have come from the Duomo (Pope-Hennessy, 231). Gentilini suggested that they most likely were candleholders "in the style of Andrea" and executed possibly by his son Marco in 1480-85 (Gentilini, 213).
Since all the della Robbia worked in the same workshop, their styles are very similar, though Luca and Andrea's work is generally considered superior. The facial expressions of the angels and the well-defined lower eyelid are similar to those found on works by Andrea della Robbia. The hazel eyes might also indicate that the work is by Andrea or directed by him as Marquand suggested that distinctions could be made based on the eye color. He noted that most often Luca's figures had blue eyes, Andrea's hazel and Giovanni's black. (Marquand, xvii). The delicacy of the faces could also suggest the hand of Andrea or his direction, as Giovanni's figures tend to have broader faces.
Historical context note
The della Robbia family was led by Luca, who is credited with the invention of applying tin glazes to terracotta sculpture in Florence. Though Luca originally trained as a goldsmith and sculptor, in the mid 15th century he turned his attention and workshop to production of tin-glazed terracotta. The medium became very popular because of its beauty and durability. It also cost much less than marble, stone or bronze sculpture. The workshop produced a variety of work ranging from religious sculpture and altarpieces, family and/or guild shields and ceiling and floor tiles. The recipe for the tin-glaze was a closely guarded secret held only by the della Robbia family and the members of their workshop. Vasari noted that the city fathers promoted it as a particularly Florentine art and encouraged its export to Europe. The pieces were cast and glazed separately, and assembled on site, which made the transport fairly easy. Luca's nephew Andrea succeeded Luca as the head of the workshop and his son Giovanni and other members of the family continued production into the mid sixteenth century.
Descriptive line
Figure, white enamelled terracotta, 'A Kneeling Angel', Workshop of della Robbia, Italy (Florence), late 15th century to early 16th century
Bibliographic References (Citation, Note/Abstract, NAL no)
Migliarini, M. Museo di sculture del Risorgimento raccolto e posseduto da Ottavio Gigli, Florence, 1858, plates 52 and 53.
Robinson, J. C., Italian sculpture of the Middle Ages and the period of the revival of art: a descriptive catalogue of the works forming the above section of the South Kensington Museum, London, 1862, p.66.
Cavalllucci, C. J. and Molinier, E. Les della Robbia, leur vie et leur oeuvre, d'apres des documents inedits, suivi d'un catalogue de l'oeuvre des Della Robbia in Italie et dans les principaux musees de l'EuropeParis, 1884,p.76, 267, no.383.
Marquand, A. Andrea della Robbia and his Atelier,vol. ii, Princeton, 1922, fig.144
Maclagan, E. and Longhurst, M., Catalogue of Italian Sculpture, London: Victoria and Albert Museum, 1932, p. 51
Pope-Hennessy, J. assisted by Lightbown, R. Catalogue of Italian Sculpture in the Victoria and Albert Museum, London, 1964, cat. 229, 230
Gentilini, G., I della Robbia, La scultura invetriata nel Rinascimento Florence, 1992, p.213 and illustration.
Inventory of Art Objects Acquired in the Year 1861 In: Inventory of the Objects in the Art Division of the Museum at South Kensington, Arranged According to the Dates of their Acquisition. Vol I. London: Printed by George E. Eyre and William Spottiswoode for H.M.S.O., 1868, p. 13
Pope-Hennessy, John. Catalogue of Italian Sculpture in the Victoria and Albert Museum. Volume I: Text. Eighth to Fifteenth Century. London: Her Majesty's Stationery Office, 1964, pp. 231, 232
Labels and date
7615-1861
Kneeling Angel
White enamelled terracotta
Workshop of della Robbia (1460s-1529/30)
Florentine; late 15th or early 16th century
This angel and its companion (displayed nearby) formed part of a larger group or altarpiece, the missing hands and knees being included in the adjoining relief (now lost). They are closely related to the early works of Giovanni, such as a lavabo in Santa Maria Novella, Florence (1497). [2004]
Materials
Terracotta
Techniques
Enamelling; Tin glazing
Subjects depicted
Angels; Robes
Categories
Sculpture; Religion; Christianity
Collection code
SCP