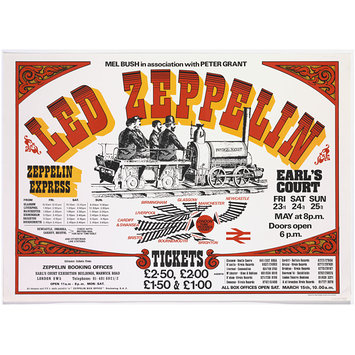 Physical Rocket
Object:
Date:
Artist/Maker:

Grainey, Peter (designer)

Materials and Techniques:
Credit Line:

Given by the Mel Bush Organisation

Museum number:
Gallery location:

Image in copyright
In 1975, Led Zeppelin released their sixth album, Physical Graffiti, a massive critical and financial success. To celebrate their triumph, the band arranged a five night residency at Earl's Court. These were the only Led Zeppelin concerts in the country in this year, and so the events sold out their entire run of 100,000 tickets.
This poster advertises the special train services organised by British Rail, arranged in association with the promoters of the event, Mel Bush. The Mel Bush company would have been aware that this kind of advertising and service creates a publicity stunt. The promotional value would not only boost sales of tickets, but raise the profile of the band to even higher levels. It is likely that there would have been enough room on normal service trains for those visiting the capital, but arriving on a special chartered service creates more excitement and willingness to travel from as far away as Glasgow.
Physical description
Illustrated 4 colour poster, advertising train times from around the country, heading towards London for concerts by Led Zeppelin. A Victorian-style print of a steam train with four men is in the middle; above this is the title of the band in capitals, printed in orange, red and black. Below the illustation is a diagram of the train lines that head towards London. The border of the poster is printed in read with embellishments at each corner. The bottom of the poster features information about where to buy concert and train tickets from.
Date
1975 (printed)
Artist/maker
Grainey, Peter (designer)
Materials and Techniques
Offset litho on paper
Marks and inscriptions
MEL BUSH in association with PETER GRANT
LED ZEPPELIN
PHYSICAL ROCKET
ZEPPELIN / EXPRESS
FROM FRI. SAT. SUN. /
GLASGOW 10.10am 12.10pm 10.10am 12.10pm 9.00am 11.30am /
LIVERPOOL 1.50pm 2.50pm 1.50pm 2.50pm.12.50pm 2.50pm /
MANCHESTER 1.55pm 2.55pm 1.55 pm 2.55pm 1.00am 2.00pm /
BIRMINGHAM 3.10pm 3.40pm 3.10pm 3.40pm 2.40pm 3.40pm /
BRIGHTON 3.12pm 4.15pm 3.12pm 4.15pm 3.12pm 4.15pm /
BOURNEMOUTH 2.40pm 3.40pm 2.40pm 3.40pm 2.40pm 3.40pm /
NEWCASTLE, SWANSEA, / CARDIFF, BRISTOL > CHECK WITH / BRITISH RAIL / FOR NEW TIMETABLE / AND OTHER MAIN / LINE STATIONS
GLASGOW / NEWCASTLE / BIRMINGHAM / MANCHESTER / LIVERPOOL / EUSTON / KINGS CROSS / CARDIFF & SWANSEA / PADDINGTON / LONDON / TUBE / TO EARL'S / COURT/ BRISTOL / WATERLOO / BOURNEMOUTH / BRIGHTON
EARL'S / COURT / FRI SAT SUN / 23rd 24th 25th / MAY at 8p.m. / Doors open 6 p.m.
TICKETS / £2.50, £2.00 / £1.50 & £1.00
Advance tickets from: / ZEPPELIN BOOKING OFFICES / EARL'S COURT EXHIBITION BUILDINGS, WARWICK ROAD / LONDON SW5 Telephone: 01-401 6921/2 / OPEN 11a.m. - 6p.m. MON - SAT. / All cheques and P.O.'s made payable to "ZEPPELIN BOX OFFICE" Enclosing S.A.E.
AGENTS / Glasgow - Apollo Centre 041/332 6055 / N'castle - Virgin Records 0632/324883 / Liverpool - Cosmopolitan 051/709 3703 / M'chester - Hime & Addison 061/834 8019 / B'gham - Virgin Records 021/236 9196 / Swansea - Virgin Records 0792/51499 / Cardiff - Buffalo Records 0222/27034 / Bristol - Virgin Records 0272/297431 / Brighton - Virgin Records 0273/28167 / Bournem'th - Setchfields 0202/26925 / London Theatre Bookings 01/439 3371 / & all branches Virgin Records 01/727 8070
ALL BOX OFFICES OPEN SAT. MARCH 15th, 10.00a.m.
Designed by Peter Grainey Graphics, Bournemouth
Dimensions
Height: 64.2 cm, Width: 90.1 cm
Descriptive line
Poster advertising Led Zeppelin, Earl's Court, 1975
Exhibition History
Theatre and Performance (Victoria and Albert Museum, Galleries 103 -106 01/01/2009-31/12/2009)
Labels and date
Led Zeppelin Physical Rocket
1975
This poster advertised a five-night residency at Earl's Court for the British rock band Led Zeppelin. As well as standard venue and ticket details, times are given for the 'Zeppelin Express'. Demand for the concerts was so great that these extra trains had to be chartered to cope with the influx of fans into London. [55 words]
Earl's Court, London
Offset litho
Designed by Peter Grainey
Given by the Mel Bush Organisation
Museum no. S.660-1985
Materials
Paper; Lithographic ink
Techniques
Offset lithography
Subjects depicted
Trains (vehicle groupings)
Categories
Entertainment & Leisure
Collection code
T&P