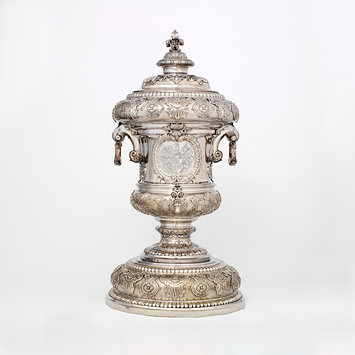 Wine fountain
Place of origin:
Date:
Artist/Maker:
Materials and Techniques:

silver, cast, chased, engraved

Credit Line:

The Rosalinde and Arthur Gilbert Collection on loan to the Victoria and Albert Museum, London

Museum number:

LOAN:GILBERT.660:1 to 3-2008

Gallery location:
This wine fountain would have been prominently displayed on a sideboard. It was used to rinse wine glasses before they were refilled to guests at the dining table. The maker, Pierre Platel, was a prestigious Huguenot goldsmith to whom Paul de Lamerie, later the most successful smith in London, was apprenticed.
When the Catholic King Louis XIV revoked the Edict of Nantes in 1685, Huguenots (French Protestants) were forced to leave the country. Many were craftsmen who settled in London. Their technical skills and fashionable French style ensured the luxury silver, furniture, watches and jewellery they made were highly sought after. Huguenot specialists transformed English silver by introducing higher standards of craftsmanship. They promoted new forms, such as the soup tureen and sauce boat, and introduced a new repertoire of ornament, with cast sculptural details and exquisite engraving.
Sir Arthur Gilbert and his wife Rosalinde formed one of the world's great decorative art collections, including silver, mosaics, enamelled portrait miniatures and gold boxes. Arthur Gilbert donated his extraordinary collection to Britain in 1996.
Physical description
Rising from a large stepped circular foot this silver two handled wine fountain of vase-shaped form is surmounted by a multi-domed and waisted lid. The circular stand with a gadrooned edge has scrolling strapwork with rosettes and shell motifs, on a punched matted ground and a second row of gadrooning. The waisted socle repeats the gadrooning and a simpler form of strap work; a central band is decorated with rosettes. The bowl of the fountain is decorated with similar strapwork, scrolls, rosettes and shell-motifs on a punched matt ground. The spout terminates in a dragon's head and the lever is of cast scroll design. The central section of the vase is highly polished and punctuated by two applied oval egg-and-dart edged cartouches surmounted by a calyx of acanthus leaves. An applied cartouche on the back contains an inscription whereas the front cartouche contains a coat of arms within an ornately chased rococo cartouche. A pair of handles hangs from scroll mounts on either side of the fountain. The bulbous rim of the urn is decorated with the strapwork, scrolls, rosettes and shell-motifs on a punched matt ground (similar to the decoration on the bowl and stand). The vase is surmounted by a gadrooned border. The double-domed lid is decorated with cut-card scroll-work punctuated by vertebrate sections. The highly waisted section between the lower and upper domes is highly polished, and the dome is covered in a chased calyx of laurel leaves. The fountain is surmounted by a fleur-de-lis finial.
Place of Origin
London (made)
Date
1713-1714 (hallmarked)
Artist/maker
Platel, Pierre (maker)
Materials and Techniques
silver, cast, chased, engraved
Marks and inscriptions
'ANNAE REGINAE
Domina sua clementissima Johannes Walter Baronettus Cleric: Comptrorotulat.r Hospitij Munificentia Regiamemor, Anno Pacis restituta, MDCCXIII Grati animi, et latitia Ergo; Ut cantharus et lanx sc sibi oftendat dum Optima Principi Salutem et fausta omnia quotidiae precatur'
With scratch weight 25=5
TO QUEEN ANNE, his most merciful lady, John Walter, Baronet, Clerk and Comptroller of Hospitality, Mindful of royal munificence in the year of Peace restored, 1713, being of thankful heart and full of happiness, Therefore prays that this large vessel and platter may show these sentiments plainly on his behalf while he daily prays health and everything auspicious for the best of Sovereigns.
The coat of arms represents Walter for Sir John Walter of Sarsden, Oxfordshire Azure a fess indented between three eagles displayed argent impaling Vernon Argent fretty sable for his second wife m. c.July 1701, Elizabeth (d. 1748), da. of Sir Thomas Vernon, of Derbyshire and Shropshire
The Walter family crest A lion's gamb erased argent is engraved on the lower rime of the detachable lid.
Sir Walter received Court approbation through his appointment on 18 February 1711 as clerk comptroller of the Green Cloth with a salary of £500, a post to which, with its duties of keeping table at court, he was eminently suited. He remained in that office until 1716.
London hallmarks for 1713-14
Mark of Pierre Platel
Coat of Arms
The arms are Azure, a fess indented between three eagles displayed argent for Walter impaling, argent a fret sable for Vernon for Sir John Walter (c. 1673-722) and his wife Elizabeth, daughter of Sir Thomas Vernon with the Walter crest, 'A lion's gamb erased argent'. Sir John Walter of Sarsden Oxfordshire was Clerk of the Green Cloth in the Royal Household and Member of Parliament for Oxford. Sir John Walter was the son of Sir William Walter and Lady Mary Tufton, daughter of John, Earl of Thanet. John was born after 1671.
Dimensions
Height: 64 cm, Width: 35 cm approx., Depth: 41.4 cm, Diameter: 20 cm of foot, Weight: 12840 g
Object history note
The wine fountain was presented to Sir John Walter by Queen Anne in recognition of his role at Court as clerk comptroller of the Green Cloth.The Clerk of the Green Cloth was a position in the British Royal Household. The clerk acted as secretary of the Board of Green Cloth, and was therefore responsible for organising royal journeys and assisting in the administration of the Royal Household. From the Restoration, there were four clerks (two clerks and two clerks comptrollers). Each clerk had a salary of £500, with lodgings, diet, fees on the signing of contracts and ancient rights of 'Wast, Command and Remaines', i.e., leftover provisions, which was replaced with an allowance of £438 in 1701, increased to £518 in 1761 (making a total of £1018).
Sir John Walter served as as First Clerk Controller, Second Clerk Controller and then Second Clerk from 1711-1716 (Data from 'The household below stairs: Clerks of the Green Cloth 1660-1782', Office-Holders in Modern Britain: Volume 11 (revised): Court Officers, 1660-1837 (2006), pp. 403–40.British History online)
Walter was one of a small group of wine-bibbing Tories who came together under the Duke of Beaufort's lead in July 1709 to establish the 'Board of Brothers', and he became a regular participant in the Board's proceedings. In June 1710, as prospects of peace began to materialize, he showed a characteristic concern that Parliament should lose no time in restoring regulations allowing the direct import of French wines from France. But in addition to his enthusiasm for French wine, Walter had also emerged as a High Church champion of Dr Sacheverell, voting against the impeachment early in 1710, and in July extending 'noble' hospitality to the doctor at Sarsden. Walter's alcoholic reputation seems to have inspired the Whigs to claim in print that he had got Sacheverell so excessively drunk that he was 'laid flat under the table', permitting the Whig jest that the 'pillar of the Church' had been made to seem 'Low Church'. This was vehemently repudiated in a wide-ranging Tory vindication of the doctor in which was printed a letter, dated 4 Jan. 1711, purportedly penned by Walter to Sacheverell, solemnly testifying that the charge was sheer fabrication.
As Sir John Walter set about composing his will in October 1718 it was his 'earnest desire' that the silver wine fountain with which the Queen had presented him in acknowledgement of his services to her household should be retained at his residence at Sarsden, 'that the same may be therein perpetually preserved in remembrance of my duty and gratitude to her said late Majesty and of the honour I bear to her memory'.
Add. 49360, f. 100; Norf. RO, Ketton-Cremer mss, James to Ashe Windham*, 28 Sept. 1714; PCC 64 Richmond.
http://www.historyofparliamentonline.org/volume/1690-1715/member/walter-sir-john-1674-1722 accessed 26/10/2016
Historical context note
A wine fountain was placed on the sideboard and used to dispense water for rinsing used wine glasses so they could be refilled and presented to guests seated at the dining table.
Descriptive line
Silver wine fountain, London hallmarks for 1713-14, mark of Pierre Platel
Bibliographic References (Citation, Note/Abstract, NAL no)
Schroder, Timothy, ed. The Gilbert Collection at the V&A. London (V&A Publishing) 2009, p. 38, pl. 23. ISBN9781851775934
http://www.historyofparliamentonline.org/volume/1690-1715/member/walter-sir-john-1674-1722 accessed 26/10/2016

Labels and date
(Gallery 71, case 3)
5. Wine fountain
1713–14
Wine fountains would have been prominently displayed on sideboards. They were used to rinse used wine glasses before they were refilled for guests seated at the dining table. Pierre Platel was a respected Huguenot goldsmith. Paul de Lamerie was his most famous apprentice.
London, England; Pierre Platel (about 1664–1719)
Silver
Presented by Queen Anne to her courtier Sir John Walter (about 1674–1722), who displayed it at his home Sarsden in Oxfordshire.
Museum no. Loan:Gilbert.660:1 to 3-2008 [16/11/2016]
Materials
Silver
Subjects depicted
Cut-card work; Gadroons; Shells; Cartouches; Dragon's head; Calyx (plant form); Laurel (foliage); Rosettes; Scroll-work; Finials; Fleurs-de-lis; Coats of arms; Acanthus; Strapwork; Egg and dart moldings
Categories
Containers; Drinking; Metalwork
Production Type
Unique
Collection
Metalwork Collection