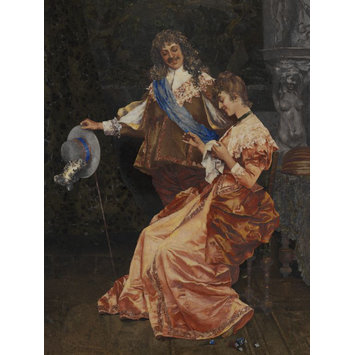 Flirtation
Object:

Firescreen with pietre dure panel

Place of origin:
Date:
Artist/Maker:

Sandrini, Antonio (mosaicist)
Vinea, Francesco, born 1845 - died 1902 (painter)

Materials and Techniques:

Carved and gilt wood; pietre dure.

Credit Line:

The Rosalinde and Arthur Gilbert Collection on loan to the Victoria and Albert Museum, London

Museum number:
Gallery location:

Gold, Silver and Mosaics, Room 73, The Rosalinde and Arthur Gilbert Galleries, case North Wall []
Pietre dure means 'hard stones' in Italian. Mosaics of hardstones, or commessi di pietre dure, were made during the Roman Empire and throughout the medieval period. But it was not until the Renaissance in Florence that the technique was perfected, under the impulse of Ferdinando I de' Medici (r.1587-1609), Grand Duke of Tuscany who united the city's workshops and channelled their creativity into one organisation, the Opificio delle Pietre Dure.
Sir Arthur Gilbert and his wife Rosalinde formed one of the world's great decorative art collections, including silver, mosaics, enamelled portrait miniatures and gold boxes. He donated his extraordinary collection to Britain in 1996. Arthur Gilbert was also fascinated by the evolution of pietre dure and purposefully acquired 16th-century masterpieces as well as 20th-century creations.
Arthur Gilbert amassed a great collection of Florentine pietre dure dating from the 1850s onwards. As international competition increased, Florence mosaicists and painters developed fashionable figurative mosaics depicting scenes from everyday life or costumed characters. The Sandrini workshop was praised for its skilful rendering of an array of shades through stones.
To find out more about the making of pietre dure, watch the video Making a Pietre Dure panel: http://www.vam.ac.uk/content/videos/m/video-making-a-pietre-dure-panel
Physical description
A firescreen with a circular spreading base and gilt-wood rectangular frame decorated with foliage and scrolls. The frame is surmounted by a crown within an escutcheon with a Florentine lily. The nineteenth-century mosaic panel depicts a chivalric scene imaginging a seventeenth-century cavalier and lady dress in a room decorated in the baroque taste, with a figural chimneypiece and a draped table with a lute; the lady in a light coral coloured dress seated on a chair engaged in needlework; the cavalier with blue sash, stick and hat standing next to her and observing her work.
Place of Origin
Florence (made)
Date
late 19th century (made)
Artist/maker
Sandrini, Antonio (mosaicist)
Vinea, Francesco, born 1845 - died 1902 (painter)
Materials and Techniques
Carved and gilt wood; pietre dure.
Marks and inscriptions
An inscription incised on the reverse reads: DIPINTO DAL PROF. F. VINEA / FLIRTATION / ESEGUITO IN MOSAICO A FIRENZE VIA DEI FOSSI NO. 4 NEL LABORATORIO DI A. SANDRINI DIRETTO DA GINO PANERAI.
PAINTED BY PROF. F.[RANCESCO] VINEA / FLIRTATION / EXECUTED IN MOSAIC IN FLORENCE, VIA DEI FOSSI 4, IN THE WORKSHOP OF A[NTONIO] SANDRINI UNDER THE DIRECTION OF GINO PANERAI
Dimensions
Height: 147 cm, Width: 79.5 cm, Depth: 8.8 cm, Height: 58 cm, Width: 43.5 cm, Depth: 1.2 cm
Object history note
Despite its long history as the birthplace of pietre dure and centre for its production, by the 1850s, Florentine workshops were felt to have stagnated. They were criticised for a lack of innovation, for producing repetitive designs. As a result, they revived one of the traditions of Grand Ducal workshop and returned to pictorial plaques rather than panels integrated in objects. They inaugurated a new pictorial genre, referring to 'the tastes of Romanticism that could express the values of national unity' (Massinelli, p. 81) - Italy was only officially unified and created in 1861. References to the country's glorious past were extremely popular, either portraits of its historical figures such as Dante Alighieri (Giocondo Torrini, c. 1865, ill. Massinelli, fig. 40., p. 82) or costumed, often in 17th and 18th-century styles, such as here, and later in the 19th century in antique Roman, or Neo-Pompeian style (see LG 80-2008). Extremely popular was also the depiction of figures in traditional costume and peasants at work in the fields or at rest, evoking the charm of the tranquil life in Italian's countryside and its regional folklore.
For mosaicists, the intention was also to elevate Pietre Dure to an intellectual art and not solely a highly skilled craftsmanship. This trend was pioneered by the mosaicist Giovanni Montelatici, who sought to push pietre dure production by either copying iconic Florentine old Master paintings or collaborating with contemporary painters, and honing fine techniques with stones to achieve this.
This panel was made after a painting entitled Flirtation by Francesco Vinea (1845-1902), a little-known artist, besides his chivalric scenes drawn from French literature which became very popular in the 1870s and largely copied by mosaicists. This scene is probably one of the greatest achievement of Antonio Sandrini, especially the rendering of their facial expressions.
Antonio Sandrini established his name in the last quarter of the 19th century, but the workshop he took on along with his brothers Carlo and Felice had a long history, dating to 1820. It was praised as exemplary of the advances made in Florentine mosaics and regularly participated in Universal Exhibitions, including those in Paris (1867, 1878) and Boston (1883), among the renowned artists representing the art of Florentine mosaics.
Certainly by the time this panel was made, towards the end of the 19th century, Sandrini's workshop was under the directorship of Gino Panerai. He had learnt his craft as an apprentice to Sandrini from a young age and appears to have been highly praised for his aptitude – even referred to as 'the most skilled worker in this art' in an 1899 journal Arte, Industria e Commercia. In 1900, he received an honourable mention at the Universal Exhibition, Paris. Records show that Gino Panerai also worked with Giovanni Montelatici: a preliminary drawing of a mandolin palyer, in the Montelatici Archives, dated 1892 and signed by Panerai, is inscribed 'sold May 5, '93' in reference to the pietre dure panel which has not yet been traced.
Provenance
Sale, Christie's, London, 02/06/1995, lot 169.
Spotlight on Conservation
This plaque demonstrates a remarkable and elaborate technique, that could almost be called 'micro-pietre dure'. Details such as the hair, lips and the folds of the garments are made of minute pieces of stones, the size of a splinter. For example, to render the shades of the flesh, a variety of Tuscan pink stones have been used: Carnicino; Dazzini; Corallina Rosa and Porta Santa. The joints are barely noticeable to the naked eye, creating the perfect illusion of a painting.
The combination of hard and soft stones, such as the hem of the skirt and the jacket, poses a real challenge for the finish and conservation of the object. The stones must be polished individually according to their hardness to achieve a unified polished surface. Some of the soft stones, with a softer surface, have previously been over-polished.
The black Belgian marble of the background, however, has become light grey due to light exposure, which is a common problem – even stone paintings are not eternal.

Bibliographic References (Citation, Note/Abstract, NAL no)
Massinelli, Anna Maria with contributions by Jeanette Hanisee Gabriel. Hardstones: The Gilbert Collection. London: Philip Wilson Publishers Ltd. in association with The Gilbert Collection, 2000. 329 p., ill. Cat. no. 71, pp. 169-70. ISBN 0856675105.
Massinelli, Anna Maria, with contributions by Iacopo Lastrucci. Painting in Stone. Modern Florentine Pietre Dura Mosaic. Florence: Inprogress, 2014, p. 110, fig. 71. ISBN 978-88-7542-232-5.

Labels and date
[]
Materials
Wood; Gold; Hardstones; Chalcedony; Lapis lazuli; Marble; Jasper; Granite; Alabaster; Limestone; Aventurine
Techniques
Pietre dure; Carving; Gilding
Subjects depicted
Romance; Cavalier; Table; Scrolls; Foliage; Lily; Lady; Crown
Categories
Furniture
Collection
Metalwork Collection