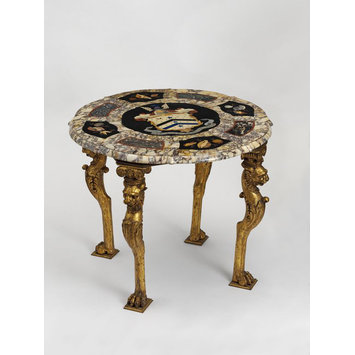 Table
Artist/Maker:
Materials and Techniques:

Marble inlay and carved, gilded wood

Credit Line:

The Rosalinde and Arthur Gilbert Collection on loan to the Victoria and Albert Museum, London.

Museum number:
Gallery location:

Gold, Silver and Mosaics, Room 73, The Rosalinde and Arthur Gilbert Galleries, case East EXP []
Pietre dure means 'hard stones' in Italian. Mosaics of hardstones, or commessi di pietre dure, were made during the Roman Empire and throughout the medieval period. But it was not until the Renaissance in Florence that the technique was perfected, under the impulse of Ferdinando I de' Medici (r.1587-1609), Grand Duke of Tuscany who united the city's workshops and channelled their creativity into one organisation, the Opificio delle Pietre Dure.
Sir Arthur Gilbert and his wife Rosalinde formed one of the world's great decorative art collections, including silver, mosaics, enamelled portrait miniatures and gold boxes. He donated his extraordinary collection to Britain in 1996. Arthur Gilbert was also fascinated by the evolution of pietre dure and purposefully acquired 16th-century masterpieces as well as 20th-century creations.
J. Darmanin & Sons were the most prominent marble makers in 19th-century Malta, then part of the British Empire. They produced tables with coat-of-arms of their British clientele, such as here for the Paxton family of Scotland. During the 1851 Great Exhibition in London, they presented a table with the royal arms of Queen Victoria and Prince Albert, now in the Royal Collection.
To find out more about the making of pietre dure, watch the video Making a Pietre Dure panel: http://www.vam.ac.uk/content/videos/m/video-making-a-pietre-dure-panel.
Physical description
Circular tabletop made from a block of breccia. The central marble medallion is inlaid with the Paxton coat of arms and motto. The outside border has alternate panels of grey breccia and panels of black marble inlaid with shell motifs. The stand consists of four one-legged lions of carved and gilded wood.
Artist/maker
Darmanin, J (maker)
Materials and Techniques
Marble inlay and carved, gilded wood
Dimensions
Diameter: 82 cm Table top, Height: 64 cm Table top and stand, Thickness: 3 cm Table top
Object history note
This table was only recently attributed to its rightful producer: The Maltese firm J. Darmanin and Sons, see Kate Hay, pp. 157-187.
The tradition of hardstone mosaics started in Malta in the 17th century, when the Knights Hospitaller of St John initiated the decoration of the Church of St John, in Valletta, with marble floor tombs spread across the entire nave. Through the 17th and 18th centuries, Italian craftsmen were called out to execute these commissions, some settled indefinitely in Malta and opened their own workshops.
The Darmanin were the most prominent marble workers in the 19th century. The dynasty was founded by Giuseppe Darmanin (1779-1863), who learnt his trade as apprentice to his maternal uncle Carlo Durante, the last member of a dynasty of Italian craftsmen who worked on the church of St John's tombstones during in the 18th century.
As Malta officially became part of the British Empire in 1814, the island became a major British naval port and a popular stopping place as visitors returned from India, and further East British trade places (Hong Kong, Singapore, Shanghai etc.) The number of ships entering the port increased considerably and brought commercial opportunities for Maltese craftsmen.
Giuseppe seized this opportunity and, in the late 1820s – early 1830s, anglicised his firm to 'John Darmanin and Sons' when his five sons joined the workshop, and tailored his production to the new British clientele. They proudly described their work 'in imitation of the Florentine Mosaic' (for customers familiar with Italian works and wishing to buy something similar on their travels (K. Hay, op. cit., p. 166).
The firm's important commissions were mainly ecclesiastical until they were commissioned to pave three principal corridors on the 1st floor of the Governor Palace in Malta, between 1858 and 1864. Other commissions to embellish the palace followed: two mantelpieces and a series of plaques commemorating royal visits to Malta, the first being the Prince of Wales, future Edward VII, in June 1862. They also developed a visual repertoire based on the history of Malta. Sir Moses and Lady Montefiore, for example, visited the Darmanin workshop in 1839 and recorded having 'ordered a small round table of the Horse and Palm tree' (K. Hay, op. cit., p. 166). They recognised them as emblems of Carthage, often found on coins. These motifs directly referred to Malta's Ancient history which was under the dominion of Carthaginian Empire (7th–3rd centuries BC) whose capital was locaed in today's Tunisia. Darmanin & Sons also proudly claimed using a 'reddish Carthage Marble', suggesting an origin from Carthaginian ruins.
Finally, Darmanin produced a number of specific commissions with English, Irish and Scottish family coats-of-arms, including the Royal family. Currently in the Royal Collection are two tables: one bearing the Royal coat-of-arms of 1816-1837, (RCIN 20591), another with the Royal arms of Queen Victoria and Prince Albert which was presented at the Great Exhibition of 1851 and for which Darmanin was awarded a prize medal (RCIN 2631). There is also a table top, circa 1850-1880, representing a vase with sprays of flowers with two Maltese crosses (RCIN 601).
After the Great Exhibition of 1851, Darmanin & Sons participated in many international exhibitions. They were the only Maltese firm to present marble mosaics and were regularly awarded prizes and medals. They are recorded at the Colonial and Indian Exhibition of 1886, after which they appear have ceased activity. Another branch, however, was opened in the 1880s by Carlo, Giuseppe's son, under the name 'C. Darmanin e figlio' and continued until 1942 when the premises were destroyed by enemy bombing.
A certain number of tables by Darmanin & Sons, especially with families' coat of arms, are recorded in public and private collections and found regularly on the art market. They were commissioned frequently by Irish and Scottish naval officers who were seeking fortunes in the British Empire rather than at home.
The present table bears the arms of the Paxton Family of Scotland but its commissioner remains a mystery. The commission would have probably not come from Paxton House, as it was the seat of the Home Family, later Milne-Home. Another possibility would be William Paxton (1744-1824), a Scottish Sailor and businessman. He established a successful business between Calcutta and London and developed Tenby into a seaside resort. He could have commissioned the table for his house, Middleton Hall, in Carmathenshire (Wales) but it seems slightly early for the production of the table. It would have most unlikely his heirs as the estate was put up for sale immediately after his death, upon William's request, to provide equal portions to his successors.
Another Paxton family has been located between Scotland and Malta. Christina Paxton (b. 1846) was the daughter of another William Paxton (b.1815) in Kilmany, Fifeshire. She is recorded as marrying Colour Sergeant John Orr, 74th Highlanders in Malta in 1872. The tomb of their daughter Marie Baillie Orr (1873-1874) lays in Pieta Military Cemetery, Malta. But their marriage is then slightly late for the date of the table. Furthermore, one would expect the table to bear both their coat of arms rather than hers.
Other tables by Darmanin & Sons in the V&A collection:
https://collections.vam.ac.uk/item/O157861/table/
http://collections.vam.ac.uk/item/O101882/table-darmanin-j/
Provenance
Mallet, London, 1974.
Spotlight on Conservation
Although barely noticeable to the naked eye, the table was once broken in two and restored. The restored areas are probably made of synthetic glass containing cobalt (as observed using a Chelsea filter) as well as coloured resins.
The stones used are mainly sourced from Italy, Greece, Turkey and North Africa, using ancient trade routes via the Mediterranean Sea. The red marble comes from North Africa, which confirms the reference by Darmanin & Sons to the use of 'red Carthaginian Marble'. Carthage was a town located in today's Tunisia and its empire developed along the coast of North Africa. The so called "Rosso Antico", used for the coral motifs for example, was, like other stones used on this table top , taken from Roman ruins.
The original blue areas on the coat-of-arms is probably made of blue obsidian, a stone which has been highly prized since Ancient Rome. The main source in Europe is the Italian volcanic islands of Lipari and Vulcano.
When looking closely at the borders of shells and coral, you can see they have been incised (carved into) to create a relief effect, which is not often seen. Traditionally, depth is rendered through different shades, with each shade of an element made of either different stones or cuts. Another example of incised details can be seen on this table in the V&A permanent collection, also by Darmanin: http://collections.vam.ac.uk/item/O101882/table-darmanin-j/ and on this table, Florence 1775, http://collections.vam.ac.uk/item/O157758/table-unknown/.

Bibliographic References (Citation, Note/Abstract, NAL no)
Massinelli, Anna Maria with contributions by Jeanette Hanisee Gabriel. Hardstones: The Gilbert Collection. London: Philip Wilson Publishers Ltd. in association with The Gilbert Collection, 2000. 329 p., ill. Cat. no. 25, pp. 90-91. ISBN 0856675105.
Hay, Kate. 'Mosaic Marble Tables by J. Darmanin & Sons of Malta.' Furniture History. Vol. XLVI, 2010, pp. 157-87.

Labels and date
[]
Materials
Marble; Jasper; Serpentinite; Obsidian; Limestone; Alabaster; Gilt wood
Techniques
Inlay (process); Carving; Gilding; Pietre dure
Categories
Furniture
Collection
Metalwork Collection