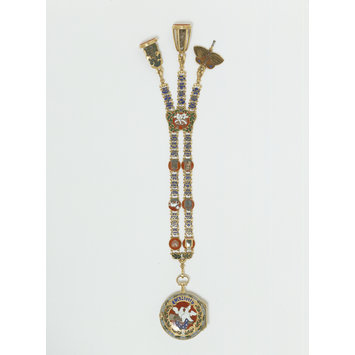 Neuber, Johann Christian, born 1735 - died 1808
Watch and chatelaine with case
Place of origin:

Dresden (city) (watchcase and chatelaine, made)

Date:

1770-85 (made)
ca. 1770 (made)

Artist/Maker:

Neuber, Johann Christian, born 1735 - died 1808 (maker)
Lépine, Jean-Antoine, born 1720 - died 1814 (maker)

Materials and Techniques:

Gold watchcase and chatelaine set with hardstone

Credit Line:

Accepted under the Cultural Gifts Scheme by HM Government from Nicholas Snowman and allocated to the Victoria and Albert Museum, 2017

Museum number:
Gallery location:
This chatelaine by Johann Christian Neuber (1736-1808), court jeweller at Dresden, has been praised by Alexis Kugel, an authority on Neuber, as the finest he ever made. Neuber specialised in the mounting of hardstones, including many varieties which were mined in Saxony.
The chatelaine is two-sided, designed to be looped around a lady's girdle. Every aspect conveys the love of the donor for his beloved. He promises in words of gold, each accompanied by a symbol, to be TENDRE, FIDEL (sic), ARDENT, SINCERE, SECRET and CONSTANT. The watchcase is decorated with the doves of Venus perched on a quiver of arrows. Above is the word 'L'AMITIE' (friendship).
The chatelaine and watch were owned by the Dowager Countess of Ashburnham when they were sold by Christie's in 1863. They were in the sale of King Farouk's collection in Cairo in 1954.
Physical description
The watch of the chatelaine is inlaid with hardstones mounted in gold with courting doves sitting on a garlanded quiver of arrows, forget-me-nots and fruiting laurel symbolising the triumph of love. Above the doves is the word 'L'AMITIE' (friendship). On the chatelaine is the declaration of the lover, each word spelt out in gold letters on a lapis lazuli ground and accompanied by a symbol inlaid into a circle of carnelian. He is 'TENDRE' (heart), 'FIDEL' (sic , dog), 'ARDENT' (altar of love), 'SINCERE' (mirror symbolising truthfulness), 'SECRET' (padlock) and 'CONSTANT' (fortress). The lovers are united for ever, 'UNIS POUR TOUJOURS', their hearts tied in a lover's knot. Geoffrey Munn (see references) interprets the pendants as depicting Adam and Eve (the first lovers), a caged owl (wisdom enslaved by love) and a butterfly (symbol of the soul), 'an allusion to time flying but love remaining'.
On the reverse, the chatelaine is decorated with forget- me-nots and laurels together with Cupid's arrows and the lamp of love.
A short section of the back rim of the case can be depressed to allow the back of the case to swing open to reveal a portrait mounted in a glazed oval compartment of the Empress Joséphine. The portrait was presumably added later to replace an earlier portrait, perhaps of the donor, which he had intended for contemplation by his beloved. The present portrait of Joséphine is after Daniel Saint. It is not known when it was inserted.
The watch has a white enamel dial with Roman hour numerals and Arabic minute numerals, 5 to 60, and the name of the maker: 'Lépine / Hger Du Roy'. The top plate of the movement is inscribed 'Lépine Horloger du Roy A . PARIS'.
Joanna Whalley, FGA, has made the following comments on the hardstones:
Jasper varieties: varigated; streaked; yellow; white; pink; bloodstone.
Agates: silicified wood (the carved hearts and tower); moss agate; prase.
Chalcedonies: carnelian; grey; reverse-painted colourless chalcedony (butterfly fob).
Lapis lazuli: good quality even colour, with pyrite inclusions; the wings of the butterfly fob contain notable calcite inclusions, whereas that behind the lettering has very little, which enhances the definition of the letters.
Turquoise: some of the turquoise contains straight layered colour zoning (visible under strong light) suggestive of odontolite; others contain small black granular inclusions and pale whitish cloud-like inclusions, more typical of turquoise. It is possible that there may be a mixture of like material present.
Garnets: dark purplish red, very few black crystalline inclusions. Most likely pyrope.

Place of Origin
Dresden (city) (watchcase and chatelaine, made)
Date
1770-85 (made)
ca. 1770 (made)
Artist/maker
Neuber, Johann Christian, born 1735 - died 1808 (maker)
Lépine, Jean-Antoine, born 1720 - died 1814 (maker)
Materials and Techniques
Gold watchcase and chatelaine set with hardstone
Dimensions
Height: 205 mm watch and chatelaine, Width: 58 mm watch and chatelaine, Depth: 23 mm watch and chatelaine
Object history note
Watch and chatelaine
Sold for £155 from the collection of the Dowager Countess of Asburnham, Christie's, London 26 March 1863, lot 104:
'A BEAUTIFUL WATCH, by Lepine, in case of gold, the back encrusted, with flowers in agate, doves, and a trophy in agate-cameo in relief, inscribed "L'Amitié," with chain, two seals, and key attached; the whole encrusted with agates and other precious materials, and with emblems in camei, inscribed "Tendre, Fidel, Ardent, Sincère, Secret, Constant, unis pour toujours." Formerly the property of Louis XIV.- in shagreen case of the period'
The title page states 'the very choice collection' was 'formed many years ago, chiefly in Italy'. Lady Charlotte Percy (1776-1862) was a daughter of the 1st Earl of Beverley, and the sister of George Percy, 5th Duke of Northumberland. She was the second wife of George, 3rd Earl of Ashburnham KG, GCH, FSA (1760-1830) by whom she had 13 children. His godparents were King George III, the Duke of Newcastle and the Dowager Princess of Wales.
Owned by King Farouk of Egypt. Sold by Sotheby's, Cairo, 10-17 March 1954, lot 457. It was bought by Kenneth Snowman for Wartski, London, and sold to Charles Taylor, a schoolmaster from Hastings, who bequeathed it to Kenneth Snowman.
This is one of twelve objects presented from the Kenneth and Sallie Snowman Collection by their son, Nicholas. Eleven were given in 2017 under the Cultural Gifts Scheme administered by HM Government. The twelfth, a ring with a cameo of Elizabeth I, was given through the Art Fund in 2016.
Kenneth Snowman (1919-2002) was described on his death by Terence Mullaly as 'one of the last leading representatives of the London art market's golden age'. His father, Emanuel Snowman, married the daughter of Morris Wartski, a pedlar in North Wales whose talents made him the owner of a Rolls-Royce with shops in Bangor and Mostyn Street, Llandudno, the 'golden half- mile' which was said to boast more royal warrants than anywhere outside London. In 1927 Emanuel made his first purchases of works of art sold by the Soviet Government, the foundation of Wartski's pre-eminence as an international dealer in Fabergé. Kenneth remembered seeing them laid out on the mantelpiece and bookshelves of the morning room of their house in Hampstead. Aiming at first to be an artist, Kenneth studied at the Byam Shaw School of Art, and earned a fee in 1939 through his illustrations, drawn more from Gray's Anatomy than from life, for the best-selling Technique of Sex written by Elliot Philipp under the pseudonym of Anthony Havil. He exhibited at the Royal Academy and the Paris Salon, but a bazaar at which Sallie Moghi-Levkine (1919-95) presided over the tombola had introduced him to the love of his life and in due course the need to find a more reliable income. He joined the family firm and, making full use of Sallie's Russian, brought to Fabergé scholarship a new energy and authority.
In an interval at the Royal Opera House on 7 January 1976 he sketched out for Sir Roy Strong a plan for the Fabergé exhibition he curated at the V&A to celebrate the Silver Jubilee, a legendary success which had 150, 000 visitors queuing down the Brompton Road, brought the hot-dog sellers over from the Science Museum, and inspired exhibitions across Europe and North America. Wartski became famous for its scholarship, exhibitions and books. Kenneth Snowman's eminence as an authority on Fabergé carried him into a short story by Ian Fleming, The Property of a Lady, later incorporated in the plot of the film Octopussy. James Bond 'looked Mr Snowman straight in the eyes' and said "Will you give me a hand?".
Kenneth Snowman wrote with even greater affection and no less authority on gold boxes. Eighteenth-Century Gold Boxes of Europe, first published in 1966, was revised in 1990. One of the great influences on Fabergé's work was Johann Christian Neuber (1736- 1808), court goldsmith at Dresden, and two examples of his work are included in Nicholas Snowman's gift.
Descriptive line
Gold watch and chatelaine mounted with hardstones, Johann Christian Neuber, Dresden; the movement by Lépine, Paris; 1770-85. Later case by Wartski.
Bibliographic References (Citation, Note/Abstract, NAL no)
Munn, Geoffrey. The Triumph of Love: Jewelry 1530-1930. London, 1993. pp. 54-5.
Kugel, Alexis (ed.). Gold, Jasper and Carnelian: Johann Christian Neuber at the Saxon Court. London, 2012. p. 213, and p. 372, no. 205.

Materials
Gold; Hardstone
Techniques
Zellenmosaik
Categories
Jewellery; Metalwork
Collection
Metalwork Collection