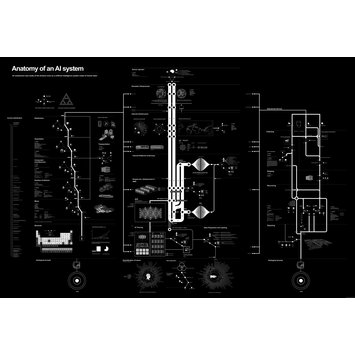 Anatomy of an AI System digital poster.
Date:
Artist/Maker:

Kate Crawford (designer)
Vladan Joler (designer)

Credit Line:

Kate Crawford and Vladan Joler

Museum number:
Gallery location:
The Anatomy of an AI project, created and designed by Kate Crawford and Vladan Joler, consists of a website, digital publication, physical publication and digital map. Published online in September 2018, the project responds to the technical and human infrastructure behind Amazon's voice assistant 'Alexa' and the Amazon Echo device that it is enabled by.
Often with the case of proprietary or closed technology such as the Amazon Alexa, it is difficult to see the infrastructure and technology behind these and other similar voice assistants. The Anatomy of an AI System project shows in detail – a result of extensive research by technology and social science researchers, as well as Joler and Crawford – the complex journey through which digitally-enabled consumer devices come to exist in society. This digital poster, to be printed at a minimum scale of 220x360 cm, is a contemporary record of obscured, inaccessible digital and corporate processes.
The result of research by AI Now Institute (which Kate Crawford co-directs with Meredith Whittaker) and SHARE Lab (of which Vladan Joler is Director), Anatomy of an AI System is a visual essay that seeks to uncover the invisible matrix of human labour, energy consumption and resource extraction that is hidden behind digital networks and artificial intelligence.
The digital map is an 'anatomical case study of the Amazon echo as an artificial intelligence system made of human labor', and details the chain of manufacture behind the Amazon Echo, and voice assistant Alexa, from distributors and shipping, constituent elements and geological processes of extraction, to data exploitation and the energy consumption of AI training methods. The map also details where public bodies, such as government, and private entities, such as companies, intersect and have influence at various points during production. When printed for exhibition, the map is printed at no less than 240x360cm.
Kate Crawford is a co-director of AI Now Institute at New York University, an interdisciplinary research center dedicated to understanding the social implications of artificial intelligence. Crawford is also Distinguished Research Professor at NYU and a Principal Researcher at Microsoft Research, and Chair of the World Economic Forum Network on AI and IoT.
Vladan Joler is a professor at the New Media department of the University of Novi Sad and leader and co-founder of SHARE Lab (labs.rs), an independent investigation group from former Yugoslavia that works with data visualization and digital forensic methodologies to expose black box technologies. Joler's other data investigations, which are detailed as an anatomical digital map, include 'Facebook Algorithmic Factory' (2016) that used data analysis and reverse engineering to expose and visualize the quantification, targeting and exploitation process hidden behind Facebook's friendly user interfaces.
Anatomy of An AI System joins the Design, Architecture and Digital collection as an example of how graphic design can be used to explore the infrastructure of digital design, both material and intangible (for example, the internet). The map and publication were first shown in public at the V&A as part of the Artificially Intelligent display (from Sep 6 - Dec 31, 2018), curated by Irini Papadimitriou.

Physical description
Digital poster.
Date
2018
Artist/maker
Kate Crawford (designer)
Vladan Joler (designer)
Descriptive line
Anatomy of an AI System digital poster in .pdf format as designed by Kate Crawford and Vladan Joler.
Collection
Design, Architecture and Digital Department