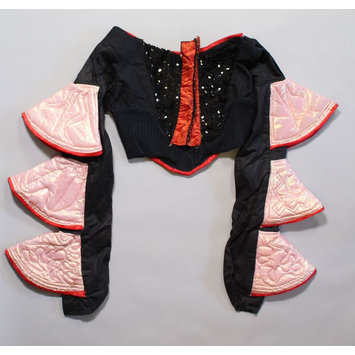 Costume by Keith Khan
Object:
Place of origin:
Date:
Artist/Maker:

Khan, Keith, born 1963 (designers)

Materials and Techniques:

Applique; Sewing; Weaving; Pleating; Silk; Lame; Metal; Cotton; Sequins

Credit Line:
Museum number:
Gallery location:
Three-part costume in tones of pink and gold, consisting of a top, wide skirt and decorative head piece designer for a stilt walker, created for Harris Museum, Preston and also used in Preston carnival, ca. 1991 (Kahn dates them to 1989).
When asked about the costume (which matches with S.35:1 to 4-2019), Keith Khan said that they were 'Produced in 1989 for the Harris Museum in Preston. The stilt costumes are unique with panels of hand crafted with hand drawn quilted panels. These were based on Trinidadian folkloric characters of the jab jab, or devil. (Stilt walkers play a key role in carnivals through Trinidad).' He noted that 'The headpieces were supported on a pole and A frame.'
Keith Khan is a multi-disciplinary artist whose work spans a broad spectrum of performances, exhibitions and carnivals in Britain and abroad between the 1980s and 2010s.
His prolific career has included designing and making costumes and sets for processions (including the Notting Hill Carnival and the Queen's Golden Jubilee Commonwealth Parade) and for the stage (including the award-wining production Alladeen and the Millennium Dome opening ceremony and 'Central Show'), to being appointed CEO of Rich Mix, an arts venue in East London, and Head of Culture for the 2012 London Olympics.
Born in Wimbledon to Trinidadian parents, Khan has played a vital role in broadening the cultural landscape of British art and performance by putting formerly marginalised voices and stories centre stage, reflecting the multiculturalism of modern Britain.
The archive (of which this costume forms a part) is a complete account of Khan's artistic and career development, showcasing his breadth of experience across the arts at both a practising and managerial level. Charting his entire career and including work preceding his studies, the archive includes his drawings, computer-aided designs and collaged mood-boards for set and costume designs; photographs and press cuttings of productions; cuttings of interviews with, or articles about, Khan; letters, faxes and email correspondence showing the ideas process and development of his projects; and business papers, including funding applications and meeting minutes.

Physical description
Three-part costume consisting of a top, wide skirt and decorative head piece, designed for a stilt walker and created for Harris Museum, Preston, ca. 1991.
S.36:1-2019 - Top
Close fitting black top with oversized sleeves. The bodice and sleeves of the top are formed from black cotton. The rear of the bodice is formed from a panel of quilted pink and gold lamé, which extends into a soft point (bound in red silk at the base). Further panels of thick rib knitted acrylic are present at the proper left and proper right front waist.
A vertical panel of orange, flame coloured, silk, runs down the centre front of the bodice. This encloses the row of eleven buttons with which the top is fastened. This panel is framed by two curved panels, each covered with black sequins.
The black sleeves are decorated with curved panels of quilted pink/gold lamé (six in total, three on each sleeves) which are embellished with decorative top stitching and edged with red silk satin.
The bodice is not lined.
S.36:2-2019 - Skirt
Wide, flared, pink and gold lamé skirt. The skirt is formed from two sections of curved quilted fabric with a 64cm vent at the centre back. The panels have a pink lame top side and gold lame underside. The base of each panel is bound with a narrow band of red silk.
The skirt is secured at the waist with a wide length of black elastic. There is also a further decorative belt, suspended from the waistband. This belt is narrow and has a dark red ground which is embellished with sequins and narrow strips of gold lamé.
The exterior of the skirt is decorated with abstract motifs formed from blue top stitching and embellished with translucent pale blue sequins.
S.36:3-2019 - Headdress

Elaborate headdress in tones of blue, silver and gold. The headdress is formed from panels of contrasting fabric in tones of blue, black and purple. It has a very tall, high crown, narrowing into a soft point at the top. This upper section is formed from a quilted royal blue silk and is decorated with top stitching. Two floating panels, formed from quilted blue silk (matching the fabric used for the crown and faced with blue lamé), hang down from each side of this upper section. They are decorated with top stitching, shaped to form a sun shaped motif.
These floating panels rest on a wider panel of black cotton, which frames a central panel of lightweight deep blue/purple fabric. Whilst the black cotton panel is plain, the blue panel is embellished with blue and silver sequins, with further decoration in the form of stylised motifs which have been positioned to create a face. Two long narrow strands of royal blue velvet hang down from either side of the hem of this central blue panel.
Two further hanging panels are suspended from the base of the crown and the base of the rear, black cotton brim. These are covered with lines shining black sequins.
The interior of the headdress is not lined.


Place of Origin
United Kingdom (made)
Date
ca.1991 (made)
Artist/maker
Khan, Keith, born 1963 (designers)
Materials and Techniques
Applique; Sewing; Weaving; Pleating; Silk; Lame; Metal; Cotton; Sequins
Dimensions
Length: 36 cm S.36:1-2019, jacket, shoulder to hem, front approximate, Length: 36 cm S.36:1-2019, jacket, shoulder to hem, back approximate, Length: 75 cm S.36:1-2019, jacket, shoulder to cuff approximate, Width: 47 cm S.36:1-2019, jacket, across shoulders approximate, Width: 36 cm S.36:1-2019, jacket, across front waist approximate, Length: 30 cm S.36:1-2019, jacket, central front panel approximate, Width: 8 cm S.36:1-2019, jacket, central panel approximate, Length: 97 cm S.36:2-2019, skirt, waist to hem, front approximate, Diameter: 69 cm S.36:2-2019, skirt, full diameter of a side panel approximate, Width: 154 cm S.36:2-2019, skirt, across front hem approximate, Length: 66 cm S.36:2-2019, skirt, decorative belt approximate, Width: 3 cm S.36:2-2019, skirt, decorative belt approximate, Length: 77 cm S.36:3-2019, headdress, orange panels, forming the crown approximate, Length: 75 cm S.36:3-2019, headdress, black cotton panel, including crimson frill approximate, Length: 151 cm S.36:3-2019, headdress, full length from top to base approximate, Width: 38 cm S.36:3-2019, headdress, across crown approximate, Width: 62 cm S.36:3-2019, headdress, across base approximate
Descriptive line
Three-part costume consisting of a top, wide skirt and decorative head piece for a stilt walker, created for Harris Museum, Preston, created for Harris Museum, Preston, ca.1991
Materials
Silk; Lame; Sequins; Braid
Techniques
Sewing; Pleating; Applied
Categories
Entertainment & Leisure; Costumes
Collection
Theatre and Performance Collection