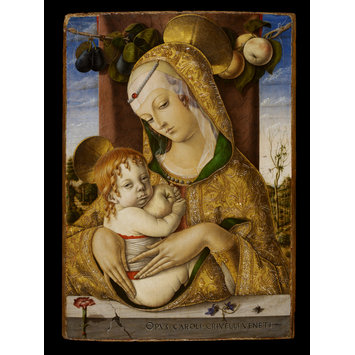 Virgin and Child
Object:
Place of origin:

Italy (painted)
Venice (possibly, painted)

Date:
Artist/Maker:
Materials and Techniques:
Credit Line:
Museum number:
Gallery location:

Medieval & Renaissance, Room 64a, The Robert H. Smith Gallery, case WS
Carlo Crivelli (ca. 1430-1495) was probably born in Venice where he may have been the pupil of Jacopo del Fiore or Giambono but his style shows also the influence of the school of Squarcione in Padua, especially his pupils: Mantegna, Marco Zoppo and Giorgio Schiavone. He had to flee Venice quite soon in his career and was living by 1465 in Zara in Dalmatia (now Zadar, Croatia), then a province of the Venetian Republic. By 1483 he had settled in Ascoli Piceno, the largest city in the southern Marches, where he died in 1495.
This painting is a small devotional picture showing a Madonna and Child embraced, standing before a parapet. The Madonna wears a lavish gilded stucco mantle in the Gothic fashion and stands before a dark red embroidered cloth of honour with on top a swag of fruits. In the background is a distant hilly landscape with green trees on the left and a leafless tree on the right, enlivened by the deep blue hues of the sky. Fruits and flowers in this composition enclose Christian symbolic meanings alluding to the life of Christ and are not therefore mere decorative devices. Pictures of this kind were very popular in the 15th century and appear to constitute an important part of Crivelli's oeuvre.
Physical description
The Virgin holding the Child in front of her, wears an elaborate gilded stucco mantle and transparent veil, and stands before a parapet on the top of which are a carnation, two violets and a fly. Behind her is a dar red embroidered cloth of honour across which hangs a swag of figs and peaches. On each side, one can distinguish a distant lansdcape with green trees on the left and a leafless tree on the right.
Place of Origin
Italy (painted)
Venice (possibly, painted)
Date
ca. 1480 (painted)
Artist/maker
Crivelli, Carlo (maker)
Materials and Techniques
tempera on panel
Marks and inscriptions
'OPUS. CA ROLI. CRIVELLI. VENETI'
'The work of Carlo Crivelli Venetian'
Painted on parapet in trompe l'oeil fashion to look like a carved inscription.
Dimensions
Height: 48.5 cm estimate, Width: 33.6 cm estimate
Object history note
An Austrian export seal on the back (F.I) suggests that it was exported from Italy before 1864, but it is not known when it was acquired by John Jones.
Bequeathed to the museum in 1882.
Ref : Parkinson, Ronald, Catalogue of British Oil Paintings 1820-1860. Victoria & Albert Museum, HMSO, London, 1990. p.xix-xx
John Jones (1800-1882) was first in business as a tailor and army clothier in London 1825, and opened a branch in Dublin 1840. Often visited Ireland, travelled to Europe and particularly France. He retired in 1850, but retained an interest in his firm. Lived quietly at 95 Piccadilly from 1865 to his death in January 1882. After the Marquess of Hertford and his son Sir Richard Wallace, Jones was the principal collector in Britain of French 18th century fine and decorative arts. Jones bequeathed an important collection of French 18th century furniture and porcelain to the V&A, and among the British watercolours and oil paintings he bequeathed to the V&A are subjects which reflect his interest in France.
See also South Kensington Museum Art Handbooks. The Jones Collection. With Portrait and Woodcuts. Published for the Committee of Council on Education by Chapman and Hall, Limited, 11, Henrietta Street. 1884.
Chapter I. Mr. John Jones. pp.1-7.
Chapter II. No.95, Piccadilly. pp.8-44. This gives a room-by-room guide to the contents of John Jones' house at No.95, Piccadilly.
Chapter VI. ..... Pictures,... and other things, p.138, "The pictures which are included in the Jones bequest are, with scarcely a single exception, valuable and good; and many of them excellent works of the artists. Mr. Jones was well pleased if he could collect enough pictures to ornament the walls of his rooms, and which would do no discredit to the extraordinary furniture and other things with which his house was filled."
.
Historical context note
The original attribution to Carlo Crivelli has long been confirmed since the bequest of the painting from the Jones collection in 1882. The composition, which probably dated around 1480 for stylistic reasons (among which the ringlets that disappear from Crivelli's oeuvre after 1482 while around the same time, the heads start casting a shadow on their haloes) reproduced the formula of Crivelli's earliest known Madonna and Child, Accademia di Carrara, Bergamo.
The painting shows the Virgin's half-length figure standing before a parapet holding the Child against her. Behind her is a dark red embroidered dossal, across which hangs a swag of fruits with figs and peaches. Reminiscent of Mantegna's art, these are not only depicted for decorative purposes but enhance the devotional significance of the image. They enclose Christian symbolical meanings and relate to the story of Christ: Redemption (peach) and Fertility (fig).
Behind the dossal or cloth of honour is a bird-view of a hilly landscape showing on the left flourishing trees and on the right an isolated leafless tree. Again, trees are symbolically important in the religious iconography and act as a link between the sky, the earth and hell. As flourishing, they allude to the regeneration whereas leafless trees stand for a prediction of death.
Furthermore, the leafless tree, an important feature in Veneto-Paduan devotional art of the 1450s, may allude to the 'Tree of Knowledge' which is believed to have survived under this form in the Earthly Paradise. This bare tree already appeared in the early Bergamo Madonna and in other compositions by Mantegna and Schiavone (see Mantegna, Agony in the Garden (1460) and Schiavone's Madonna, (late 1450s) both in The National Gallery, London).
Symbols for life and death pervade the composition, which structure reiterates this idea with the parapet, cracked all'antica, which is sometimes interpreted as an altar, alluding thus to the coming sacrifice of Christ.
On the parapet are two more symbolic flowers: the pink or carnation which relates since the Middle Ages to the Passion of Christ while violets are Marian flowers enhancing the Virgin's humility and purity. These floral symbols are counterbalanced by the fly on the parapet far right, which represents evil and justify somehow the coming sacrifice of Christ for the redemption of mankind.
Small devotional pictures of this kind were made to solicit prayers and meditation from the believer who was supposed to look at it. This is the purpose of the symbolical fruits which act as reminders of the religious credo and the reason why the Virgin and the Child are looking in two different directions so as to embrace the whole family kneeling before them,
Characteristic of Crivelli's art are the very neat and pronounced contours and the minimal albeit sharp shadowing. The golden-light palette enlivened by hues of deep blue in the sky and the pale carnation as well as the very elongated almost boneless hands may have been inspired by Netherlandish art. The very elaborate Virgin's mantle of gilded stucco (like in the Bergamo Madonna) witnesses Crivelli's taste for lavish costumes and intricate textile patterns but also betrays a somewhat archaic feature characteristic of the Gothic art.
This small devotional image seems to have been very popular among Crivelli's contemporaries as at least three replicas of it survived: (1) private collection, Venice, (2) ex-Collection Eissler, Vienna; Duveen, New York (probably autograph), (3) Ca' d'Oro, Venice (school) (Zampetti, 1961). Crivelli appears as an outstanding artist in the 15th-century Italy, whose oeuvre remarkably shows a combination of styles and influences that nonetheless depart from the prevailing interests of Renaissance artists.
Objects and images were used for protection, intercession and as votive offerings since Antiquity. Amulets, rings and talismans were common throughout the Middle Ages and the Renaissance and often had pagan and erotic imagery. Popular images were also produced expressly for the purpose of intercession, protection and instruction. In particular the Virgin, Christ and the saints were depicted, for they were considered to be advocates before God and agents of protection against evil.
Christians in the Middle Ages and Renaissance periods expressed and strengthened their faith through public rituals, such as celebration of the Eucharist, and personal devotions conducted in a private chapel, monastic cell, or simply in a secluded part of their home. In Western Europe, a form of spirituality that emphasized the emotional involvement of the faithful emerged by 1300. Believers were encouraged to contemplate events from the life of Christ, the Virgin, or the saints, as if they were present.
Images of the Virgin and Child were among the most popular images for private devotion and these were primarily small religious paintings suitable as a focus for private worship, as opposed to larger altarpieces intended for public display. Such images frequently emphasized the tender relationship between the mother and her child.
Descriptive line
A painting of the Virgin Mary with Christ child sitting on a parapet, by Carlo Crivelli, ca. 1480
Bibliographic References (Citation, Note/Abstract, NAL no)
Kauffmann, C.M., Catalogue of Foreign Paintings, I. Before 1800, London: Victoria and Albert Museum, 1973, p. 78-79, cat. no. 77
Pietro Zampetti, Carlo Crivelli, 1961, p. 85 f., fig. 82.
Depth of Field: the place of relief in the time of Donatello , Exh. cat., the Henry Moore Institute in collaboration with the Victoria and Albert Museum, 2004.
Curtis, Penelope, Depth of Field: the place of relief in the time of Donatello, Leeds: Henry Moore Institute, 2004
Ronald Lightbown, Carlo Crivelli, New Haven and London, 2004, no. 108, pp. 131, 152, 261-2, 266-9.
Franz Drey, Carlo Crivelli und seine Schule, 1927, pp. 66f, 135, pl. xlv.
Bernard Berenson, Italian Paintings of the Renaissance, 1932, p. 162.
100 Great Paintings in The Victoria & Albert Museum,London: V&A, 1985, p. 30.
Ajmar-Wollheim, Marta and Flora Dennis, At Home in Renaissance Italy, London: V&A Publishing, 2006.
Pigler, André, 'La mouche peinte, un talisman' in Bulletin des Musées Hongrois des Beaux-Arts, XXIV (1964), p. 53, fig. 40.
Baker, Malcolm, and Brenda Richardson (eds.), A Grand Design: The Art of the Victoria and Albert Museum, London: V&A Publications, 1999.

Production Note
It is generally dated pre-1490 because of the omission of the word 'Eques' in the signature: in 1490, Crivelli was knighted by Ferdinand II of Naples.
Materials
Tempera
Techniques
Painted
Subjects depicted
Fruit; Dossal; Peaches; Parapet; Tree; Fig; Violet; Carnation
Categories
Christianity; Paintings
Collection
Prints, Drawings & Paintings Collection