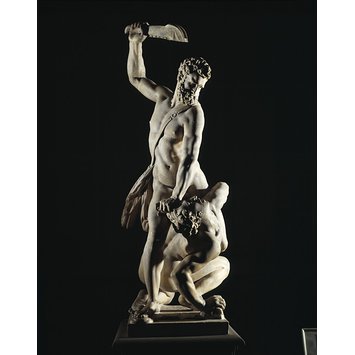 Samson Slaying a Philistine
Object:
Place of origin:
Date:
Artist/Maker:
Materials and Techniques:
Credit Line:

Purchased with Art Fund support

Museum number:
Gallery location:

Medieval & Renaissance, Room 50a, The Paul and Jill Ruddock Gallery, case FS
Samson is seen here wielding the jawbone of an ass in order to slay one of the Philistines who have taunted him. This is the earliest of the great marble groups by Giovanni Bologna (called Giambologna), and the only substantial work by the artist to have left Italy. Commissioned by Francesco de'Medici, it was subsequently set up on a fountain in Florence. In 1601 the fountain was sent to Spain as a gift to the Duke of Lerma, chief minister of Philip III of Spain, from the Grand-Duke Ferdinando I of Tuscany. The group was later presented to Charles Prince of Wales on his visit to Spain in 1623. On its arrival in England, it was given to the king's favourite, the Duke of Buckingham, and subsequently changed hands three times before coming to the Museum in 1954.
This sculpture is a good example of the multiple viewpoints seen in Giambologna's work; the spiralling movement of the bodies means that there is no single viewpoint. This contrasts with the work of the slightly later sculpture of Bernini, whose monumental works almost invariably have only one viewpoint. Despite the fact that the marble is weathered from three centuries outdoors, Giambologna's sensitive carving is still apparent.
Physical description
Samson is represented slaying a Philistine with the jaw-bone of an ass. The group rests on an irregular naturalistic base and shows Samson posed diagonally with legs apart. His weight rests on his right leg, which is set in the right front corner of the base. His left foot is held free over the left corner at the back. The crouching Philistine is set between the legs of Samson, with his right hand clutching a stone on the left front corner of the base and his left knee protruding across the right corner at the back. His left arm is clasped round Samson's left thigh, and his head is held back by Samson's left arm. He gazes up into Samson's face. Samson looks down over his shoulder at the Philistine, and raises his right arm to strike him with the jaw-bone of an ass. A loose cloak or piece of drapery is attached to a strap worn over Samson's left shoulder, and falls over his right hip. On the front of the strap is an incised inscription.
Place of Origin
Florence (made)
Date
1560-1562 (carved)
Artist/maker
Giambologna (sculptor)
Materials and Techniques
Carved marble
Marks and inscriptions
'IO ... BELGAE ...'
Incised inscription on the front of Samson's strap.
Dimensions
Height: 209.9 cm, Width: 76 cm, Depth: 66 cm, Weight: 1160 kg
Historical context note
In 1560 a commission for a Fountain of Neptune for the Piazza della Signoria, Florence, which had previously been allocated to Baccio Bandinelli, fell vacant on his death. A competition was held to decide which of the available sculptors should receive the commission. Bartolomeo Ammanati won, through influence at the Medici court and the support of Michelangelo from Rome, but the young Giambologna's full-size model (destr.) was highly praised by another great sculptor, Leone Leoni, in a letter to none other than Michelangelo.
In view of this achievement, Giambologna received his first major commission from Prince Francesco de' Medici, for an over life-size group in marble depicting Samson Slaying a Philistine (1560–62). The subject and treatment were derived from a project of Michelangelo's from the 1520s involving Samson and Two Philistines; this got no further than the stage of a model and is known only from a series of bronze aftercasts (e.g. Florence, Bargello, sometimes attributed to Pierino da Vinci). Francesco's and Giambologna's intention was therefore to render in marble (as originally intended) what might have been Michelangelo's most magnificent sculptural composition, embodying as it did all his theoretical ideals: a pyramidal or conical volume, with a flame-like contour to suggest movement, and three figures unified in action. Giambologna created a distinct variation on the theme, however, by removing the third, dead, figure from the base, thus enabling him to pierce the lower part of the pyramidal block of marble with a series of interstices, which penetrate daringly into and through the depths of the block. The technical problems involved in excavating the marble to this extent were enormous, but Giambologna welcomed the opportunity of demonstrating his virtuosity, in imitation of such Hellenistic groups as the Farnese Bull (Naples, Mus. Archeol. N.), which he had seen in Rome.
Later (1569–70) Giambologna created an oddly shaped basin, with monsters supporting it, for a fountain that he crowned with his earlier group of Samson. It is quadrilobed in plan, with four great fungus-like protrusions instead of the normal circular basin; bronze monkeys cavorted in niches below.
Taunted by the Philistines, Samson, wielding an ass's jawbone, slew a thousand of them until they lay in 'heaps and heaps' .After this labour God caused water to flow from the jaw-bone for him to quench his thirst.
Samson, one of the Old Testament Judges, is portrayed in The Bible as being of great physical strength and a womanizer. It is likely that some such historical figure existed whose legendary feats were kept alive in local story telling. The biblical author enlarged and embellished them to serve the religious and patriotic ends of Israel. The Medieval Church regarded him as one of the prefigurations of Christ. He is also the prototype of fortitude whose emblem is a broken pillar.
Descriptive line
Figure group, marble, Samson Slaying a Philistine, by Giovanni Bologna, Italy (Florence), ca. 1562
Bibliographic References (Citation, Note/Abstract, NAL no)
Evelyn, Peta in Williamson, Paul, ed. European Sculpture at the Victoria and Albert Museum. London: Victoria and Albert Museum, 1996. p.191, ill. ISBN 1851771883.
Cotman, Viccy. Fabricating the Antique: Neoclassicism in Britain, 1760-1800. Chicago; London, 2006. p. 137, and fig. 59 on p. 139.
Pope-Hennessy, John, assisted by Ronald Lightbown. Catalogue of Italian Sculpture in the Victoria and Albert Museum. Volume II: Text. Sixteenth to Twentieth Century. London: Her Majesty's Stationery Office, 1964, pp. 460-5, cat. no. 486
Raggio, Olga. Catalogue of Italian Sculpture in the Victoria and Albert Museum. Art Bulletin. Vol. L, 1968, p. 103
Avery, Charles. Giambologna, The Complete Sculpture. Oxford: 1987, pp. 18, 75-7, 253 (cat.no. 3), plates 9, 10, 83
Holderbaum, James. The Sculptor Giovanni Bologna, Phd 1959, Harvard University, published New York and London, 1983, pp. 63-71, 270, plate XXXIII, figs. 71-3, 75
Avery, Charles. Florentine Renaissance Sculpture. New York, 1970. p. 243, pl. 178, 179
Cole, M. W., Cellini and the Principles of Sculpture, Cambridge, 2002, p. 111 and fig. 46
Wittkower, R. Sculpture. Process and Principles . London, 1977, p. 156, fig. 6
Trusted, Marjorie, ed. The Making of Sculpture. The Materials and Techniques of European Sculpture. London: 2007, p. 99, pl. 172
M. Baker, '"A Peece of wondrous art": Giambologna's Samson and a Philistine and its Later Copies', Antologia di Belle Arti, 23-24 (1984), pp. 62-71.
R. Davies, 'Giovanni Bologna's "Samson and the Philistine"', The Burlington Magazine, 54 (1929), pp. 27-33
Goldberg, Edward L., 'Artistic Relations between the Medici and the Spanish Courts, 1587-1621: Part II', The Burlington Magazine (Documents for the History of Collecting: 22), CXXXVIII, 1121, August 1996, pp. 529-540
McEvansoneya, Philip, 'Vertue, Walpole and the documentation of the Buckingham Collection', in Journal of the History of Collections, 8, no. 1 (1996), pp. 1-14
Schmidt, Eike D., 'Die Überlieferung von Michelangelos verlorenem Samson-modell', Mitteilungen des Kunsthistorischen Institutes in Florenz, XL, 1/2, 1996, pp. 79-147
Di Dio, Kelley Helmstutler and Coppel, Rosario (eds.). Sculpture Collections in Early Modern Spain, Ashgate Publishing, Farnham, Surrey, England, 2013, pp. 8, 9; ill. p. 9
Warren, Jeremy, Beauty & Power: Renaissance and Baroque Bronzes from the Peter Marino Collection, London, The Wallace Collection, 2010, exh. cat. pp. 42 and 44, fig. 3
Warren, Jeremy, with contributions from Kim, S. and Kosinova, A., The Wallace Collection Catalogue of Italian Sculpture, Vol. 2, London, 2016, pp. 490-491, fig. 111.1
Labels and date
Samson Slaying a Philistine
About 1562
Giovanni Bologna, called Giambologna 1529-1608
Very few large works by Giambologna are known to have left Italy. This one was commissioned by Francesco de' Medici then sent to Spain as a gift to the king's chief minister. In 1623 it was presented to Charles, Prince of Wales on his visit to Spain, to court Philip IV's sister. The composition with Samson's hand raised on high and the figure supported on only five points shows Giambologna's great technical expertise.
Purchased with the assistance of the National Art Collections Fund [2005]
Materials
Marble
Techniques
Carved
Subjects depicted
Philistine
Categories
Sculpture; Religion; Images Online; Myths & Legends
Collection
Sculpture Collection