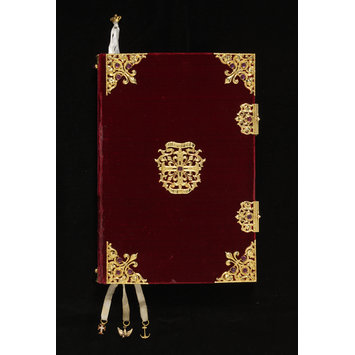 Gruel, Léon, born 1841 - died 1923
Chambord Missal
Object:
Place of origin:
Date:
Artist/Maker:

Gruel, Léon, born 1841 - died 1923 (bookbinders)

Materials and Techniques:

Ink, pigment and gold on parchment. Binding : red velvet, gilt metal, textile. Purpose-made box : black morocco. Bookmark: textile, gilt metal, enamel

Museum number:
Gallery location:
Physical description
Foliation: i-iii (19th century) + 52 + iv-vii (as ff. i-iii) ff.
Number of lines: 17 lines
Language: French and Latin
Script: Gothicizing script (imitation of a 14th-century book script).
Textual content:
ff. 8v-10r: Canon of the Mass
ff. 17r-19v: Marriage Mass ('Messe de marriage')
ff. 24r-43v: Vespers and Compline on Sundays
ff. 44r-48v: Litany of saints
ff. 49r-50v: 8 collects
ff. 51r-52v: Suffrage to St Michael
Decoration :
Each page with a frame border containing illuminated ornament and pictures. On each page are the names of the noble lady or ladies who financed the manuscript, written at the bottom right; half-way up the inner margin, one or more usually two shields with the arms of the sponsor.
Figurative scenes:
f. 1r: Arms of royalist France (Azure, three fleur-de-lys or) beneath a royal crown in a white cartouche set in a red quatrefoil on a ground of textured gold.
f. 2r: Henri IV (r. 1589-1610) on horseback welcomed at the gates of Paris
f. 3r: A lady in white with a blue cloak decorated with fleur-de-lys, symbolizing France, indicates to the infant Comte de Chambord the castle of Chambord, bought for him on his birth by public subscription.
f. 6r: Louis IV (r. 936-954) disembarking from a ship on his return from exile in 936 to unite France, greeted by nobles who offer him their swords, with a scroll inscribed Louis d'Outremer.
f. 7r: In the outer margin, Virgin and Child, standing on a half-moon, within an architectural frame.
f. 9r: Vignette in the lower margin with St Genevieve, sitting with distaff supervising sheep; an angel descends and points to two lilies; a scroll inscribed Sancta Genova at the head of the page.
f. 10v: In the outer margin, St Michael, with a banner inscribed In hoc signo vinces, slaying a dragon; in the lower margin a vignette featuring the Crowning of David.
f. 13v: Whole-page picture of an open book, the text of the Missal on the right page, the left-page miniature of the Virgin kneeling at prayer.
f. 16r: St Michael with banner and shield charged with arms of France.
f. 16v: Full-page picture of an angel in white with gold wings holding a very long scroll with a text beginning Celui qui a trouvé une bonne femme a trouvé un grand bien.
f. 17r: Half-page miniature, a copy of Raphael's painting of the Marriage of Mary and Joseph.
f. 18r: In the outer and lower borders 5 vignettes with pictures of buildings and churches.
f. 18v: Façade of the cathedral at Rheims; Joan of Arc on a horse, at the head of a procession a figure leads Charles VII on horseback to be welcomed by a group of women.
f. 22r: In outer margin a vignette, possibly Christ taking leave of Mary and Joseph.
f. 23v: Standing Virgin praying
f. 24r: Border in the form of curtains, pulled back to reveal David playing the harp.
f. 29v: In outer margin, vignette featuring St Michael; in lower margin a vignette featuring a sword and a crown with a scroll inscribed Pour Dieu, ma patrie, mon droit.
f. 30r: In outer margin a vignette featuring the Visitation
f.32v In outer margin, two panels in blue and white (waterfall and landscape with cows)
f. 34v: Panel in outer margin showing the Presentation of Christ at the Temple and vignette in the lower margin with Chambord Castle.
f. 35r: In outer margin, angel holding a retable showing the Last Supper.
f. 36v In the lower border a vignette with Last Supper, copied from Leonardo da Vinci's fresco in Santa Maria delle Grazie, Milan.
f. 37v: In upper margin, miniature of Henri IV; in outer margin three panels: crossed white flags of the Bourbon with fleur-de-lys and the letter H (for Henri); a cathedral (Chartres) with a crowd and a scroll inscribed 15 février 1594; a suit of armour and a scroll inscribed Ralliez-vous à mon panache blanc. In lower margin, panel: miniature of the coronation of Henry IV, with bishops and nobles and a scroll inscribed Sacre de Henri IV 17 février 1594.
f. 42r: "Ghent-Bruges vignette border with David in Penitence, kneeling in a garden overlooking a moat in front of a castle, copied from an early 16th-century Flemish manuscript of the).
f. 42v: In outer margin, a vignette with the Pope above a scroll Urbi et Orbi.
f. 46r: In outer margin a medallion with St Francis embracing St Dominic; in lower margin, three figures singing from a scroll of music.
f. 49r: In upper margin, a medallion with a bust portrait of Joan of Arc, between crossed white flags.
f. 50r: In the upper margin a town-crier and the words Oyez oyez; in the outer and lower margins, three vignettes featuring the cathedrals Rouen, Amiens, Beauvais.
f. 51r: In outer margin one quatrefoil vignette featuring, seated on a lily, a female saint holding an anchor; in lower margin another quatrefoil vignette picturing the Baptism of the comte de Chambord, and a scroll inscribed Baptême de Mer le duc de Bordeaux, i.e. the Comte de Chambord.
Initials:
Copies of 14th-to 16th-century initials of all kinds. A few are historiated:
f. 8v: Canon of the Mass with initial N enclosing a bust of a 19th-century priest, in black with a black skull cap.
f. 12v: Communion withinitial Q enclosing a chalice and host worshipped by two angels.
f. 37r: Initial E enclosing an enthroned king with crown and regalia.
Binding:
1844, Paris, by Léon Gruel, red velvet over boards; furniture of rich gilt corner-pieces, centrepieces and end-pieces at top and bottom of the spine, the centrepieces inscribed FIDES and SPES; two clasps hinged on upper cover; doublure of yellow textile; stamp GRUEL RELIEUR. Kept in purpose-made box of black morocco, with blind-tooled fillet frame and gold-tooled fleur-de-lys in the corners.
Bookmark: suspended from a gilt crown, three white ribbons, to which are attached a dove, an anchor and a small cross with red enamel.

Place of Origin
Paris (made)
Date
1844 (made)
Artist/maker
Gruel, Léon, born 1841 - died 1923 (bookbinders)
Materials and Techniques
Ink, pigment and gold on parchment. Binding : red velvet, gilt metal, textile. Purpose-made box : black morocco. Bookmark: textile, gilt metal, enamel
Dimensions
Height: 208 mm, Width: 135 mm, Height: 95 mm written area, Width: 60 mm written area, :
Object history note
1) Written and illuminated in 1844 for Henri Charles Ferdinand Marie Dieudonné d'Artois, Comte de Chambord (1820-1883). The manuscript was produced by the "Dames Légitimistes de France" when the Comte de Chambord became head of the house of Bourbon on the death of his uncle, Louis Antoine de Bourbon, Duc d'Angoulême, on 3 June 1844.
2) Bought by the National Art Library from Charles J. Sawyer, Grafton St, London, July 1984.
Descriptive line
Manuscript, Chambord Missal, Paris, 1844.
Bibliographic References (Citation, Note/Abstract, NAL no)
pp. 32-33.
Jonathan Voak (ed.), Victoria & Albert museum: report of the Board of Trustees, October 1983-March 1986, London, 1986.
pp. 62-63
Art & Design in Europe and America, 1800-1900, London: The Herbert Press Limited, 1987.
pp. 166, 171.
Watson, Rowan, 'New uses for medieval art: some illuminated manuscripts produced in Paris in the 1840s', in A la recherche de la mémoire. Le Patrimoine culturel. Actes du colloque organisé par la Section des Bibliothèques d'Art de l'IFLA, Paris, 16-19 août 1989, ed. by Huguette Rouit and Jean-Marcel Humbert, Munich, London, New York, Paris, 1992, pp. 166-172.
pp. 65-66.
Watson, Rowan, Illumination and illuminated manuscripts in the nineteenth century. A survey of responses in England, France and Germany to the revival of a medieval art form, London, 1997 [reproduced typescript].
pp. 144-146, 148.
Hindman, S., Camille, M., Rowe, N. and Watson, R., Manuscript illumination in the Modern Age, Evanston, Mary and Leigh Block Museum of Art, 2001.
pp. 108, 112.
Saint Martin, Isabelle, 'Rêve médiéval et invention contemporaine. Variation sur l'enluminure en France au XIXe siècle', in Renaissance de l'enluminure médiévale : manuscrits et enluminures belges du XIXe siècle et leur contexte européen, ed. by Thomas Coomans and Jan de Maeyer, Leuven: Leuven University Press, 2007.
vol. 3, no. 242.
Watson, R. Western Illuminated Manuscripts.Victoria and Albert Museum. A catalogue of works in the National Art Library from the eleventh to the early twentieth century, with a complete account of the George Reid Collection. London, 2011.

Materials
Parchment; Ink; Pigment; Gold; Velvet; Gilt metal; Textile; Morocco; Enamel; Material
Techniques
Illumination; Technique
Categories
National Art Library; Books; Manuscripts; Christianity
Collection
National Art Library