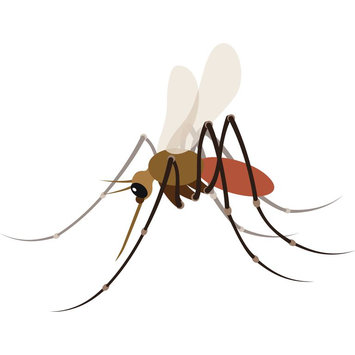 Mosquito emoji in .png format
Date:
Artist/Maker:

Aphelandra Messer (designer)

Credit Line:

Given by Aphelandra Messer

Museum number:
Gallery location:
This proposal for a mosquito emoji was created by illustrator Aphelandra Messer and was suggested by Marla Shaivitz and Jeff Chertack to the 2018 Unicode Consortium for inclusion in the 2018 set of emojis.
Emoji, meaning 'picture character' in Japanese, are small pictures that can be used for visual communication in messaging, predated by text-based emoticons. The first emoji were created under the supervision of Japanese communications planner Shigetaka Kurita by architect Jun Aoki for Nippon Telegraph and Telephone in 1999 for their "i-mode" service, and were based on weather forecast and kanji characters.
Graphic designer Aphelandra 'Aphee' Messer worked in Adobe Illustrator from a graphics tablet to create the mosquito emoji for Emojination who worked on behalf of proposers Shaivitz and Chertack. Emojination are an advocacy and lobbying group which aims to make emoji approval an inclusive, diverse and representative process, founded by Jennifer 8. Lee, a former New York Times journalist and co-founder of digital publishing company Plympton, and designer Yiying Lu. The group has supported the application and enabled the success of a number of emoji to be included in the full public set since their inception in 2015, including the dumpling, Chinese takeout box and chopsticks emoji, as well as the Aphee Messer designed hijab emoji.
As a regular designer for Emojination, Aphee Messer created the draft emoji for the successful hijab (2017), sauna (2016) and pretzel (2017) emoji proposals, among others. As of November 2017, sixteen of Messer's proposed emojis have made it through Unicode approval. A graphic designer and illustrator, Messer has worked with Warby Parker, Creative Action Network and Recovering the Classics to redesign the covers for books in the public domain in 2016, and digital literary studio Plympton in their new collection of book covers for The Subway Library, a New York Public Library and Metropolitan Transportation Authority (MTA) initiative in 2017.
Messer's mosquito emoji was attached to the proposal 'L2/17-268' which was submitted on 30 June 2017 to the Unicode Consortium. The Unicode Consortium are a non-profit corporation devoted to developing, maintaining, and promoting software internationalisation standards and data, and are responsible for the selection of emoji as it falls under Unicode standards. Unicode is a computing industry standard for the consistent encoding, representation, and handling of text expressed in most of the world's writing systems. The proposal by Marla Schaivitz, working at Johns Hopkins Bloomberg School of Public Health in the Center for Communication Programs for the Health Communications Capacity Collaborative program, and Jeff Chertack, Senior Program Officer for malaria advocacy and communications at the Bill & Melinda Gates Foundation, had awareness of mosquito-borne diseases – such as Zika, dengue, yellow fever and malaria – at the centre of the proposal's aims. The emoji is designed to be used for public health campaigns as well as by the general public to express the prevalence of the insect. In the proposal, Shavitz and Chertack also highlight a way for the emoji to be used in disease tracking, suggesting 'a high likelihood that a mosquito emoji would be used by people sharing their diagnosis.' (L2/17-268 proposal, 2017).
As of 12 February 2018, the mosquito emoji had been approved for inclusion in the 2018 emoji set (code: X1F99F) by the Unicode Consortium. The mosquito emoji had been previously proposed by virologist Dr Ian M Mackay on 23 June 2016, but was rejected by the consortium.
The full first set of emoji were acquired by the Museum of Modern Art in New York in 2016. An emoji – 'face with tears of joy' – was also the Oxford English Dictionary (OED) word of the year for 2015, with president of the OED Caspar Grathwohl defining its importance as an 'increasingly rich form of communication, one that transcends linguistic borders.' (Oxford Dictionaries, 17 November 2015).
The acquisition of the mosquito emoji as part of Rapid Response Collecting is due to the importance of emoji as a form of supralanguage, its potential application in public health campaigns and advocacy, and its proposal by Emojination, showing an increased interest and advocacy for the diversification of emoji.
The selection of the draft emoji, rather than those as redesigned and adapted by companies such as Apple and Google for their products and platforms, shows the original intent of the designer and proposers. As well as the prominent narrative for health advocacy, the proposal of an emoji by a major NGO also suggests the potential for other organisations to nominate emoji for inclusion, which could have both positive and negative repercussions. The mosquito emoji also provides a global perspective to the emoji character set, as the countries most affected by mosquito-spread diseases are disproportionately those in the Global South.
The mosquito links to the Museum's wider collection in its acquisition of public health campaign prints such as the set of Ministry of Health tuberculosis posters (1949) and Department of Health and Social Security AIDs awareness posters designed by Malcom Gaskin and David O'Connor-Thompson (1987). As an expression of visual communication online between users, the mosquito emoji also compliments the 2017 acquisition of the 'Bubble Pup' GIF set from social networking platform WeChat.

Date
2018
Artist/maker
Aphelandra Messer (designer)
Descriptive line
Mosquito emoji designed by Aphelandra Messer in .png format.
Materials
Digital
Techniques
Computer-aided design
Categories
Rapid Response Collecting
Collection
Design, Architecture and Digital Department