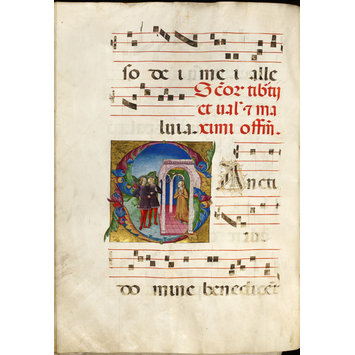 Birago, Giovanni Pietro da
Gradual in Latin
Object:
Place of origin:

Brescia (city) (made)
Italy (Made for the Dominican convent of San Domenico in Brescia, made)

Date:
Artist/Maker:

Birago, Giovanni Pietro da (made)

Materials and Techniques:

Ink, pigments and gold on parchment. Leather binding on wooden boards with brass brosses.

Museum number:
Gallery location:

Medieval & Renaissance, Room 10, case 14
This gradual, a liturgical compilation of the songs and hymns used during the celebration of the Mass, was made c. 1470-1490 in Brescia. The wreath-enclosed medallion on the first page links it to the Dominican convent of San Domenico, in Brescia, as it shows a vision received by Fra Guala, Prior of San Domenico, at the death of Saint Dominic in 1221. Guala (c. 1180-1244) saw in a dream Saint Dominic climbing a ladder held at the top by Christ and the Virgin (fol. 1r). The image stresses Dominic's holiness as well as his special connection with the convent.
Choir books tend to be large, as they were propped on lecterns in the church for members of the choir to sing from them. Vibrant historiated and decorated initials in gold and colours mark the main feasts of the liturgical year, as in the initial of Saint Michael slaying the devil at the beginning of the feast of the apparition of Saint Michael on 8 May (fol. 71r). Only on the first leaf does foliage spread into the borders while the initial features the Calling of Andrew and Peter, introducing the Vigil of St Andrew, the first feast in the Temporale (fol. 1r).

Physical description
Foliation: parchment. i (parchment, 17th-century, conjoint with pastedown) + 185, ff.186-189 added in 16th century + ii (as f.i) ff.
Number of lines: variable. Staves of 4 lines ruled in red.
Language: Latin.
Script: rounded Gothic bookhand.
Textual content:
ff. 1r-147v: Sanctorale, from St Andrew (30 Nov.) to Pope Clement (23 Nov.). Includes distinctive Brescia saints such as Apollonius of Brescia (f.98r, 7 July) and Procopius, Allesius and Philastor of Brescia (fol. 100v, 18 July).
ff. 148r-162v: Part of the Common of the Saints, with the Common of Virgins, Masses for the Holy Cross (f.153r) and the Commemoration of the Virgin for all seasons (ff.153v-162v).
ff. 163r-185v: The Creed, added in the 16th century and written over folios part of the original manuscript that have been erased.
ff.186r-189v: Introit, Offertory and Communion for various occasions. Added in the 16th century.
Decoration: 5 levels of decoration:
(1) historiated initial with full border (fol. 1r, Vigil of St Andrew))
(2) historiated initials marking feast days (ff. 5r, 9r, 15v, 18v, 25r, 39v, 48v, 54r, 57v, 61v, 67r, 71r, 75v, 84v, 94r, 100v1 112r, 117v, 134v, 136r).
(3) decorated initials marking feast days (ff. 80v, 104v, 186r, 188r).
(4) Letter-shaped minor initials covering one line of text and music, mostly 85x80mm.
(5) penwork initials, often extending into the ruled staves.
Artists: 4 artists worked on the illuminations: the Master of the Birago Hours (ff. 1r, 5r, 9r, 15v, 18v, 25r, 39v, 48v, 54r, 61v, 67r, 71r, 75v), the Ippolita Sforza Master (ff. ff. 84v, 100v, 117v and a series of initials), Giovan Pietro Birago (ff. 94r, 112r, 134v, 136r and a series of initials) and an unknown hand, who worked on a series of initials using a very distinctive palette and style.
Binding:
(1) 17th century, Italy (Brescia?): calf over wooden boards, blind-tooled ornament, brass bosses in each corner and in the centre of the boards. Metal strips and rivets.
(2) 15th century, Italy (Brescia?): wooden boards probably reused in the 17th-century binding. May have been originally attached with leather thongs.

Place of Origin
Brescia (city) (made)
Italy (Made for the Dominican convent of San Domenico in Brescia, made)
Date
ca. 1470-1490 (made)
Artist/maker
Birago, Giovanni Pietro da (made)
Materials and Techniques
Ink, pigments and gold on parchment. Leather binding on wooden boards with brass brosses.
Dimensions
Height: 565 mm, Width: 415 mm
Object history note
(1) Made for the Dominican convent of San Domenico in Brescia.
(2) Acquired by the South Kensington Museum (in the 19th century, perhaps before 1878).
Descriptive line
Manuscript, Gradual, Italy (Brescia), ca. 1470-1490.
Bibliographic References (Citation, Note/Abstract, NAL no)
p. 393
Ker, N.R. Medieval Manuscripts in British Libraries I. Oxford: 1967.
p. 149
Alexander, J.J.G. and A.C. de la Mare. The Italian manuscripts in the library of Major J.R. Abbey. London, 1969.
Alexander, J.J.G. 'Giovan Pietro da Birago, illuminator of Milan: some initials cut from choir books'. In D. S. Areford - Nina A. Rowe, Excavating the medieval image: manuscripts, artistis, audiences. Essays in onor of Sandre Hindman. Aldershot, 2004, pp. 225-237, especially pp. 234 no.29, 237.
Melograni, A. 'Quattro artisti all'opera nei corali inedit idi S. Domenico e gli esordi bresciani del giovane Birago'. In V. Grohovaz, Libri e lettori a Brescia tra medioevo e età moderna. Brescia, 2003, pp. 39-104, especially pp. 65-68.
p. 571
Bollati, M. (ed).Dizionario biografico dei miniatori italiani secoli IX-XVI. Preface by Mikós Boskovits. Milan, 2004.
vol. 2, pp. 568-577, cat. 107
Watson, R. Western Illuminated Manuscripts.Victoria and Albert Museum. A catalogue of works in the National Art Library from the eleventh to the early twentieth century, with a complete account of the George Reid Collection. London, 2011.

Labels and date
CHOIR BOOK
About 1470-1490
Music was an important part of the liturgy. This book was made for the Dominican convent of San Domenico in Brescia and includes chants to be sung on the feast days of various saints. Choir books were usually large, allowing several singers to follow the music at the same time.
Italy, Brescia
Ink on parchment with pigment and gold
Illumination attributed to several artists including the Master of the Birago Hours, the Ippolita Sforza Master and Giovan Pietro Birago
Museum no. MSL/1963/3691
Music related to the Mass can be heard at the audio point in the nearby gallery seat.
[24/03/2018]
Materials
Parchment; Ink; Pigments; Leather; Wood; Metal
Techniques
Illumination
Categories
Manuscripts; Medieval and renaissance; National Art Library; Christianity; Music
Production Type
Unique
Collection
National Art Library