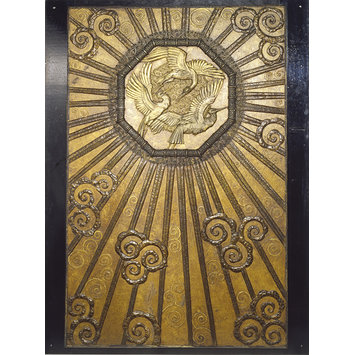 Les cigognes d'Alsace
Object:
Date:

1922 (designed)
1928 (made)

Artist/Maker:
Materials and Techniques:

Lacquer, iron, bronze and wood

Museum number:
Gallery location:

Twentieth Century, room 74, case CA5, box 23
These elevator panels were made for the London department store, Selfridges. They demonstrate how public spaces like department stores gave ordinary people access to luxury styles, as well as luxury goods. Designed by Edgar Brandt, they are typical of his work in uniting flat, stylised and geometric patterns, with organic references. The three storks (the cicognes of the title) circle around a sun, as beams of light radiate outwards. The incorporation of birds associates the panels with flight and elevation, while the shimmering, bronzed colours adds a sense of glamour.
Brandt was keen to experiment with new materials and techniques, utilising the newer electric-shot welding process. He also electroplated in various metals, creating the depth of colour that is evident here. To complete his designs, he employed hundreds of specialists.
Brandt enjoyed particular success in New York, where his complex metalwork designs echoed the ambitious steel structures rising up across the city. He quickly established the New York studio Ferrobrandt, which created interior fixtures and fittings, as well as exterior panels and doors that tied in perfectly with the strong geometrical lines of the Manhattan skyline.
Physical description
Lacquer, iron, bronze and wood panels designed by Edgar Brandt in 1922. Created for a Selfridges lift cage in 1928.
Date
1922 (designed)
1928 (made)
Artist/maker
Brandt, Edgar (designer)
Materials and Techniques
Lacquer, iron, bronze and wood
Marks and inscriptions
Plate on Circ.719:9-1971 reads 'To carry 19 Passengers'
Dimensions
Depth: 46.3 cm Circ.719:6-1971, Width: 195.2 cm Circ.719:6-1971, Depth: 46.2 cm Circ.719:7-1971, Width: 195 cm Circ.719:7-1971, Depth: 46.2 cm Circ.719:7-1971, Depth: 27.5 cm Circ.719:9-1971, Width: 194 cm Circ.719:9-1971, Depth: 27.2 cm Circ.719:11-1971, Width: 196 cm Circ.719:11-1971, Depth: 27.2 cm Circ.719:12-1971, Width: 107 cm Circ.719:12-1971, Depth: 27.5 cm Circ.719:13-1971, Width: 195.7 cm Circ.719:13-1971, Depth: 18 cm Circ.719:14-1971, Width: 152 cm Circ.719:14-1971, Depth: 17 cm Circ.719:15-1971, Width: 195 cm Circ.719:15-1971, Depth: 27.2 cm Circ.719:17-1971, Width: 48 cm Circ.719:17-1971, Depth: 33 cm Circ.719:18-1971, Width: 210 cm Circ.719:18-1971, Height: 194 cm Circ.719:2-1971, Depth: 94.7 cm Circ.719:2-1971, Height: 194 cm Circ.719:3-1971, Depth: 150 cm Circ.719:3-1971, Height: 194 cm Circ.719:10-1971, Depth: 150 cm Circ.719:10-1971
[Panel] Height: 194.5 cm, Width: 151.5 cm, Thickness: 2 cm
[Panel] Height: 195 cm, Width: 151 cm, Depth: 3 cm
[Side Panel] Height: 195 cm, Width: 27.5 cm, Depth: 3 cm
[Panel] Height: 195 cm, Width: 27.5 cm, Depth: 3 cm
Object history note
Historical significance: Henry Wilson, reviewing the metalwork in the Paris 1925 Exhibition, recognized Brandt's adoption of innovative techniques and new approaches to form and construction. Brandt's work, he wrote, 'was no longer pure smith work, but the product of the development of autogenous soldering', and his construction 'is taken up into the rhythm of design, when it comes subordinate to general form'. Gillian Naylor. 'Consicence and Consumption: Art Deco in Britain'. 'Art Deco: 1910 - 1939' (London: V&A, 2003) 238
Bibliographic References (Citation, Note/Abstract, NAL no)
London, Victoria & Albert Museum. Art Deco: 1910-1939 (London, V&A, 2003) 238. ISBN 1 85177 387 8
Categories
Woodwork; Metalwork
Collection code
FWK