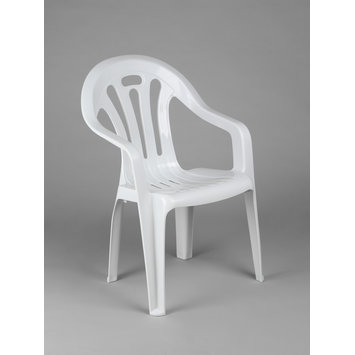 Taizhou Changheng Trado Co., Ltd
HS-011
Object:
Place of origin:
Date:
Artist/Maker:

Taizhou Changheng Trado Co., Ltd

Museum number:
Gallery location:

On display in Values of Design, Design Society, Shekou, China
'Monobloc' is a term used to describe a type of lightweight stackable chair made from a single piece of plastic (often polypropylene). Its roots can be found in the late 1960s after polypropylene was first developed in 1963, opening up the possibility for plastics to be used in furniture design. During this period many European designers began to experiment with how a chair might be formed out of a single piece of plastic. Most notably, Helmut Bätzner designed the Bofinger stackable chair (Circ.436 to 440-1970), between 1964 and 1965 and Vico Magistretti designed his 'Selene' chair (Circ.504-1973) a few years later in 1968. Both were fashioned from a single piece of compression-moulded fibreglass. Joe Colombo's 'Universale' chair however, designed from 1965-1967 (CIRC.887-1968) was an early attempt to fashion a Monobloc using injection moulded plastic, the process used to manufacture most Monoblocs today. Colombo's design included detachable feet, so that the height of the chair could be adjusted.
Today, the use of the term Monobloc is more commonly associated with a type of cheap plastic chair which has no recognisable designer, yet has become global in its sale and distribution. Although this type of Monobloc has clear links to the above-mentioned early experiments in plastic chair designs, its exact origins are uncertain, with varying claims that the first Monobloc originated in France, Canada, or Australia, either in the late 1970s or early 1980s. [2] Hundreds of millions of these relatively anonymous Monoblocs have now been produced by different companies around the world. They are both derided as ugly and cheap, but also celebrated as kitsch, and many designers have taken the anonymous Monobloc as a source of design inspiration for new projects. A good example is Maarten Baas's 'Plastic Chair in Wood' [W.10-2015], which replicates the exact shape of a Monobloc found in Shanghai, yet is formed from carved elm wood.
This particular Monobloc armchair model bears the product code HS-011 and has a distinctive shape featuring three curved holes in the backrest and a carrying handle as well as three small lozenge shaped holes in the seat. It was chosen for its similarity in shape to Maarten Baas' 'Plastic Chair in Wood', which has also been acquired for the V&A collection.
The chair was manufactured by Taizhou Changheng Trade Co.,Ltd., based in Taizhou, China. . Using its own moulds, Taizhou Changheng Trade Co.,Ltd is a manufacturer of a variety of different plastic products which include garden tools, furniture and food containers.
This chair was acquired as part of the Shekou Project, an international partnership between the V&A and China Merchant Shekou Holdings (CMSK) to open a new cultural platform called Design Society in Shekou. It was included in the inaugural exhibition, 'Values of Design', in the V&A Gallery at Design Society in a section exploring cost, copies and the creation of value.

Physical description
A white plastic chair with four legs, featuring three curved holes in the backrest and a carrying handle as well as three small lozenge shaped holes in the seat.
Place of Origin
Shanghai (manufactured)
Date
2016 (manufactured)
Artist/maker
Taizhou Changheng Trado Co., Ltd
Dimensions
Width: 57.3 cm, Height: 86.2 cm, Depth: 53 cm
Object history note
This chair set was included in 'Values of Design' at the V&A Gallery, Design Society in Shenzhen, China in 2017.
Descriptive line
Generic plastic Monobloc chair
Labels and date
Monobloc Chair
China, 2016
Plastic Chair in Wood
Maarten Baas
The Netherlands/China, 2015
The Monobloc was invented in the 1970s and became the most mass-produced chair in the world. Formed from a single piece of injection-moulded plastic, its commercial success is due to its extremely low cost. Maarten Baas' chair is an exact replica, but meticulously carved in elm wood, thereby elevating the familiar and mass-produced through craftsmanship, materials and singularity. []
Materials
Polypropylene
Categories
Interiors; Household objects; Shekou; Values of Design; Design Society
Collection
Furniture and Woodwork Collection