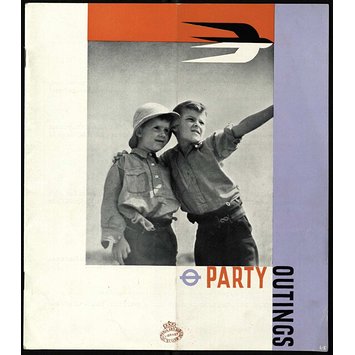 Lee-Elliott, Theyre, born 1903 - died 1988
Party Outings
Object:
Place of origin:
Date:
Artist/Maker:

Lee-Elliott, Theyre, born 1903 - died 1988 (designer)

Materials and Techniques:

single section in paper cover secured with two wire stitches through centre of spine fold

Museum number:
Gallery location:
Physical description
Party Outings

Publisher:
London Curwen Press 193?

Description:
8 unnumbered pages colour illustrations 228 mm

Notes:
Signed L-E
Title from cover

Names:
Lee-Elliott, Theyre, b. 1903
London Underground Limited



Place of Origin
uk (made)
Date
1930s (made)
Artist/maker
Lee-Elliott, Theyre, born 1903 - died 1988 (designer)
Materials and Techniques
single section in paper cover secured with two wire stitches through centre of spine fold
Dimensions
Length: 229 mm closed, Width: 202 mm closed, Depth: 2 mm closed
Object history note
Collection of examples of commercial printing and design including catalogues and books as well as a variety of ephemera such as magazine covers, promotional cards, loose sheets, book plates, book jackets, trade cards, advertisement proofs, wine labels, menu cards etc. Firms include Shell-Mex, Austin Reed, Guinness, Heals, Imperial Airways, Orient Line. Designers include McKnight Kauffer, El Lissitsky, Bawden, Bayer, Gill, Tschichold. Categories of material include architecture, broadcasting, costume, interior design, motor industry, food and drink.
In 1936 the National Art Library decided to lay the foundations of a "collection of commercial typography and to exhibit contemporary specimens from time to time so that the trend of typographic design, both in this country and abroad, could be appraised by students of industrial art". The Keeper of the Library, Philip James was largely instrumental in acquiring the material. The bulk of the collection consists of examples from the 1930s, especially 1936 - 1939, with a smattering of items from the 1940s.
The collection is further supplemented with material from the 1960s which the Library inherited from the Circulation Department of the Museum after its closure in 1978. As these two groups of material stand as historic collections in their own right, any further examples acquired by the Library have been catalogued individually and not added to this designated 'closed collection'.
Descriptive line
Party Outings. London Underground. London Curwen Press 1930s, Theyre Lee-Elliott.
Labels and date
Party outings
London, about 1933
Commissioned by the recently formed London Transport, which unified services in and around the capital, this leaflet represents an early stage of the brand developed by Frank Pick, its first CEO. The cover design incorporates the roundel, already familiar as the Underground Rail logo, and the text is printed in Edward Johnston's typeface. Outings for groups from all social classes are suggested, in keeping with Modernist ideals of health and self-improvement.
Halftone and colour offset lithography
Designed by Theyre Lee-Elliott (1903–88) for London Transport
Printed at the Curwen Press
Museum no. 38041800898264 [2018]
From 'The New Line', De La Warr Pavilion, 2016-17
Party Outings
c.1931
Designed by Theyre Lee-Elliott (b.1903 Lewes; d.1988 London, UK)
Offering ideas for group outings in the countryside and in London, this leaflet was part of a general movement of self-help and self-improvement, associated with socialist ideals. In 1938, the Holiday Pay Act gave workers the right to at least one week's paid holiday per year: launching the potential of the 'holiday' as a consumer item. This leaflet was commissioned by London Underground and printed by Curwen Press.
On loan from the Victoria and Albert Museum []
From 'The New Line', De La Warr Pavilion, 2016-17
This exhibition of commercial print from the 1930s includes material designed by Serge Chermayeff, Edward McKnight Kauffer, Paul Nash, Eric Ravilious, Graham Sutherland and László Moholy-Nagy, alongside films by Len Lye commissioned by the General Post Office Film Unit and Churchman Cigarettes.
Europe in the 1930s underwent enormous social, political, cultural and technological change. To capture some of these changes through contemporary commercial print, Philip James at the National Art Library at the Victoria and Albert Museum developed the 'Jobbing Printing Collection'. He requested samples of work from high-profile companies, artists and designers in Europe and North America, including items designed by members of the Bauhaus school, made for shops such as Fortnum & Mason, and for companies such as Elizabeth Arden, Shell and Imperial Airways.
The New Line presents a selection of items from the NAL's collection, including lifestyle and trade magazines, beauty catalogues, tourism brochures and a sample chart for stockings. It highlights how the movement of people across borders, often escaping oppressive political regimes, led to the exchange of ideas and aesthetics, and the formation of new expressions of modernity. It also shows how interconnected art, design and industry were throughout the 1930s.
Alongside material from the V&A National Art Library's Jobbing Printing Collection are items from private collections.
Researcher: Sandy Jones
[]
From 'The New Line', De La Warr Pavilion, 2016-17
Colours: Decoration of Today no.3
1936
Designed by Serge Chermayeff (b.1900 Grozny, Russia, d.1996 Wellfleet, Mass., USA)
Serge Chermayeff was multi-disciplinary designer and architect. Whilst in Britain (1924-40) he worked on significant projects such as the De La Warr Pavilion, designed with German architect Erich Mendelsohn. Chermayeff was an active member of groups such as the Modern Architectural Research Group (MARS) that supported British-based practitioners who shared the ideals of the European modern movement. This leaflet is a guide to applying colour to modern buildings.
On loan from the Victoria and Albert Museum []
From 'The New Line', De La Warr Pavilion, 2016-17
die neue linie (cover proof)
September 1929
Cover designed by László Moholy-Nagy (b.1895 Bácsborsód, Hungary; d.1946 Chicago, USA), art director Herbert Bayer (b.1900 Haag am Hausruck, Austria; d.1985 Montecito, USA)
Madam,
You and we are standing at a point, from which three paths go out into the world:
On one path, men and women with heads and wigs march and strike up the tune of the 'good old days'.
On the other path, snobs wander and proclaim with a frown that in Paris, one now extends one's eyelashes with the legs of flies and that Gloria Swanson should be the ideal of every lady.
Madam, you sense as we do, that the 'good old times' have irretrievably passed, and that a lady does not acquire her ideal from Hollywood. You know that there is a third way, that of the true lady.
die neue linie, first issue editorial, September 1929
die neue linie was a lifestyle magazine, published in Germany from 1929-43. It was designed to appeal to the middle class 'new woman' in her 'fashion, leisure time and cultural as well as professional activities.' It included contributions from leading designers, artists and writers such as Laszlo Moholy-Nagy, Walter Gropius and Thomas Mann. die neue linie showcased a range of new creative techniques such as the 'new photography' with its unexpected vantage points, photomontages of abstract and fragmented images, combining this with modern typography. Published monthly by Beyer Press in Leipzig, its art director was Herbert Bayer who had been a student and master at the Bauhaus.
Founded in 1919 in Weimar, Germany, by architect Walter Gropius, the Bauhaus was one of the most influential art schools in Europe in the twentieth century. Combining fine and applied arts, the Bauhaus aimed to unite creativity with manufacturing, believing that good design should be integrated into everyday life. In 1933, when the Nazi Party came to power, the school closed. The kind of cosmopolitan modernism that the Bauhaus championed was seen by the Nazi regime as 'degenerate'. Many members of the Bauhaus fled abroad to countries such as Britain and the United States, continuing to spread their influence as well as drawing from the different aesthetics and practices they found in these places.
JOBBING PRINTING
'The acquisition and display of items of commercial printing positioned the Victoria and Albert Museum directly in the debate on modern design for the manufacture or 'art and industry' as it was often termed at the time.' _
[]
Categories
Advertising; Tourism & Travel; London; National Art Library
Production Type
Mass produced
Collection
National Art Library