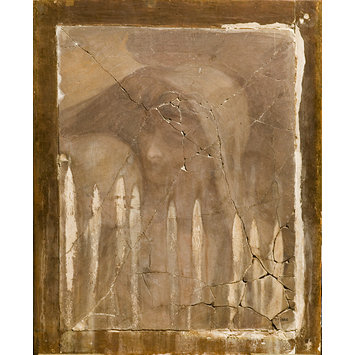 Watts, George Frederic OM, RA, born 1817 - died 1904
A study of two heads: Paolo and Francesca
Object:
Date:
Artist/Maker:

Watts, George Frederic OM, RA, born 1817 - died 1904 (painter (artist))

Materials and Techniques:
Credit Line:

Given by the Contessa Cottrell

Museum number:
Gallery location:
Date
1845 (painted)
Artist/maker
Watts, George Frederic OM, RA, born 1817 - died 1904 (painter (artist))
Materials and Techniques
Fresco
Dimensions
Height: 62.5 cm, Width: 47.6 cm
Object history note
Given by the Contessa Cottrell, 1886
George Frederick Watts was born on 23rd September 1817. He received no regular schooling on account of poor health, but later studied under the sculptor William Behnes and entered the R.A schools in 1835. In 1837 he achieved recognition for his painting The Wounded Heron (Compton Watts Gallery), which was exhibited at the Royal Academy. Watts won a prize of £300 for his painting Caractacus in the 1843 Westminster Hall competition. He travelled to Florence where he worked under the patronage of Lady Holland. On his return to England in 1847, Watts won a further prize of £500 in the Westminster Hall competition for his Alfred inciting the Saxons to prevent the landing of the Danes. Inspired by Michelangelo and with his reputation now firmly established, Watts was determined to devote himself to grand, universal themes such as Faith; Hope; Charity; Love and Life; and Love and Death. However it was as a portrait painter that he rose to the front rank, and he painted many of his eminent contemporaries including Thomas Carlyle, John Stuart Mill, William Gladstone and John Everett Millais. He was elected to the Royal Academy in 1867. In 1864 he married 16-year-old Ellen Terry and painted a charming allegorical portrait of her, Choosing, but the couple separated the following year. A major late sculpture, Physical Energy (1904, London, Kensington Gardens) is surprisingly modernistic. Watts presented many of his works to art galleries and institutions. He died on 1 July 1904.
At the time of its acquisition in 1886, and until recently, this work was called Two Female Heads. However, research has revealed that it is actually a fresco related to the story of Paolo and Francesca, the adulterous lovers from Dante's Divine Comedy. There are four famous completed versions of Paolo and Francesca by Watts. The earliest dates from c.1847 and the final version was predominantly painted between 1872 and 1875 and reworked in the early 1880s. Thus Watts' interest in the subject spanned the greater part of four decades, suggesting, as critics including David Loshak and Allen Staley have discussed, the resonance of the tale for Watts.(1)
The story of Paolo Malatesta and Francesca da Rimini has long been a popular subject for painters. William Blake, John Flaxman, Ary Scheffer, Ingres, Rossetti, Leighton, Charles Halle and Gustave Doré all found inspiration from the tale. According to Dante, Paolo and Francesca were overcome when reading the story of Lancelot and Guinevere and yielded to temptation, becoming lovers. In that moment of transgression Francesca's husband, Giovanni, lord of Rimini, discovered and killed them and by doing so condemned them to the second circle of hell where the souls are blown by the 'blast of hell that never rests from whirling.'(2) The two episodes most frequently depicted in art are the moment of the fatal kiss and the eternal buffeting of the souls by the black winds of hell. During Watts' four year stay in Italy he made sketches for a composition of the kiss (David Loshak and Katerine Gaja are both of the opinion that the fresco Paolo and Francesca (A Youth Embracing a Girl) (1845 No.259 – 1886 V&A) represents this theme), but Watts' most famous paintings of this subject are those that depict the punishment of the lovers' souls.(3) It is this episode of the tale that he depicted four times, revisiting and painting it over the course of over thirty years. The first version, which was likely to have been commenced in Italy, was exhibited at the 1848 British Institution (c.1847 Private Collection); the second (c.1865) was previously in the collection of Lord Brownlow and David Loshak; the third (c.1870 Manchester City Galleries) was owned by Watts' patron Rickards; and the fourth (c.1872-84 Watts Gallery Compton) depicts Francesca, who is nude in the earlier offerings, in drapery which highlights the dynamic wind more emphatically. This final version was described by a critic for the Art Journal as 'one of the master's crowning achievements.'(4)
David Loshak, in his article 'G. F. Watts and Ellen Terry' of 1963, mentions this work as being based on the same initial pen and ink design that also inspired the first version of Paolo and Francesca.(5) The date of this fresco is not known, but it is likely that it was executed during the latter part of Watts' period in Italy in the 1840s. It was during this time that Watts painted his first compositions based on the story of Paolo and Francesca and it was also a period where he was experimenting freely in fresco, a medium that he first encountered and explored in Italy and which came to fascinate him throughout his career.
Citations
1.) David Loshak, 'G. F. Watts and Ellen Terry' in The Burlington Magazine, Vol. 105 No. 728 (Nov 1963), p.484
2.) Dante Alighieri, Inferno, Canto V, ll.31-2
3.) David Loshak, 'G. F. Watts and Ellen Terry' in The Burlington Magazine, Vol. 105 No. 728 (Nov 1963), p.484 and Katerine Gaja, G. F. Watts in Italy: A Portrait of the Artist as a Young Man (Firenze: Leo S. Olschki Editore, 1995), p.34
4.) Art Journal (1882), p.62
5.) David Loshak, 'G. F. Watts and Ellen Terry' in The Burlington Magazine, Vol. 105 No. 728 (Nov 1963), p.485
See also Watts Catalogue (Catalogue of the Works of G. F. Watts, compiled by his widow, three unpublished manuscript volumes by M. S. Watts, begun c.1910 and continued thereafter, Watts Gallery, Compton, Surrey) for reference to the original pen and ink sketch.
Bibliography
Katerine Gaja, G. F. Watts in Italy: A Portrait of the Artist as a Young Man (Firenze: Leo S. Olschki Editore, 1995)
Veronica Franklin Gould (ed.), The Vision of G. F. Watts (Watts Gallery, 2004)
David Loshak, 'G. F. Watts and Ellen Terry' in The Burlington Magazine, Vol. 105 No. 728 (Nov 1963)
Descriptive line
Fresco, a study of two heads: Paolo and Francesca, George Frederick Watts, 1845
Materials
Watercolour; Plaster
Techniques
Fresco
Categories
Paintings
Collection
Prints, Drawings & Paintings Collection