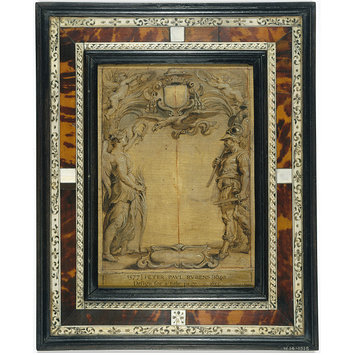 Rubens, Peter Paul, born 1577 - died 1640
War and victory: model for a title page
Object:
Date:
Artist/Maker:

Rubens, Peter Paul, born 1577 - died 1640 (painter (artist))

Materials and Techniques:
Museum number:
Gallery location:

Europe 1600-1815, Room 7, The Sheikha Amna Bint Mohammed Al Thani Gallery, case CA19
The present work is a model for a title page in a book published in Antwerp by Jan Cnobbaert in1635. Although Rubens was a prolific designer, it is one of only three known oil sketches in grisaille (monochrome painting) he made for title pages. This work is a good example of Rubens' art which blended features of the Italian High Renaissance, with which he became acquainted during an extended visit to Italy, with northern realism. Back in Antwerp in 1608 to seek work prospects on the eve of the Twelve-year Truce with Spain (1609-21), he benefited from the stimulating government and patronage of Archdukes Albert and Isabella.
Physical description
Oil sketch in grisaille depicting a male allegorical figure carrying war trophies on the right and a winged female allegorical figure extending a laurel wreath up towards an eagle with a serpent in its talons on the left; at the top two Genii crown a coat of arms with wreaths while at the bottom is a cartouche left blank.

Date
1634-1635 (painted)
Artist/maker
Rubens, Peter Paul, born 1577 - died 1640 (painter (artist))
Materials and Techniques
Oil on panel
Marks and inscriptions
'Voicy l'explication du sujet de ce tableau telle que Rubens l'avoit ecrite luy même.
'L'Arme del Sigr Infante Carde. Si compara il viaggio di S.A. ad una Aquila volante, con un serpente trà le ungue.
'Duoi Geni che coronano S.A.Sma et hanno l'ale di papilione che dinotano l'eternità della sua gloria.
'La Vittoria che porge a l'aquila una corona alloro significa che mediante la vittoria di Nordlingh e ristorate l'Imperio.
'Gli duoi arbori di palme che sostengono l'arme di S. A. designano Vittoria, e forza perche l'alzano contra il peso.
'Marte gradivo per denotar le vittorie di S. A. ottenute nel far il suo viaggio.
'Cecy etoit ecrit dela main de Rubens; sur les bords du tableau qui a été rogné pour le rendre d'une forme plus agréable, C'est le dessin d'un Frontispice de Livre intitulé le Voyage du Cardinal Infant. Il a été gravé par Marinus.'
'[Here is the explanation of the subject of this picture as written by Rubens himself.] The arms of Cardinal Infant. The voyage of his highness is compared to a flying eagle, with a serpent in its talons. The two Genii crowning [the arms of] His Serene Highness have butterfly wings, which denote the eternity of his glory. Victory holds a laurel wreath up to the eagle which signifies that Empire was restored through the victory at Nordlingen. The two palm trees supporting the arms of His Highness signify victory and strength for they hold the shield despite its weight. Mars is striding forward to indicate the victories worn by His Highness on his voyage.
'This was written by Rubens at the side of the picture which was cut down to make it more agreeable in shape. It is the design for a Frontispiece of a book entitled The Voyage of the Cardinal Infant. It was engraved by Marinus.'
The panel was originally larger and contained Rubens' descriptive notes at the sides. The remnants of these are still visible on the left. In the 18th century, while in the possession of P.-J, Mariette, the panel was cut down to within 5 mm. of the painted area and Mariette transcribed Rubens' notes on to a label still stuck on to the back of the panel.
Dimensions
Height: 28.1 cm adebenedetti, Width: 22.6 cm adebenedetti, Depth: 3.6 cm
Object history note
P. J. Mariette, sale Paris, 15 Nov. 1775, lot 15; Prince de Conti, sale Paris, 8 Apr. 1777, lot 246; De Ghent, sale Paris, 15 Nov. 1779, lot 357; Albert Hartshorne of Ashbourne, from whom purchased by the museum in 1891.
Historical context note
This painting was created as a model for a frontispiece, i.e. a title page for the Spanish edition of Diego de Aedo y Gallart's "El Memorable y Glorioso Viaje del Infante Cardenal D. Fernando de Austria" published in Antwerp by Jan Cnobbaert in1635, which recounts the voyage of the Cardinal Infante Ferdinand of Austria from Spain to Brussels where he had been appointed Governor of the Netherlands. It is one of only three known oil sketches in grisaille (monochrome painting) by Rubens for title pages.
The composition was engraved by Marinus van der Goes as Rubens very rarely engraved himself his compositions for prints. The centre has been left blank to insert the title of the book and is flanked by the God of War, Mars, on the right, and the allegory of Victory, identifiable to the palm leaves she holds in her hand, on the left. At the top, two Genii crown the coat of arms of the Cardinal Infante Ferdinand with wreaths. In the engraved editions of the book, both in French and Spanish, the position of the figures is reversed (See for example engravings in The British Museum: 1857,0314.6. (Spanish Edition), 1891, 0414.1299 and 1857,0314.7 (French edition).
This model is one of 48 known title pages that Rubens created, the majority of which were made for the Plantin-Moretus press in Antwerp for books on everything from theology, politics, history, archaeology, philology, poetry and science. Rubens' drawings for book illustrations and title pages are distinct in that they are more precise, finished and are executed by the artist's own hand. In these models, Rubens took care that his figures would appear right-handed when the design was reversed in the final print. Before the final design was engraved, a draft such as this would be submitted to the author.

Descriptive line
Oil painting, 'War and Victory: Model for a Title Page', Peter Paul Rubens, 1634-1635
Bibliographic References (Citation, Note/Abstract, NAL no)
Kauffmann, C.M. Catalogue of Foreign Paintings, I. Before 1800. London, 1973, pp. 249-250, cat. no. 308
A loan exhibition of works by Peter Paul Rubens, kt.: held under the auspices of the Royal Empire Society in aid of the Lord Mayor's National Thanksgiving Fund: October 4th- November 11th, 1950, London, 1950, no. 25, repr.
Olieverfschetsen van Rubens [tentoonstelling] Museum Boymans Rotterdam, 1953 Rotterdam, 1953.
J. Richard Judson and Carl Van de Velde, Book illustrations and title-pages, 2 vols., London-Philadelphia, 1978, vol. I, pp. 298-299, no. 72a.
Julius S. Held, The oil sketches of Peter Paul Rubens : a critical catalogue, 2 vols. Princeton, 1980, pp. 419-420, no. 305, pl. 305.
François Basan, Catalogue raisonné des différens objets de curiosités dans les sciences et arts, qui composoient le cabinet de feu Mr. Mariette..., Paris, 1775, p. 5, no. 15.
Abecedario de P. J. Mariette et autres notes inédites de cet amateur sur les arts et les artists. Ouvrage publié d'après les manuscrits autographes conservés au cabinet des estampes de la Bibliothèque impériale, et annoté par mm. Ph. de Chennevières et A. de Montaiglon, 6 vols., Paris, 1851/53-1859/60, vol. v, p. 144.
Max Rooses, L'œuvre de P. P. Rubens; histoire et description de ses tableaux et dessins, 5 vols. Antwerp, 1886-92, vol. v, pp. 352-353.
Elizabeth Bradt, 'The Title Pages of Peter Paul Rubens' The Library Quarterly, Vol. 33, No. 3 (Jul., 1963), pp. 253-257.
John Rupert Martin, The decorations for the Pompa Introitus Ferdinandi, London-New York, Phaidon, 1972, pp. 38, 41, n. 5, 47.
Frank van den Wijngaert, Inventaris der Rubeniaansch prentkunst, door Frank van den Wijngaert, Antwerp, 1940, p. 60.
Princely treasures. European masterpieces 1600-1800 from the Victoria and Albert Museum, S. Medlam and L. Miller ed., London, 2011, p. 50, illus.

Labels and date
War and Victory
1634-35
Rubens' design shows Victory with a laurel
wreath and Mars, the god of war. It celebrates
the journey to Brussels of the new governor
of the Spanish Netherlands, following the Battle
of Nordlingen. Nordlingen was celebrated as
a decisive victory for Catholic Imperial forces,
although in reality the battle widened the
conflict by drawing France into the Thirty
Years War.
Southern Netherlands, now Belgium (Antwerp)
By Peter Paul Rubens
Oil on panel
Design for a title page for El memorable y glorioso viage del infante Cardenal D. Fernando de Austria, 1635
Museum nos. D.1399-1891; W.14-1915 (frame) [09.12.2015]
Materials
Oil paint; Panel
Techniques
Oil painting; Grisaille
Subjects depicted
Palm trees; Mars; Victory; War; Cardinal's hat; Victory; Eagles (birds); Allegory; Genii; Serpents (animals); Wreath of laurel
Categories
Paintings; Designs
Collection
Prints, Drawings & Paintings Collection