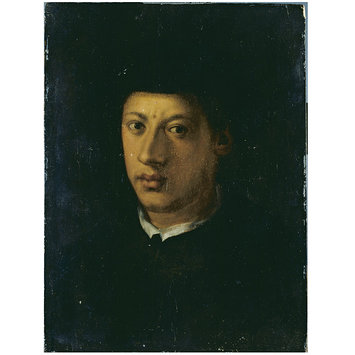 Pontormo, born 1494 - died 1556
Alessandro de' Medici
Object:
Place of origin:
Date:
Artist/Maker:

Pontormo, born 1494 - died 1556 (after)

Materials and Techniques:
Credit Line:

Bequeathed by Constantine Alexander Ionides

Museum number:
Gallery location:

Paintings, Room 81, The Edwin and Susan Davies Galleries, case EAST WALL
Jacopo Carucci (1494-1556) was born in Empoli and probably studied in Florence with Leonardo da Vinci in 1508 (Vasari), then with Piero di Cosimo, and by 1510 with Mariotto Albertinelli. Around 1512 he was an assistant of Andrea del Sarto. Pontormo enjoyed the protection of the Medici family throughout his career but, unlike Agnolo Bronzino and Giorgio Vasari, did not become court painter. His subjective portrait style did not lend itself to the state portrait. He produced few mythological works and portraits after 1540 devoted himself almost exclusively to religious subjects. Pontormo was the master of Agnolo Bronzino, the most important painter of the late Florentine mannerism.
This painting is a mid-16h century copy of a sketch executed by Jacopo Pontormo in 1534-35 in preparation of an official state portrait of Alessandro de' Medici, new Duke of Florence. It shows the young Duke in three-quarter profile, austerely dressed in black, set on a neutral dark background, his gaze facing the beholder.
Physical description
Three-quarter profile portrait of the Duke Alessandro de' Medici, austerely dressed in black with a narrow white collar. The sitter is depicted against a neutral dark background, his gaze facing the beholder.
Place of Origin
Florence (painted)
Date
ca. 1550 (painted)
Artist/maker
Pontormo, born 1494 - died 1556 (after)
Materials and Techniques
Oil on limewood panel
Dimensions
Height: 47 cm estimate, Width: 35 cm estimate, Height: 80 cm approx frame dimensions, Width: 70 cm approx frame dimensions
Object history note
Bequeathed by Constantine Alexander Ionides, 1900. The work is not mentioned in Ionides' inventory of his collection (private collection), suggesting that it belonged to his father, C. A. Ionides.
Ref: Basil S. Long, Catalogue of the Constantine Alexander Ionides collection.Vol. 1, Paintings in oil, tempera and water-colour, together with certain of the drawings, London : Printed under the authority of the Board of Education, 1925.
C. Monkhouse, 'The Constantine Ionides Collection' in Magazine of Art, vii, 1884, pp. 36-44, 208-214.
The collection formed by Constantine Ionides includes works of a wide variety of schools, periods and artists. His collection includes Old Masters, 17th century works, contemporary British works and French 19th century works. Constantine formed friendships with artists of the day, especially Legros, who, having spent 17 years in Britain, became a naturalise British citizen. Constantine proved a stable and generous buyer of Legros work, while Legros, in turn, became an advisor in the matters of art to the attentive Constantine. Under the influence of Legros Constantine developed a keen interest in French 19th century paintings purchasing works by Delacroix, Degas, Millet and Rousseau.
Constantine's plans concerning his collection conformed to a more 'public-welfare' vein of thought than his father or brother. He decided to donate his collection to the Victoria & Albert Museum, instead of privately distributing it or disposing of it in a Sales room.
His will states:
'All my pictures both in oil and water colors and crayon or colored chalks (but subject as to my family portraits to the interest herein before given to my said Wife) and all my etchings drawings and engravings to the South Kensington Museum for the benefit of the nation to be kept there as one separate collection to be called "The Constantine Alexander Ionides Collection" and not distributed over the Museum or lent for exhibition. And I desire that the said Etchings Drawings and Engravings shall be framed and glazed by and at the expense of the authorities of the Museum so that Students there can easily see them.'
The collection bequeathed to the museum in 1901 comprises 1138 pictures, drawing and prints, to which a further 20 items were added on the death of his widow in 1920. The works are listed in the V&A catalogue of the Constantine Alexander Ionides collection.
Historical context note
Historical significance:
This painting is a copy after a small preparatory study, dated 1534-35, of the head of Duke Alessandro de' Medici that was made by Jacopo Pontormo prior to executing his famous large-scale portrait now in the Philadelphia Museum of Art. Giorgio Vasari in the Lives of the most eminent painters, sculptors & architects describes the circumstances of the execution of this small sketch: '…Duke Alessandro had Jacopo informed that he wanted to be portrayed in a large painting. Jacopo, for convenience, did his portrait on a small panel the size of half-folio sheet and with a diligence and care that the works of miniaturists do not even approach; for that reason, besides its excellence likeness, there is in that head all that one would desire in the rarest paintings.'
As Karla Langedijk stated there are more than twenty known versions in both the original format and as the painting now appears, including the V&A version.
The present sheet is slightly bigger than the Chicago original and around the same size of a late 16th century copy now in the Rijksmuseum, Amsterdam. It differs however from these as it does not show the sitter wearing chain mails, a particularity that is believed to have been added later in order to give the Duke a more military appearance. The original hat have also been painted out around the same time however the poor conditions of the present painting do not allow to see if the sitter still bears a hat. The present painting may therefore have been painted just before these alterations were added to the original. These additions may have been done later, even after the sitter's death.
Alessandro de' Medici was born in 1510-11 and is believed to be the illegitimate son of either Lorenzo de' Medici (1492-1519), Duke of Urbino, or, more likely, of Cardinal Giulio de' Medici, nephew of Lorenzo the Magnificent, later elected pope under the name of Clement VII in 1523. Following the siege of Florence in 1530 which put an end to the Florentine Republic, the Medici were restored to power with Alessandro newly appointed Duke of Florence. He soon became a tyrannical ruler and was murdered by his cousin, Lorenzino de' Medici (1514 - 48), seven years later. The power then passed to Cosimo I de' Medici, heir of another Medici branch.
Jacopo Pontormo's small study remained in Cosimo de' Medici 'guardaroba' and was available over the following decades as an official image of the duke available for other artists to copy. It witnesses therefore the practice of court portraiture that often re-use images of the past in order to create new portraits when a painting from life was not possible anymore.
This painting is a good example of Pontormo's art that differs strongly from the famous portraits generated during the Mannerist period in Florence and most brilliantly illustrated by his pupil Bronzino. Pontormo's art goes back to the more austere balance and harmony developed by Leonardo's pupil, Andrea del Sarto (1486-1530) with whom Pontormo worked for some time.
In his encyclopaedic work, Historia Naturalis, the ancient Roman author Pliny the Elder described the origins of painting in the outlining of a man's projected shadow in profile. In the ancient period, profile portraits were found primarily in imperial coins. With the rediscovery and the increasing interest in the Antique during the early Renaissance, artists and craftsmen looked back to this ancient tradition and created medals with profile portraits on the obverse and personal devise on the reverse in order to commemorate and celebrate the sitter. Over time these profile portraits were also depicted on panels and canvas, and progressively evolved towards three-quarter and eventually frontal portraits.
These portraits differ in many ways from the notion of portraiture commonly held today as they especially aimed to represent an idealised image of the sitter and reflect therefore a different conception of identity. The sitter's likeness was more or less recognisable but his particular status and familiar role were represented in his garments and attributes referring to his character. The 16th century especially developed the ideal of metaphorical and visual attributes through the elaboration of highly complex portrait paintings in many formats including at the end of the century full-length portraiture. Along with other devices specific to the Italian Renaissance such as birth trays (deschi da parto) and wedding chests' decorated panels (cassoni or forzieri), portrait paintings participated to the emphasis on the individual.
Descriptive line
Oil painting, 'Alessandro de' Medici', after Jacopo da Pontormo, ca. 1550
Bibliographic References (Citation, Note/Abstract, NAL no)
Kauffmann, C.M., Catalogue of Foreign Paintings, I. Before 1800, London: Victoria and Albert Museum, 1973, p. 225. cat. no. 281
B.S. Long, Catalogue of the Constantine Alexander Ionides collection. Vol. 1, Paintings in oil, tempera and water-colour, together with certain of the drawings, London, 1925, p. 7.
Langedijk, Karla, The Portraits of the Medici: 15th-18th Centuries, vol. I, Florence, 1981-1987, p. 223, 10e.
Carl Brandon Strehlke et al., Pontormo, Bronzino and the Medici, The Transformation of the Renaissance Portrait in Florence, cat. exh., Philadelphia Museum of Art, 2004, no. 25, p. 110.
Vasari, Giorgio, Lives of the most eminent painters, sculptors & architects, Gaston du C. de Vere tr., London, 1912-15.

Materials
Oil paint; Linden
Techniques
Oil painting
Categories
Paintings; Portraits
Collection
Prints, Drawings & Paintings Collection