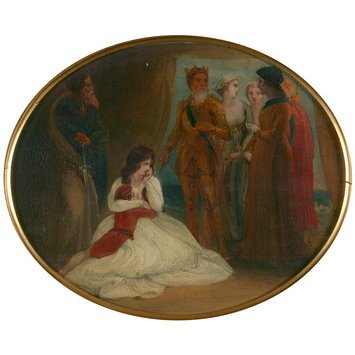 Stothard, Thomas RA, born 1755 - died 1834
Constance and Arthur (Shakespeare, 'King John', Act III, Scene 1)
Object:
Place of origin:
Date:

ca. late 18th century - early 19th century (painted)

Artist/Maker:

Stothard, Thomas RA, born 1755 - died 1834 (painter (artist))

Materials and Techniques:
Credit Line:

Given by John Sheepshanks, 1857

Museum number:
Gallery location:
Physical description
Oil on canvas depicting Constance and Arthur from Shakespeare's 'King John'.
Place of Origin
Britain (painted)
Date
ca. late 18th century - early 19th century (painted)
Artist/maker
Stothard, Thomas RA, born 1755 - died 1834 (painter (artist))
Materials and Techniques
Oil on canvas
Dimensions
Height: 11.25 in estimate, Width: 12.5 in estimate, :
Object history note
Given by John Sheepshanks, 1857
Extract from Parkinson, Ronald, Catalogue of British Oil Paintings 1820-1860. Victoria & Albert Museum, HMSO, London, 1990. p.xviii.
John Sheepshanks (1784-1863) was the son of a wealthy cloth manufacturer. He entered the family business, but his early enthusiasms were for gardening and the collecting of Dutch and Flemish prints. He retired from business at the age of 40, by which time he had begun collecting predominantly in the field of modern British art. He told Richard Redgrave RA, then a curator in the South Kensington Museum (later the V&A) of his intention to give his collection to the nation. The gallery built to house the collection was the first permanent structure on the V&A site, and all concerned saw the Sheepshanks Gift as forming the nucleus of a National Gallery of British Art. Sheepshanks commissioned works from contemporary artists, bought from the annual RA summer exhibitions, but also bought paintings by artists working before Queen Victoria ascended the throne in 1837. The Sheepshanks Gift is the bedrock of the V&A's collection of British oil paintings, and served to encourage many other collectors to make donations and bequests.
Historical significance: Thomas Stothard (1755-1834) was a highly prolific painter, book illustrator and designer. After his father's death in 1770 he began his working life apprenticed to a Huguenot silk weaver. At the completion of his apprenticeship in 1777 he entered the Royal Academy Schools, and there struck up life-long friendships with the sculptor John Flaxman and with William Blake. He exhibited at the Royal Academy from 1778 until his death in 1834, and from 1778 also began to produce illustrations for various publishers and magazines such as the Ladies' Magazine. He sometimes exhibited the original designs for such illustrations at the Royal Academy exhibitions. In his day he was highly respected as a history painter in oil, but the V&A collections of drawings and watercolours reflect his reputation during the 19th century predominantly as an illustrator, as well as a designer of a multitude of objects such as silver salvers to funerary monuments. As the Dictionary of National Biography notes, Stothard took 'advantage of the opportunities afforded by publishing and the industrial arts, while maintaining a reputation in the more respectable reaches of high art'. For example Stothard exhibited works on a grander scale than was his norm for Bowyer's 'Historic Gallery' (1790-1806). But many of the oils now in the V&A are on a modest scale and are perhaps designs for printed illustrations, rather than 'finished' history paintings. Stothard played a respected part in the art world of his day, and from 1812 until his death at the age of seventy-nine he held the post of librarian of the Royal Academy.
In 18th century Britain William Shakespeare's plays underwent something of a renaissance in popularity. A number of significant new editions of his work were published and the theatrical revival from the mid 18th century relied heavily on productions of his plays. Shakespeare had become associated with a rising British nationalism, which led also to a growing interest in British history. This tendency was exploited by both John Boydell's Shakespeare Gallery, and by Robert Bowyer's Historic Gallery. Boydell was an engraver and publisher who commissioned oil paintings for exhibition, with the intention of generating interest in printed versions. He began the project in 1786, which led to an illustrated edition of Shakespeare's plays, and a folio of prints. It is not clear whether Stothard exhibited finished oil paintings in Boydell's gallery, but he contributed designs to both the Folio and the Illustrated edition; unfortunately the subject matter of the V&A's paintings of Shakespeare by Stothard do not match any of these works. Bowyer originally commissioned images for an illustrated edition of David Hume's History of England, but following Boydell's example, he placed original paintings on display in his Historic Gallery. Stothard had produced illustration's to an earlier edition of Hume, published by Thomas Cadell, and for Bowyer's gallery he painted a exceptionally large version in oil of his printed headpiece of the murdered princes in the tower.
It remains unclear therefore as to whether this small oil painting is a sketch for a printed illustration or is a finished oil intended primarily for display and sale. On the one hand the image has so far not been matched to a finished print or illustration, and modesty of scale and even a somewhat sketchy nature seems to be no indication of function - large scale oils were rare in Stothard's oeuvre. On the other, Stothard was so prolific as an illustrator and designer that it may yet prove to be a design for an illustration.
The museum's title for this small oil painting is Constance and Arthur, and it seems plausible that the subject is taken from Shakespeare's King John, Act III, Scene 1; Constance, speaking to her son Arthur and Salisbury, rages against the marriage of Blanch and 'Lewis' [the Dauphin] "... I will instruct my sorrows to be proud; / For grief is proud and makes his owner stoop. / To me and to the state of my great grief / Let kings assemble; for my grief's so great / That no supporter but the huge firm earth / Can hold it up: here I and sorrows sit; Here is my throne, bid kings come bow to it." As Constance sits at the end of this speech, other characters enter; King John, King Phillip, Lewis, Blanch, Queen Elinor etc. To the left of the seated figure in Stothard's painting is an elderly man, plausibly Salisbury, and to the right, as if entering through a tent opening, are 5 figures, one of whom is plausibly King John.
The Life and Death of King John is today one of Shakespeare's less well-known plays. It is a history play, and Stothard's interest in such subjects reflects his awareness of the audience both for Shakespeare's plays and for scenes of British history, which both Boydell and Bowyer exploited with their respective galleries and publications. In the late 18th and 19th centuries this play was apparently one of Shakespeare's most frequently performed plays, primarily because the pageantry and spectacle of the play suited the taste of that time. The play dramatizes the reign of King John of England (reigned 1199-1216), the son of Henry II and Eleanor of Aquitaine, younger brother of Richard I, and best known for his role in Magna Carta, which however is not mentioned in the play. Arthur of Brittany was the nephew of the King, and Constance was the widow of Geoffrey (John's elder brother) and mother of Arthur. When Richard I died without an heir some regarded Arthur as the rightful king. Arthur fought John for the throne, with the support of the French King, but was defeated and captured by John's army and imprisoned at Falaise and later Rouen. It is not known what finally happened to Arthur, but it is assumed that he was murdered by or on behalf of John.
Descriptive line
Oil painting entitled 'Constance and Arthur (Shakespeare, King John, Act III, Scene 1)' by Thomas Stothard. Great Britain, ca. late 18th, early 19th century.
Materials
Oil paint; Canvas
Techniques
Oil painting
Categories
Paintings; Shakespeare
Collection
Prints, Drawings & Paintings Collection