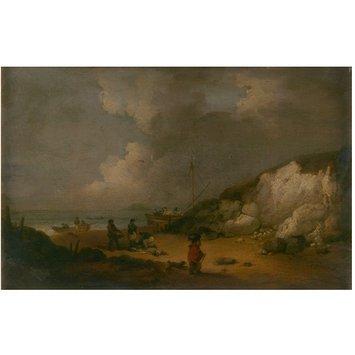 George Morland, born 1763 - died 1804
Coast Scene
Object:
Place of origin:
Date:
Artist/Maker:

George Morland, born 1763 - died 1804 (painter (artist))

Materials and Techniques:

Oil on panel
FRAME 19th C Neo classical gilded composition frame with front removing glazing door. Glazed with old float glass

Museum number:
Gallery location:

On display at Sewerby Hall and Gardens, Bridlington
Physical description
Oil painting
Place of Origin
Great Britain (painted)
Date
1792 (painted)
Artist/maker
George Morland, born 1763 - died 1804 (painter (artist))
Materials and Techniques
Oil on panel
FRAME 19th C Neo classical gilded composition frame with front removing glazing door. Glazed with old float glass
Marks and inscriptions
'G Morland 1792'
Signed and dated by the artist
Dimensions
Height: 8 in estimate, Width: 12.5 in estimate, Height: 346 mm Frame, Width: 446 mm Frame, Depth: 58 mm Frame
Object history note
Purchased, 1879
Bought (Anderdon Collection), sale Christie's, May 1879, along with four other oil paintings; by John Crome (museum numbers 232-1879 and 236-1879), Richard Heighway (233-1879), George Morland (235-1879). James Hughes Anderdon was a collector of paintings, engravings and autograph letters. In 1875 he presented to the Royal Academy an annotated set of Royal Academy catalogues for the Annual Summer Exhibitions from 1769 to 1850.
Historical significance: George Morland (1763-1804), landscape and genre painter, was the son of Henry Robert Morland, painter, engraver and art dealer. His father encouraged his early artistic promise, training him through copying old-master drawings. At 14 Morland began an official seven-year apprenticeship with his father, during which he made a particular study of 17th century Dutch landscapes and genre scenes, copying works which his father sold as original works. He also made copies of shipwreck subjects by Cluade-Joseph Vernet (1714-1789) and landscapes and fancy pictures by Thomas Gainsborough (1727-1788). These subjects had a great impact on his mature work. Once freed from his apprenticeship he embarked on the life of drinking and association with low-life characters for which he became notorious. By 1786 he had embarked on a fruitful partnership with the engraver William Ward and John Raphael Smith, also a printmaker and a publisher. Morland became established as a painter of moralizing and domestic genre subjects, most of which were intended for the popular print market. As the DNB notes "The subjects were usually of a didactic, moralizing nature, portraying contrasting virtues and vices". Modelled on the work of William Hogarth, they were more in tune with late 18th century ideas of sensibility and were more refined, even sentimental. In 1790 however Morland made the decision to move away from such clear narrative content, painting genre subjects in which there was no narrative or subject matter as such. This seems to have been a response to a shift in taste away from essentially elegant domestic genre, to the picturesque. At the same time he began to modify his style to a less finished, more painterly, even rough handling. He found his new subjects in the village of Paddington where he now lived, opposite an inn frequented by drovers and other country characters. He was hugely prolific and sold most of paintings to dealers. He also continued to work closely with the printmakers and publishers. However, he was no businessman and was often in debt. The last years of his career he was in decline, physically and professionally.
English Art in the Public Galleries of London, vol. I, 1888, p.65, offers a critique of this painting; "there are better examples of his skill to point to than the one given here [V&A, 234-1879]. This is English enough, too, with its low, chalky cliffs, its British craft, and its unmistakable English figures. Still it somewhat recalls the method and manner of the Dutch School of Marine".
BLK Henderson, in Morland and Ibbetson (London, P.Allan & Co., 1923), offers a later critique of this painting on page 96; "There are those who criticize Morland's sea scenes, complaining of the woolliness of the water. At [the V&A is] ... the piece called The Coast Scene ... Scarcely any of Morland's pictures offer a view of such deliberately careful work, or manipulation of brush and paint. In a great open sky, the clouds ride majestically before the wind. The white chalk of the gap catches and reflects, as do the retreating clouds, the light streaming from the left. All the figures on the beach are elaborated with minute care, but the old woman in the red cloak trudging laboriously over the beach, and the dog leaping after her, are appropriately the central features. The one hurried piece of work is the woman's left arm. The picture is dated 1792".
Morland had begun to visit the Isle of Wight on a regular basis from about 1790, and continued to do so until the end of his career. This experience added a further dimension to his work, as he embarked on painting coastal scenes, including figures of fishermen, as well as more romantic characters of smugglers and dramatic scenes of shipwreck. The latter were inspired less by direct observation than by Morland's early training with his father, during which he had copied paintings by such artists as Claude Joseph Vernet (1714-1789). Vernet was a French painter who had worked in Rome and whose paintings had become popular with British collectors and who had specialised in such shipwreck scenes. This scene however seems to be inspired by direct observation, presumably on the Isle of Wight; the chalky rock-face is typical of that area. The work is signed lower right "G. Morland 1792". A note on the Departmental File from March 1926 by Basil Long, then Assistant Keeper of Paintings at the V&A, questions the attribution to Morland; "Is this by William Anderson? The signature looks doubtful". However it seems on balance that this painting should be accepted as by Morland, painted from observation carried out while staying on the Isle of Wight.
Historical context note
Taken from Lionel Lambourne, An Introduction to 'Victorian' Genre Painting, from Wilkie to Frith, (Victoria & Albert Museum, HMSO, London, 1982).
"...Throughout the eighteenth century, as the capital [of London] grew in size so did the nostalgia among sophisticated Londoners for the joys of a rural Arcadia. [Francis] Hayman's decorations for the supper boxes at Vauxhall Gardens, the famous London pleasure garden, which portrayed boys sliding on the ice and other rural games, and the charming freshness of milkmaids on May Day [V&A, P.13-1947 and P.12-1947] mark the first phase in the characteristic English development of the 'fancy picture', of which Thomas Gainsborough was the greatest exponent [with his Cottage Door paintings]. Such pastoral themes were to prove hardy perennials in the English genre tradition. As the eighteenth century came to a close, a new note was introduced into pastoral painting by the work of artists like .... W R Bigg. The title alone of Bigg's 'A Cottager at His Door' [V&A, 198-1885] might lead one to expect a fancy subject similar to Gainsborough's frequent treatment of this theme, but the painting's uncompromising note or realism reminds us of the actualities of rural life behind the idyllic Arcadia of the pastoral painters. These qualities are found to an even greater degree in the work of George Morland (1763-1804).
Morland's erratic genius has been long neglected as a subject for serious study. In his own lifetime he became a legendary figure, the public delighting in seeing him as an intemperate genius, always in debt, who miraculously never lost a happy facility for turning out pictorial combinations of pigs and pretty girls. In fact, a closer study of his work reveals both a surprisingly wide acquaintance with contemporary artistic theories and literature (he illustrated Voltaire), and a considerable knowledge of the Dutch School acquired during his apprenticeship to his father, Henry Robert Morland ... Thus equipped, George Morland was able to give to his chosen rural themes a surprising strength [see V&A, The Reckoning, FA 237]. Occasionally, in a work like Johnny Going to the Fair [also called] The Valentine [V&A, 541-1882], a note of ambiguity is introduced which distinguishes the treatment from that of [later] 'Victorian' painters who sometimes were less subtle and understanding in their approach.
The work of Bigg and Morland should be seen against the background of social upheaval in the Agrarian Revolution of the later eighteenth century. The rural life they recorded was soon to be affected also by the remorseless growth of the manufacturing cities, and a dramatic increase in population. The middle classes which arose during these difficult years of economic reconstruction and expansion after the Napoleonic wars still felt a nostalgia for their rural roots, which was to be reflected in the painting which they purchased with the fruits of their new-found prosperity" [end Lambourne].
For an alternative interpretation of the depiction of the rural poor in the genre paintings of George Morland and in the prints after his work, see John Barrell, The darkside of the landscape: The rural poor in English painting 1730-1840, (Cambridge University Press, 1983 [paperback], pp.89-129).
Descriptive line
Oil painting, 'Coast Scene', George Morland, 1792
Bibliographic References (Citation, Note/Abstract, NAL no)
BLK Henderson, in Morland and Ibbetson (London, P.Allan & Co., 1923), offers a critique of this painting on page 96 (see 'History' for quote)
English Art in the Public Galleries of London, vol. I, 1888, p.65, offers a critique of this painting (see 'History' for quote).

Materials
Oil paint; Panel
Techniques
Oil painting
Subjects depicted
Coast-lines
Categories
Paintings
Collection
Prints, Drawings & Paintings Collection