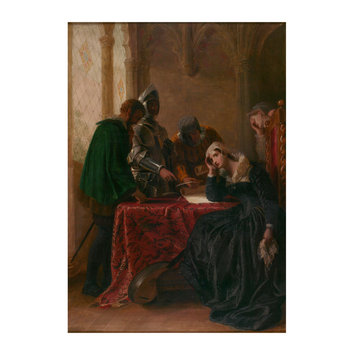 Severn, Joseph, born 1793 - died 1879
The Abdication of Mary, Queen of Scots
Object:
Date:
Artist/Maker:

Severn, Joseph, born 1793 - died 1879 (painter (artist))

Materials and Techniques:
Credit Line:

Bequeathed by Rev., Chauncey Hare Townshend

Museum number:
Gallery location:
Date
ca. 1850 (painted)
Artist/maker
Severn, Joseph, born 1793 - died 1879 (painter (artist))
Materials and Techniques
Oil on canvas
Dimensions
Height: 48.3 cm estimate, Width: 33 cm estimate
Object history note
Bequeathed by Rev. Chauncey Hare Townshend, 1868
Descriptive line
Oil painting, 'The Abdication of Mary, Queen of Scots', Joseph Severn, ca.1850
Bibliographic References (Citation, Note/Abstract, NAL no)
Catalogue of British Oil Paintings 1820-1860, Ronald Parkinson, Victoria and Albert Museum, London: HMSO, 1990, pp. 259-61
The following is the full text of the catalogue entry:
"SEVERN, Joseph (1793-1879)
Born Hoxton, London, 7 December 1793, son of a musician. Apprenticed to engraver William Bond; at early age 'began to find some solace in the study of literature' (Sharp, p7). Studied at RA Schools, won gold medal for historical painting (first awarded for 12 years) 1818. Exhibited 53 works at the RA between 1819 and 1857, and nine at the Br 1825-43: portraits, Italian genre, literary and biblical subjects. Most famous for his friendship with the poet John Keats, whom he accompanied to Italy 1820 and nursed until his death 1821. Lived mostly in Rome, appointed British Consul 1860-72. Died Rome 3 August 1879, eventually buried next to Keats. His children Arthur and Waiter Severn, and Ann Mary Newton, were also artists.
LIT: W Sharp The Life and Letters of Joseph Severn 1892; S Birkenhead Against Oblivion: The Life of Joseph Severn 1943; S Birkenhead Illustrious Friends: the story of Joseph Severn and his son Arthur 1965
The Abdication of Mary, Queen of Scots
1402-1869 Neg V1941
Canvas, 48.3 X 33 cm (19 X 13 ins)
T ownshend Bequest 1869
A small version of the large painting exhibited at the RA in 1850 (569) as 'The Abdication', and acquired by the 13th Earl of Eglinton (into whose family Severn had married). The large painting was sold at the Eglinton Castle sale on 3 December 1925 (lot 1041,114.3 X 144.8 cm (45 X 57 ins), £54 12s; present whereabouts unknown).
The Art Journal critic noted (1850, p176) the RA painting:
A large picture, founded on the passage of history which records the interview between Mary, Queen of Scots, and Lords Ruthven and Lindsay, at Lochleven. Mary is seated, and one of the Lords offers her a pen to sign her abdication. The treatment of the subject is literal, its source is at once declared. In this work, there is much of merit, both of conception and execution'.
The Athenaeum commented that 'an oft-told story ... has given occasion to Mr Severn for the production of a forcible composition in which the figure of Lindsay is enunciated with the required severity' (8 June 1850, p615).
The events at Lochleven Castle took place in July 1567, but Severn's scene is based on the account in Sir Waiter Scott's novel The Abbot, first published in 1820, which centres on the story of Mary from her imprisonment at Lochleven to her flight to England. Severn had met Scott in Rome in 1832. The following was appended to the title in the 1850 RA catalogue: 'Whilst a prisoner at Lochleven Castle, the Queen of Scots was constrained to abdicate, owing to the violence of the lords Lindsay and Ruthven, and by the advice of Sir Robert Melville - Sir Waiter Scott's Abbot'. The following passage, from chapter 22 of Scott's novel, more fully describes the scene:
'Here, in the castle of Loch Leven, with deep water around me - and you, my lords, beside me, - I have not freedom of choice. - Give me the pen, Melville, and bear witness to what I do, and why I do it'. 'It is our hope your Grace will not suppose yourself compelled by any apprehensions from us', said the Lord Ruthven, 'to execute what must be your own voluntary deed'. The Queen had already stooped towards the table, and placed the parchment before her, with the pen between her fingers, ready for the important act of signature. But when Lord Ruthven had done speaking, she looked up, stopped short, and threw down the pen. 'If' she said, 'I am expected to declare I give away my crown of free will, or otherwise than because I am compelled to renounce it by the threat of worse evils to myself and my subjects, I will not put my name to such an untruth - not to gain full possession of England, France and Scotland! - all once my own, in possession, or by right'. 'Beware, madam', said Lindsay, and snatching hold of the Queen's arm with his own gauntleted hand, he pressed it, in the rudeness of his passion, more closely, perhaps, than he was himself aware of, - 'beware how you contend with those who are the stronger, and have the mastery of your fate!'
Strong discusses (pp128-35) the popularity of Mary subjects in the 18th and 19th centuries. Scott's novel gave further impetus to painters as well as to historical biographers; Strong lists (pp162-3) 53 Mary subjects at the RA in the 19th century, but also states (p 133) that 56 works on the theme were exhibited at the RA between 1820 and 1897, and that 'these were just the top of a more sizeable iceberg. In addition, the cult proliferated through thousands of engravings after contemporary portraits and reconstructions of incidents from her life'. Six paintings can be identified as showing the same abdication scene as the present work. Particularly in the middle of the 19th century, the image of the forlorn Queen seemed to be related to the wider question of the position of the Victorian woman in society. As The Queen's Image cataloguers point out, quoting the critic Nassau Senior in about 1820: 'history has never described, or fiction invented, a character more truly tragic than Queen Mary. The most fruitful imagination could not have adorned her with more accomplishments or exposed her to greater extremes of fortune, or alternated them with greater rapidity ... in The Abbot, Mary fell into the hands of an author who deserved her'. They go on to comment that 'The reviewer of the 1850 Academy exhibition [see the Art Journal note above]"its source is at once declared" - assumed that an oblique reference to Scott would act as a touchstone, triggering a whole complex of associations. This assumption reveals the extent to which mid-nineteenth-century British artists and their public identified Mary, Queen of Scots as a Scott heroine rather than as an actual historical personage'.
A painting of 1864 of the escape of Mary from Lochleven, by Thomas Danby, is also in the museum collections (1014-1886), as is a drawing of 1849 by Joseph Severn of another Scott subject, 'The Death of Julian Avenel', from The Monastery (also Townshend Bequest, 1402-1869).
EXH: Victorian Narrative Paintings V &A circulating exhibition 1961; The
Lamp of Memory: Scott and the Artist Buxton Museum and Art Gallery 1979 (13); The Queen's Image SNPG 1987 (58)
LIT: W Sharp The Life and Letters of Joseph Severn 1892, p169; R Strong And When Did You Last See Your Father? 1978, pl33, repr pl32;
H Smailes and D Thomson The Queen's Image SNPG exhibition catalogue 1987, pp116-8
Ronald Parkinson"
Materials
Canvas; Oil paint
Techniques
Oil painting
Subjects depicted
Mary Queen of Scots
Categories
Paintings; Scotland
Collection code
PDP